Ring those Bells! It's the Holiday Season and we have an exciting 12 Days of Christmas lined up for you!
Ring those Bells! It's the Holiday Season and we have an exciting 12 Days of Christmas lined up for you! We've had such a fun year celebrating Raleigh, connecting more deeply to the community, uncovering so many fun local finds, and helping many of you relocate and settle into the City of Oaks. So we …
We've had such a fun year celebrating Raleigh, connecting more deeply to the community, uncovering so many fun local finds, and helping many of you relocate and settle into the City of Oaks.
So we wanted to spend the first 12 days of Christmas giving back to you all with amazing giveaways, starting Dec 1 – Dec 12.
It won't just be giveaways, but behind the scenes of our family Holiday traditions to help make the season a little brighter when we don't have any of our extended family nearby.
We're going to wrap it all up with a Live Instagram Q & A. You can ask us anything – whether it be about life in Raleigh, relocating, travel – either domestically or abroad – running our business or social media/content creation tips. Anything about our life you're curious about – within reason and with respect obviously!
Giveaway Partners & Prizes!
Note: each giveaway prize listed below will be via an Instagram update between Dec 1 – Dec 12. So be sure to be following us on Intragam @ThisIsRaleigh.
Firstly, our top line sponsors for our giveaways include.
The Flourish Market
Lady shopping in a boutique gift store
One of our favorite local places to shop in downtown Raleigh is The Flourish Market in the Warehouse District.
Not only do we love the wide variety of fun products from beautiful clothes to heartwarming gifts, but we also love how accessible it is for all budgets, and their mission of helping YOU use your purchasing power for good.
Bags hanging on a hook
The Flourish Market is a unique women's + gift boutique store owned by local entrepreneur, Emily Grey. All of their products have a higher purpose for supporting female owned businesses creating sustainable impact. You can shop 60+ cause-based brands and use your purchasing power for good – clothing, jewelry, bags, shoes, greeting cards and more.
Giveaway Prize from The Flourish Market
With store owner, Emily!
The Flourish Market is giving a $250 gift card, which you can use online or in the store. You could buy clothes, jewelry, bags, shoes, gifts, you name it. We recommend going into the store because of its bright, welcoming, positive energy AND the fun Holiday cheer currently in there!
Extra Special Gift for Everyone
But wait, there's more. Emily wanted all of you to receive a gift, so she has generously offered a free gift to any first-time shoppers in the store who spend over $50.
Emily with her gift offer for first time shoppers!
You'll each receive a special gift pack that includes a Seattle Chocolate Bar, Spongelle body wash infused buffer, and a Juicy pomegranate mask pack.
This special gift is available until 12/18 so don't delay in popping into the store to buy some holiday gifts – maybe something for yourself – and you must tell them ThisisRaleigh sent you, so you can get your gift.
We'll show you in our Instagram Reel all the wonderful gifts you can buy at the Flourish Market this Holiday season. You can start by looking at their gift guides for ideas on what gifts you can buy for your loved ones. You'll find ideas for Mom, Grandma, best friends, kids and more. Click here and then click on gift guides in the navigation bar.
Remember, this special gift is for any new shopper in store and anyone has the opportunity to win the $250 gift card!
Bluewater Spa
Lady standing at a desk at a medical spa
Bluewater Spa is a medical spa owned and operated by a board-certified plastic surgeon, Michael Law MD. Services are performed by highly trained aesthetic and medical professionals to make you look your best, and very natural.
Bluewater Spa provides services in all areas of aesthetics. Whether it's laser hair removal, chemical peels, facials, Botox and body treatments you'll find the highest level of service, care and adherence to best practices. So good they were voted Best Medical Spa in the Triangle by WRAL and Midtown Magazine.
Craig getting his first ever fascial
But, there is more to love about Blue Water Spa. This is a local company who cares about community. They are consistent and passionate about supporting local causes and important issues (you can see the long list here). And, they are a 1% for the Planet partner.
Going over my treatment with the lovely staff.
Craig and I have both enjoyed treatments at the spa and have been impressed with their level of care! We're excited with the giveaway prize they have offered for someone in our community to create a combination of their own similar treatments.
Giveaway prize from Bluewater Spa:
A $2,000 Non-Surgical Makeover from Blue Water Spa.
Option #1: Non-surgical body makeover to include a custom combination of body treatments to burn fat and add muscle  Coolsculpting and / or Emsculpt NEO based on your individual needs
Option #2: Non-Surgical facial Enhancement to include a custom combination of treatments like Laser Skin Tightening, Botox, Microneedling +PRF, Filler, LED
Option #3: Laser Hair Removal. Get hair free, anywhere and everywhere. No shaving, no waxing, no growing hair out. For ALL Skin types
Note: The winner will receive a consultation to help determine which services will provide the best results based on your unique needs and desires.
Services are performed by highly trained aesthetic and medical professionals to make you look your best, and very natural
The Butcher's Market
Inside a butchers market
For two years in a row, the Butcher's Market received our This is Raleigh's Brisket of the Day vote at the annual BBQ & Brisket event (and we tried a LOT of great brisket).
So, we're excited to have them as a partner in our 12 Days of Christmas Celebration.
The Butcher's Market is your neighborhood butcher & specialty grocer owned by a father/son team.
Premium steaks
Here's why locals love them:
They are known for their premium cuts of beef,
They only carry USDA top choice, prime, grass fed, and dry aged
They have legendary marinated steaks, chicken and vegetables.
They cure and smoke their own bacon including beef bacon for those who don't eat pork.
Their sausages are all hand made weekly.
Their seafood is delivered fresh daily.
And, they also specialize in a line of prepared foods such as chicken salad, pimento cheese, and their grab-and-go entrees and oven ready entrees. Busy parents especially will love how they make dinner done easy!
Giveaway prize from The Butchers Market:
Steak of the Month (membership)
We have found the perfect gift for the Steak Lover in your house. The Steak of the Month Membership is one of the Butcher Markets best selling Holiday gifts and is popular with their customers.
It's a punch card you bring to any of their 5 locations in the Triangle each month for 6 months from January-June to redeem your cut of meat as well as some bonus items. See the prize below.
Here's the list:
January:  Cowboy Steak 40oz
February:  Picanha 24oz
March:  Legendary Marinated Steak Tips 24oz 
April:  2 Porterhouse Chops  24oz 
May:  Tri Tip Roast 32oz 
June: Flank Steak (Ancho Chili Lime) 24oz 

Bonus: Roasted Fingerling Potatoes

Bonus: Macaroni Salad

Bonus: Burgundy Wine Marinated Mushrooms

Bonus: Vegetable Medley
You will receive a Fresh Never Frozen Hand-cut Steak every month. It's $140 worth of steak and bonus items that has a value of $200!
Designed for Joy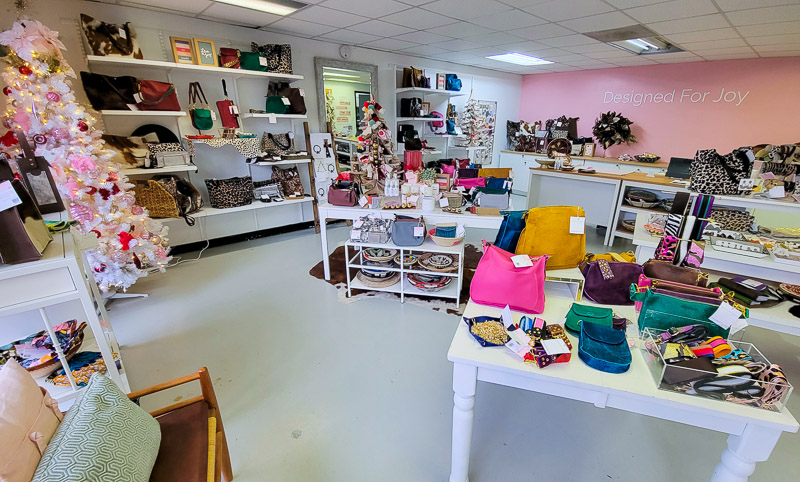 Designed for Joy, Raleigh
One of our favorite nonprofits in Raleigh who we love to support, not just by volunteering on their marketing committee, sharing them with you, but also purchasing their beautiful, handcrafted range of jewelry, purses, and popular charcuterie boards.
Designed For Joy provides women in crisis (those living at high risk for sex and labor trafficking and/or food and housing insecurities) with stability through immediate employment (a living wage) and support, removing the stigma of vulnerability.
Giveaway Prize: Best Selling Bag
Golden Farrier Bag
The Christmas giveaway prize from Designed for Joy is their best selling bag and a strap worth $183.
The Farrier bag is a large sized tote bag with a zippered top. Its horseshoe shape is unique and its large enough to fit a small laptop. With its wide gusseted sides, it will fit more of your essentials than you think.
The winner will get to choose their color. I must say I'm partial to the pink!
The Dessertery Giveway (4 tickets)
Sweets in a dessert cafe
We recently shared with you the newest and most delicious Holiday Event of the 2022 Season – the Dessertery Cafe!
Yep! An all-you-can-eat Holiday dessert cafe with sweets and a hot chocolate bar with 50+ toppings!
The Duke Energy Center is giving away 4 tickets to the Dessertery ($100 value). Best Christmas surprise ever I hear all the kids scream!
North Hills Gift Card
North Hills Raleigh
Are you ready for more Christmas Shopping? North Hills will be supplying one lucky winner with a $150 gift card.
Trophy Brewing
Beer in a glass
One of our favorite breweries in Raleigh is Trophy Brewing, Craig particularly loves their Cloud Surfer and Trophy Husband beers. Trophy will be giving away a $100 gift card.
How to participate
Like the unraveling of a good Christmas present, we want to bring some kind of element of surprise into the giveaway.
We've revealed what the prizes will be, but we're not telling you on what day each giveaway will be posted on our Instagram account so be sure to follow us here.
NOTE: Our email subscribers will get a little email nudge each morning! If you're not part of our email community, you can join that now with the form below.
Otherwise, you'll have to be sure to check our Instagram each day, to see what the prize of the day will be!
Each giveaway will last two days, to give you time to enter. All conditions for entry will be in the updates. But typically, we want to make sure you're following us and our partners, leaving a comment and tagging a friend!
And of course, you have to be willing to accept the prize.
All winners will be contacted directly by us via DM on Instagram so make sure you check your DM's just in case you are the winner. We'll then announce it in our Instagram stories.
In between the giveaways, we'll be sharing some of our family's holiday traditions and how we like to create memorable moments, especially since we don't have extended family around!
We'd love for you to share yours in the comments on the posts.
Happy holidays!
News Related
OTHER NEWS