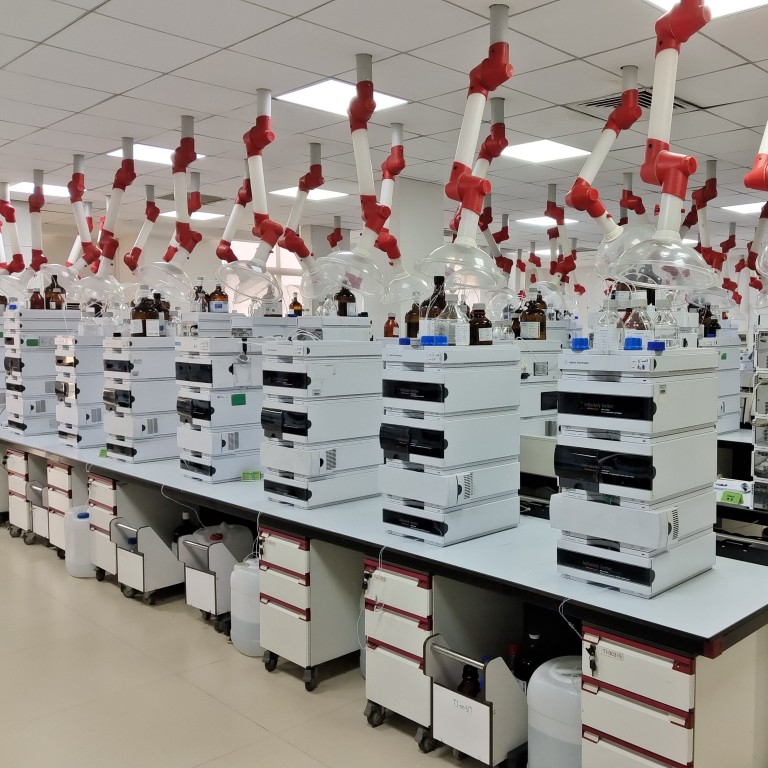 In popular culture, as portrayed in the HBO hit series "The Last of Us" – spun off from a video game of the same name – parasitic cordyceps are hijacking human minds to bring about the end of civilisation.
In the real world, a species of the sac fungi called the ophiocordyceps sinensis is best known for attacking moth caterpillars, using its mycelia to replace the hosts' tissues and turn the worms into vegetation. Infections usually start during winter in the fungi's home in the Tibetan highlands, completing the cycle in the summer months, giving cordyceps the Chinese moniker Dongchong Xiacao to describe how the winter bug becomes grass in summer.
The fungi, highly sought after in traditional Chinese medicine (TCM), are now being farmed on an industrial scale in China's Hubei province. In Yidu, a county of fewer than half a million people, HEC Health has been growing cordyceps since 2007, harvesting about 50 tonnes – as much as 30 per cent of all the cordyceps collected from the wild – every year for the market.
"We created a natural environment similar to the Tibetan plateau in temperature, humidity and ultraviolet light," said Qian Zhengming, deputy director of the cordyceps research unit at HEC Health, in a recent interview with the Post. "Our computers control the climate in different rooms to make sure the cordyceps can be cultivated all year round."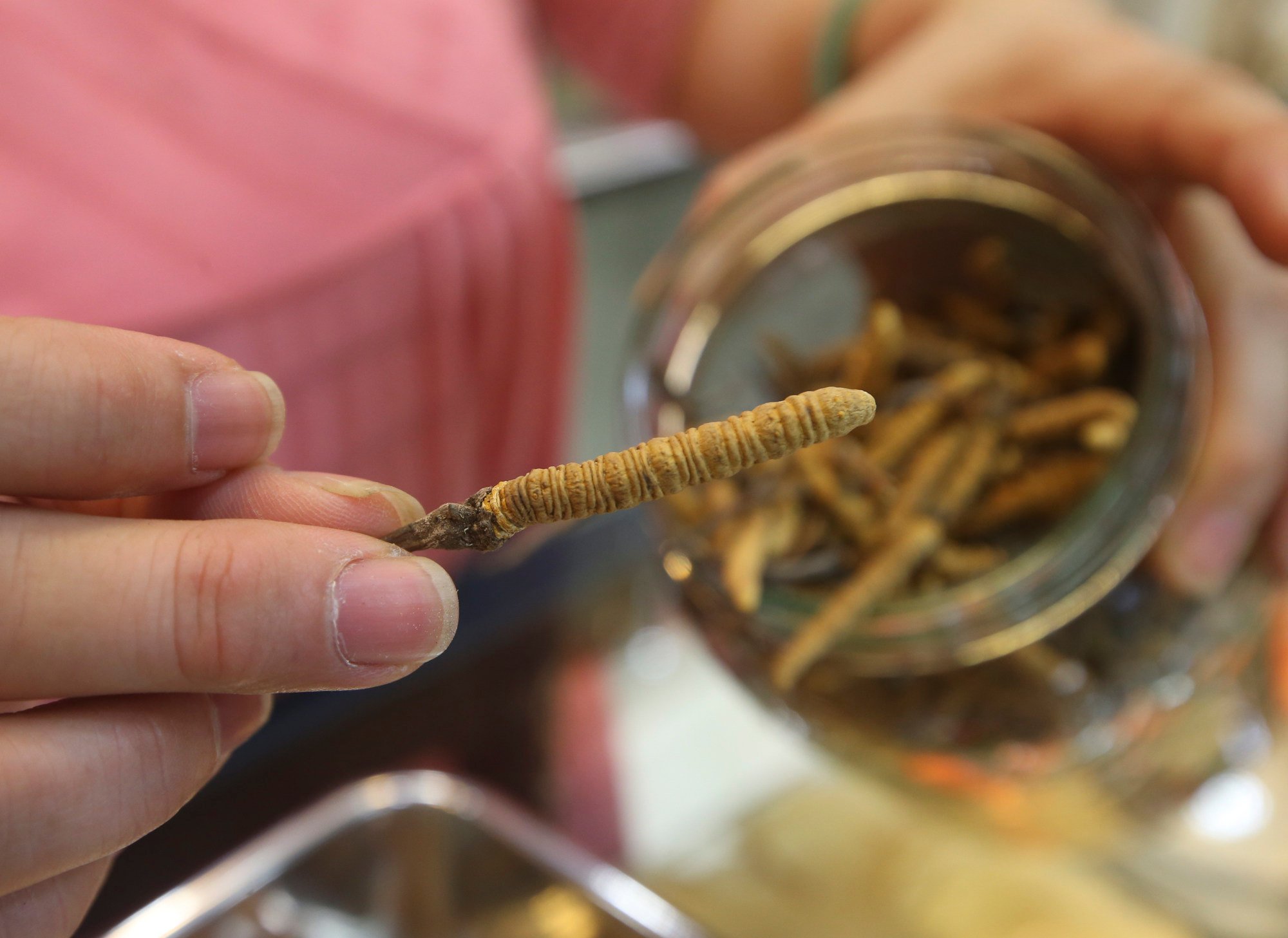 A dried sample of the ophiocordyceps sinensis, more commonly called the caterpillar fungus, on sale at Top Century Medicines Pharmacy at the Imperial Hotel in Hong Kong on July 18, 2016. Photo: David WONG
HEC Health is part of the HEC Group, a Shenzhen-based producer of pharmaceuticals and aluminium foil that began farming cordyceps in 2007. The company now sells the fungi at 1,934 yuan (US$284) for 10 grams of fresh cordyceps, or 1,699 yuan for a pack of 30 dried pieces, according to posts on JD.com's e-commerce website.
Unlike what's depicted in fiction, cordyceps cannot survive at the temperature of the mammalian body, so they are non-infectious to humans. Instead, they are consumed for their polysaccharides that can improve immune efficacy, as well as cordycepin and amino acids. A strain of cordyceps known as paecilomyces hepiali CS-4 has been approved by China's drugs regulators to produce two mycelium-derived pharmaceuticals.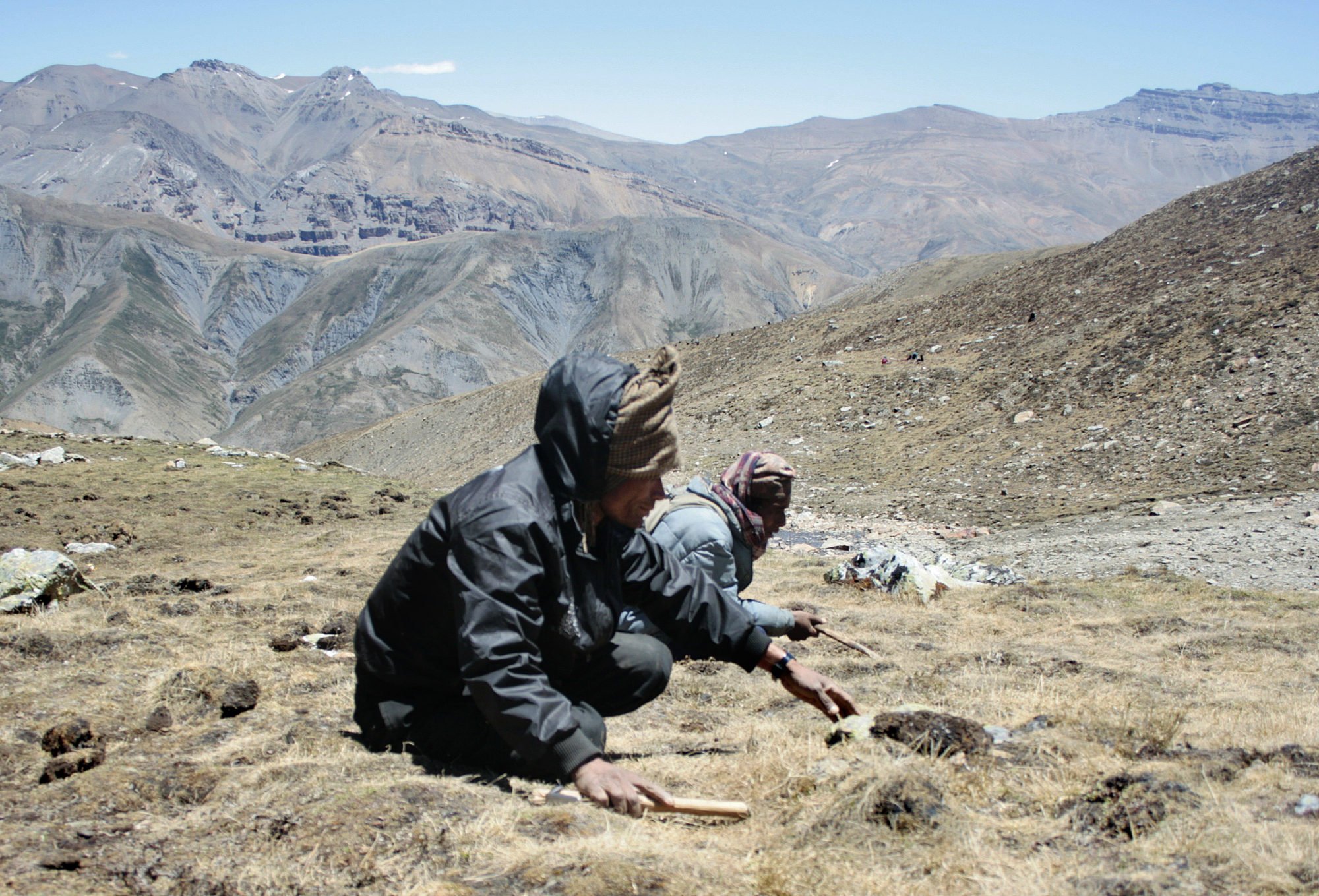 Nepalese foraged for Yarchagumba on meadows 4,000 metres above sea level in the Himalayan mountains on June 9, 2012 in the Dolpa district of Nepal. Photo: AFP.
Known as Yarchagumba in Tibetan, cordyceps are used to treat coughs, "the strengthening of lungs" and to fortify kidneys with other medicinal herbs, said Albert Leung, a professor of clinical practice at the Lingnan University's School of Graduate Studies, and a TCM expert.
Rapid economic growth since the 1980s created scores of billionaires in China. Rapid wealth fuelled conspicuous consumption in everything from luxury bags to exotic tonics. A kilogram of wild cordyceps, exchangeable for a pack of cigarettes in the 1950s, came to be worth its weight in gold by the late 2000s, said Cao Hui, director at the National Engineering Research Center for modernisation of TCM.
At their peak, wild cordyceps fetched 400,000 yuan (US$59,000) per kilogram. Demand was so high that several companies rode the fervour into the stock market, enabling Jiang Zhong Pharmaceutical, Tong Ren Tang and Qizheng Tibetan Medicine to raise billions of yuan through initial public offerings (IPO).
Qinghai Spring Medicinal Resources Technology sold cordyceps powder and Jicao tablets at nearly 30,000 yuan for a luxuriously packaged gift box, giving its 1.12 billion yuan-per year business a hefty 55 per cent gross profit margin in 2015.
The boom came crashing down in 2016 when regulators stopped five companies including Qinghai Spring from selling cordyceps-based health supplements, citing safety concerns. Qinghai Spring, which has since transformed itself into a distiller of baijiu rice liquor, declined requests for an interview.
Excess harvesting also depleted wild cordyceps, leaving only five fungi available on every square metre of forest floor in Qinghai province, from as many as 30 a few decades earlier, the Northwest Institute of Plateau Biology of the Chinese Academy of Sciences said.
"Scarcity, caused by man, has made it a hot commodity like gold and diamond," Cao said.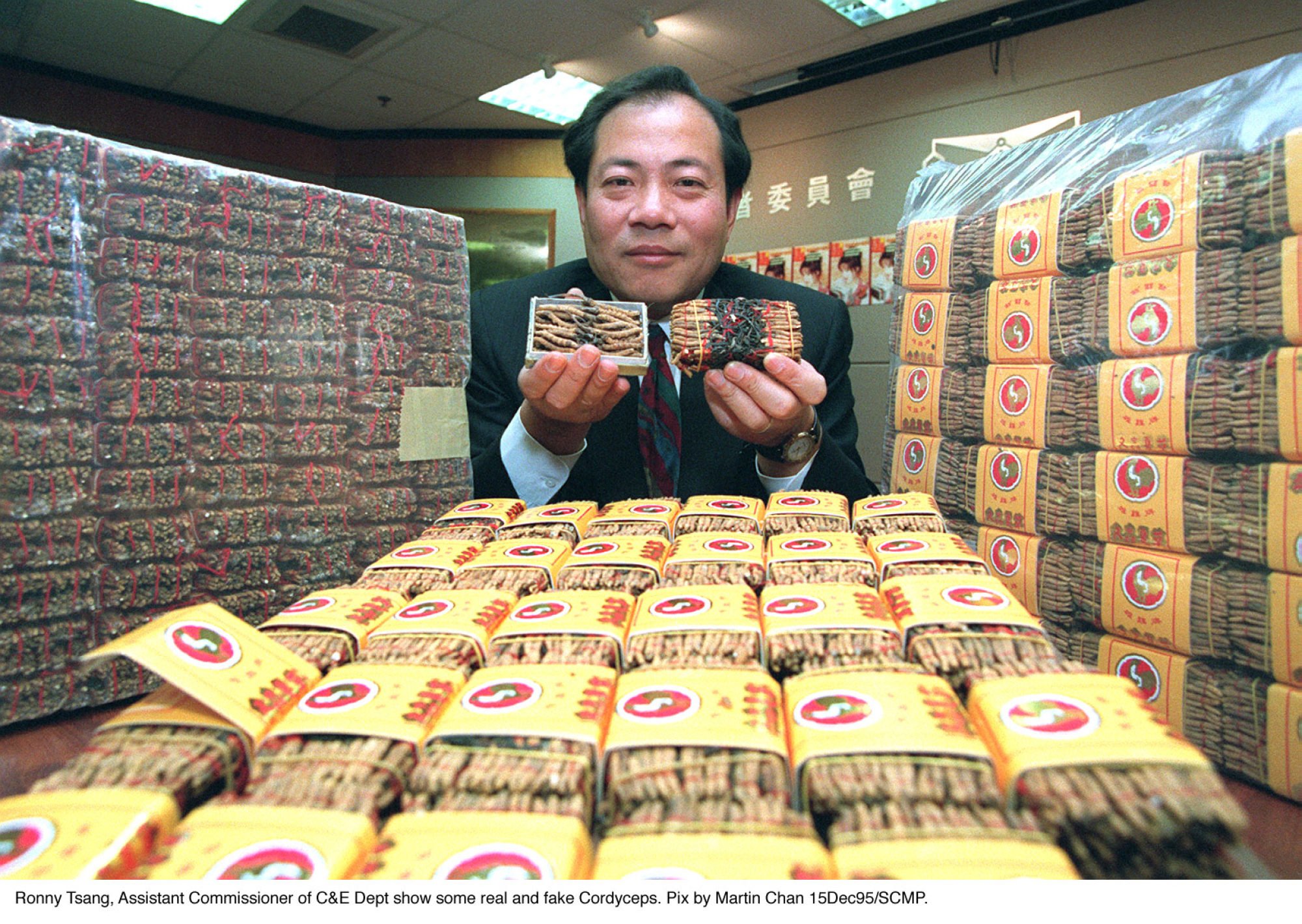 Ronny Tsang, Assistant Commissioner of Customs and Excise Department showed some real and fake samples of ophiocordyceps sinensis after a seizure on 15 December 1995.
The market cooled after China's drugs regulator found excessive amounts of arsenic in the tablet form of cordyceps extracts. Regulators also cracked down on advertisements that exaggerated the fungi's health benefits – they are dubbed the Himalayan Viagra in some catalogues – delivering some sobriety.
"There's a big difference between consuming cordyceps as food, and using it as medicine," said Li Shaoping, a Distinguished Professor at the University of Macau's Institute of Chinese Medical Sciences. "Eating it frequently as food raises the chances of overexposure to arsenic. There is a strict requirement on the dosage of cordyceps in TCM practice."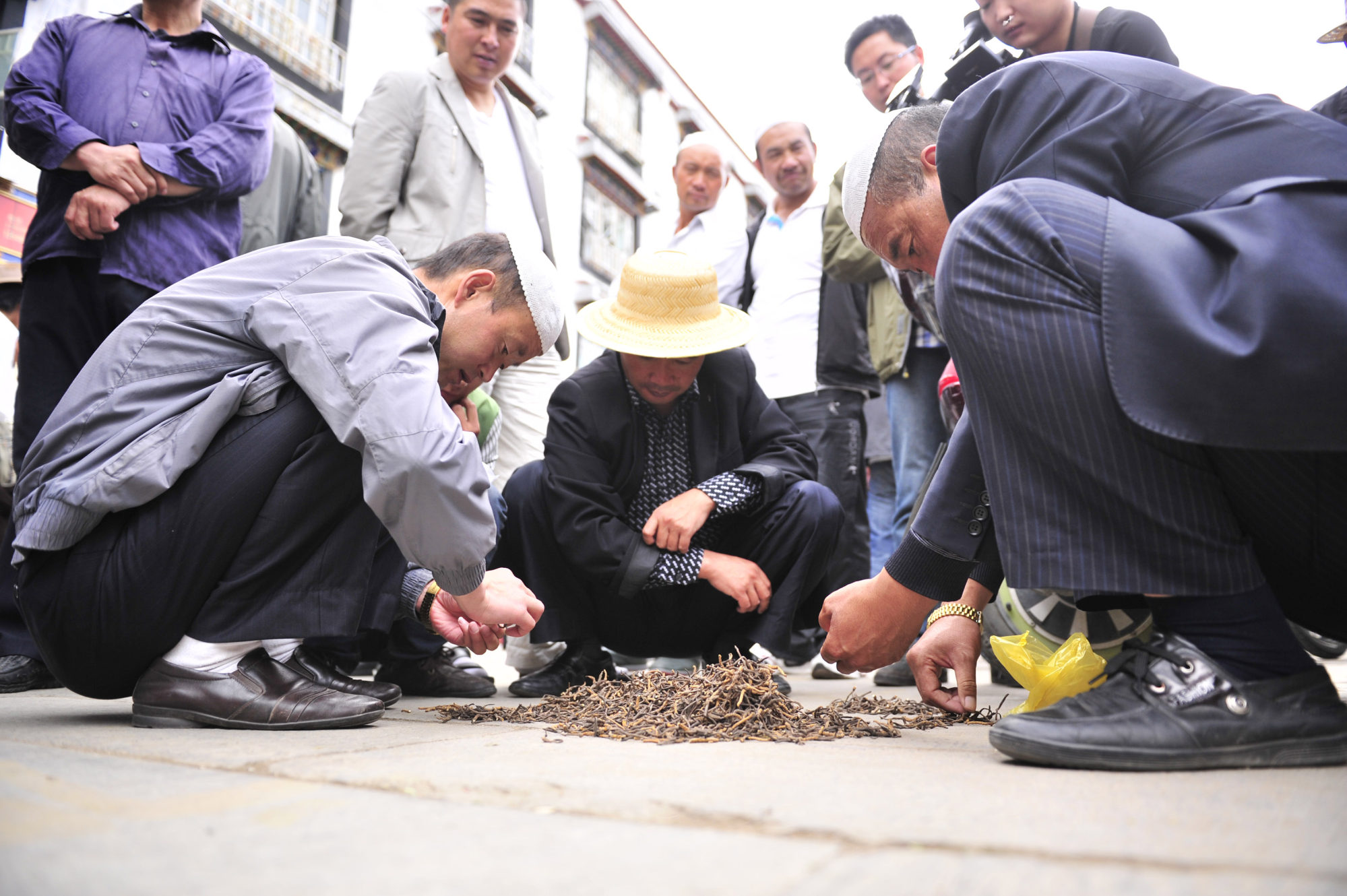 Traders examined a haul of the ophiocordyceps sinensis in a Lhasa market on February 25, 2014. Photo: Xinhua
Another strain of the fungi called cordyceps militaris can be grown in rice and oats without an insect or a caterpillar as host, and generates cordycepin that is highly prized in North America and China for its therapeutic qualities.
Qian has been studying cordyceps for over 15 years. He remembered travelling to the Tibetan plateau to forage with herdsmen for fungi in the summer months between May and July. Typically, one cordyceps fungus can be found in the wild from digging half a square metre of land, he said.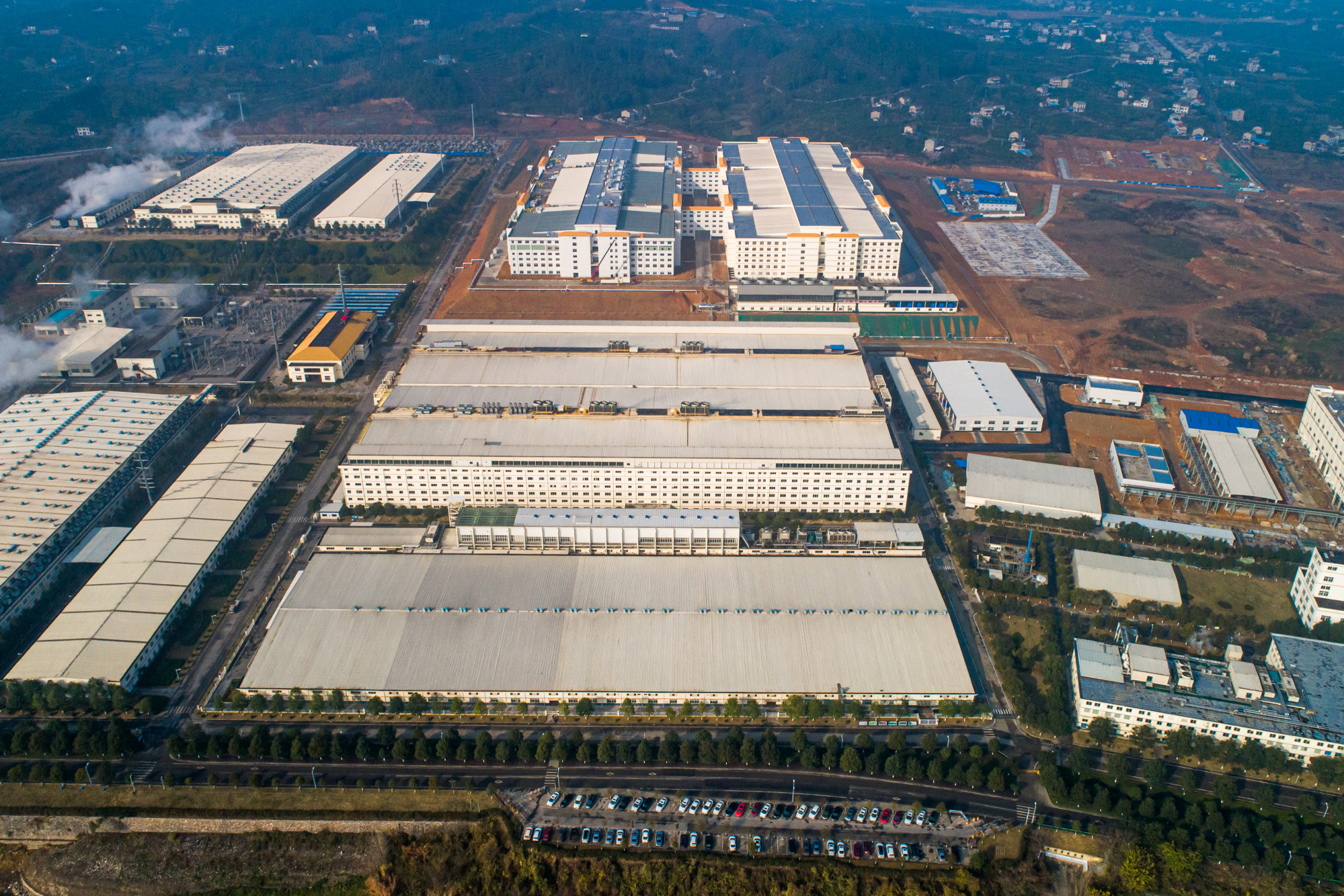 HEC's cordyceps cultivation base in Hubei province, China produces around 50 tons of cordyceps a year. Photo: Handout
Qian and his team still use moth caterpillars as hosts in the two-year growth cycle of the ophiocordyceps, working hard to minimise the arsenic residues in HEC Health's fungi to meet the government's safety standards.
"Around 10 per cent of wild cordyceps do not have excessive arsenic content. We went to the site where they were found, to study the soil and water there", said Qian.
"Our success relieves the demand for wild cordyceps from the Tibetan Plateau, which gives wild cordyceps a chance to reproduce", said Qian. "That is not to say ours will replace the wild type. It will just become less commercially desirable to avoid over-harvesting. Our nature is exhausted. Let it rest".
News Related
OTHER NEWS