WASHINGTON — A far-right extremist who was "obsessed" with white nationalist Nick Fuentes and is set to be sentenced Thursday for storming the U.S. Capitol and directing a mob toward the office of then-House Speaker Nancy Pelosi, where another rioter stole a laptop.
Riley Williams, federal prosecutors argued at trial in November, "led an army" up a set of stairs toward Pelosi's office and was present when rioters swiped the laptop that the California Democrat kept in her conference room and used for "all her Zoom meetings."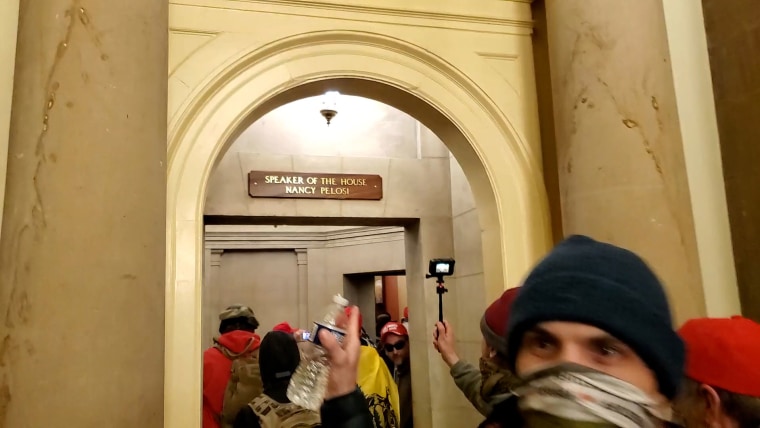 Video shows rioters in Nancy Pelosi's office on Jan. 6
Nov. 16, 202203:55
Williams' federal public defender Lori Ulrich said that while Williams might have "distasteful" beliefs, she was a young woman equipped with only a "cell phone and her fuzzy zebra bag" who even posted at one point that she was  "STORMING THE WHITE HOUSE" when she was, in fact, in the legislative branch. Williams, her defense argued, "wanted to be somebody."
Williams was ultimately convicted on six counts: felony civil disorder, resisting and impeding certain officers, and four misdemeanor charges. The jury deadlocked on a count of obstruction of an official proceeding as well as on the question of whether Williams aided and abetted the theft of Pelosi's laptop.
U.S. District Court Judge Amy Berman Jackson, who will sentence Williams on Thursday, ordered Williams remanded after the verdict, saying she had "no confidence whatsoever" that Williams had respect for the rule of law.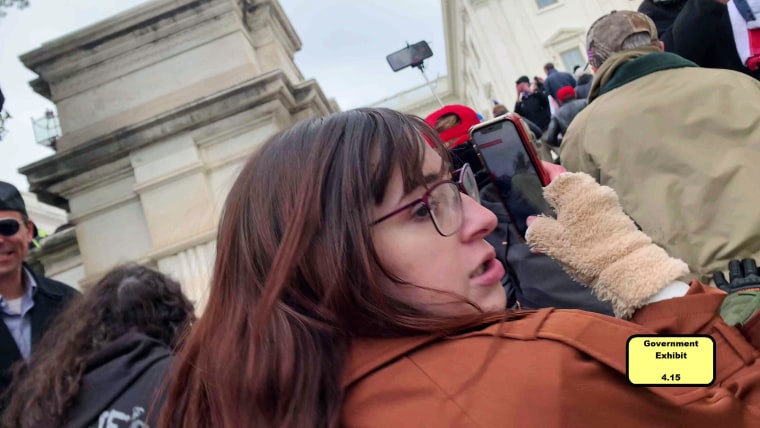 Riley Williams at the Capitol on Jan. 6, 2021.U.S. Attorney's Office
Federal prosecutors sought 87 months, or more than seven years, in federal prison for Riley, arguing that such a sentence would hold her accountable "for her outsized and chilling participation in — and furtherance of — the chaos and violence" at the Capitol on Jan. 6.
"Everywhere she went, Williams acted as an accelerant, exacerbating the mayhem. Where others turned back, she pushed forward. When officers blocked her path, she recruited other rioters, especially larger men wearing helmets and body armor, gathered them together, and pushed them forward like a human battering ram, using the mob as a weapon to break through the police lines. The officers she faced off with were among those injured," they wrote in a sentencing memo.
"Then, in the 12 days between the riot and her arrest on January 18, 2021, Williams repeatedly destroyed evidence and tried to evade law enforcement officials: She deleted her social media and communication accounts, instructed others to delete messages and take down videos from the internet, reset her iPhone, switched cellular phones, and used advanced software to wipe her computer," they wrote.After storming Pelosi's office, Williams yelled at officers inside the Capitol rotunda, "F–k you. We'll remember your f—–g face," and "You're a traitor. You're a traitor to this country," prosecutors said. She later bragged that she was "right in front of the police calling them traitors" and that she pushed up against police. Williams spent about 90 minutes inside the building, and then climbed on top of a tactical police vehicle when she left, they wrote.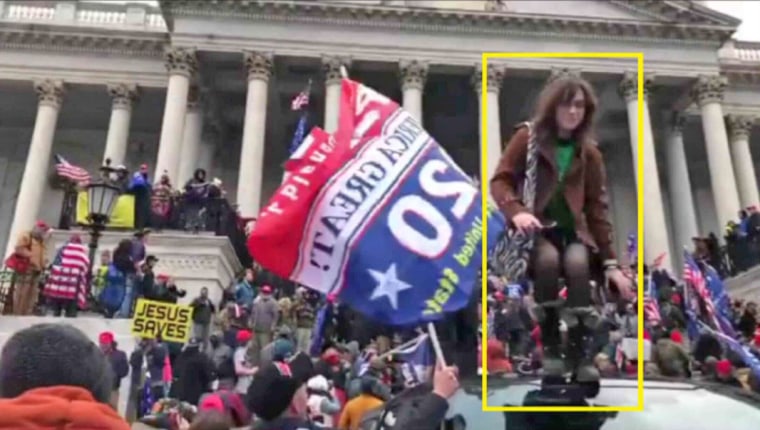 Riley Williams at the Capitol on Jan. 6, 2021.U.S. Attorney's Office
"I've been told what I did was wrong by everybody but in my heart and soul I know what we did was patriotic and what is right and anybody who says otherwise should be condemned," Williams wrote to her dad, who traveled with her to D.C., on Jan. 14, 2021, prosecutors said.
Williams' attorneys requested a sentence of one year and a day in federal prison.
"A sentence of 12 months and 1 day is reflective of the seriousness of Ms. Williams' conduct of January 6th and provides just punishment for what she did on that day," they wrote. "It also is reflective of Ms. Williams' characteristics — particularly her youth and lack of appropriate parental guidance, and takes into account that she has no criminal history."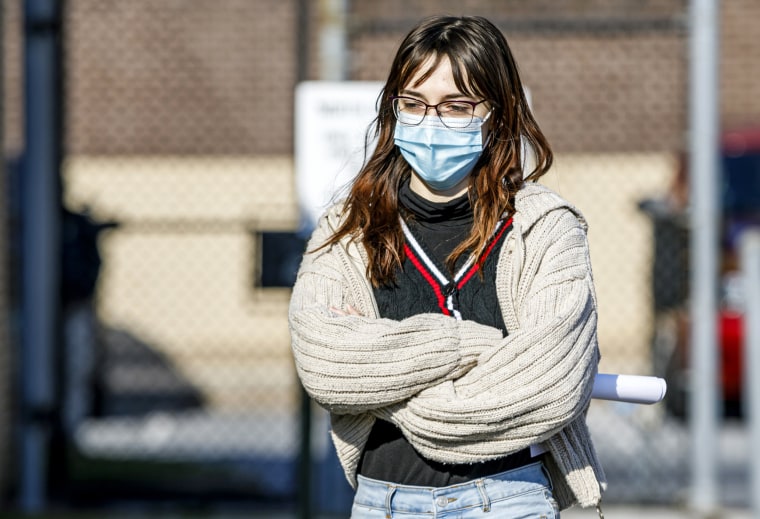 Riley June Williams is released from Dauphin County Prison on Jan. 21, 2021, in Harrisburg, Pa.Dan Gleiter / The Patriot-News via AP file
In a letter to the court, Williams' fiancé said that Williams was "addicted to the internet" before Jan. 6 and "seeking attention and [affirmation] from anyone she could." She became a better Christian, he wrote, and now just wanted to be "a mother, wife, and a servant to God." She wants to homeschool her kids, Ian Hoyt Franz wrote, and teach them to be "virtuous, honorable, and loving." She also wants to raise sheep for their wool and cows for milk.
"When Riley is finally done and able to return home I plan on marrying her and starting a life together. Buying some land and getting her those sheep," Franz wrote. "How much more does she have to go through? I don't know how long Riley needs to be away for, but no matter the time me and her family will patiently wait for her release."
Her mother wrote Williams "longs for a simple life" and that her dream is to have "a home on a large plot of land, a large family, lots of vegetables and fruits growing in a garden, and farm animals to raise for their own consumption."
Williams, her mother wrote, "realized what a blessing it was to be forced off the internet" after she was arrested and "found other interests, such as crocheting."
News Related
OTHER NEWS