1/26 SLIDES © Focus on Sport via Getty Images
Magic Johnson: Career retrospective
Whether it's throwing a no-look pass, making a key business investment or helping those with HIV, Magic Johnson always put his heart and soul into getting results. He saved the NBA from tape-delayed purgatory, using his 1,000-watt smile and exciting style of play to make the league a marketable product. While some player highlights are limited to the court, the kid from Lansing, Michigan, has a laundry list of accomplishments that rivals anyone.
Here are 25 of the most iconic moments of his life.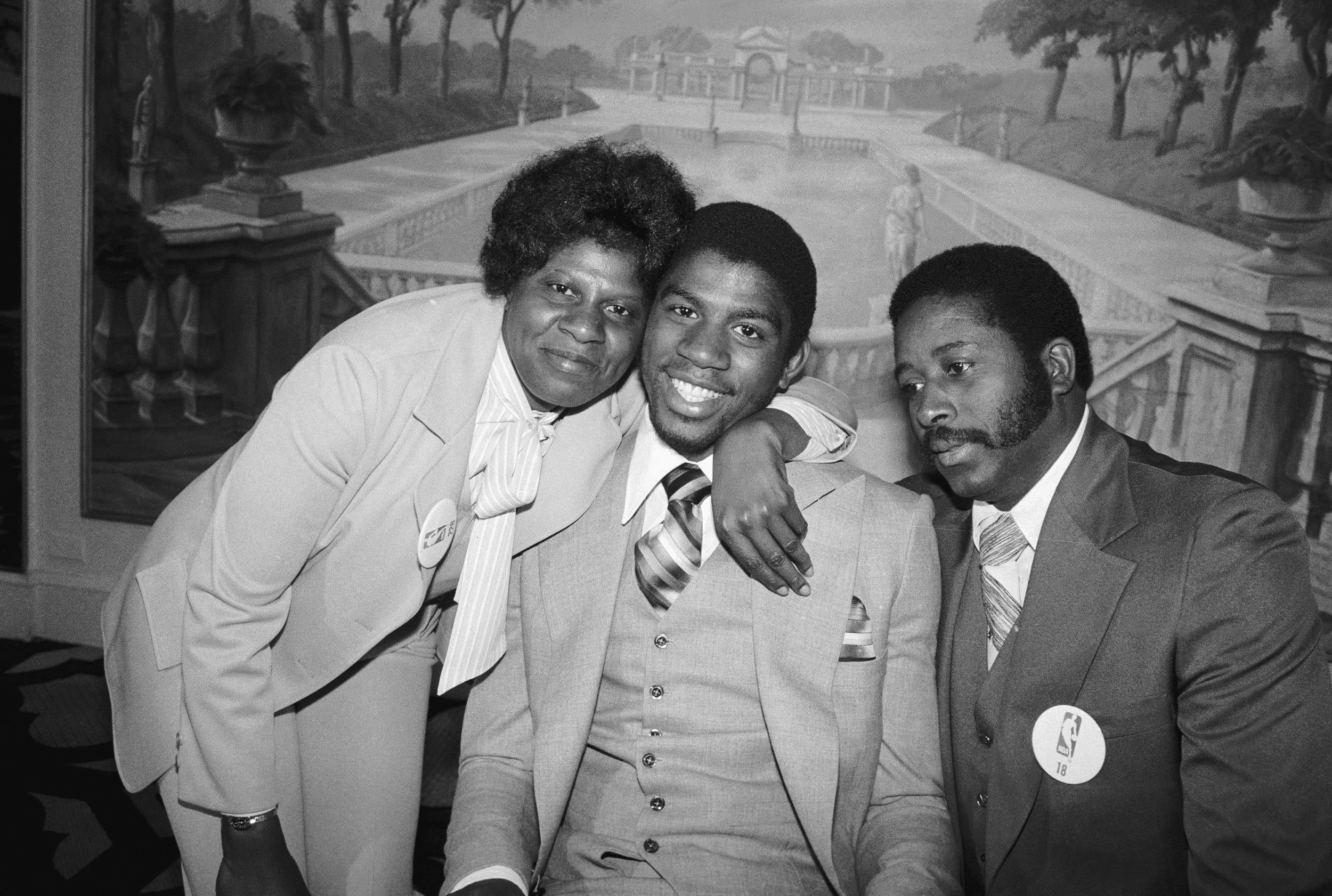 2/26 SLIDES © Bettmann Collection via Getty Images
The birth of Magic
Before he was throwing no-look passes in the NBA, he was dazzling crowds in Lansing, Michigan, as Earvin Johnson, Jr. After having a 36-point, 16-rebound, 16-assist triple-double sophomore year at Everett High School, a sports reporter dubbed Johnson, "Magic," and the moniker stuck. He would go on to average 28.8 points and 16.8 rebounds his senior year, winning the state championship. After an intense recruitment period, Johnson decided to stay home and attend Michigan State. At the press conference announcing his commitment, the high school superstar said he was confident he would help build a good program. And boy, did he.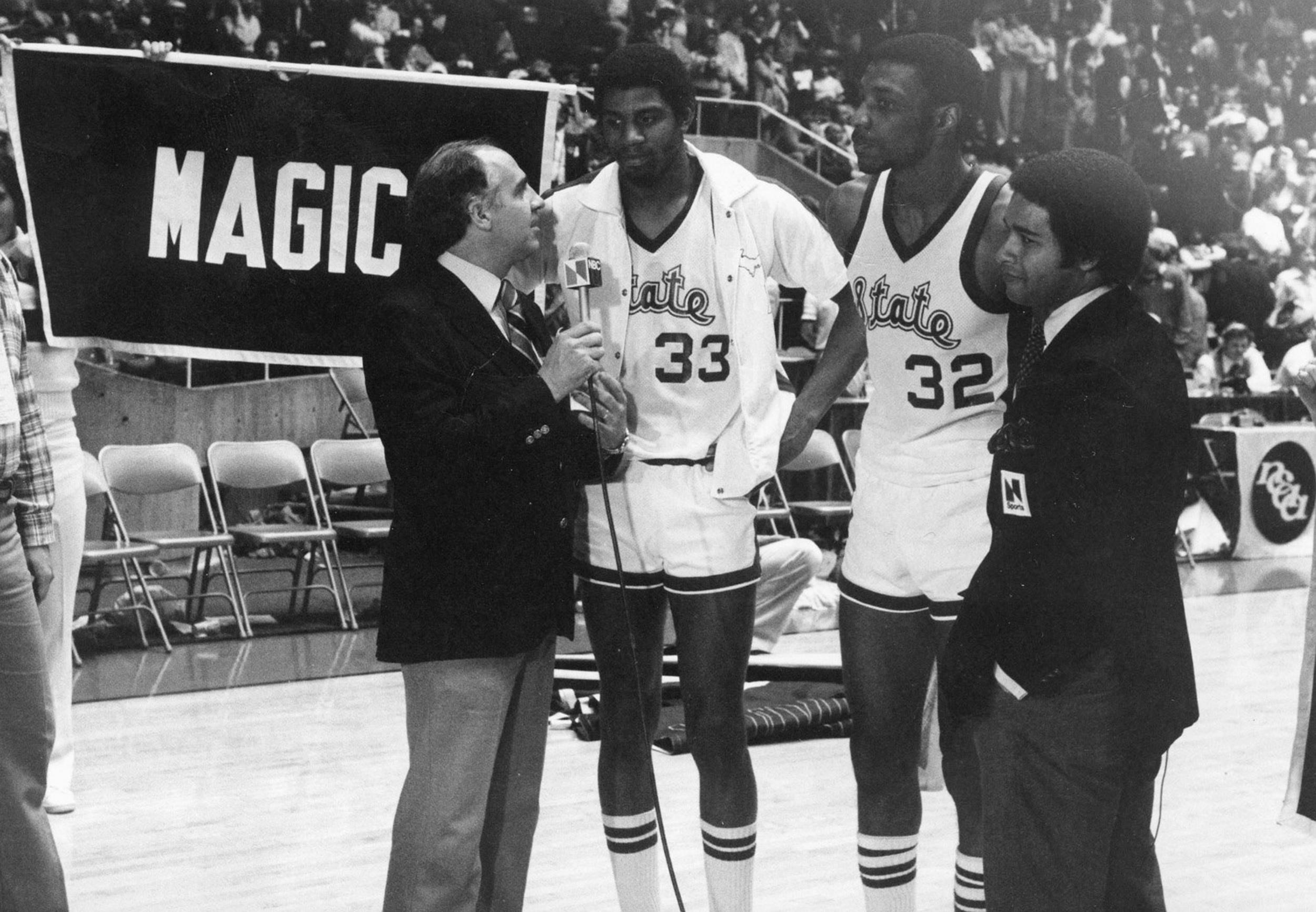 3/26 SLIDES © Michigan State/Collegiate Images via Getty Images
Making an immediate impact
After dominating the state in high school and having colleges fawn over him, Johnson went to Michigan State with enough hype to crush any unprepared 18-year-old. Fortunately for the Spartans, he was not a normal 18-year-old. In his freshman year, Johnson was an instant leader with his peerless passing and fearlessness on the court. In 30 games, he averaged 17 points, 7.9 rebounds and 7.4 assists and led the Spartans to their first Big Ten title in 18 years. The team advanced to the Elite Eight before being eliminated by eventual champion Kentucky. He may not have won the championship, but he certainly changed the culture quickly in East Lansing.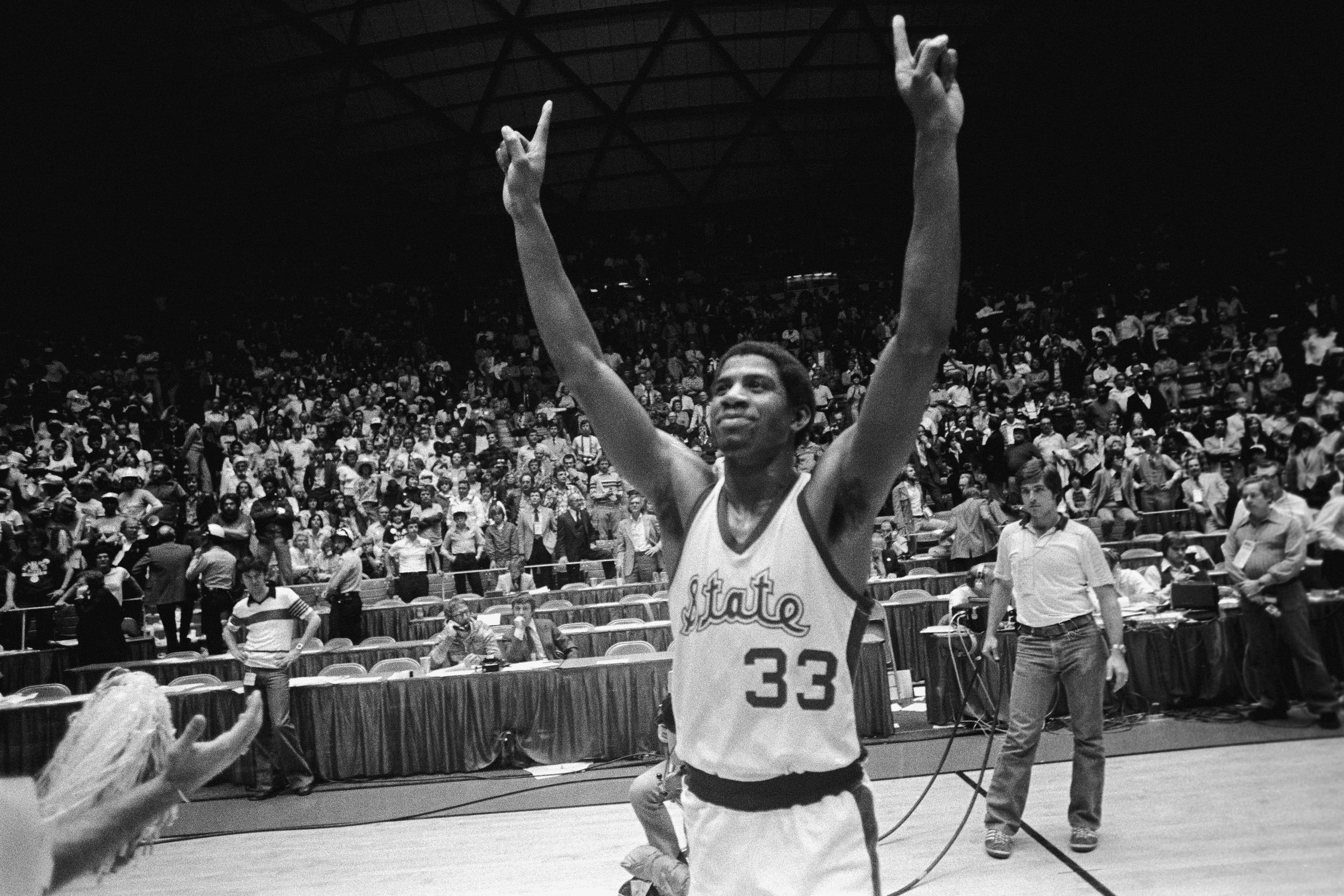 4/26 SLIDES © Bettmann Collection via Getty Images
Local star becomes local hero
Johnson didn't hit pay dirt his freshman year, but his second year with Michigan State would be historical. The Spartans repeated as Big Ten Champion and secured the No. 2 seed in the NCAA Tournament. With a dominant Magic Johnson continuing to improve, Michigan State would win the school's first national championship in basketball, going through Larry Bird's Indiana State team. In what would be his final year with the Spartans, Johnson averaged 17.1 points, 7.3 rebounds and 8.4 assists, earning consensus First-Team All-American honors and being named the NCAA Final Four Most Outstanding Player. He may not have stayed long at Michigan State, but his impact on the school is undeniable.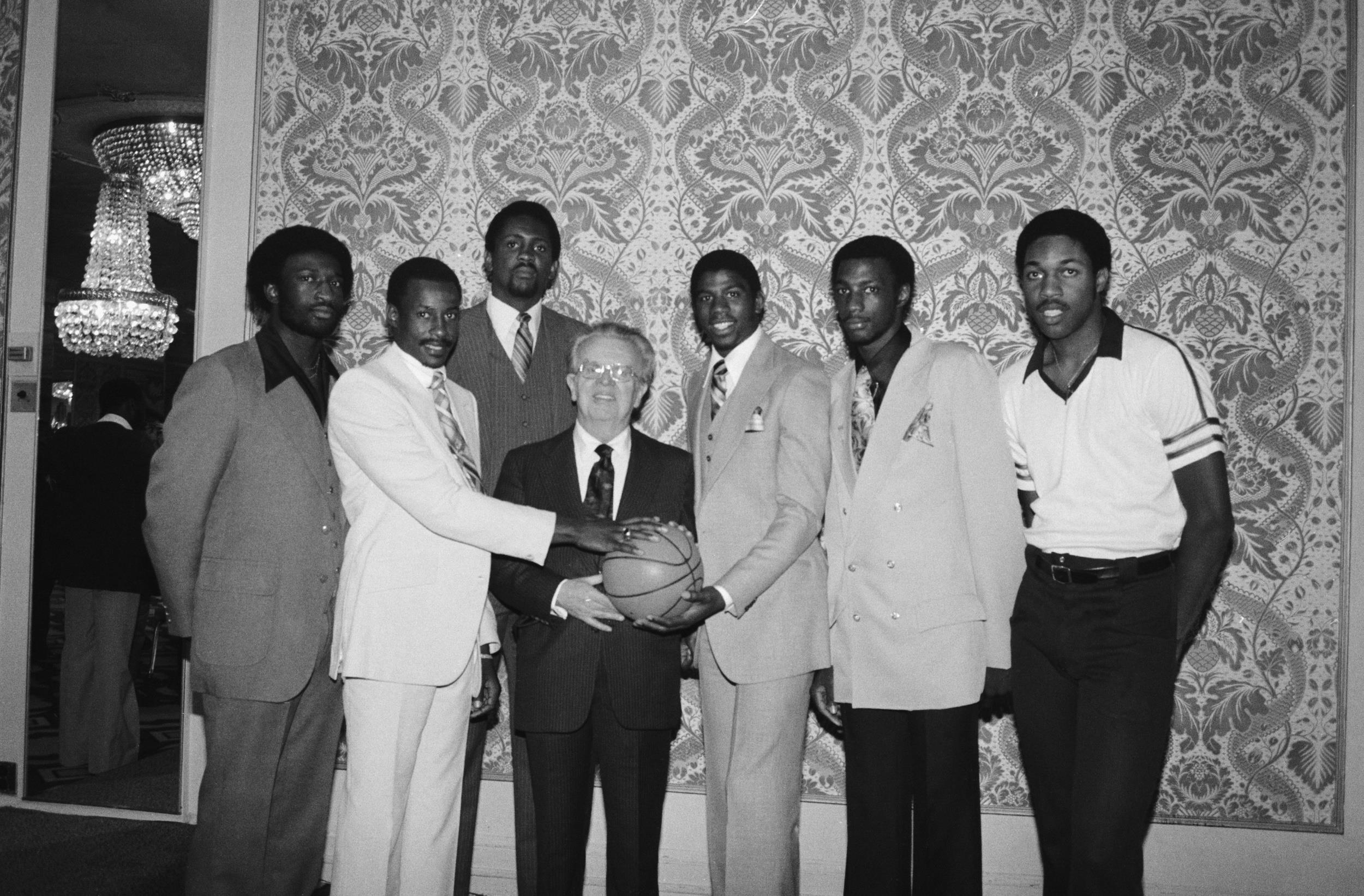 Slideshow continues on the next slide
5/26 SLIDES © Bettmann Collection via Getty Images
Going Hollywood
After putting Michigan State back on the map, winning a national championship and being recognized as one of the best players in the country, there wasn't much more Johnson needed to do at that level. Not that it was a problem because the NBA was calling. But where was he going to go? The Chicago Bulls and Utah Jazz finished with the worst records in the league in 1979 and needed a coin flip to determine who would get the first overall pick. The Los Angeles Lakers, who owned the Jazz pick via a trade involving Gail Goodrich, needed Utah to win the coin flip to have the chance to pick Magic Johnson to pair with Kareem Abdul-Jabbar. In a twist of fate that affected the entire makeup of the NBA, the Jazz won the coin toss, and the Lakers got their point guard and the building blocks necessary for a decade-long dynasty.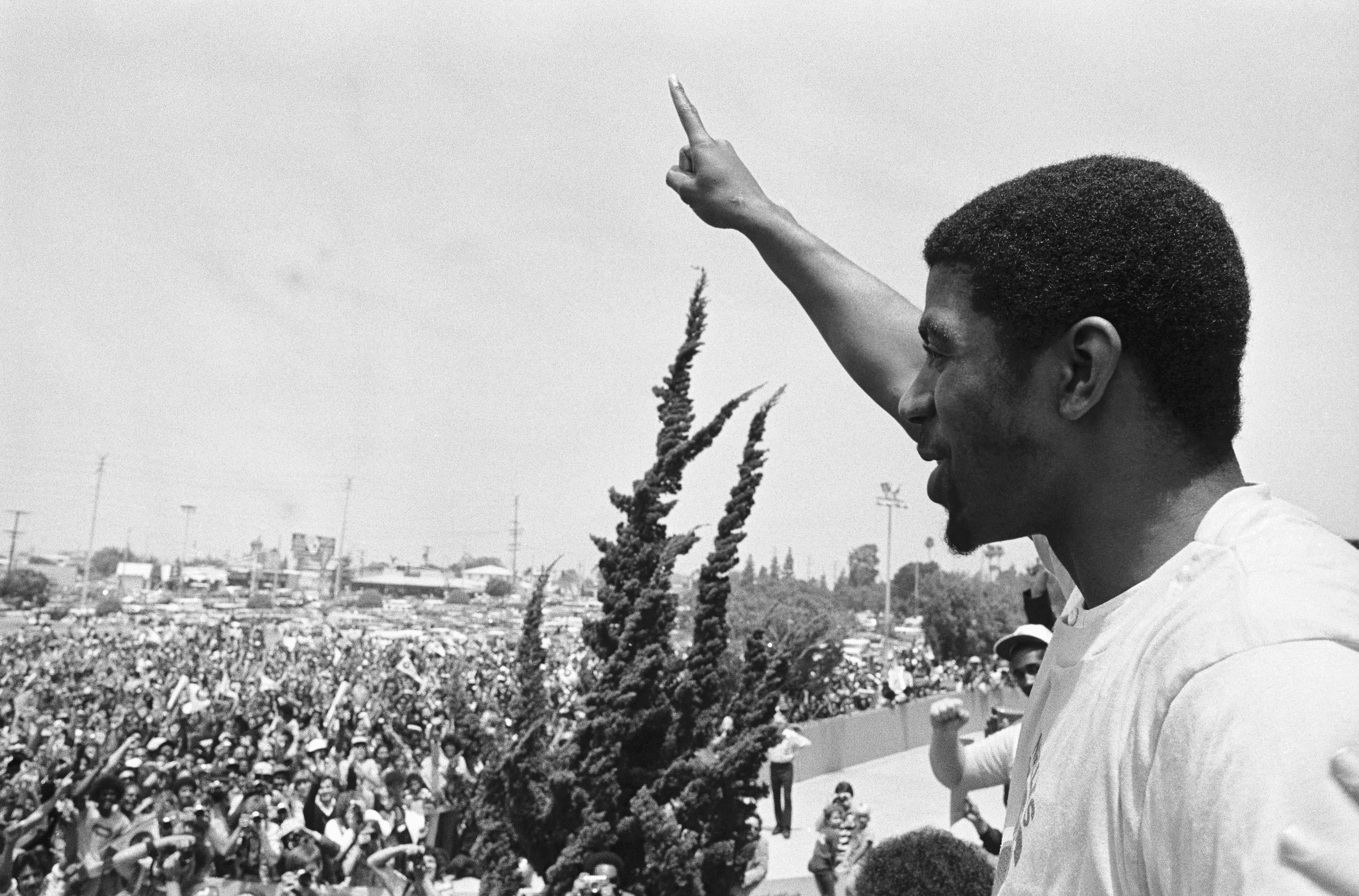 6/26 SLIDES © Focus on Sport via Getty Images
Striking gold immediately
Larry Bird may have won Rookie of the Year in 1980, but Magic Johnson won what mattered most in their first year in the league. After averaging 18.0 points, 7.7 rebounds and 7.3 assists, the Lakers point guard was named a starter in the NBA All-Star Game and earned NBA All-Rookie honors. More importantly, he made it to the NBA Finals where Bird was nowhere to be found. In Game 6, the Lakers were without Kareem Abdul-Jabbar, who was out with a sprained ankle. Johnson was plugged in at starting center and flexed his versatility. In one of the most clutch performances ever, he racked up 42 points, 15 rebounds and seven assists while playing center, point guard and forward. He won NBA Finals MVP on the strength of that performance and showed that even though he wasn't Rookie of the Year, he was a force to be reckoned with.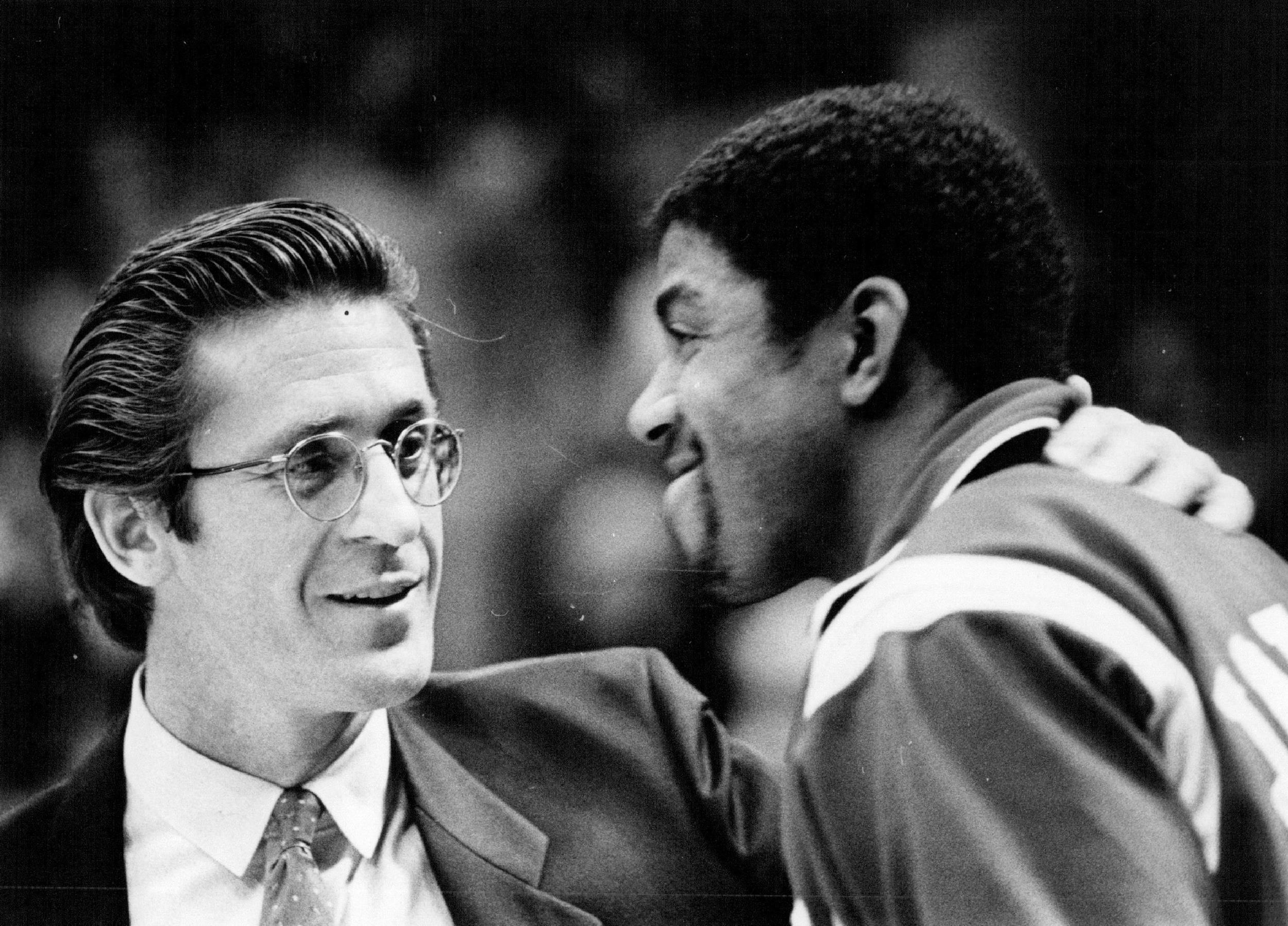 7/26 SLIDES © Bettmann Collection via Getty Images
Big-time contract, big-time scrutiny
After the 1980-81 season, Johnson was averaging 19.2 points, 8.0 rebounds, 7.7 assists and 2.8 steals per game his first two years in the NBA. With one NBA championship and one Finals MVP under his belt, he was due for a big payday. The Lakers handed Johnson a huge 25-year, $25 million contract — the largest contract ever given to a professional athlete at the time. That kind of money comes with a lot of eyeballs on you, and there's nothing fans hate more than a rich athlete complaining about something. Johnson was critical of head coach Paul Westhead's methodical offense. He demanded a trade, and Westhead was fired shortly after despite having a 7-4 record to start the season. While he denied any wrongdoing, many fans blamed him for a championship-winning coach's departure. He was booed by everyone, including Lakers fans, but greener pastures were on the horizon.
8/26 SLIDES © Denver Post via Getty Images
Riley and Johnson
Johnson might have been the least popular he had ever been after the Paul Westhead conflict, but winning has a funny way of turning things around. With Pat Riley at the helm, the Lakers finished the season 50-22 with the second-highest scoring offense in the league. Johnson ended the regular season with a second-team All-NBA team selection, after averaging 18.6 points, 9.6 rebounds and 9.5 assists per game while leading the league in steals. The Lakers would sweep their way to the NBA Finals where they would face the Philadelphia 76ers for the second time in three seasons. Johnson would turn on the afterburners in the NBA Finals, averaging 16.2 points, 10.8 rebounds and 8.0 assists en route to his second Finals MVP and second NBA title while helping Riley claim his first. It would be the start of a beautiful partnership with Johnson and Riley that would bring more hardware to the City of Angels.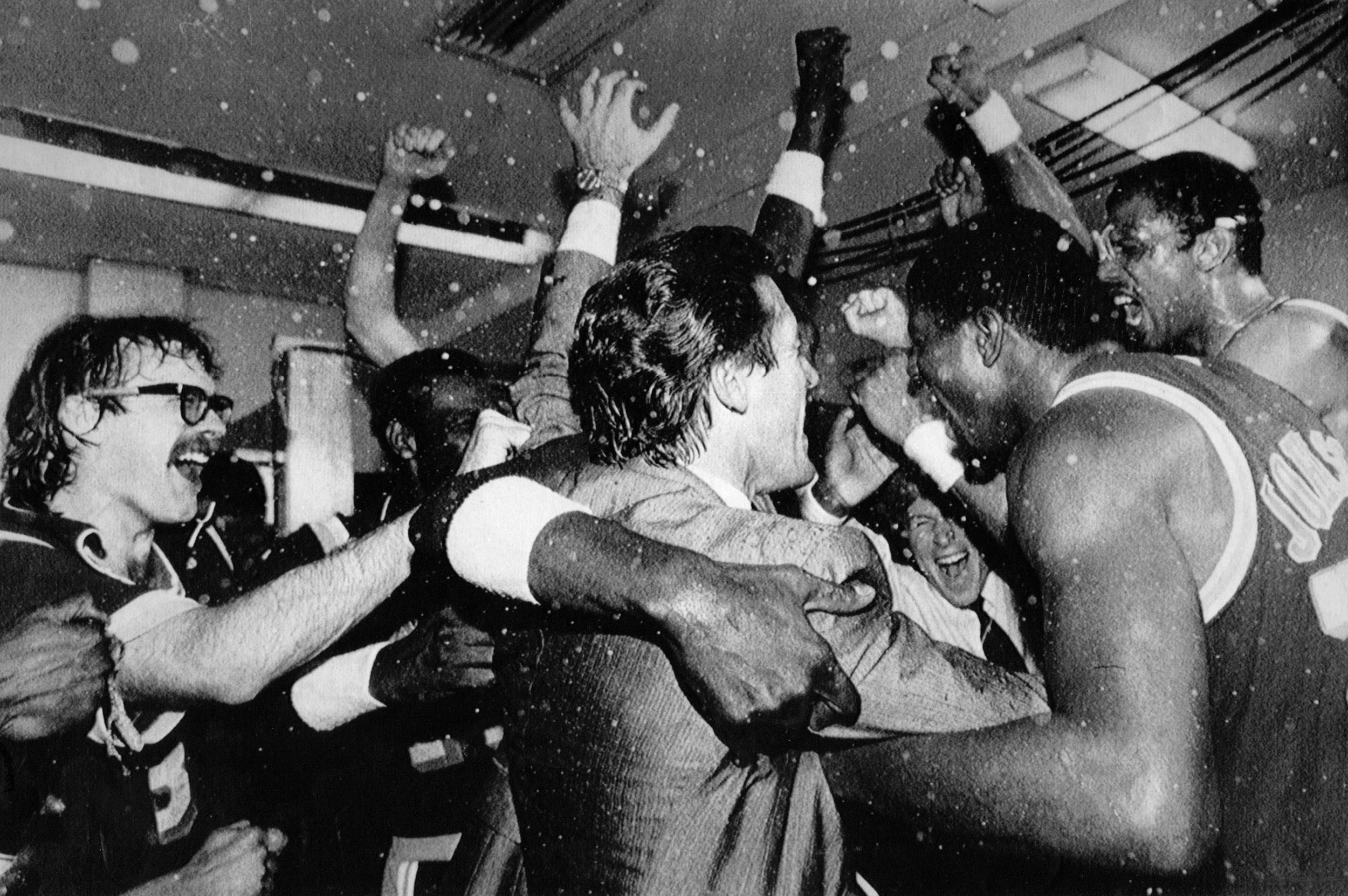 9/26 SLIDES © Focus on Sport/Getty Images
Hitting the Celtics wall and the birth of Tragic Johnson
Long before Magic Johnson donned the Lakers purple and gold, Los Angeles was struggling against the Boston Celtics. In the seven previous Finals matchups between the two teams, it was the Celtics that came out victorious every single time. Johnson was already becoming legendary, but if he wanted to be an undeniable icon in Lakers lore, he would need to beat Boston. His pursuit did not start on the right foot. The Lakers were battling the Celtics for the eighth time in the NBA Finals in 1984. Things started off well with a Game 1 win. With the scored tied 113-113 in Game 2, Johnson had a chance to score or make a play to win the game. Instead he dribbled the ball out until time expired, and Boston would win the game in overtime. The series came down to a Game 7, where Johnson had the ball down three points when Dennis Johnson stole it to secure the championship and the eighth straight NBA Finals victory for the Celtics over the Lakers. Johnson gained the moniker "Tragic Johnson," which would haunt him for the foreseeable future.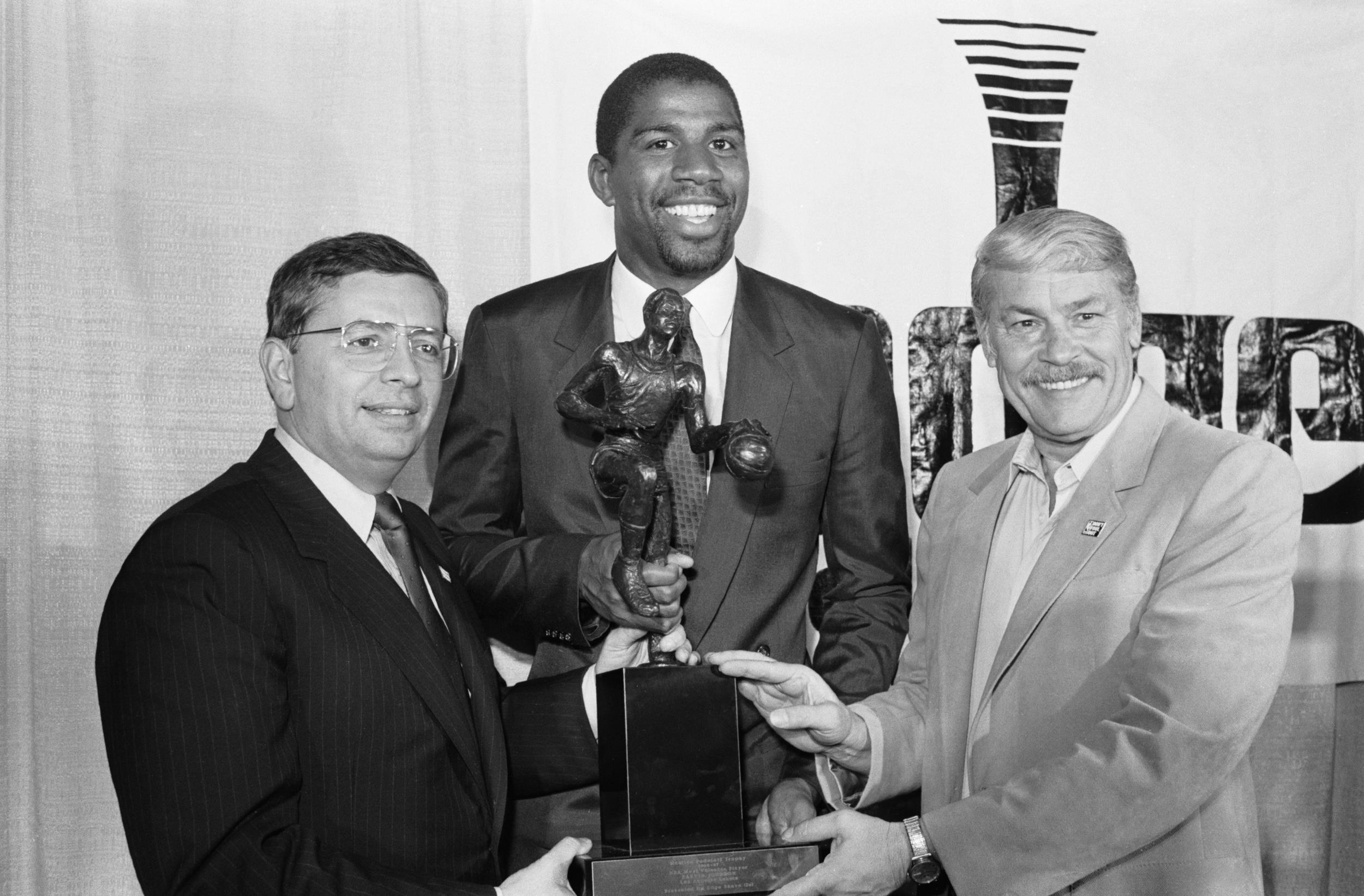 Slideshow continues on the next slide
10/26 SLIDES © Joe Kennedy/Los Angeles Times via Getty Images
Breaking the Boston curse
After having his heart torn out in the previous year's Finals, Johnson came into the 1984-85 season with renewed focus and a chip on his shoulder. He finished the regular season averaging 18.3 points, 6.2 rebounds and 12.6 assists and made his way back to the Finals where he would face the hated Celtics again. Things would go a little differently this time. After suffering a 34-point loss in what was dubbed the "Memorial Day Massacre," the Lakers recovered to win four of the last five games with the help of Johnson's 18.3 points, 6.8 rebounds and 14.0 assists per game. He was instrumental in Los Angeles finally topping the Celtics for a championship.
11/26 SLIDES © Bettmann Collection via Getty Images
NBA MVP finally
Despite putting up unprecedented assist numbers and winning multiple Finals MVPs, Johnson hadn't been named league MVP in his career so far. Sharing the stage with Kareem Abdul-Jabbar has its drawbacks, and Larry Bird was wrecking the league with his all-around game. Johnson was finally rewarded for his brilliance in 1987. He finished the regular season with 23.9 points per game while leading the league in assists. After being looked at as the 1A to Abdul-Jabbar's 1, Johnson's first NBA MVP signaled to everyone he was the top dog.
12/26 SLIDES © Bettmann Collection via Getty Images
Junior sky hook sinks the Celtics
After being named regular-season MVP, Johnson continued his stellar play into the playoffs. The big point guard helped the Lakers go 11-1 on their way to another clash with the Boston Celtics in the NBA Finals. There, he became an NBA immortal. In Game 4, Johnson hit what he dubbed, "a junior skyhook" in the final seconds to sink the Celtics, who now were down 3-1 in the series. Johnson would finish the series averaging 26.2 points, 8.0 rebounds and 13.0 assists per game, securing his third Finals MVP and fourth NBA championship.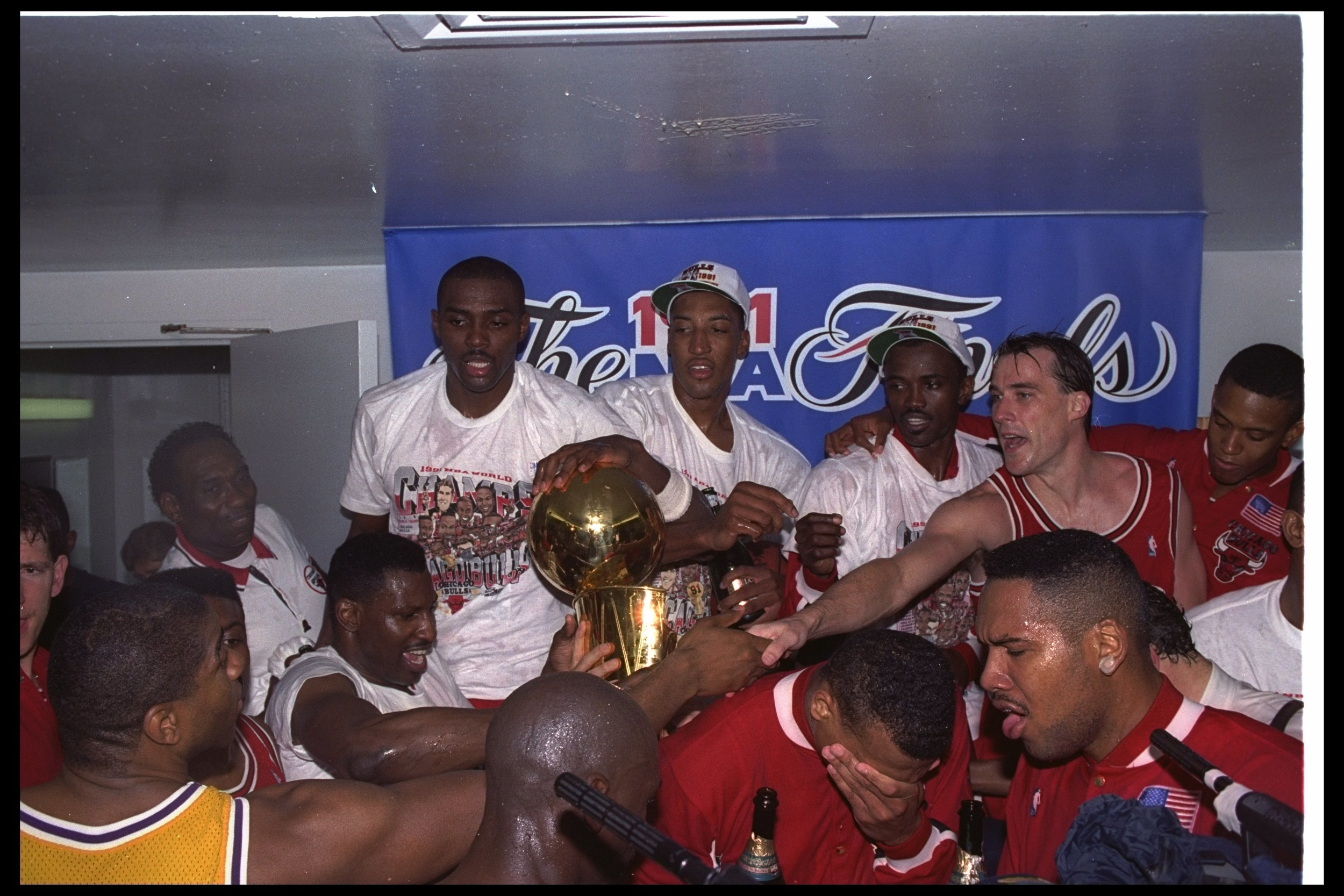 13/26 SLIDES © Focus on Sport/Getty Images
Making good on a guarantee
Pat Riley boldly claimed at the 1987 championship parade that the Lakers were going to win another NBA title the following season. With most teams, it would be a death sentence of high expectations. No team had repeated as champions since 1969. But this is Magic Johnson we're talking about it. He averaged 19.6 points, 6.2 rebounds and 11.9 assists for the regular season and reached the NBA Finals where the "Bad Boys" Pistons were waiting for him. Johnson may have kissed Detroit point guard Isiah Thomas on the cheek before every game , but there wasn't a lot of brotherly love that was shown. Johnson was his brilliant self, averaging 21.1 points, 5.7 rebounds and 13 assists on his way to his fifth and final championship. James Worthy may have won the Finals MVP that year, but with five titles under his belt before turning 29, Johnson's winning legacy was intact.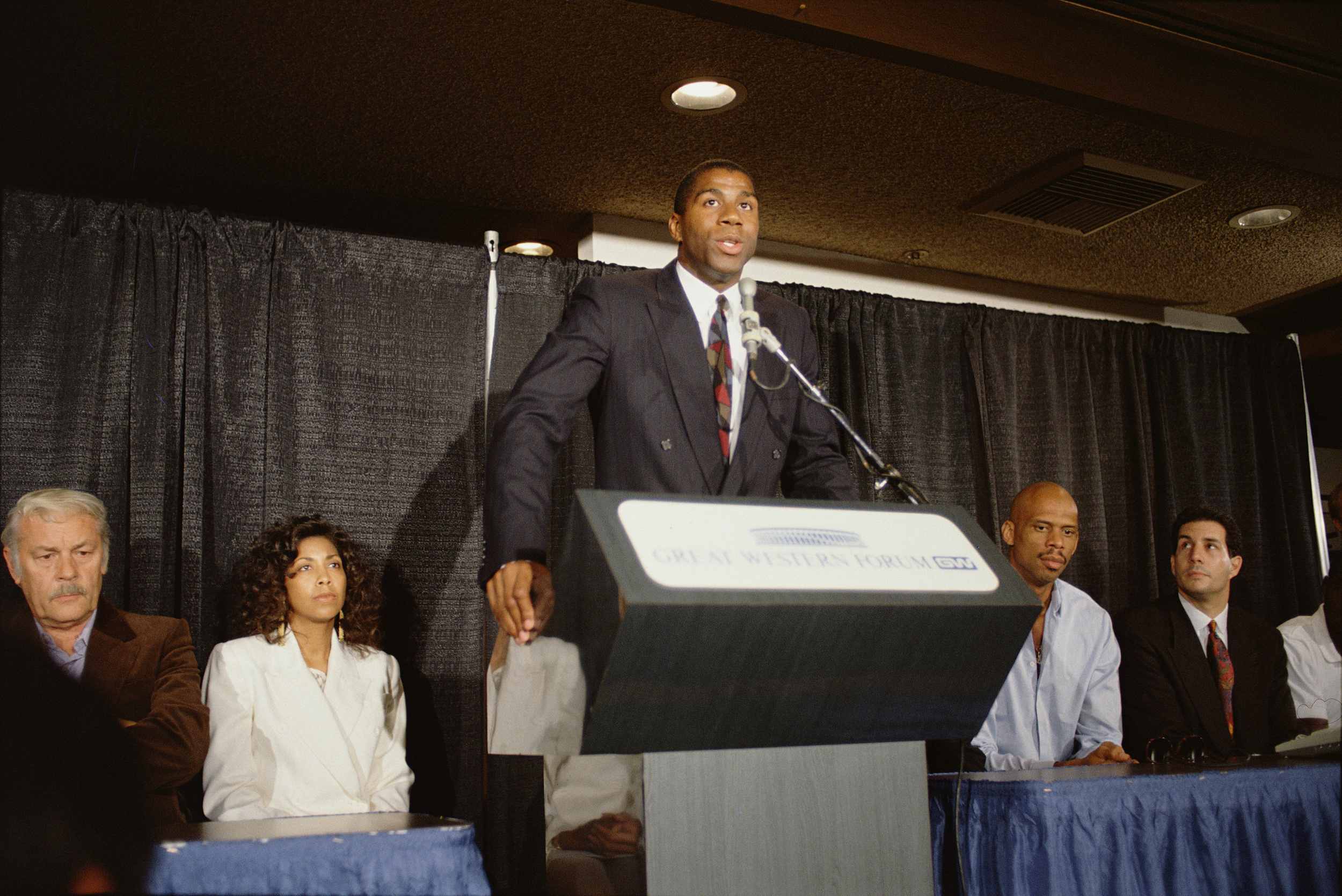 14/26 SLIDES © Bettmann Collection via Getty Images
Back-to-back MVPs
With Larry Bird out for most the 1988-89 season, Magic Johnson had no trouble standing out in the MVP race. He racked up 22.5 points, 12.8 assists and 7.9 rebounds per game on his way to his second NBA MVP Award. Unfortunately for the Lakers his hamstring couldn't survive the playoffs, and Los Angeles was swept by Detroit in the NBA Finals. The next season, with Kareem Abdul-Jabbar retired, Johnson was the undisputed top dog on the team, averaging 22.3 points, 6.6 rebounds and 11.5 assists. He also added a consistent three-point shot, hitting 38.4 percent of his attempts. His efforts brought him his third and final MVP Award. At 30, Johnson was still schooling the best in the NBA, but another superstar was nipping at his heels.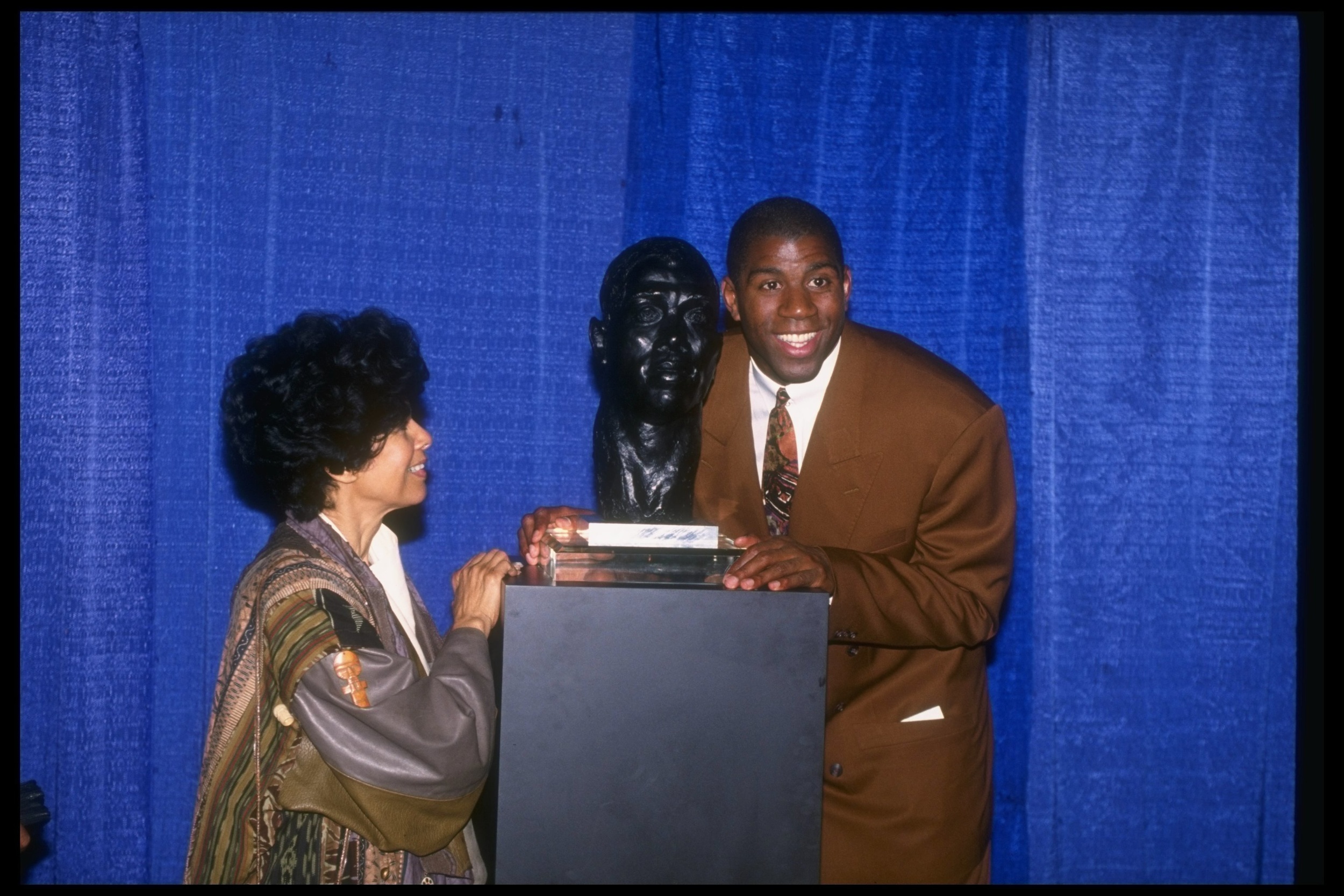 Slideshow continues on the next slide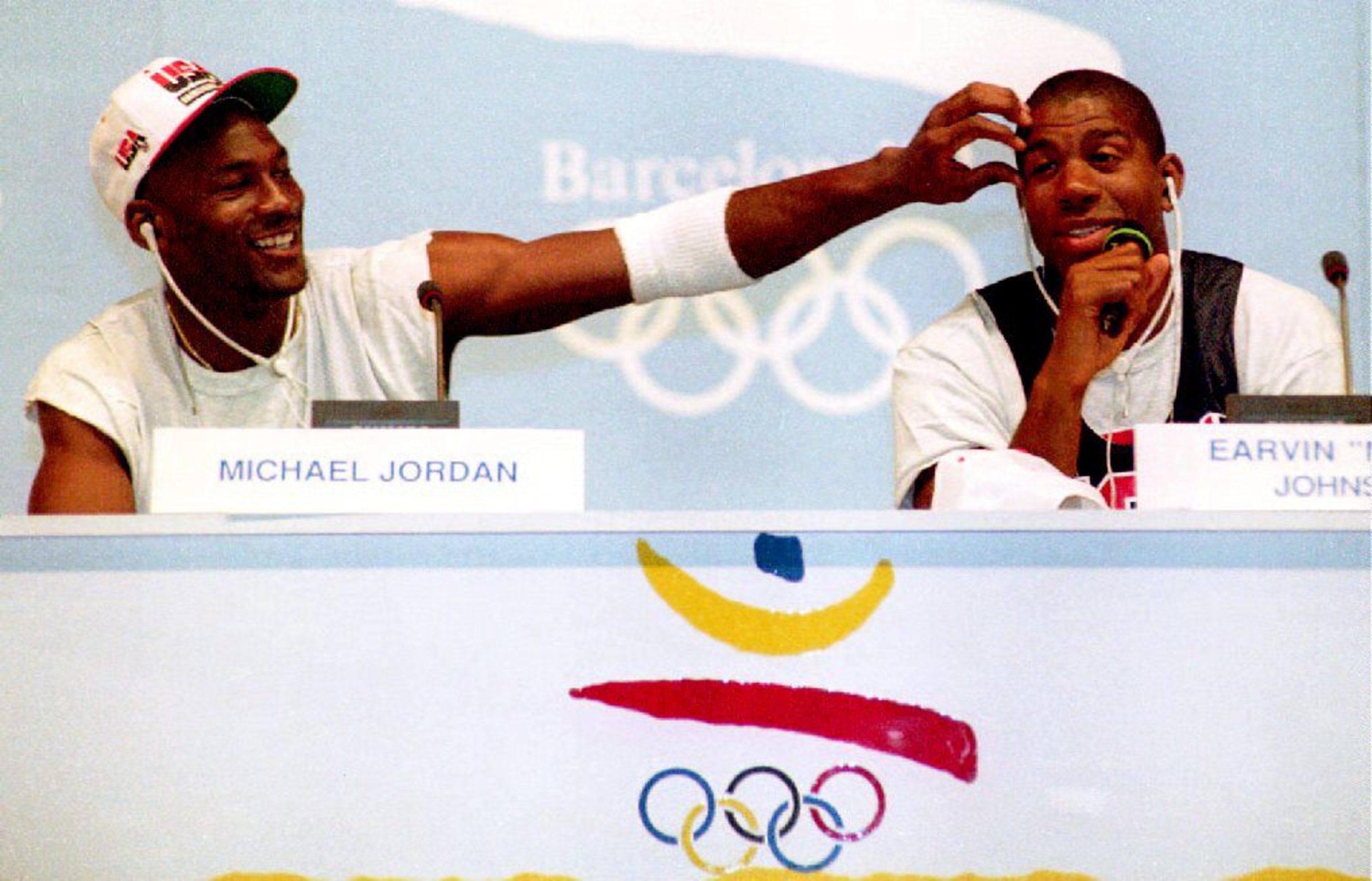 15/26 SLIDES © Ken Levine/Getty Images
Handing the torch to Jordan
For over a decade, Larry Bird and Magic Johnson dominated the league, but coming up behind them was a high-flying, tongue-wagging superstar. Michael Jordan was wrecking the league with his freakish athleticism and scoring ability, but he was never able to get it all together until 1991. To be the man, you have to beat the man, and Magic Johnson was the gold standard of winning at the time. Johnson did his best in the 1991 Finals against Jordan's Bulls, averaging 18.6 points, 8.0 rebounds and 12.4 assists. Jordan, however, figured out the team game instead of trying to score 70 points every game, averaging 31.2 points, 6.6 rebounds and 11.4 assists, flawlessly executing the triangle offense with Scottie Pippen. Unlike many times he's been in the championship round, Johnson failed to secure a title. Many didn't think it would be his last Finals appearance, but no one thought what happened over the summer was ever a possibility.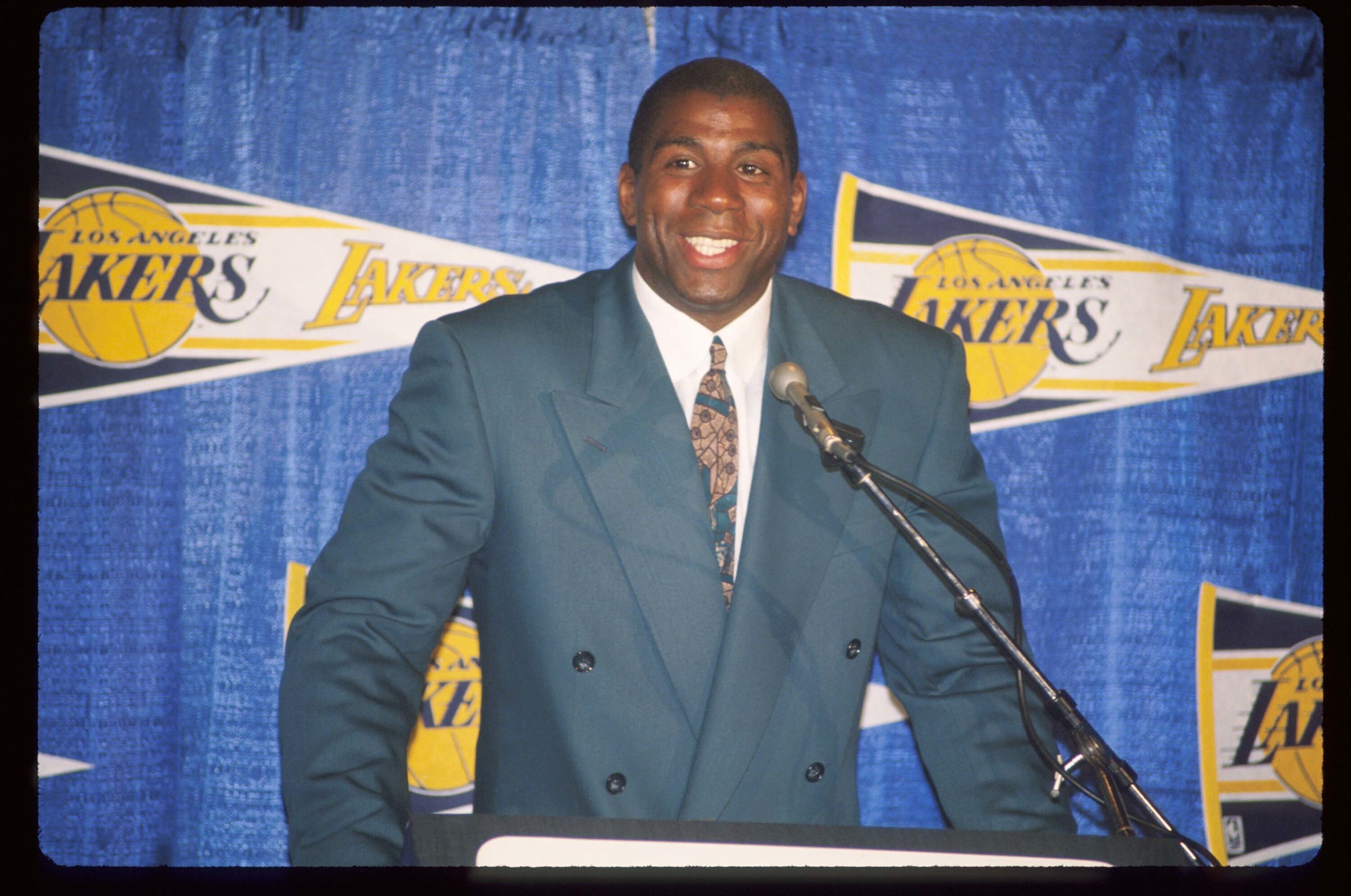 16/26 SLIDES © Bill Nation/Sygma via Getty Images
HIV announcement and retirement
Before the 1991-92 season, Johnson took a physical where it was discovered he had tested positive for HIV. At the time an HIV diagnosis was looked at as a death sentence, so he retired from basketball to focus on battling the illness. Thankfully he had the resources to fight the virus, and it wasn't long before a basketball was in his hands again.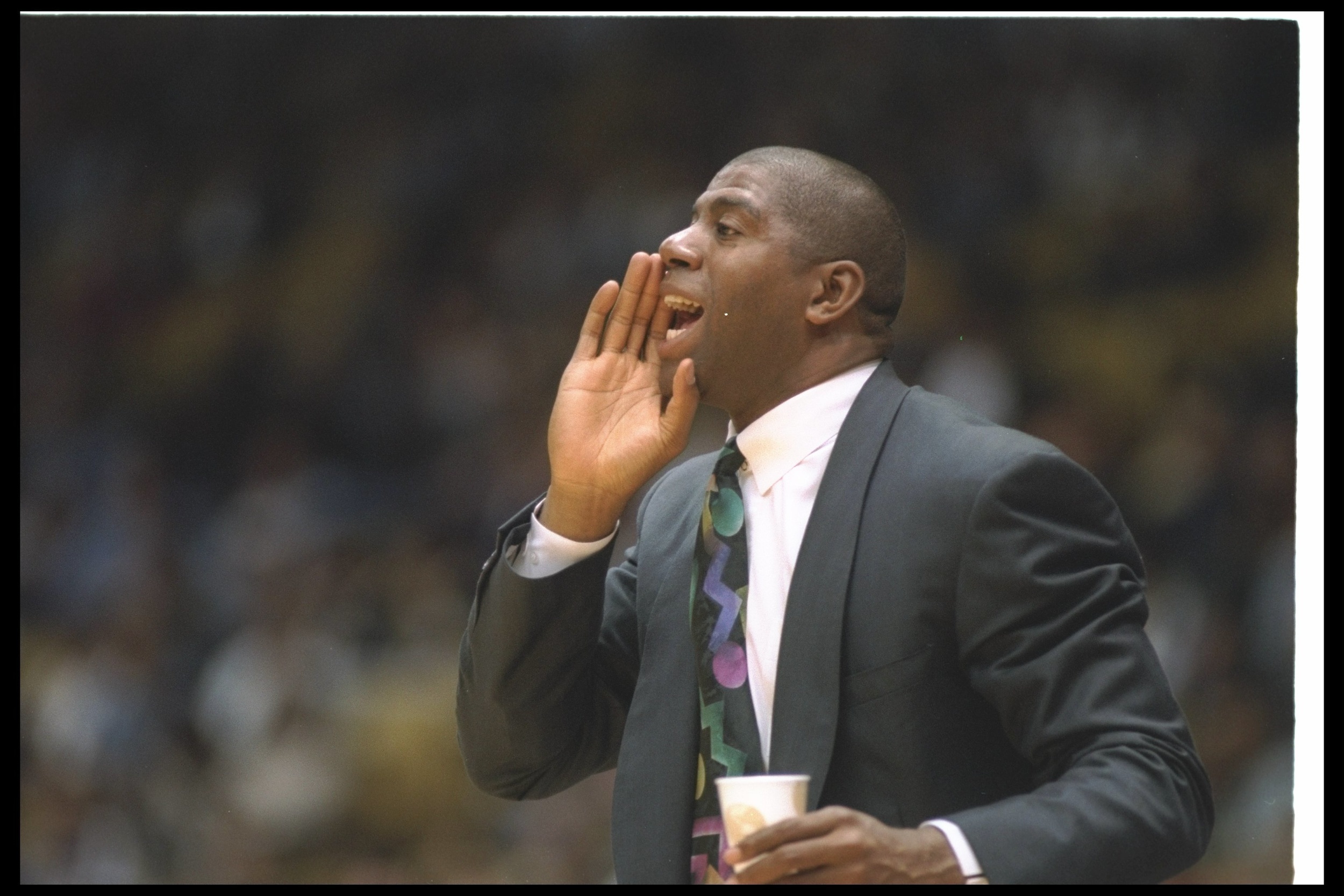 17/26 SLIDES © Ken Levine/Getty Images
NBA All-Star MVP
Despite retiring before the season, Magic Johnson remained a fan favorite. He was so popular that the fans voted him into the NBA All-Star Game as a starter. But there was so much unknown about the illness at the time that many didn't want him to play. His former teammates Byron Scott and A.C. Green didn't think it was a good idea, and Utah Jazz forward Karl Malone said players risked contamination if Johnson got an open wound. Still, Johnson got permission to play from David Stern. What ensued was one of the greatest All-Star Games ever. It took a while to get up to game speed, but Johnson flourished, backing down Michael Jordan and Isiah Thomas on the block and giving the crowd what might have been one last look at one of the greatest players in the game. He finished with 25 points, nine assists and five rebounds, taking home the All-Star MVP. Looking back at the game, Johnson hoped it served as inspiration for everyone dealing with any illness; showing how to deal with anything and still live a productive life. For many fans watching the game, he did just that.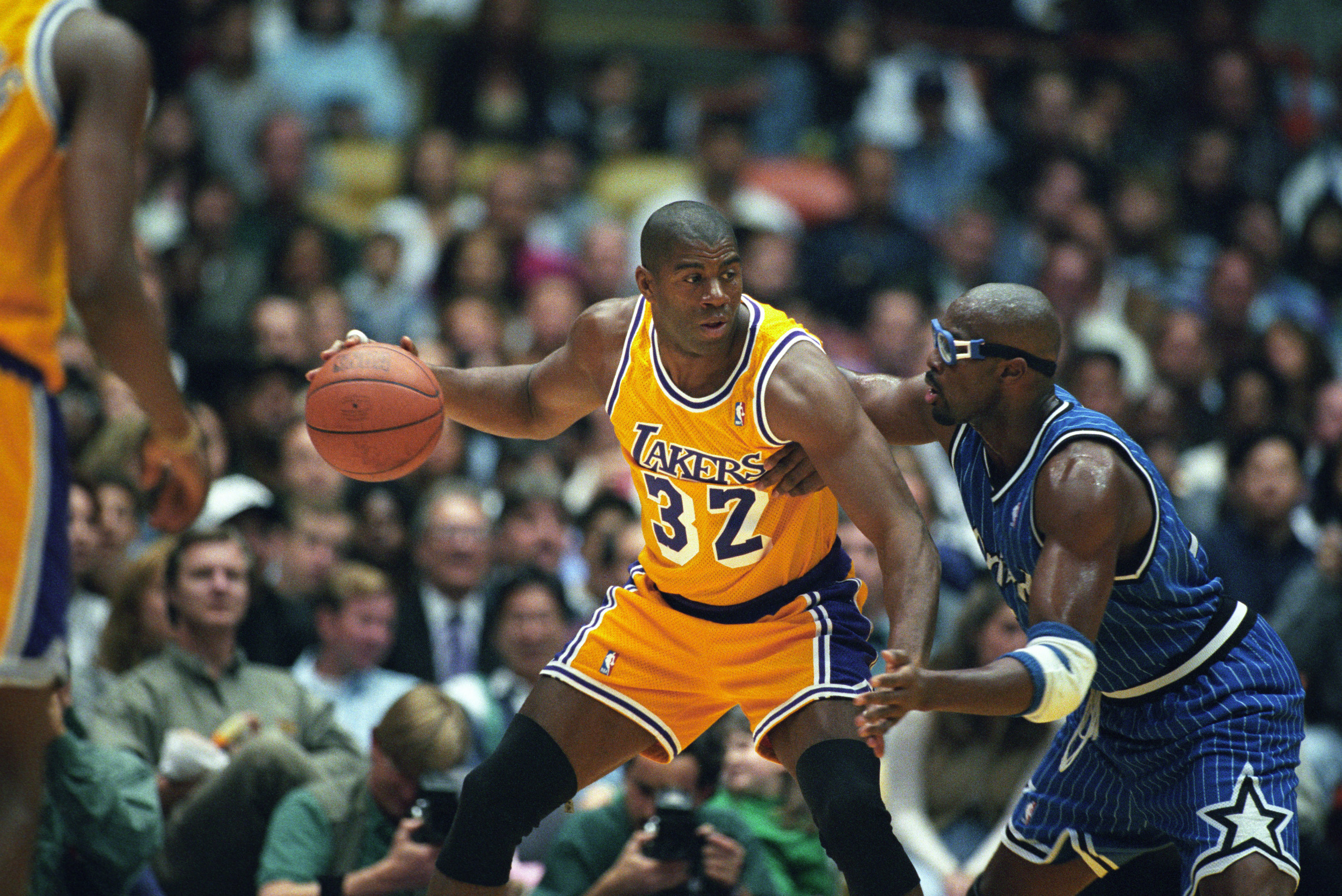 18/26 SLIDES © KARL MATHIS/AFP/Getty Images
The Dream Team
After his emotional All-Star Game performance, it was obvious that Johnson had a little bit more to give to basketball as a player. When the Olympics allowed professional basketball players to compete in the games, Johnson couldn't say no to the opportunity to play with the greatest players in the world while inspiring HIV-positive people. Fans around the world still went gaga over Johnson as he was leading the break with Michael Jordan on one side and Scottie Pippen was running with him on the other. He averaged 8.0 points and 5.5 assists per game. He was limited due to knee problems, but he was a great ambassador for the United States and HIV patients across the world.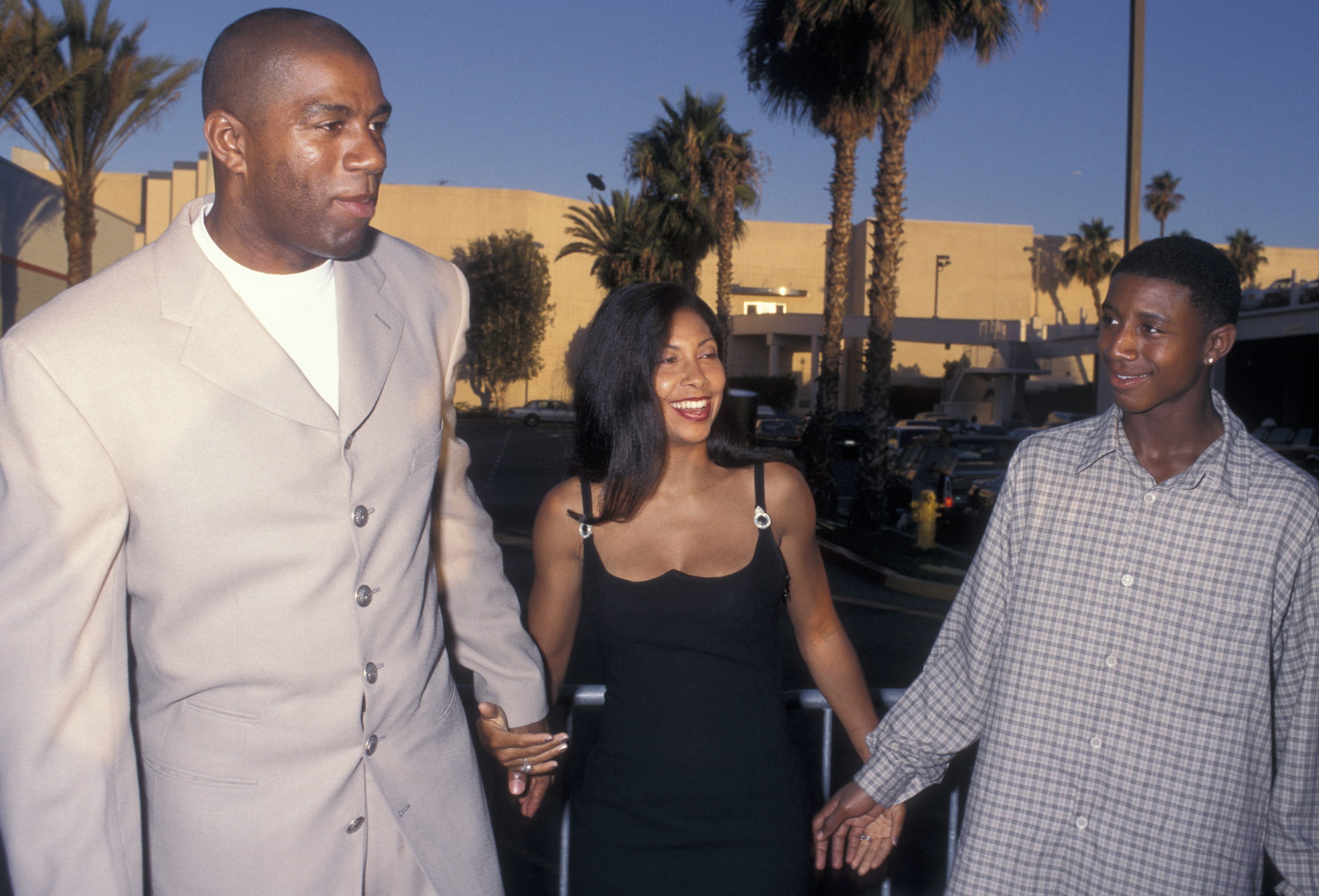 19/26 SLIDES © Jean-Marc Giboux/Getty Images
Failure to relaunch
The Dream Team experience led Johnson to announce his intent to return to the NBA. He played in a couple of preseason games with the Lakers, but there were still concerns from other NBA players on whether his participation was safe for everyone else. Because of the controversy, he decided to retire again because he didn't want to hurt the game.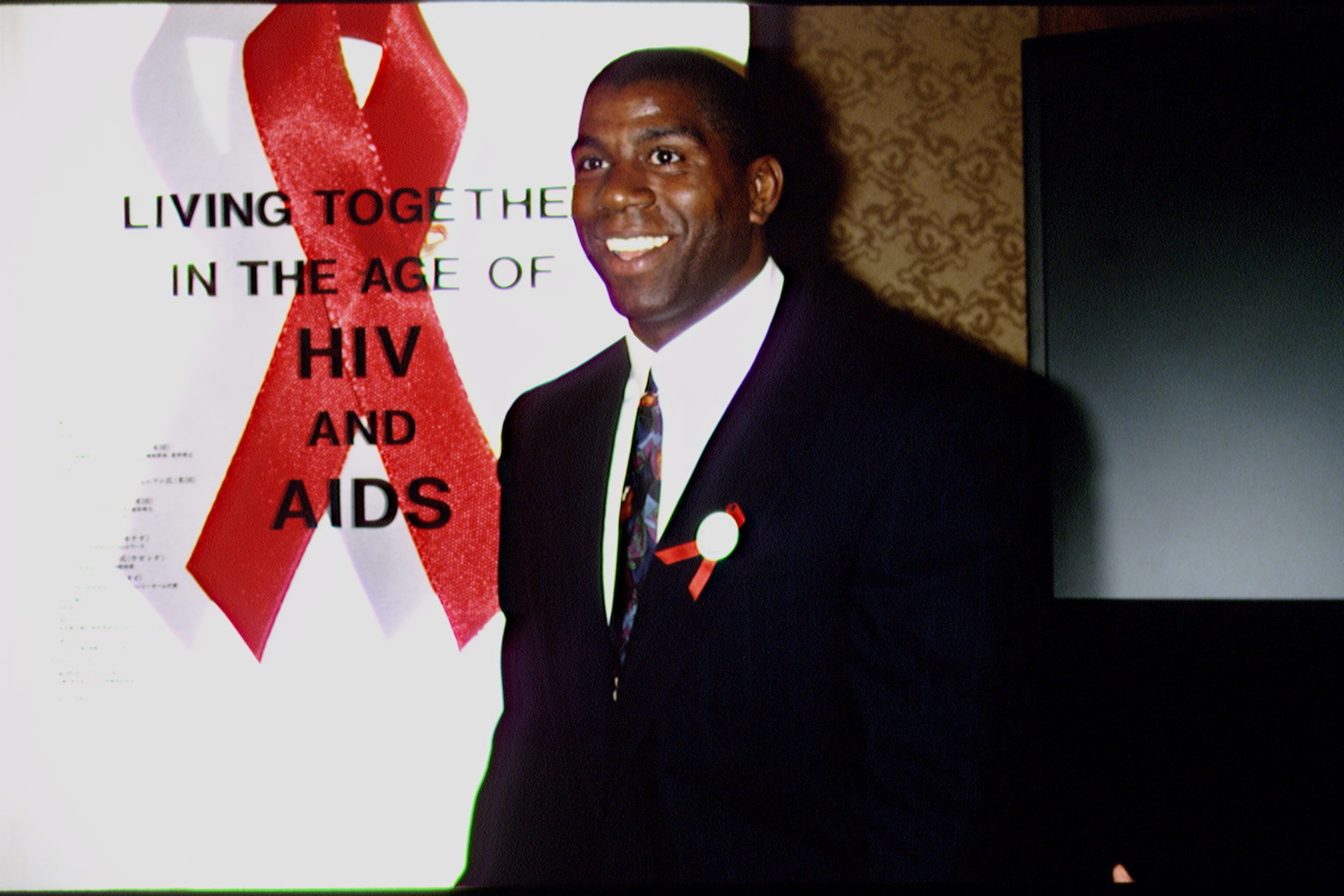 20/26 SLIDES © Stephen Dunn/Getty Images
Coach Johnson
Being a point guard, you have to run the team on the court. With that knowledge, it makes sense that the position would produce a lot of coaches, and Johnson tried his hand at running a team from the sideline. The 1993-94 Lakers were struggling, going 27-37 with Randy Pfund as head coach. Johnson was brought on as head coach after Bill Bertka split two games as interim head coach and had immediate success, winning five straight games. But the victories didn't pile up and he finished with a 5-11 record. Johnson resigned as head coach but wasn't done with basketball quite yet.
21/26 SLIDES © Matt A. Brown /Icon SMI/Icon Sport Media via Getty Images
Comeback and re-retirement
One year removed from coaching the Lakers, Johnson decided to come back for one more shot as a player at 36 years old. He played his first game midseason in January against the Warriors, coming off the bench to score 19 points, grab eight rebounds and dish 10 assists. In 32 games, Johnson averaged 14.6 points, 5.7 rebounds and 6.9 assists, leading the Lakers to fourth seed in the Western Conference. Unfortunately for the Lakers, the team was eliminated in the first round and its seams began coming apart. Cedric Ceballos had trouble adjusting to reduced playing time, and Del Harris' offense was not to Johnson's liking. Johnson was contemplating coming back the following the season, even thinking about going to another team that would play him more at point guard. He ultimately decided to go out on his own terms and hang up his jersey for the last time.
22/26 SLIDES © Ron Galella/Ron Galella Collection via Getty Images
Business success
Even before retiring permanently, Johnson was already getting great business advice from Jerry Buss. He bought a 5 percent stake in the Lakers for $10 million in 1994, but he took his ventures to a new level after he finished playing. Johnson founded Magic Johnson Enterprises, building a $1 billion empire that includes movie theaters, Burger King restaurants and 24-Hour Fitness gyms. He also brought Starbucks franchises to urban areas, which he sold when they became established. For many athletes, continuing to make money after a playing career can be a struggle, but Johnson continues to serve as a model for not only surviving but also for thriving post-playing career.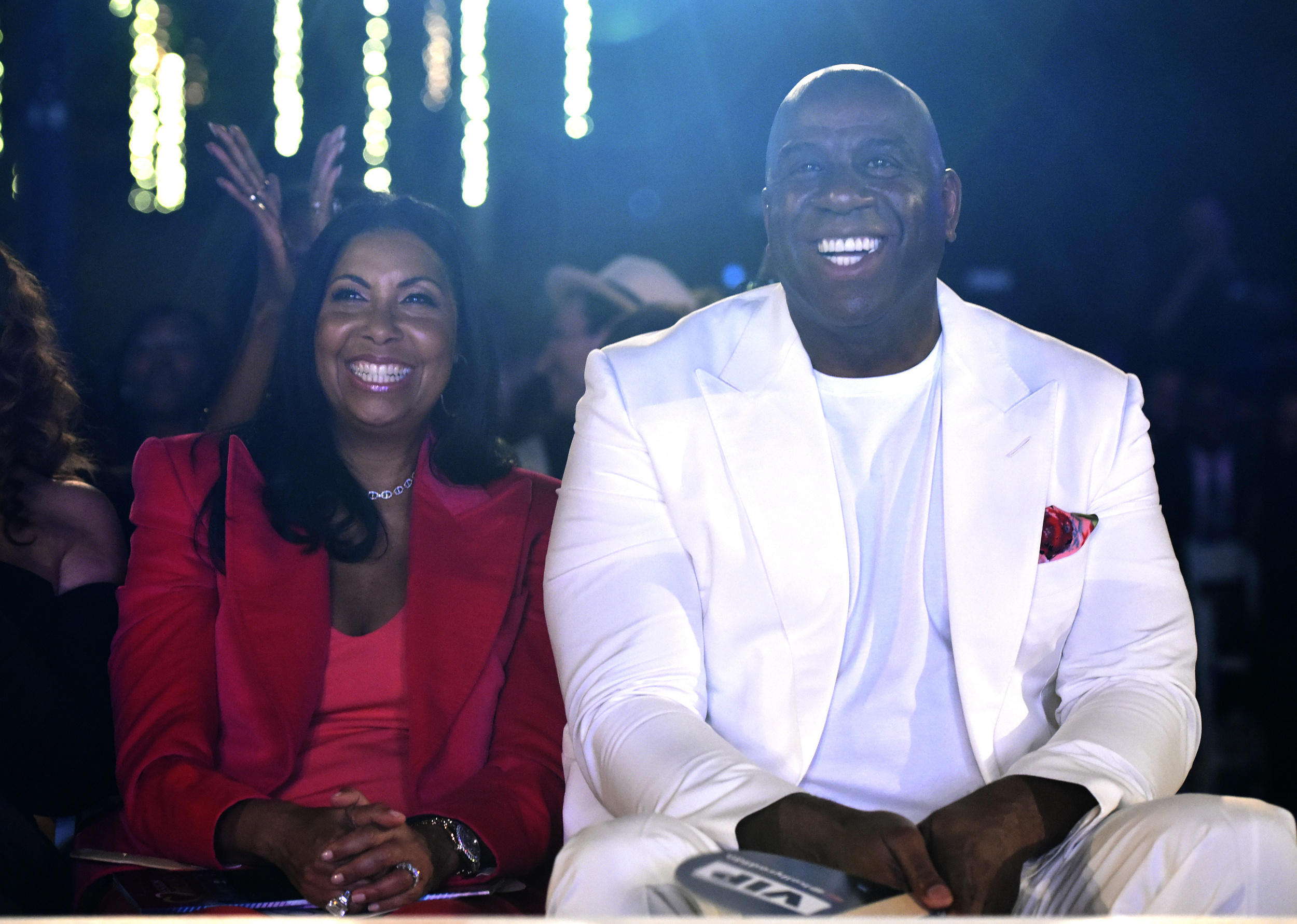 23/26 SLIDES © Noboru Hashimoto/Getty Images
HIV activism
Johnson worked quickly after announcing his HIV diagnosis, creating the Magic Johnson Foundation to fight the illness. He also joined the National Commission on AIDS during the Bush administration but left after the commission's recommendations were "ignored." However, his efforts to educate and cure the illness that still lives within him continues to this day.
News Related
OTHER NEWS