Diane Keaton opens up about living happily as a single woman
Diane Keaton said it is "highly unlikely" she'll date again.
Diane Keaton is enjoying life as a single woman.
During an interview with AARP The Magazine for its May/April 2023 cover story, the "Annie Hall" actress discussed her career and personal life, opening up about being happy with solo living at 77 years of age.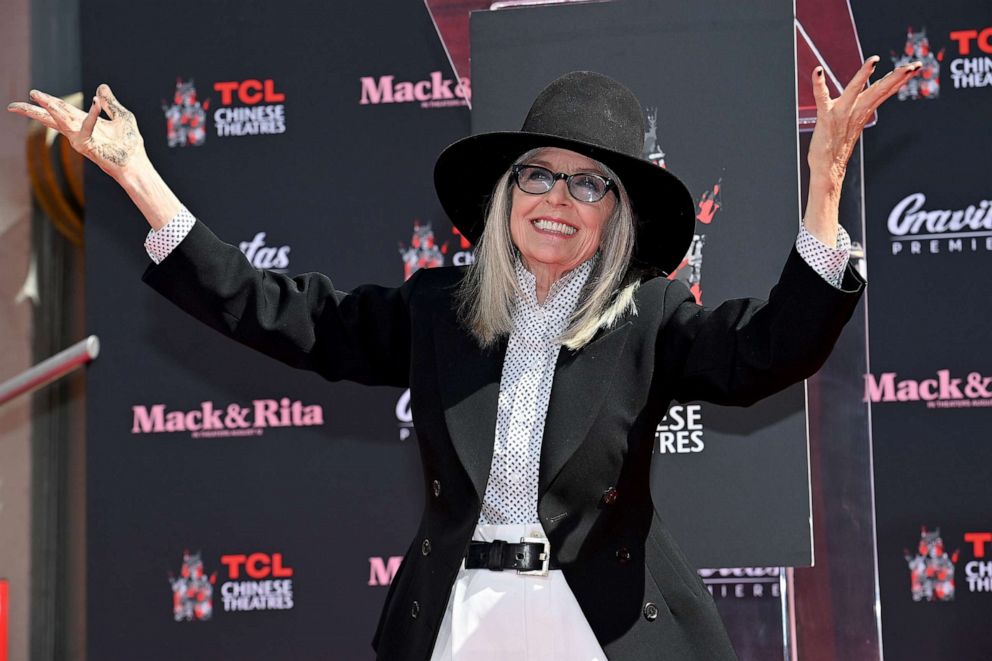 Diane Keaton is honored with a Hand and Footprint Ceremony at TCL Chinese Theatre, Aug. 11, 2022, in Hollywood, Calif.Axelle/Bauer-Griffin/FilmMagic via Getty Images
"I don't date. Highly unlikely," she shared. "I don't remember anyone calling me, going, 'This is So-and-So. I'd like to take you out.' They don't happen. Of course not."
Keaton, who has been in relationships with other famous household names in the past — including Woody Allen, Warren Beatty and Al Pacino — created a family of her own after adopting two children, daughter Dexter Keaton, 28, and son Duke Keaton, 23, when she was in her 50s.
MORE: Diane Keaton enjoys rare family outing with daughter Dexter, son Duke
The Oscar winner also told the magazine she recently found companionship with her dog Reggie after both of her adult kids moved out of her house.
"A friend of mine gave her to me," Keaton said. "I didn't even ask for her. He came to me and said, 'I think you need this dog.' I was like, 'OK, I guess?' Of course, now I just love her."
She continued, "Dogs are irresistible. They're just idiots. Reggie is a big jerk, and she's a great jerk, and she's hilarious."
Keaton has always been candid about her love life. Speaking to InStyle in 2019, she revealed she hadn't been on a date in 35 years.

Diane Keaton shares video singing Ariana Grande's 'Thank U, Next' and asks her to do a duet

Diane Keaton opens up about her relationship with her brother in new memoir

Watch Jane Fonda, Diane Keaton, Mary Steenburgen, Candice Bergen reunite in 'Book Club 2' trailer
"Never. All right?" Keaton replied when asked if she was dating at the time. "Let's just get that straight. That one's important. I haven't been on a date in, I would say, 35 years. No dates."
Keaton explained that she has a lot of male friends and a lot of friends in general, "but no dates. No mwah-mwah," before adding how much she enjoyed the solo lifestyle.
"I've had a lot of independence, and nobody's telling me what to do," she told InStyle. "I had a mother who encouraged that and helped me achieve the things I wanted to achieve. I've followed the paths I've wanted to follow. I like redoing houses, I like architecture, I like visuals, I like fashion, I like all of it."
News Related
OTHER NEWS