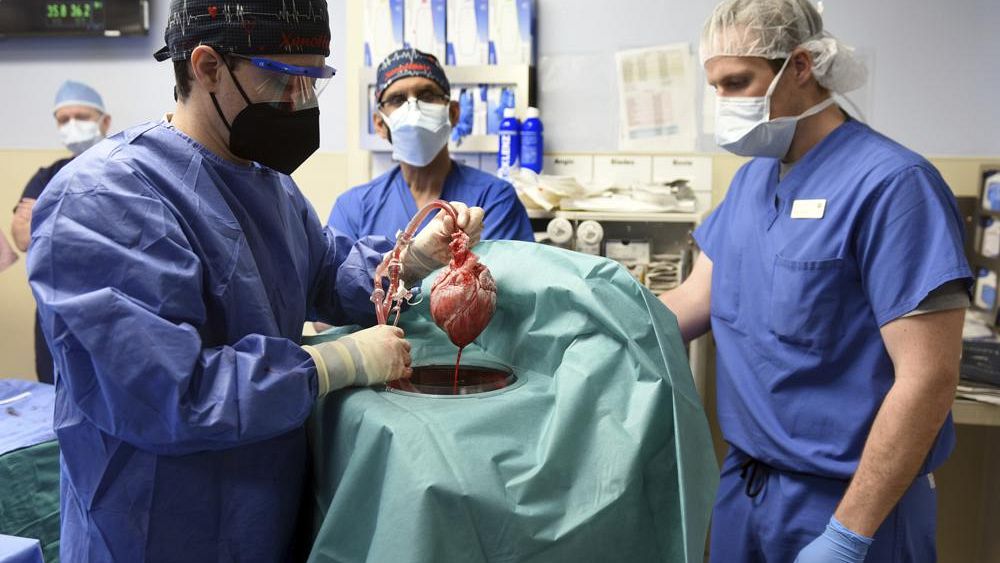 Bir domuzdan kalp nakli yapılan ilk kişiyi neyin öldürdüğünü öğrenmeye çalışan araştırmacılar, organın bir hayvan virüsü içerdiğini keşfettiler, ancak ölümde herhangi bir rolü olup olmadığı henüz açıklanmadı. 
the latest tech news, global tech news daily, tech news today, startups, usa tech, asia tech, china tech, eu tech, global tech, in-depth electronics reviews, 24h tech news, 24h tech news, top mobile apps, tech news daily, gaming hardware, big tech news, useful technology tips, expert interviews, reporting on the business of technology, venture capital funding, programing language
Maryland'de yaşamış olan 57 yaşındaki David Bennett çığır açan deneysel nakilden iki ay sonra yaşamını yitirdi. Maryland Üniversitesi doktorları kalpte bir virüs bulduklarını açıkladılar. 
Domuz kalbinin içinde 'sitomegalovirüs' adı verilen bu virüsün aktif bir enfeksiyona neden olduğuna dair işaretler henüz netleşmese de hayvandan insana nakillerdeki en büyük endişe olan yeni tür enfeksiyonlar geçirme riskini doğrulayabilir. 
Global Tech News Daily
Bennett'in naklini gerçekleştiren Dr. Bartley Griffith, The Associated Press'e verdiği demeçte, bazı virüsler "gizli" olduklarından, yani hastalığa neden olmadan pusuya yattıkları için farkına varılmasının mümkün olmadığını dile getirdi.
Üniversitenin xenotransplant programının bilimsel direktörü Dr. Muhammad Mohiuddin, "bu tür virüsleri kaçırmadığımızdan emin olmak için" daha karmaşık testler geliştirildiğini anlatıyor.
Global Tech News Daily
Hayvan virüsü ilk olarak MIT Technology Review tarafından, Griffith'in geçen ay Amerikan Transplantasyon Derneği'ne verdiği bilimsel bir sunuma atıfta bulunarak rapor edilmişti.
Hayvandan organ nakilleri başarılamıyor
Onlarca yıldır doktorlar, insan hayatını kurtarmak için hayvan organlarını kullanmayı denediler ama başarılı olamadılar. Ölmek üzere olan ve insandan kalp nakli için uygun olmayan Bennett, bağışıklık sisteminin böyle bir yabancı organı hızla reddetme riskini azaltmak için genetiği değiştirilmiş bir domuzun kalbi kullanılarak hayata döndürülmüştü. 
Maryland ekibi, donör domuzun sağlıklı olduğunu, Gıda ve İlaç İdaresi tarafından enfeksiyonları kontrol etmek için gerekli testlerden geçtiğini ve hayvanların enfeksiyon yaymasını önlemek için tasarlanmış bir tesiste yetiştirildiğini söyledi. 
Hayvanı sağlayan şirket olan Revivicor ise gelişmeye ilişkin yorum yapmayı kabul etmedi.
News Related
OTHER NEWS