Jon Kopaloff/Getty Images
Like a great many Ryan Murphy projects nowadays, "Monster: The Jeffrey Dahmer Story" has gotten a mixed reception. While the miniseries on the notorious serial killer has a 91%t from audiences on Rotten Tomatoes at the time of writing, critics aren't quite so agreeable. The Telegraph's Ed Power dubbed it "unwatchable," owing to the frank depiction of Jeffrey Dahmer's (played by Evan Peters) horrendous crimes.
That said, other critics have found praiseworthy elements in "Monster," particularly the acting. Peters' portrayal is generally seen as predictably chilling and disturbing, but the supporting cast is getting their share of applause too. Among these individuals is the actor who plays Tracy Edwards, a would-be victim of Dahmer's who managed to escape and later testify against the serial killer in court. And while details about Edwards' life after Dahmer's trial are scant, his actor's own recent history in Hollywood is quite rich. Here's where you may have seen him before.
Shaun J. Brown appeared in two episodes of True Blood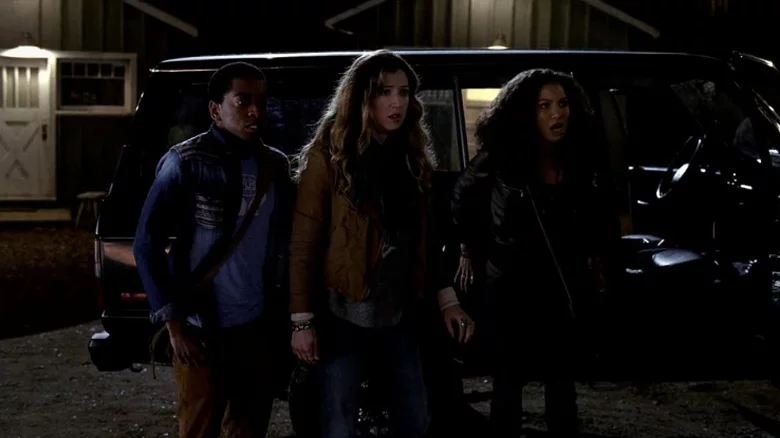 HBO/IMDb
Shaun J. Brown plays Tracy Edwards on "Monster: The Jeffrey Dahmer Story," and this role has earned him his share of praise. "In fact, the most memorable lines from this first episode belong to either [Niecy] Nash's [Glenda] Cleveland or Shaun J. Brown's Tracy Edwards," wrote Decider's Kayla Cobb. "Brown's delivery of 'You killed my people, motherf***er' is especially chilling."
According to Brown's IMDb bio, he started his acting career in national musical theater tours. In 2008, though, he switched his attention to television and film. He acted in a series of short films before landing a role in an episode of the short-lived Current TV drama "Bar Karma." His list of small TV roles grew quickly from there, including appearances in "Bunheads," "Switched at Birth," and "Big Time Rush."
In 2013, Brown appeared in two episodes of HBO's hit vampire series "True Blood." His character, Bruce, is a member of Nicole Wright's (Jurnee Smollett-Bell) group of do-gooder human activists seeking to protect vampires from persecution at human hands in Season 6. Like Nicole, he is more than a little bit naive regarding matters of the supernatural and winds up getting mauled and eaten by Alcide Herveaux's (Joe Manganiello) pack of wolves.
He played Mason in The Great Indoors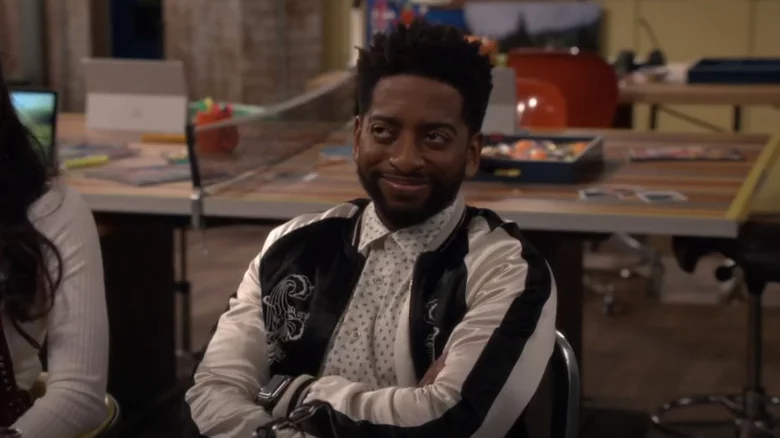 CBS/YouTube
Shaun J. Brown's television resume continued to grow over the next few years, including appearances in high-profile shows such as Aaron Sorkin's "The Newsroom," "Rizzoli & Isles," "Glee," and "Grimm."
In 2016, he scored his first central cast role in the CBS sitcom "The Great Indoors," where he starred alongside Joel McHale, Christopher Mintz-Plasse, and Stephen Fry. Brown's role, Mason Trimmer, was that of a perpetually-online hipster working at the outdoor recreation publication "Outdoor Limits," despite having never spent any meaningful time outside. He works alongside the rest of the millennial staff now supervised by Joel McHale's increasingly irritated outdoorsman Jack Gordon (via The Hollywood Reporter).
Despite having a diverse cast of skilled comedic actors, "The Great Indoors" received mediocre reviews. Garnering a 45% rating on Rotten Tomatoes, its portrayal of millennials as spoiled and oversensitive received particular criticism. It was canceled in 2017 after one season. Brown was then cast in a recurring role in the 2nd season of Hulu's sci-fi comedy series "Future Man," appearing as Hatchet in seven out of 13 episodes.
He appears in The Dropout and American Gigolo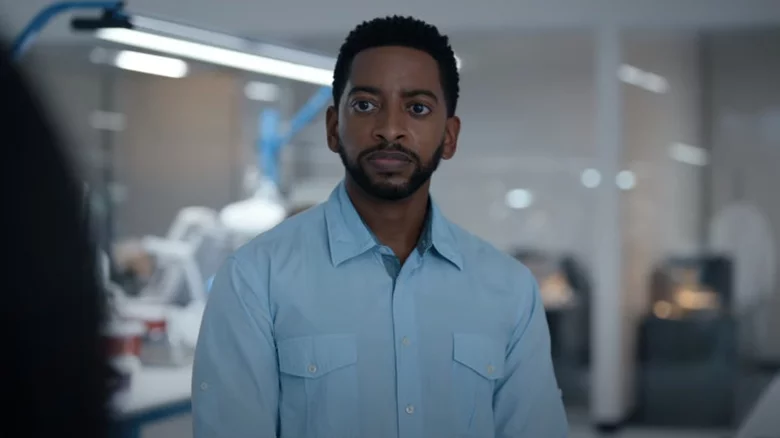 Hulu/Youtube
Brown was cast in a pivotal role in this year's critically acclaimed "The Dropout." Nominated for six Emmy Awards, the Hulu miniseries tells the true story of Elizabeth Holmes' (Amanda Seyfried) Theranos biotech corporation and how it spearheaded one of the largest grifts in the history of medical technology.
In "The Dropout," Brown played Daniel Young, the vice president of Theranos who carries out Holmes' orders and, as a consequence, is drawn deeper and deeper into the lies the company must tell in order to keep the money flowing in. Ultimately, Young wasn't called to testify in the trial that sent Holmes to jail, and he remains active in the corporate world. But Brown's portrayal of him caught enough eyes that his career was given a quick rundown in The Cinemaholic's piece on where Daniel Young is today.
Currently, Shaun J. Brown is appearing as Chris Shannonhouse in Showtime's recently debuted miniseries remake of "American Gigolo," and is currently cast as the lead in the forthcoming zombie romantic comedy "You Make Me Wanna Die" (via IMDb).
News Related
OTHER NEWS