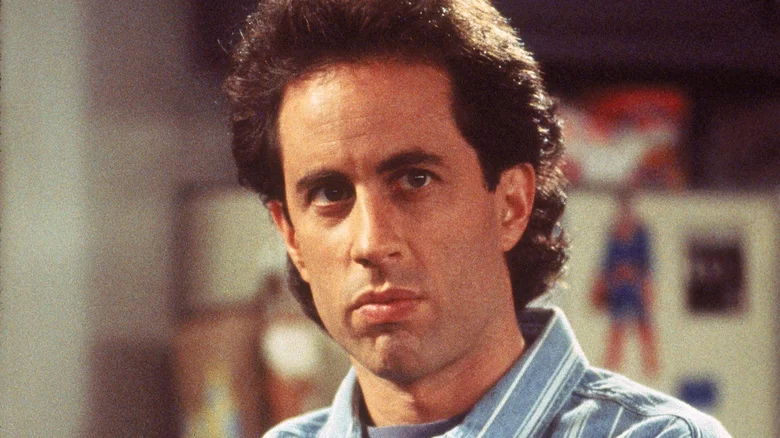 NBC
In a world with so many choices available to viewers, people still insist on watching "Seinfeld" repeatedly, and the Emmy-winning series is still very popular amongst new and old fans. Each episode is filled with hilarious moments, some of which were harder to achieve than others.
Larry David and Jerry Seinfeld's small screen creation, which fans have dubbed as a show about nothing, has ultimately become a sitcom powerhouse that shows little signs of slowing down in terms of popularity. According to Entertainment Weekly, "Seinfeld" is "the most endlessly rewatchable sitcom since 'The Honeymooners,'" and the outlet has rightfully praised the series as one of the all-time greatest shows on television. Some episodes are definitely better than others, and some are worth skipping altogether during a binge session. And while it would take a decent amount of time to relive every chapter of the NBC comedy's legacy, many viewers with nothing better to do can't resist meeting up with George Costanza (Jason Alexander), Elaine Benes (Julia Louis-Dreyfus), and the rest of the core four at Monks.
There are so many well-crafted entries from the series' catalog, like "The Marine Biologist" or "The Contest." Out of all the exciting episodes released, one that truly stands out as a laugh-out-loud affair with a challenging behind-the-scenes twist is "The Bookstore." During the episode, a side story involving a rickshaw caused everyone involved in the production that day to be more alert than usual.
Making sure there were no rickshaw-related casualties was a top priority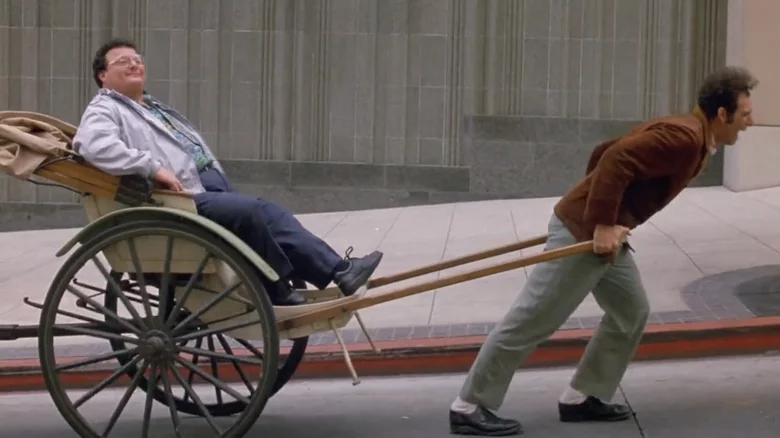 NBC
In Season 9, Episode 17 ("The Bookstore"), Cosmo Kramer (Michael Richards) and Newman (Wayne Knight) come up with a plan to launch a rickshaw business to cart people around. They recruit homeless people to try out to pull the two-wheeled vehicle. One of them steals the rickshaw, and the two eventually get it back. On their way home, they determine Kramer should pull Newman. But things don't go as planned, and Newman comically rolls down the street, hitting a recovering drug addict. While the scene was quite funny, pulling it off was no laughing matter.
In the special features of the Season 2 DVD (via YouTube), director of photography Wayne Kennan talked about that final moment with the rickshaw. "I think the biggest challenge was just figuring out how to get this rickshaw to move down the street and not have somebody get killed by it." To ensure they stayed in control, Kennan said, "We had a truck pull the rickshaw down the street with Newman in the back of it, of course, and then in post erase the truck." The plan was executed magnificently, and the whole thing turned out to be a hit with fans. The side-splitting scene posted on the "Senifeld" YouTube page received comments from users. Jonathon Salazar wrote, "That ending just sells this entire side story lol," and kudos also went to the people behind the scenes, as user Brad Redford wrote, "Excellent camera work and editing at the end."
News Related
OTHER NEWS