Dia Dipasupil/Getty Images
Among one of the more popular movies in 2022 is the mystery thriller "Last Seen Alive." Directed by Brian Goodman and written by Marc Frydman, who previously worked together on the 2017 film "Black Butterfly," the film features "Law Abiding Citizen" star Gerard Butler as Will Spann. Will is in the midst of a divorce with his wife Lisa, driving her to her parents' house when she suddenly disappears from a gas station that they stop at. Will butts heads with the local police and criminals as he frantically searches for Lisa.
The film's supporting cast includes many other familiar faces aside from Butler, including "The Hate U Give" actor Russell Hornsby and "Blindspotting" star Ethan Embry. Another performer who many viewers of the film may recognize is Jaimie Alexander, the actress who played Lisa Spann, Will's estranged wife whose disappearance kicks off the film's plot. Here's why she may look familiar.
Alexander played a superhuman in Kyle XY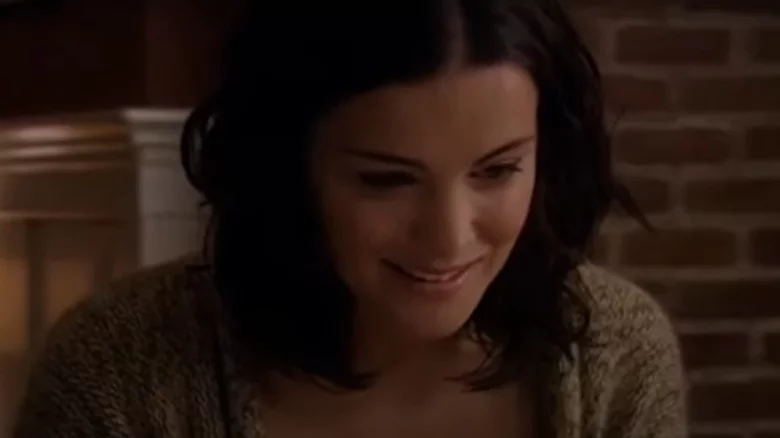 ABC Family/YouTube
Jaimie Alexander's most prominent breakout role came in 2007, in the ABC Family science fiction series "Kyle XY." Starring alongside a cast that included Matt Dallas and Marguerite MacIntyre. Alexander played Jessi Taylor in the series.
Jessi is another result of the experiment from the shadowy facility known as Zzyzx, just like the titular Kyle, played by Dallas. Jessi's code name during experimentation was 781228 XX, the second experiment of the organization after Kyle, who was 781227 XY.
Jessi, like Kyle, was the result of experiments that were initially designed to increase human gestation periods. The experiments, however, led to extraordinary abilities, which manifested in Jessi with the ability to manipulate computers and other electronics, as well as super-strength. She also shares a telepathic connection with Kyle, and over the course of the show's three seasons, works toward developing her morality, something the scientists at Zzyzx did not anticipate their test subjects having.
Over the course of the episode, Jessi and Kyle form a bond thanks to their telepathic connection, as Jessi seeks out friends and her biological parents to make herself feel more human. She has a brief romantic relationship with Kyle and forms a strong bond with Amanda Bloom (Kirsten Zien) as well.
She was one of the breakout stars of the MCU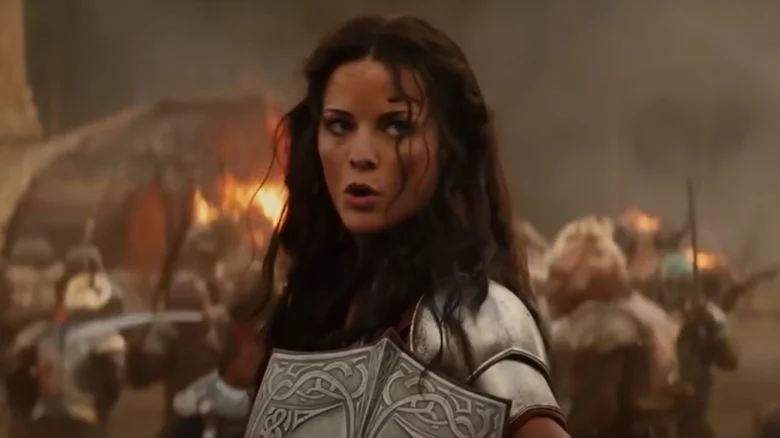 Marvel/YouTube
Jaimie Alexander appeared in a few guest spots in prominent shows such as "CSI: Miami" and "Bones," but her next famous character came in film, as she played Lady Sif in the MCU.
Lady Sif was a character from the comics, with Alexander's portrayal marking the first live-action incarnation. In the film series, Sif is one of Thor's closest warriors, making her mark in the 2011 film "Thor" when she joins the Warriors Three to go to Earth from Asgard to find Thor (Chris Hemsworth) to have him challenge Loki (Tom Hiddleston) and take the throne. In saving Sif and the others from The Destroyer, Thor proves his worth. Sif fights alongside Thor in a number of scenes in the 2013 follow-up "Thor: The Dark World," ultimately being entrusted as one of the two people to deliver the Infinity Stone to The Collector (Benicio Del Toro)
While Sif did not appear in the franchise's third installment, "Thor: Ragnarok," she did make a guest appearance in two episodes of the ABC series "Marvel's Agents of S.H.I.E.L.D.," which starred Clark Gregg and Chloe Bennet. Her first appearance is in the episode titled "Yes Men," where she helps the agents capture an escaped Asgardian named Lorelei, played by Elena Satine. Sif re-appears in the 2nd season episode "Who You Really Are," in which the team helps her recover her memories after she's found on Earth, suffering from amnesia.
Sif returned to the Thor films in 2022 with "Thor: Love & Thunder."
Alexander appeared in four movies in 2013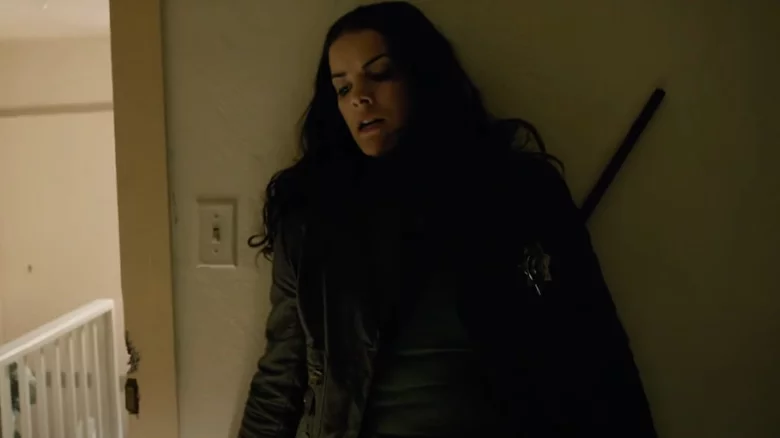 Lionsgate/YouTube
Jaimie Alexander's movie career continued to flourish, as "Thor: The Dark World" was just one of her four films in 2013.
She appeared alongside Arnold Schwarzenegger, Forest Whitaker, and Johnny Knoxville in the action thriller "The Last Stand," playing deputy Sarah Torrance, reporting to Ray Owens (Schwarzenegger), the sheriff of Sommerton Junction, a town on the U.S.-Mexico border. Torrance is one of two deputies who first discovers the henchmen of drug lord Gabriel Cortez (Eduardo Noriega) who is planning to escape to Mexico through the town. She eventually displays her sniper skills in the final battle.
Alexander also appeared in the thriller "Collision" in 2013, alongside Frank Grillo, where she plays Taylor Dolan. She and her husband Scott (Grillo) are newlyweds on their honeymoon, where Taylor intends to kill Scott and get his money with help from Travis (Charlie Bewley), a man she's having an affair with. The couple, however, gets into an accident, leading to the revelation of betrayals and true characters as everyone involved in the accident tries to get to the nearest city.
Alexander's fourth movie was the historical drama "Savannah," in which she co-starred alongside Chiwetel Ejiofor, Bradley Whitford, and Jim Caviezel. In the film, Alexander plays Lucy Stubbs, wife of Ward Allen (Caviezel) in the 1800s. The couple goes through various ups and downs over the course of the movie, with Lucy suffering from a mental breakdown after a stillbirth, as well as having to contend with Ward's alcoholism.
Alexander played an amnesiac in Blindspot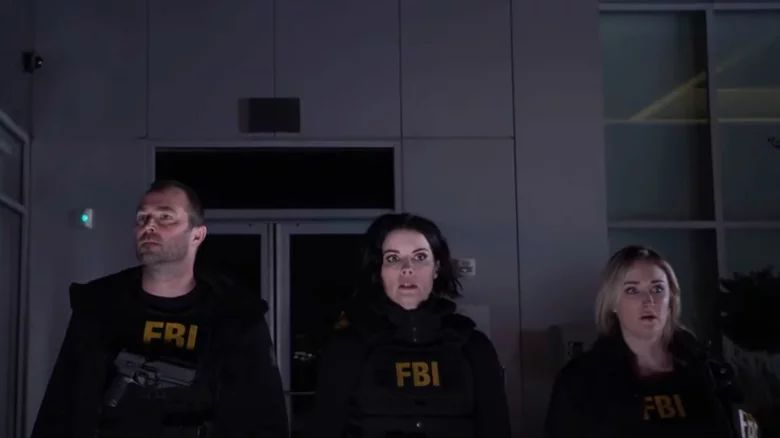 NBC/YouTube
Jaimie Alexander returned to television for her next major role, this time on NBC in the crime thriller procedural "Blindspot." The series ran for five seasons, making its debut in 2015 with Alexander as a main cast member, alongside Sullivan Stapleton and Ashley Johnson.
In the show, Alexander plays a character who goes through many identities, taking on the name of Jane Doe at her initial introduction when she is found in the middle of Times Square, naked and inside a duffel bag, with tattoos all over her body and no memory of who she is. The tattoos are eventually revealed to be clues to criminal activity that the FBI must help solve, and Jane Doe becomes part of the team.
Over the course of the show, it's revealed that her identity is Alice Kruger, with an alter-ego of Remi Briggs who emerges in the 4th season before Jane reconciles her identities together, discovering the drug and the organization behind the wiping of her memory. She also begins a romantic relationship with Agent Kurt Weller (Stapleton) that continues through to the series finale, which aired in 2020.
News Related
OTHER NEWS