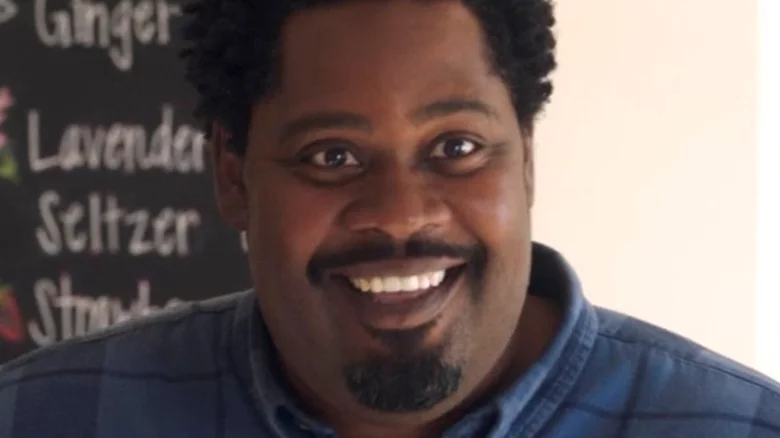 CBS
In Season 20, Episode 2 ("Daddy Issues") of "NCIS," a body is discovered in what is supposed to be a secured government storage facility and the officer who initially discovers the body is knocked out. As Timothy McGee (Sean Murray) gets a brief text message that says "We have a body," he's also attempting to get out of the drop-off line at his kid's school, but traffic volunteer Carter Landegraff is holding him up, trying to convince him to come to "Man-Time Monday" to bond with the other dads from school.
Carter ends up being more than the traffic coordinator and creator of "Man-Time Monday," he's also the lead software engineer who created the original encryption key to open the door where their victim was found. McGee and Nick Torres (Wilmer Valderrama) go to pick him up and witness Carter's minivan blow up when he unlocks it, which then leads them to more questions. Naive Carter ends up admitting that he loaned his laptop with the original code info to Kingston Reinhardt (Noah Staggs), a known gangster with a history of weapons use, theft, and trafficking.
There ends up being a lot more to Carter than initial impressions suggest, as the team discovers more 'hobbies' and hidden secrets of the school dad. You've probably seen Kash Abdulmalik, the comedian, actor, and writer who plays the multifaceted and innocent-acting Carter, in more than you realize.
His first television role was in Baskets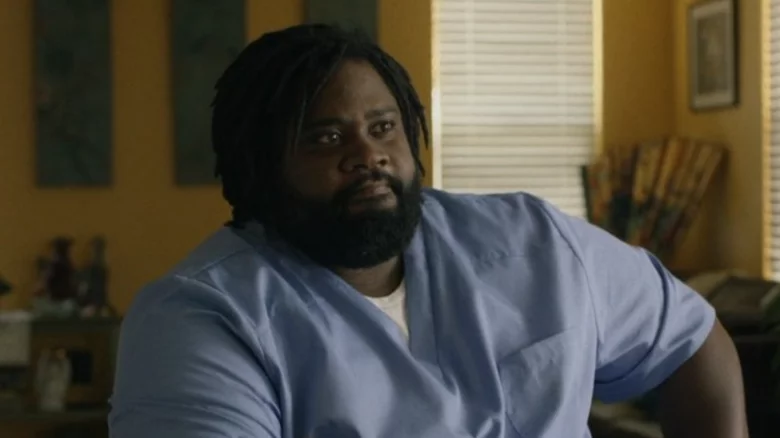 FX Productions
After getting his start in the short film "The Time Machine: A Chad, Matt & Rob Interactive Adventure," Kash Abdulmalik spent the next eight years building up his resume with more short films, most notably playing Plantman in "Dark Matter Video Presents: Plantman," and Detective Abdullah Jablonski in "Shear the Sheep" (via IMDb). His first television appearance was as Roy Green in Season 1, Episode 10 ("Family Portrait") of the comedy "Baskets," starring Zach Galifianakis and Louie Anderson, one of the actors we lost in 2022.
Roy applies to be a home care professional for Christine (Anderson) after she has trouble managing her diabetes, and Chip and Dale (both played by Galifianakis) hire him based on the fact that he got his certified nursing assistant credential at Baskets Career College. Abdulmalik's appearance in "Baskets" is only about two minutes long and unfortunately, most of his screen time consists of Chip and Dale arguing over how they're going to pay him. Roy never gets a chance to be Christine's home nurse, as she ends up hiring someone else who — as she excitedly tells Chip — was the nurse for The Chemical Brothers' mom.
He had a small role as a bartender in Once Upon a Time in Venice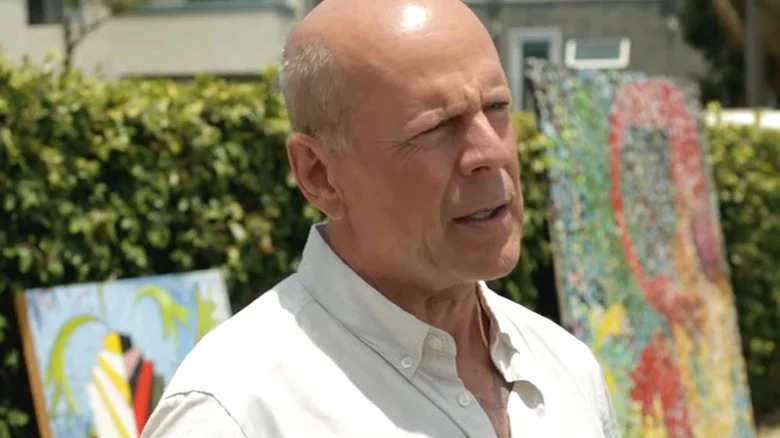 RLJ Entertainment/YouTube
In 2017 Abdulmalik got his first film role, playing Big Sam in "Once Upon a Time in Venice." The action/comedy film starred Bruce Willis, John Goodman and Jason Momoa, and while it had its funny moments, critics and viewers panned the film. As Big Sam, Abdulmalik plays a bartender who is also a gatekeeper of sorts to Prince (Wood Harris), a criminal that specializes in money laundering, prostitution and drug dealing. After telling Prince that Steve (Willis) and Dave (Goodman) are here to see him, he ominously tells them that "he said they'd see you, but they hope you know what you're doing."
Big Sam couldn't be more different than school dad Carter. With a deep voice and hulking presence, he's an imposing-looking bartender. But after he ushers Steve and Dave back to see Prince, we don't see him again. It's clear by the film's ending that directors Mark and Robb Cullen had hoped to make a sequel, but the poor audience reception obviously deterred that from happening, and now that Willis has retired from acting, that possibility is non-existent.
He played a crew member for St. Vincent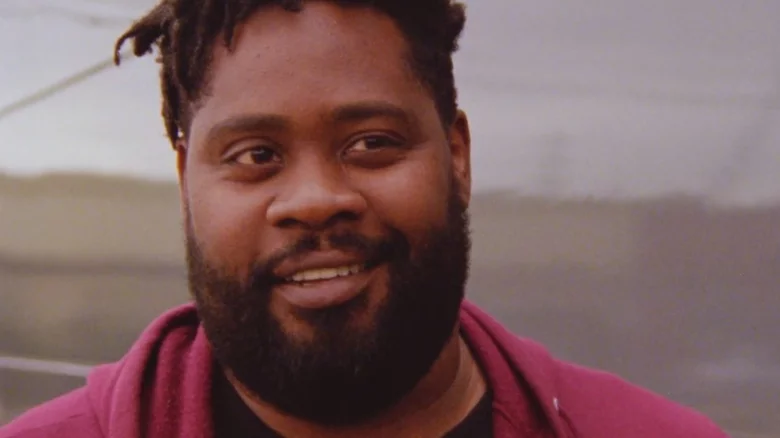 IFC Films
Abdulmalik's next film role was as Brian in St. Vincent's mockumentary film, "The Nowhere Inn." What begins as a purported documentary Annie Clark aka St. Vincent is making about herself, with Carrie Brownstein leading the filming, slowly morphs into something different. St. Vincent's concert performances are interspersed throughout the films, along with Annie and Carrie having seemingly personal conversations. Brian plays a member of the crew and is part of the tour for the documentary. During the filming, Carrie wants Annie to be more like her St. Vincent onstage personality to spice up the documentary, which is when things start to go off the rails and get distorted. "I think what's more interesting is the art that somebody makes than the person who makes it, and I think we get into a real tricky, tricky area," Clark told Vanity Fair in relation to the film.
Abdulmalik's part in the film is pretty small: he is shown hanging out with Annie while she plays a game, and responds to Carrie when she asks him what is interesting about Annie by saying, "You think she's not interesting?" Then later he helps Carrie with her suitcase and a car service when she decides to leave the tour. While not a substantial role, he adds energy to his scenes to help move the film along.
He got involved in Larry's antics on Curb Your Enthusiasm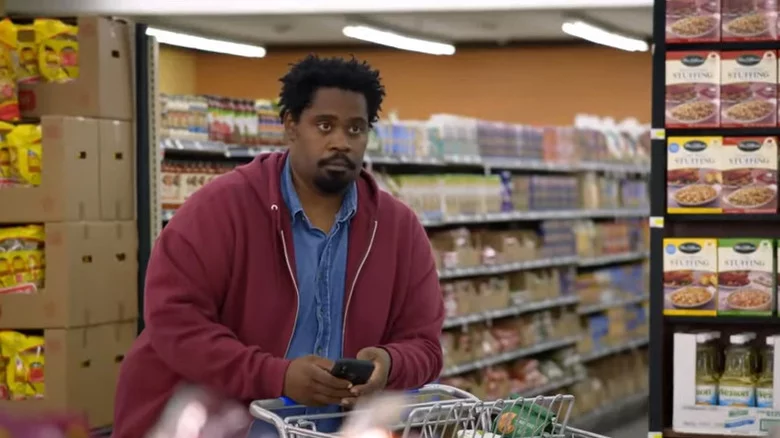 HBO
In 2021, Abdulmalik had a small role in the Emmy-winning "Curb Your Enthusiasm." In Season 11, Episode 4 ("The Watermelon"), which also co-starred Woody Harrelson and Kaley Cuoco, he plays an unnamed customer at the grocery store, where he gets caught up in the shenanigans of Larry David and Leon (JB Smoove). The episode was largely disconnected from the storylines of the rest of the season but well-received, with Collider writing, "'The Watermelon' proves that sometimes, 'Curb Your Enthusiasm' simply being silly and ludicrous can be just as effective as the most labyrinthian and well thought out storylines."
While Abdulmalik's role is, once again, pretty small, he does return for a second appearance towards the end of the episode. And due to the nature of recurring characters on "Curb Your Enthusiasm," there's always a possibility this minor character could return.
Kash Abdulmalik is far from a household name, but with a more prominent character as a could-be antagonist on "NCIS," and his repertoire of roles in high-profile shows getting bigger, it shouldn't be long before we see this comedian in larger roles.
News Related
OTHER NEWS