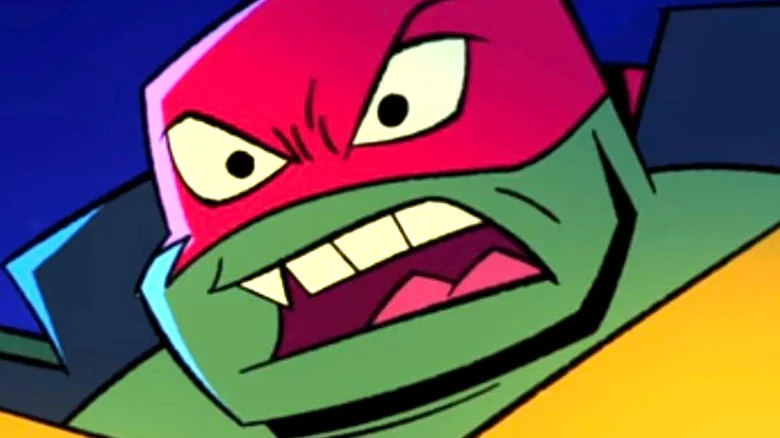 Netflix
It's been a long time coming for Leonardo, Raphael, Michelangelo, and Donatello — with nearly four decades of movie and TV content under their ninjutsu belts as the legendary "Teenage Mutant Ninja Turtles." But nowadays, a lot is different about our pizza-lovin' gang of crimefighters, and young Netflix users are about to get a 2022 slice of it.
On August 5, Nickelodeon's "Rise of the Teenage Mutant Ninja Turtles: The Movie" officially hit the streaming service as an updated follow-up to the network's animated series of the same name. Parents may remember the cartoon airing on Nick from 2018 to 2020, with actors Ben Schwartz, Omar Benson Miller, Brandon Mychal Smith, and Josh Brener voicing its titular stars. Now, for the 2022 movie, the group is all back — two years after the defeat of Shredder — to take on the infamous alien supervillain Krang and save the world once again. But what should parents know before letting the kiddos actually watch "Rise of the Teenage Mutant Ninja Turtles" on Netflix this weekend? Is there anything extra-violent or graphic that people need to look out for?
Cartoon violence and use of swords/weapons could pose a problem for younger Ninja Turtles viewers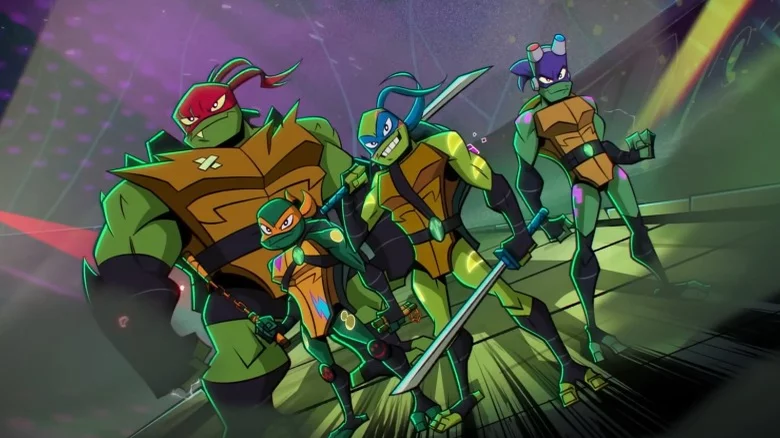 Netflix/YouTube
According to reviews, "Rise of the Teenage Mutant Ninja Turtles: The Movie" is a film perfect for kids who are 8 years old and up. But children younger than that may be greatly affected by the cartoon's battle sequences, violence, and moments of peril — which include our titular stars getting beaten and battered by villains, bloody injuries that linger, and one instance where main characters actually die on screen, per Common Sense Media reviewer Jennifer Borget.
"The Turtles use samurai swords and martial arts weapons," she explained in her review. "And the villains — this time, an alien species called The Krang — are creepy, brain-like creatures with tentacles that can possess others and turn them into their minions, which could be scary for some kids." There are also phrases such as "badass," "butts kicked," and "oh God" used in the film.
In the end, "Rise of the Teenage Mutant Ninja Turtles: The Movie" is an action-packed and hopeful animated film about people's flaws and how to come together and overcome things with others, per Borget. If your children are old enough and can deal with cartoon violence appropriately, it appears to be an entertaining and exciting ride that will not only resonate with the kids but parents as well.
"We all have this longing for family and this brotherhood, of people that you surround yourself with and have your back. These four turtles and all their friends represent that," said co-director Andy Suriano in an August 2022 interview with The Animation Scoop. "It's a family, and they're a family you choose, not necessarily who you're born with … That's something [co-director Ant Ward] and I always try to instill and infuse into our series and the movie. It's such a strong bond between these characters that should be relatable to almost anyone."
News Related
OTHER NEWS