© Bryce Gruber for Family Handyman
When I built a new deck last summer, I wanted to create a backyard oasis. I used durable poly-deck boards, and filled the space with Trex patio furniture and plastic-based pieces supposedly tough enough to stand up to weather.
One year later, I found something I didn't expect — mildew and grime on my outdoor furniture. So I was eager to try 30 Seconds Outdoor Cleaner, a popular product on social media. Spoiler alert: The deck and patio cleaner holds up, but you need to know how to make the most of it.
What Is 30 Seconds Outdoor Cleaner?
As the name suggests, 30 Seconds Outdoor Cleaner is a concentrated formula that cleans outdoor surfaces in 30 seconds or less. When applied, it clears up almost every type of algae, mold and mildew on your patio furniture. It's easy to use and strong enough to skip pressure-washing.
Simply dilute the solution with tap water in an old spray bottle and apply it to stains and gunk. It's safe around your best plants — just spray down affected garden areas and the cleaner will break up in the soil.
30 Seconds Outdoor Cleaner offers a powerful clean on outdoor surfaces like wood decking, concrete sidewalks, asphalt driveways, bricks, canvas awnings, plastic furniture and vinyl siding.
How We Tested It
© Bryce Gruber for Family Handyman
One corner of my deck receives limited direct sunlight, so anything in that corner collects mildew and pollen if it's not wiped down every few days. I'd be lying if I said I had the time (or motivation) to wipe everything down every 72 hours, so it was time to put 30 Seconds Outdoor Cleaner to the test.
I mixed a 1:1 solution of cleaner and water in a spray bottle. Then I went after the mildew and pollen, concentrated in a few particular crevices. Much to my delight, the stubborn mildew broke up instantly. I was truly shocked. I grabbed a damp cloth, wiped down the affected spots, and the gunk vanished. No need for pressure washers or high-powered hoses.
Impressed, I moved on to a pair of colorful Adirondack chairs that had grown dim from rain and dust storms. No more than a teaspoon of 30 Seconds Outdoor Cleaner and my chairs were like new. To say I was thrilled is an understatement.
© Bryce Gruber for Family Handyman
Product Features
This plant and garden-safe cleaner makes cleaning even the grimiest outdoor furniture a breeze. It breaks up tough mold, mildew and algae stains before your eyes.
It works on family heirloom swing sets, all the outdoor furniture you can buy online and even hardwood and poly-based decking. If you have a long list of yard maintenance tasks, a single gallon bottle should last you all summer long.
Pros
Easy to use;
Concentrated formula;
Plant-safe;
Good in a spray bottle or as a wipe-down product;
Works on most types of algae, mildew and mold;
Affordable price.
Cons
Needs to be diluted before using;
Contains bleach, which irritates skin. We recommend gloves for optimal protection.
FAQ
Can 30 Seconds Outdoor Cleaner be used on vinyl fences?
Yes! Vinyl fences are actually one of the best places to use it, though it's best to spray the diluted solution on, then hose it off. It works particularly well in corners, cracks and crevices that other cleaners seem to miss.
Will it discolor my roof tiles?
Amazon reviewers in Florida and Texas report the cleaner didn't damage or discolor their roofing. It's their go-to, monthly tune-up for stucco and Spanish tile roofs.
Can it be used to clean RVs and fifth wheels?
Yes! 30 Seconds Outdoor Cleaner works on fiberglass exteriors and hulls, and it boasts a large fan base of RV enthusiasts and campground visitors.
What Other Reviewers Had to Say
Christine, a verified Amazon purchaser writes, "I just sprayed, waited, brushed lightly and rinsed with my hose, and all the green stains were gone from my white shutters. I used this product on all my siding, then my neighbor used it to clean his. I love it. Works very well, and did not harm my plants. It does contain some bleach so beware what you wear."
"So simple and so efficient at cleaning mold from the outside of my home," writes Jably, another five-star Amazon reviewer. "It was a breeze, literally. Will be ordering more only because it's a big house and we couldn't cover all of it. Some spots were really bad and will need a second treatment, though. Very few."
"So we were out camping with a friend, and I got jealous of his awning and how clean it was," writes verified Amazon purchaser Brian. "He tells me to try 30 Seconds Outdoor Cleaner. So I order from Amazon … and, well, I'm glad I did. This was AMAZING. Best stuff I have used to clean the awning, and it was so simple."
Final Verdict
If you take pride in your home's curb appeal, keeping a bottle of 30 Seconds Outdoor Cleaner on hand is a game-changing move. It's affordable, easy to use and removes grime off everything from Trex to stucco, concrete sidewalks and tile roofs. You'll wonder how you ever lived without it.
Where to Buy 30 Seconds Outdoor Cleaner
© via merchant
A one-gallon bottle of 30 Seconds Outdoor Cleaner retails on Amazon for about $19. It's also available at Walmart, The Home Depot, Lowe's and Ace Hardware for $12-13.
Shop smarter with our expert recommendations for tools, gear and money-saving deals on can't miss DIY and home products. Sign up for the Stuff We Love newsletter.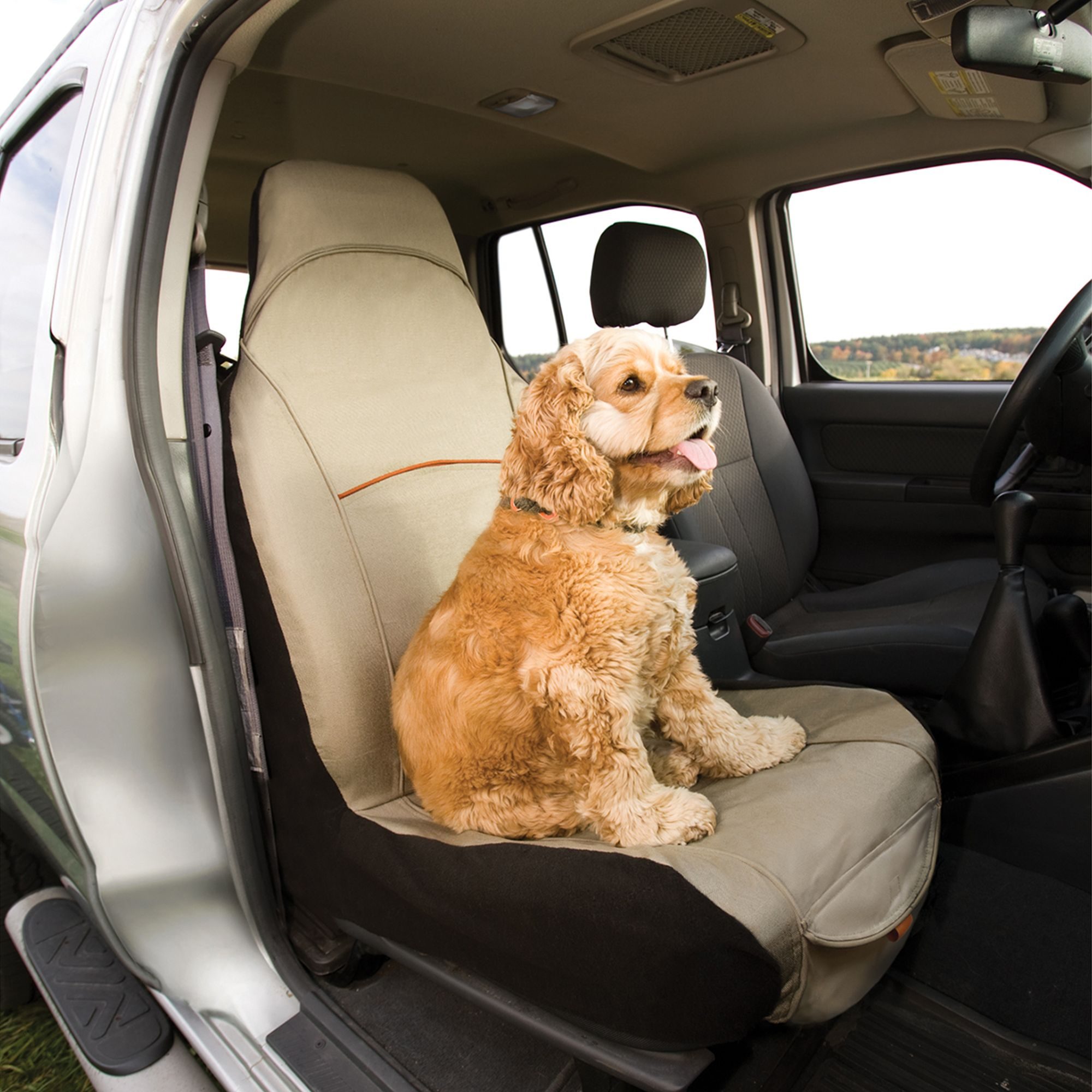 1/9 SLIDES © via Merchant
What to Look for When Buying a Dog Car Seat Cover
As a pet care expert, I get to share my work day and office with Shadow, who loves our daily car rides to the post office. He's too big to fit in a carrier, so he rides in the safest place for dogs in the car — the back seat, with his harness clipped to the seat belt. When rain, shedding season, or car sickness strike, my dog car seat cover has saved the upholstery (and my sanity) more than once.
The best dog car seat covers protect upholstery and carpet, making it easier to keep the interior of your vehicle clean and manage pet messes. Of course, I keep other important items in my car just for the pets.
Design: Not all dog car seats fit every vehicle. Look for one that best fits your vehicle, whether a bench back seat, bucket front seat or combination of styles. Water resistant: If you have a water-loving dog or a pup that gets carsick, get water-resistant or waterproof covers. Easy on-off: That way you can remove the liner for cleaning without a lot of hassle. Secure nonslip options: Look for nonskid covers that don't let your dog slip and slide during rides. Washable: Products that clean up quickly and easily are a must. Non-absorbent: Fabric should repel and not absorb dust and dirt, reducing routine cleanup to a quick vacuuming or a wipe with a damp cloth. Comfort level: Plastic repels water but isn't comfortable for a resting dog. Look for padded covers. Safety features: Can your dog be belted in? What options prevent them from climbing into the driver's lap? Safety earns bonus points.
Evaluation Criteria
Here's what I looked for when choosing the best dog car seat covers:
Comfort for the dog; Sturdy construction; Easy to clean; Good fit on the seat; Safety features; Ratings by reviewers.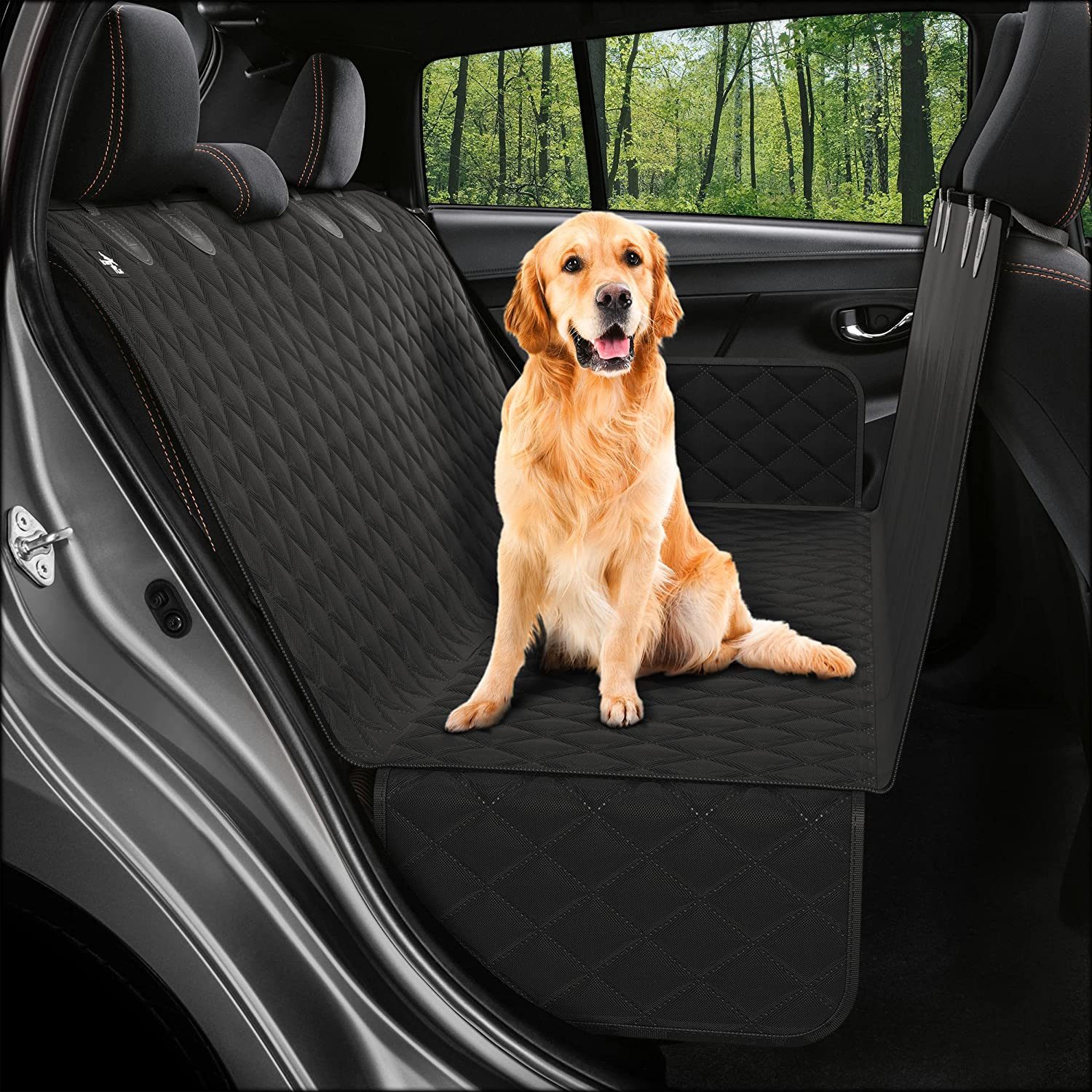 2/9 SLIDES © Via Merchant
Best Overall Dog Car Seat Cover
I love the design of this Dog Back Seat Cover Protector from Active Pet. It comes in two sizes that should fit most vehicles, and the versatility allows you to use it three ways. It's easily one of the best car accessories for pet parents and keeps hair from piling up on car floor mats.
The "hammock style" secures the front and back of the cover to headrests on the rear and front seats, protecting the surface and creating a barrier to keep dogs from climbing. It also has openings for a canine seat belt attachment. Alternatively, you can drop the front sling portion to protect the front of the bench-style rear seat. Or you can use the cover over the cargo area to protect the carpeted rear area.
The material has four layers for comfort, protection and easy cleaning. The top layer of water-resistant cotton offers an easy-to-vacuum surface. The second and third layers offer additional water-resistant protection. The last layer, a PVC rubber non-skid backing, keeps your dog from skidding back and forth during accelerations or unexpected stops.
Pros
Two sizes (standard and extra-large) to fit compact cars to SUVs; Adjustable straps for fitting; Velcro opening for seat belts; Easy to vacuum surface; Prevents claws from penetrating; Sturdy anchors for no slip-and-slide; Economical price.
Cons
Not machine washable but can be hosed off and hanged to dry; Reviewers suggest plastic buckles easily break.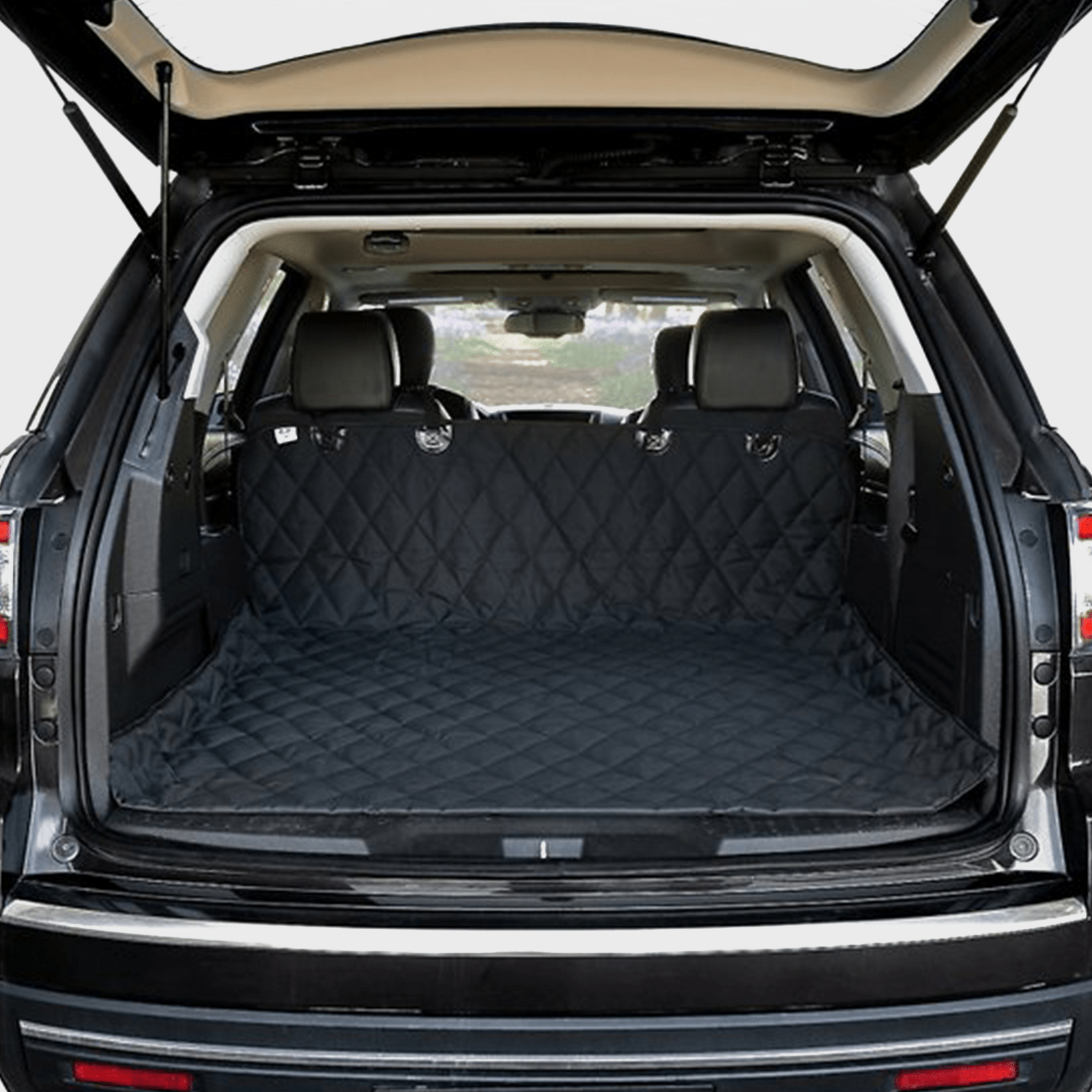 3/9 SLIDES © Via Merchant
Best Dog Car Seat Cargo Liner
The Arf Pets Waterproof and Non-Slip SUV Cargo Liner is one of the best I've seen for on-the-go people who want to take dogs along for the ride.
Water-loving pets, shedding pooches, drooly dogs and mud puppies still get to travel with this waterproof cargo liner. Be sure to measure your vehicle so you'll know it fits well. And if your dog already made a mess before you got the cover, check out these tips for cleaning up pet carpet stains.
Pros
Measures 82- x 55-in. to fit all standard cargo areas; Straps with buckles fit around headrests for security; Vacuum, wipe or machine wash (gentle cycle); No-slip bottom surface; Quilted for pet comfort; Three layers of waterproof polyurethane;
Cons
Washing may pill the non-slide surface, which then sheds in the car.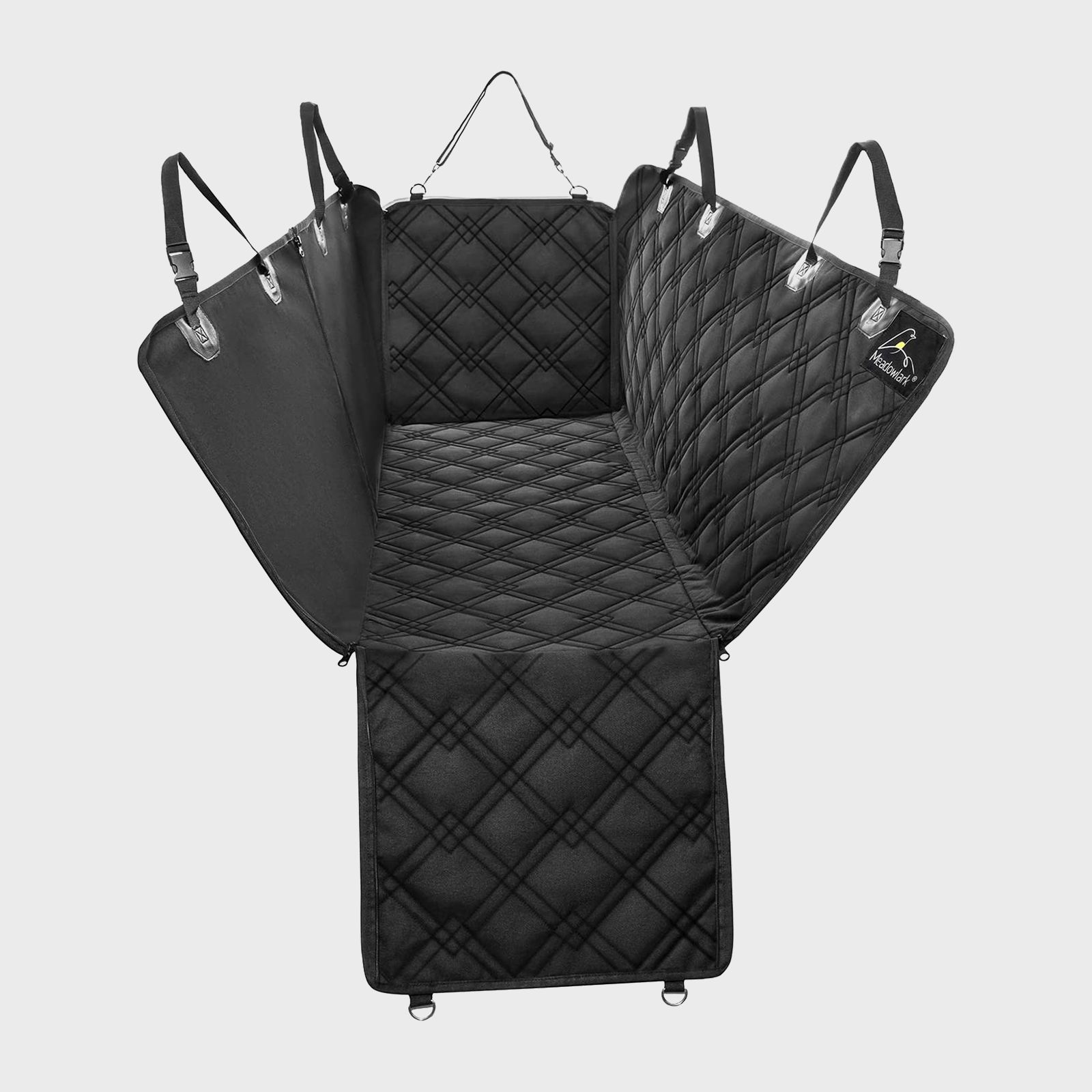 4/9 SLIDES © Via Merchant
Best Luxe Dog Car Seat Cover
Meadowlark had consumers test its Premium Hammock Dog Car Seat Cover in 100 vehicles to check sizing, so this comes close to a universal fit. This costs a little more, but offers comfortable padding for your dog and four layers of double stitching for durability.
The quilted design also looks more stylish than some plainer seat covers while also protecting car doors from dog slobber.
Pros
Four layers of double-stitching for sturdy wear; Two sizes to fit compact cars or SUVs; Machine washable; Hook and loop openings for seat belts; Padded for dog comfort; Zipper side flaps for adjustable side protection; Full money back guarantee.
Cons
More water-resistant than waterproof.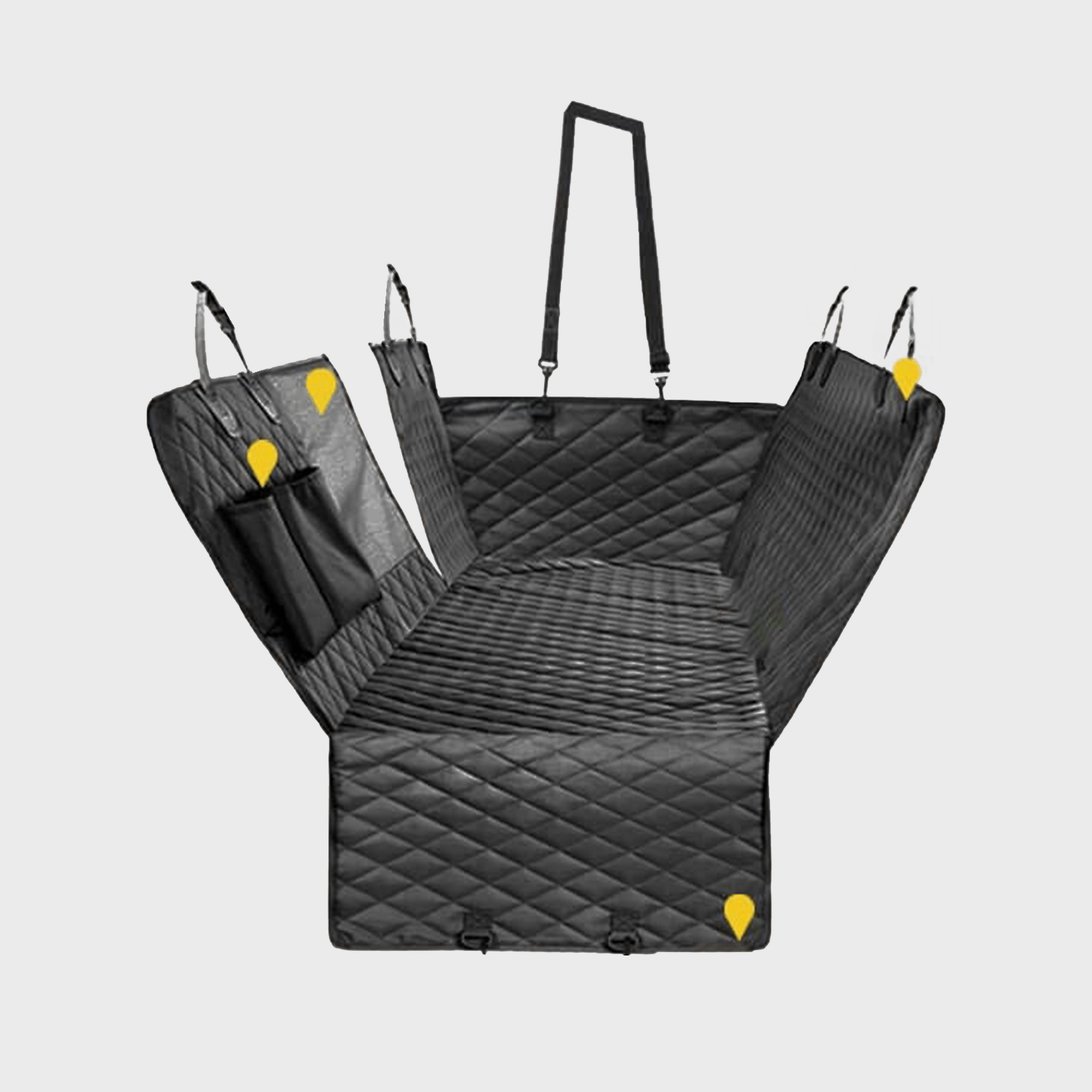 Slideshow continues on the next slide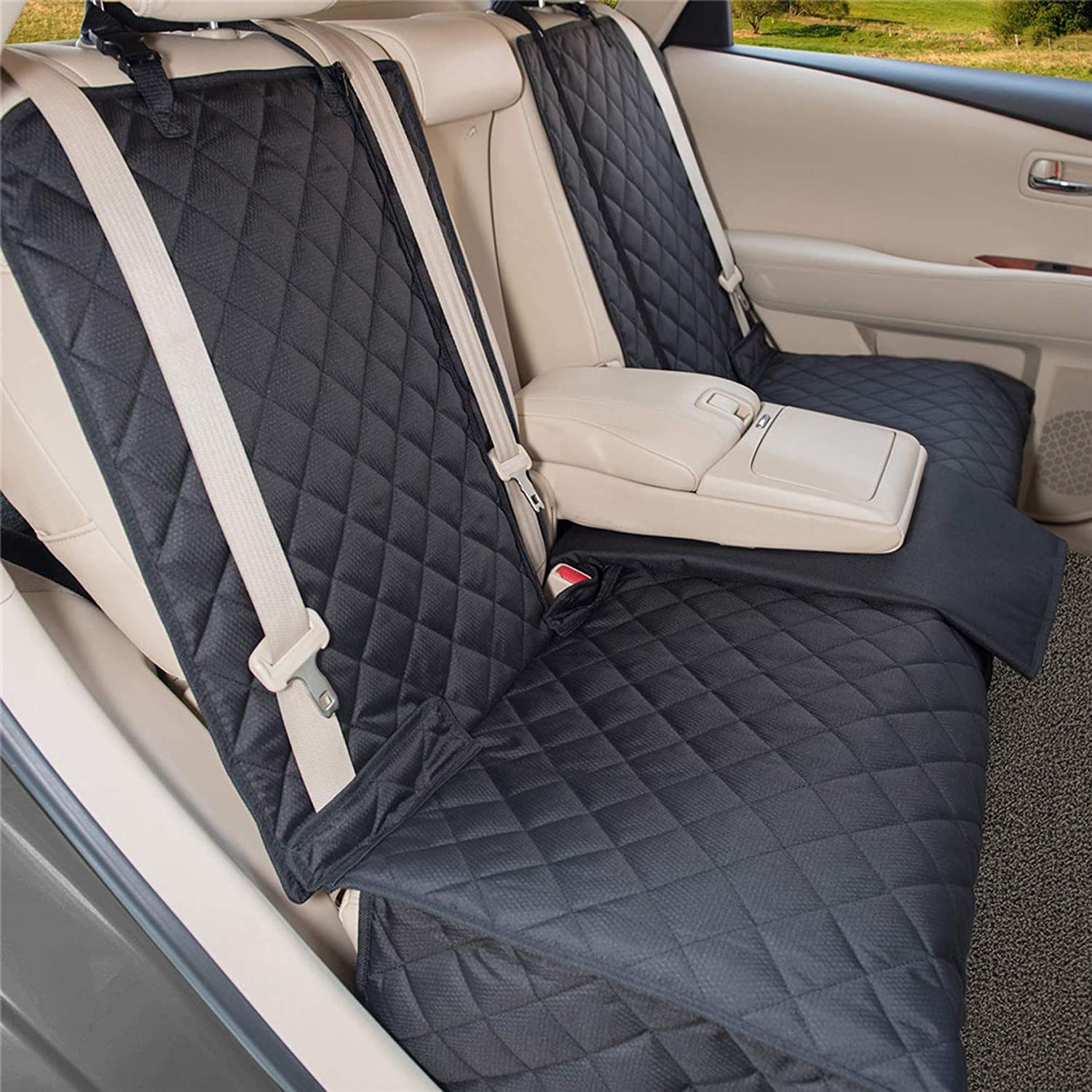 5/9 SLIDES © Via Merchant
Best Hammock Dog Car Seat Cover
The Vailge Dog Seat Cover for Back Seat sets up in two minutes. It works like a hammock, but the center front portion mesh material lets you see and monitor your dog instead of blocking the view. It also allows air flow while containing flying fur.
Side panels protect the rear doors from dog mess. When not in use, you can quickly unhook one side and roll up the seat cover for a human passenger. And when it needs a refresh, clean it with one of the best car vacuum cleaners, like the Amazon-loved ThisWorx car vacuum.
Pros
Hammock style is easy to set up and take down; Two sizes (standard and extra-large) to fit compact cars to SUVs; Side panels for protecting doors; Mesh screen to view dog; Two waterproof layers; Comes with a dog seat belt; Machine washable on gentle cycle.
Cons
May give off a chemical odor that dissipates over time.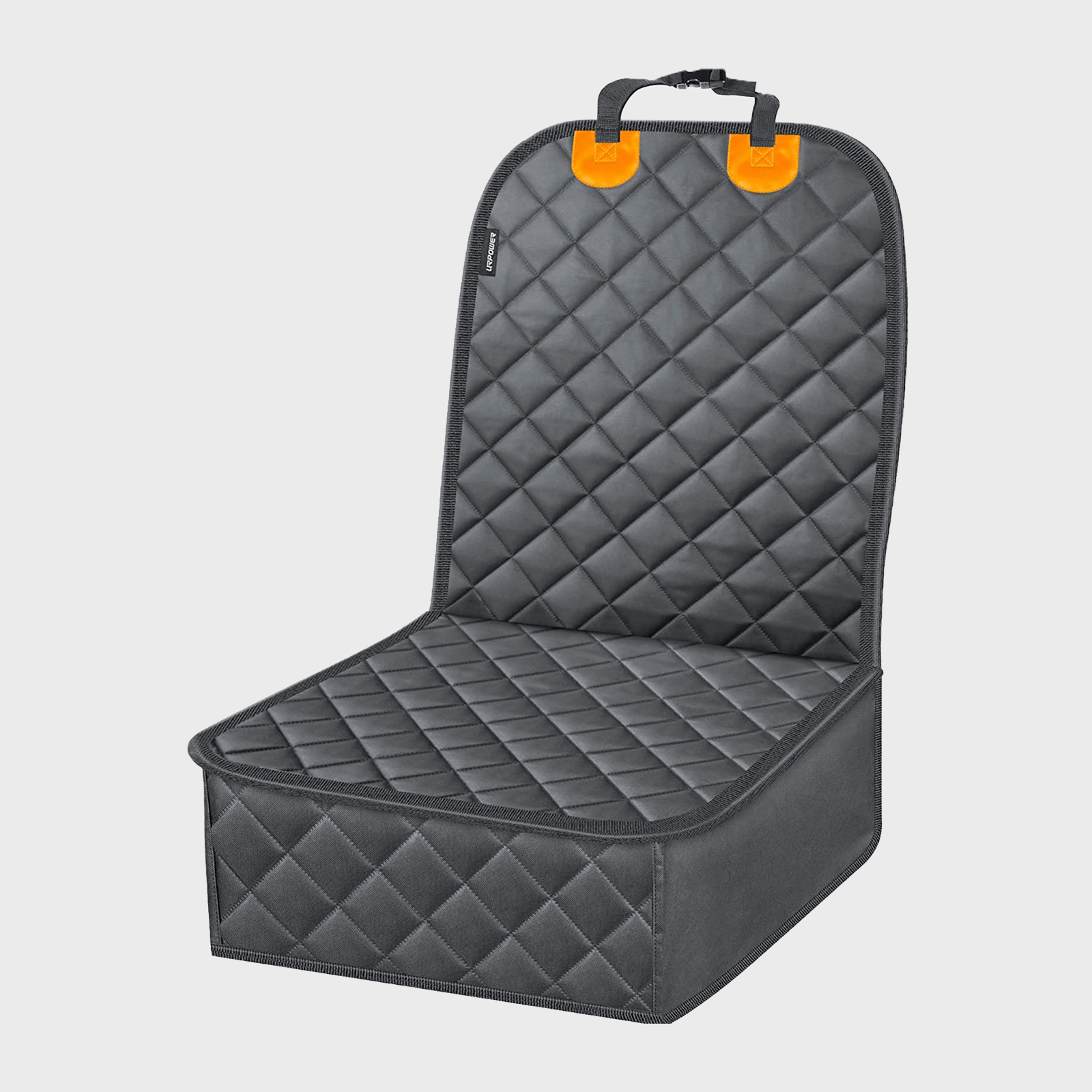 6/9 SLIDES © Via Merchant
Best Backseat Bench Dog Car Seat Cover
As an alternative to the popular hammock style, the YesYees Waterproof Dog Seat Cover provides a snug fit over a bench style back seat. Besides allowing the center armrest and beverage holder to be used, it provides access to kid car seat anchors if little ones are sharing the backseat.
The water-resistant material protects against wet fur and paws better than potty accidents, so be sure to walk your dog prior to car rides.
Pros
Fits snugly over a car's backseat bench; Accessible to the middle armrest and drink holder via zippers; Velcro openings for seat belt buckles; Sturdy anchors for no slip-and-slide; Also allows for kid car seat anchors.
Cons
More water-resistant than waterproof; Reviewers noted that adjusting for the center armrest isn't easy; Zippers not highest quality.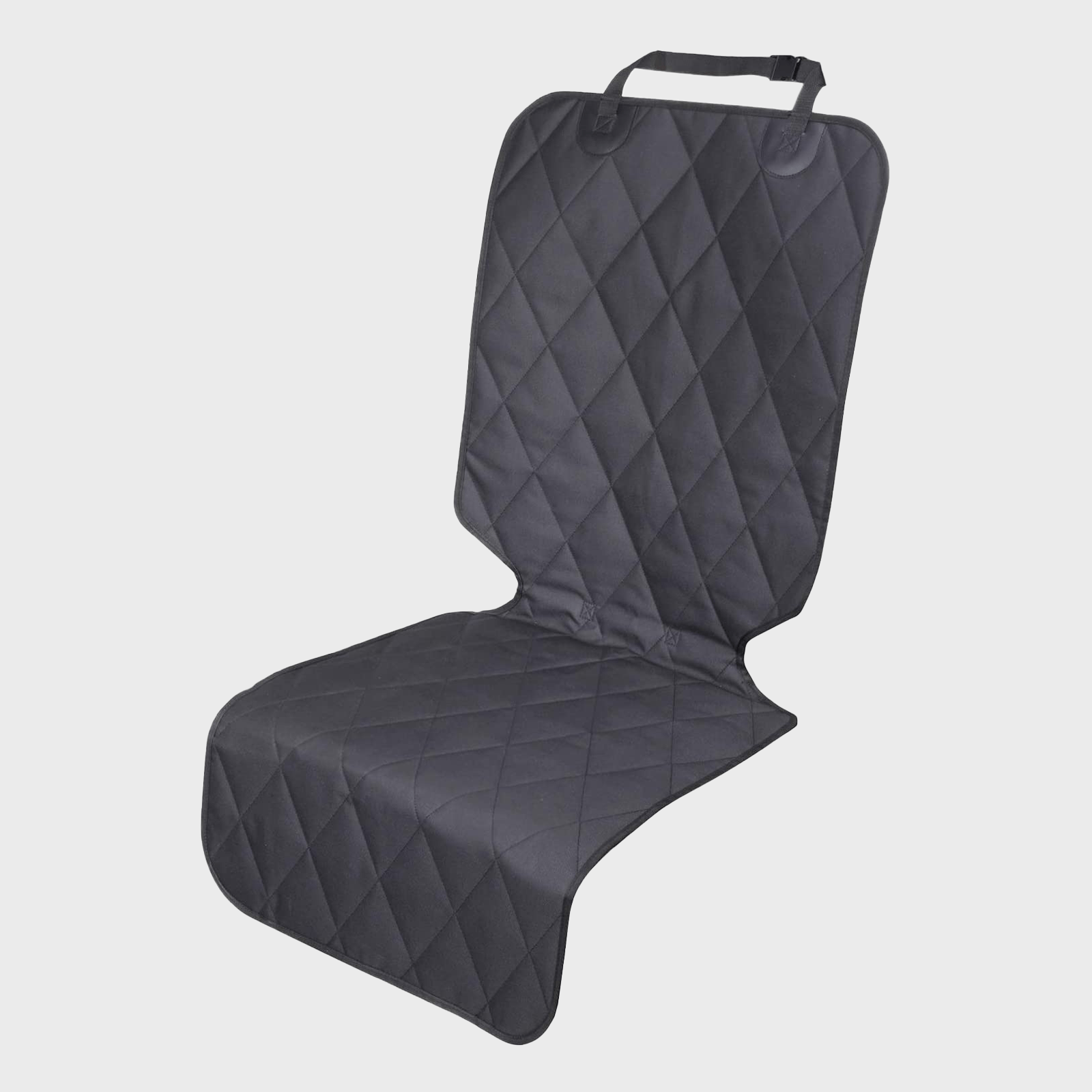 7/9 SLIDES © Via Merchant
Best Budget Front Seat Dog Car Seat Cover
Riding in the front seat poses safety risks for pets. If you do allow your dog to ride shotgun, also invest in a dog seat belt safety harness and be sure to turn off the airbag.
Urpower Dog Front Seat Covers for Cars come in black, gray and khaki and are machine washable. These covers also work for rear bucket or captain seat styles in some cars and SUVs. And at less than $22 each, it's a steal.
Pros
Affordable price; Universal fit for most seats (20.5 x 43.3-in.); Machine washable on gentle, in fabric bag; Prevents scratches on leather.
Cons
Some reviewers complain stitching pulls apart.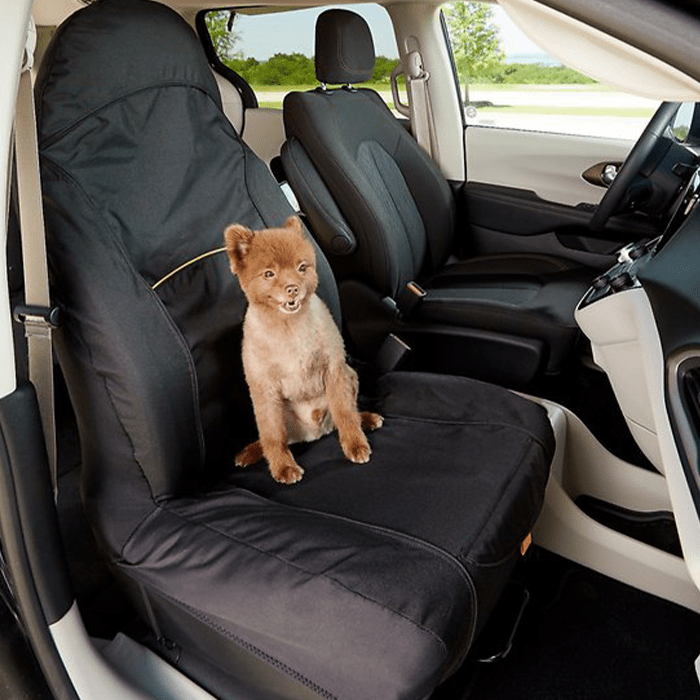 8/9 SLIDES © Via Merchant
Best Dog Car Seat Cover with No Skirt
Choose this no-frills Vivaglory Dog Front Seat Cover to do the job without spending a bundle. Though designed for the front seat, it easily adapts to one or both sides of the back seat.
This economical choice works great for quick trips because it's easy to install. It comes in four colors. The "no-skirt design" means fitting is a breeze, and it covers the most important dog-contact areas of seat and backrest.
Pros
Easy, quick installation and removal; Backrest and seat fits nearly all vehicles; Economical price.
Cons
Water-resistant but not waterproof; Reviewers say it scoots around.
News Related
OTHER NEWS