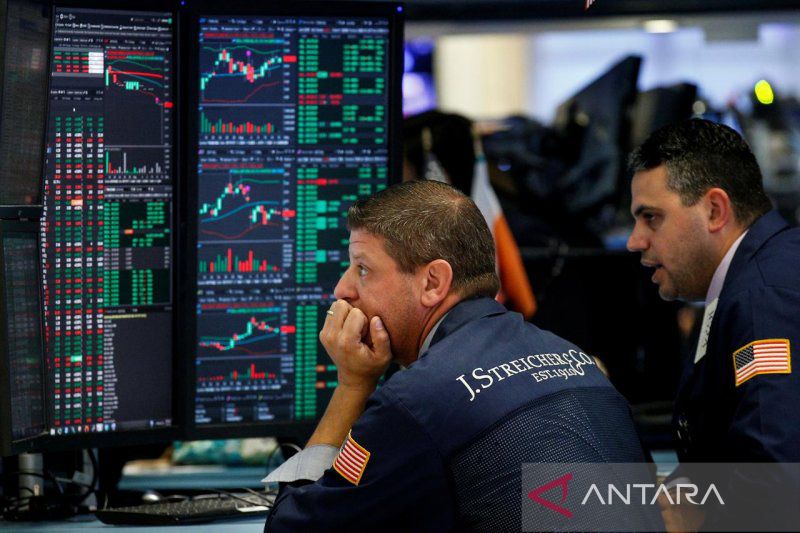 Ilustrasi – Para pialang memperhatikan layar monitor pergerakan saham di Bursa Efek New York, Wall Street, Amerika Serikat. REUTERS/Brendan McDermid/aa.
New York (ANTARA) – Pasar saham di Wall Street, Amerika Serikat ditutup beragam pada akhir perdagangan Kamis (Jumat pagi WIB), dengan indeks Nasdaq dan S&P 500 turun di tengah realisasi Federal Reserve yang masih perlu secara agresif meningkatkan suku bunga untuk menjinakkan kenaikan harga konsumen meskipun ada bukti baru pendinginan inflasi.
Indeks Dow Jones Industrial Average terangkat 27,16 poin atau 0,08 persen, menjadi menetap di 33.336,67 poin. Indeks S&P 500 turun 2,97 poin atau 0,07 persen, menjadi berakhir di 4.207,27 poin. Indeks Komposit Nasdaq merosot 74,89 poin atau 0,58 persen, menjadi ditutup di 12.779,91 poin.
Enam dari 11 sektor utama S&P 500 berakhir di zona merah, dengan sektor perawatan kesehatan dan konsumer non-primer masing-masing melemah 0,71 persen dan 0,66 persen, memimpin penurunan. Sementara itu, sektor energi melonjak 3,19 persen, menjadikannya kelompok berkinerja terbaik.
Departemen Tenaga Kerja AS mengatakan Kamis (11/8/2022) bahwa klaim pengangguran awal AS, cara kasar untuk mengukur PHK, berdiri di 262.000 dalam pekan yang berakhir 6 Agustus, meningkat 14.000 dari tingkat revisi minggu sebelumnya. Angka tersebut mendekati level tertinggi sejak November, mengindikasikan berlanjutnya moderasi di pasar tenaga kerja.
Sebuah laporan terpisah oleh departemen itu pada hari yang sama menunjukkan indeks harga produsen (IHP) AS turun 0,5 persen pada Juli. Ekonom yang disurvei oleh The Wall Street Journal memperkirakan kenaikan 0,2 persen.
S&P 500 ditutup sedikit lebih rendah setelah sebelumnya mencapai tertinggi baru tiga bulan menyusul data yang menunjukkan indeks harga produsen AS secara tak terduga turun pada Juli.
Penurunan IHP meningkatkan taruhan di pasar berjangka bahwa Fed akan menaikkan suku bunga sebesar 50 basis poin pada September, bukannya 75 basis poin seperti yang diperkirakan pada awal pekan.
S&P 500 dan Nasdaq melonjak lebih dari dua persen pada Rabu (10/8/2022) setelah data harga konsumen yang lebih lemah dari perkiraan. Tetapi para pembuat kebijakan telah meninggalkan sedikit keraguan bahwa mereka akan memperketat kebijakan moneter sampai tekanan inflasi benar-benar mereda.
Dengan pasar tenaga kerja menunjukkan tanda-tanda pelemahan karena jumlah orang Amerika yang mengajukan klaim baru untuk tunjangan pengangguran naik untuk minggu kedua berturut-turut, Nasdaq berbalik lebih rendah karena investor mempertanyakan kekuatan ekonomi.
"Ini adalah hasil IHK yang lebih baik kemarin dari yang diharapkan dan hasil IHP yang lebih baik pagi ini dari yang diperkirakan oleh para analis. Jadi sesuai dengan tema itu, bahwa puncak inflasi telah terjadi karena energi terus menurun," kata George Catrambone, kepala perdagangan Amerika di DWS Group.
Saham perbankan memperpanjang reli mereka dengan Goldman Sachs dan JPMorgan Chase & Co masing-masing terdongkrak 1,1 persen dan 1,5 persen.
Saham-saham dengan pertumbuhan tinggi yang telah reli pada Rabu (10/8/2022) jatuh, dengan Tesla Inc merosot 2,6 persen dan Amazon.com Inc jatuh 1,5 persen.
Imbal hasil acuan obligasi pemerintah AS mencapai level tertinggi lebih dari dua minggu karena investor obligasi bertaruh Fed akan melanjutkan kenaikan suku bunga setelah data inflasi masih panas, meskipun tekanan harga telah sedikit mereda.
Permintaan, seperti yang terlihat dari peningkatan hampir 9,0 persen dalam daya beli agregat, masih terlalu kuat dan dapat membuat The Fed tetap agresif lebih lama dari yang diperkirakan, kata Jack Janasiewicz, pemimpin strategi portofolio di Natixis Investment Managers Solutions.
"Kami menjadi sedikit lebih khawatir karena The Fed mungkin harus melakukan sedikit lebih banyak pekerjaan untuk mencoba mendinginkan sisi kelebihan permintaan itu," kata Janasiewicz.
Volume transaksi di bursa AS mencapai 12,36 miliar saham, dibandingkan dengan rata-rata 11,06 miliar untuk sesi penuh selama 20 hari perdagangan terakhir.
Baca juga: Saham Asia ikuti penurunan Wall Street jelang data inflasi AS
Baca juga: Wall Street ditutup lebih rendah di tengah panduan laba mengecewakan
Baca juga: Wall St reli, pendinginan inflasi kurangi kekhawatiran suku bunga naik
Penerjemah: Apep Suhendar
Editor: Faisal Yunianto
COPYRIGHT © ANTARA 2022
News Related
OTHER NEWS