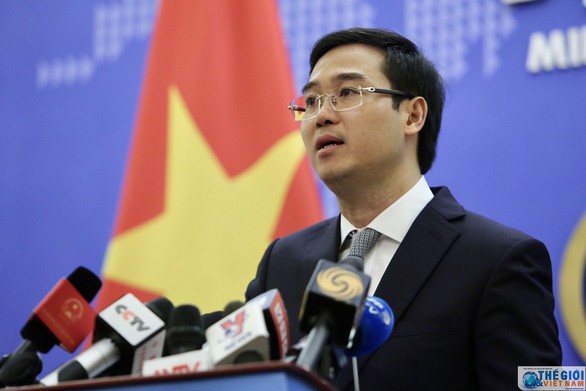 Deputy spokesperson for the Ministry of Foreign Affairs of Vietnam Ngo Toan Thang
Deputy spokesperson for the Ministry of Foreign Affairs of Vietnam Ngo Toan Thang was speaking at a regular press briefing in Hanoi on Thursday, answering reporters' question concerning Vietnam's stance towards China's recent circulation of a number of notes expressing groundless sovereignty claims over the Hoang Sa and Truong Sa Islands. Vietnam sent a note to the United Nations slamming the Chinese view on March 30, 2020, Thang said adding that Vietnam also had contacted China to reaffirm its consistent stance towards the matter. According to Thang, Vietnam circulated the note on April 10, 2020 to defend its firm position on the East Sea issue with other parties concerned.
Vietnam has repeatedly affirmed that it has sufficient historical evidence and legal basis to assert sovereignty over Hoang Sa and Truong Sa archipelagoes in accordance with international law.
All maritime claims which are contrary to the provisions of the 1982 United Nations Convention on the Law of the Sea (UNCLOS) and infringe upon Vietnam's sovereignty, sovereign rights and jurisdiction over its waters are null and void.
Vietnam believes that all countries have common duties and interests in respecting fundamental principles of international law, including the principle of equality of national sovereignty, refraining from the threat or use of force in international relations, promoting friendship, and settling international disputes through peaceful means.
In this spirit, the deputy spokesperson stressed Vietnam stands ready to resolve all disputes with parties concerned through negotiations as well as other peaceful means, including those specified in the 1982 UNCLOS.