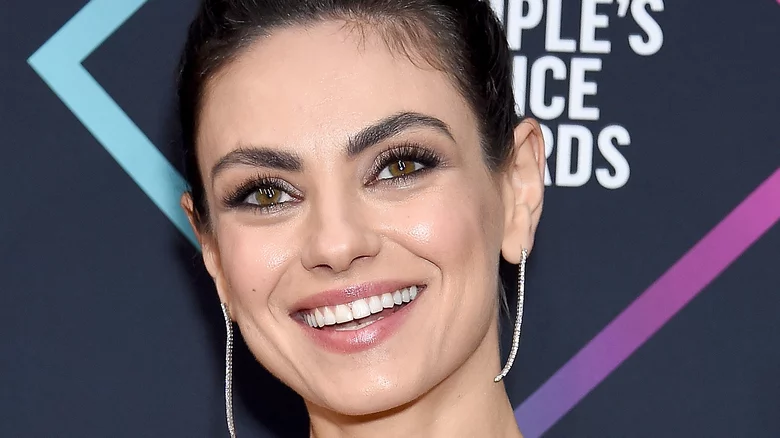 Gregg Deguire/Getty Images
Actress Mila Kunis, who has been working in the industry since 1994, had her breakout role playing Jackie Burkhart on "That '70s Show" from 1998 to 2006 — a role that she is slated to reprise for the upcoming spinoff series, "That '90s Show" (via IMDb). Following "That '70s Show," Kunis focused mostly on film for a while, appearing in projects such as 2008's "Forgetting Sarah Marshall," 2010's "Black Swan," and 2011's "Friends with Benefits." Her other notable films include 2015's "Jupiter Ascending" and 2016's "Bad Moms."
These roles represent a significant bulk of Kunis's career, but there's one key piece missing. In fact, Kunis has been portraying one role for multiple decades: voicing Meg Griffin on "Family Guy." Kunis began voicing Meg in 1999, just one year into the run of that "That '70s Show," and has been doing so ever since. It may be easy for fans to overlook, seeing as Kunis often has a lot of other projects going on.
In 2020, Kunis revealed one detail of her job, dishing out where she records her lines — and it's quite the strange location.
Kunis records her Family Guy lines in her kids' closet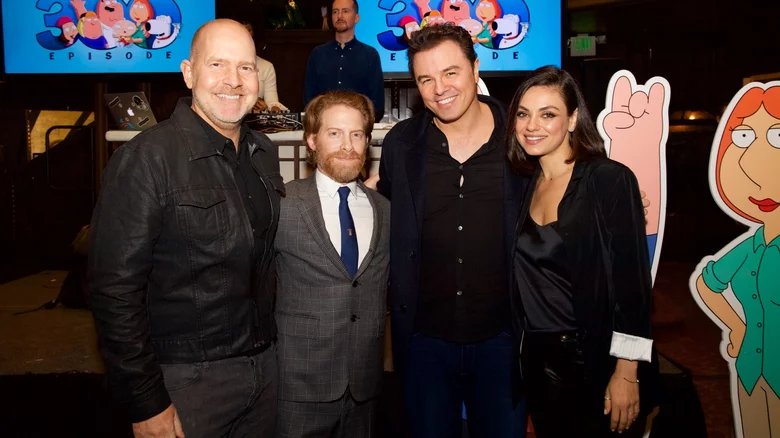 Earl Gibson Iii/Getty Images
In 2020, Mila Kunis and her "Family Guy" co-stars participated in a Comic-Con streamed panel, during which Kunis admitted that she uses a unique location to record her lines: her children's closet. While it's not outright stated, the discussion of where the actors record their lines from home was likely a result of having to adjust to the COVID-19 lockdown.
After noting that she chose her kids' closet because it's carpeted, Kunis went on to describe the details of her in-closet studio. Kunis said, "I have a lot of sleeping bags and my husband [Ashton Kutcher] somehow jerry-rigged sticks together and then created a little tent that I have to go into and it's really hot because I'm in a really small closet … I've never been more grateful to be married to a handyman who's also tech savvy." She continued by noting that, because the sleeping bags belong to her kids, she is surrounded by unicorns and monkeys while she says her lines for the animated comedy series.
Kunis has called Family Guy the greatest job ever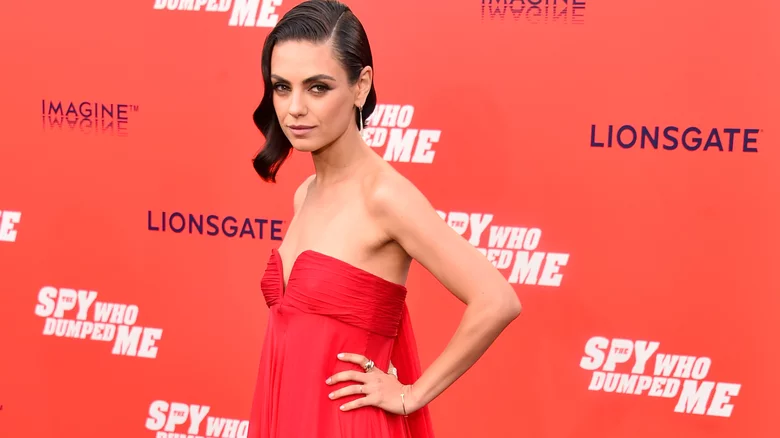 Alberto E. Rodriguez/Getty Images
Despite the fact that she has to crawl inside a stuffy tent in her kids' closet to record her lines, Kunis has made it clear that she loves her "Family Guy" job. In a February 2021 interview with Collider, Kunis had nothing but the highest praise to say about her part in the long-running comedy series.
When interviewer Steven Weintraub asked Kunis how long she thinks "Family Guy" will stay on the air — and if she thinks it could possibly last longer than "The Simpsons" –  Kunis declared that she doesn't want the show to ever end. "I'm so grateful for this job," she continued. "I can't believe people still care … I started when I was 15 right, so what am I, 37 [now]. It's been the greatest job ever. Like ever, hands down, I dare anyone to tell me that they have a better, more amazing job than that."
When Kunis calls "Family Guy" the best job that she's ever had, it's no wonder that she has been doing the show consistently for over two decades. If you'd like to check out Kunis's best job, all of "Family Guy" is available to stream on Hulu.
News Related
OTHER NEWS