Michael Ochs Archives/Getty Images
When Frank Sinatra wasn't crooning to the bobby soxers of the 1940s, he was appearing on the big screen in dozens of movies, from 1944's "Step Lively" to 1980's "The First Deadly Sin." In fact, he took home an Oscar for Best Actor in a Supporting Role in 1954 for his portrayal of soldier Maggio in "From Here to Eternity."
By the late 1980s, Sinatra's film career may have come to an end, but he was still very much in the spotlight and considered one of the wealthiest entertainers in the world (via The New York Times). By 1989, he was in the midst of a tour with fellow industry giants Sammy Davis Jr. and Liza Minnelli (via Independent.ie). As "The Ultimate Event" came to a conclusion, the world was being introduced to what would quickly become another pop culture phenomenon — "Seinfeld."
The sitcom, created by comedians Jerry Seinfeld and Larry David, premiered in July of that year. Chronicling failed relationships, invasive parents, and other happenings of single-living in the Big Apple, this "show about nothing" resonated with the masses. Over the course of its nine seasons, "Seinfeld" welcomed a number of celebrity guest stars, from Courteney Cox and Jon Lovitz to Bette Midler and Marisa Tomei. Sinatra never graced the "Seinfeld" set, but he is linked to the show in a rather heartbreaking way.
Frank Sinatra passed away on the night of Seinfeld's series finale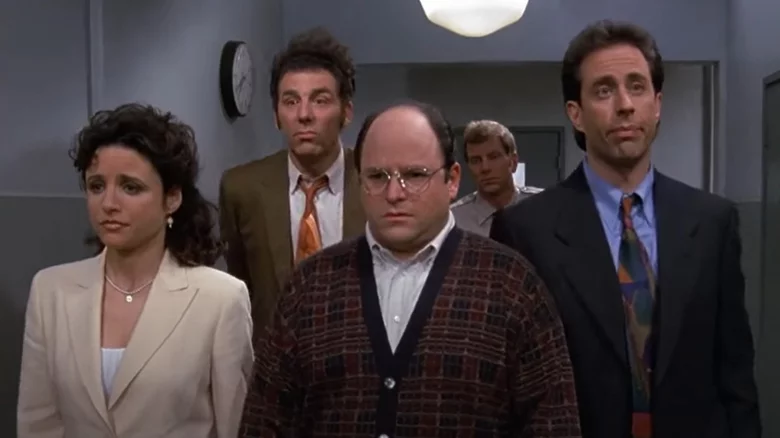 NBC/YouTube
On the evening of May 14, 1998, an 82-year-old Frank Sinatra suffered a massive heart attack and was rushed to Cedars-Sinai Medical Center in Los Angeles, as reported by New York Daily News. The emergency call came through at 9:14 p.m. Within four minutes, paramedics arrived at Sinatra's home and by 9:35 p.m., he was at the hospital. His wife Barbara, who was out to dinner with friends, bypassed red lights to make it to Sinatra's bedside before his passing.
According to fire chief Mike Smollen, such speedy transport was achieved thanks to the nearly-deserted streets. This odd phenomenon, he said, was because the masses were at home watching the series finale of "Seinfeld."
If the "Seinfeld" finale aired on a different night, it's hard to say if Barbara would have gotten this opportunity. The episode was watched by 76.5 million fans (via The Los Angeles Times), who witnessed the trial of Jerry, George (Jason Alexander), Elaine (Julia Louis-Dreyfus), and Kramer (Michael Richards) after they violate the Good Samaritan law. Characters from the show's nine-year history, including struggling restaurant owner Babu Bhatt (Brian George), return to testify and the four are sentenced to a year in prison.
In retrospect, Seinfeld somewhat regrets this plotline. During 2017's The New Yorker Festival (via Today), he said, "There was a lot of pressure on us at that time to do one big last show, but big is always bad in comedy."
Still, the episode garnered an impressive audience which, in turn, may have allowed a wife to say "goodbye" to her husband.
News Related
OTHER NEWS