An agreement could be looming any day after thousands of autoworkers in three Midwest states walked off the job last week to strike against all three Detroit automakers when negotiations failed for a new labor contract.
About 13,000 members of the United Auto Workers at three assembly plants in Michigan, Ohio and Missouri hit the picket lines last Thursday demanding wage increases and other benefits. But it's looking more likely that one of UAW's most bold demands on the bargaining table is unlikely to be accepted: a four-day workweek.
The labor union's request for its members to work 32 hours a week for the same amount of pay as a traditional five-day cycle likely raised a few eyebrows. But in reality, the idea for shorter hours and higher wages is not as audacious as it first appears, experts say.
Start the day smarter. Get all the news you need in your inbox each morning.
In fact, plenty of companies have already conducted four-day workweek trials to modest success as the model slowly catches on with the American workforce.
Here's what to know about the four-day workweek:
What is UAW? What to know about the union at the heart of industrywide auto workers strike
After contract negotiations stalled with all three Detroit automakers, United Auto Workers from Local 862 picket on Friday outside the UAW-Ford Joint Trusts Center in Detroit.
Why is UAW asking for a shortened workweek?
UAW President Shawn Fain spoke during a Facebook Live event last month, where he defended the labor union's push to shorten its members' workweeks.
"Our members are working 60, 70, even 80 hours a week just to make ends meet," Fain said. "That's not living. It's barely surviving and it needs to stop."
It's not the first time that leaders in the auto industry have championed such an idea.
The first big push for a 30-hour week in the auto industry began in the early 1930s, even before the 40-hour workweek was established in the Fair Labor Standards Act, said Jonathan Cutler, a sociologist at Wesleyan University and author of the book "Labor's Time: Shorter Hours, the UAW, and the Struggle for American Unionism."
The demand returned to prominence after 1946 when Cutler said that the Ford Motor Company began automating production to rely less on labor to make automobiles. That was when the union proposed doing away with the 40-hour standard and instead bargained for overtime after 30 hours, Cutler said.
The idea behind the current 32-hour workweek proposal, however, comes from a plan from the 1970s where workers gradually accrue "Paid Personal Holidays" over a period of time as part of a bargained formula. The company then groups together workers who have earned, say, 26 such days and gives them every other Monday off for half the year.
"It's a demand that is good for workers and expensive for employers," Cutler said. "Industry controls the demand for labor and workers control the supply of labor. If labor is serious about the demand, it's entirely possible that it can be realized."
But not all experts buy into the concept's feasibility in the auto industry.
"If you allow people to work less, they are happy so they do things quicker and better," Balbinder Singh Gill, assistant professor of finance and labor expert at Stevens Institute of Technology in Hoboken, New Jersey, told the Detroit Free Press, a USA TODAY Network publication. But, he added, "nobody will ever agree to pay them for 40 hours. They have to be a little bit realistic. You work less, but keep the same wage? no."
Union president: Joe Biden still has to earn UAW endorsement
When did the idea for a 4-day workweek begin to catch on?
The push for shorter workweeks was part of a larger shift in workplace trends influenced by the COVID-19 pandemic as conversations unfolded about what the future of work may look like, experts say.
But even before the pandemic, a handful of U.S. businesses have for years slowly begun adopting a four-day workweek to boost productivity and morale. Advocates for such a system also say it's proven to provide employers with a competitive edge in hiring and retaining employees.
Four-day workweeks can look a little different depending on how companies implement the model: Some businesses may compress the standard 40-hour week into one fewer day, while others may opt for the 32-hour workweek with no cut in pay that's advocated for by UAW.
Members of the United Auto Workers (UAW) union march through the streets of downtown Detroit following a rally on the first day of the UAW strike in Detroit, Michigan, on September 15, 2023.
The nonprofit 4 Day Week Global, which helps companies transition from the traditional five-day workweek, has conducted several trials in the past few years that it says have demonstrated positive results.
Earlier this year, the nonprofit and a research team concluded a four-day workweek pilot program in the United Kingdom that was reportedly well-received by employers and employees alike.
The majority of employers that participated in a program said they will continue with the schedule after companies and organizations reported lower turnover among employees and other benefits. Workers, meanwhile, experienced reduced burnout and noticed other health benefits.
While the trials have taken place around the world, manufacturing organizations such as those in the auto industry have largely not participated, said Wen Fan, a sociology professor at Boston College, and one of the studies' lead researchers. Most of the companies who participate in the trials are from the IT, telecom, and professional services sectors, Fan said.
"Compared with other sectors (especially white-collar jobs), it can be more challenging for manufacturing companies to identify time-saving changes, but this is not impossible," Fan told USA TODAY. "There are companies in our data who managed to do that."
However, the model is by no means skyrocketing in popularity as employers in a variety of sectors remain wary about the effect that shortening the workweek could have on their business.
A pulse survey report the International Foundation of Employee Benefit Plans released in September found that among 376 employers, just 5% are offering a four-day workweek, while 24% are offering any sort of compressed workweek at all. Among the primary reasons cited for not implementing a four-day workweek is a lack of interest among upper management, concerns about the difficulty of putting it into place, and beliefs that it would negatively impact operations, according to the report.
Experts like Fan believe that it's only a matter of time for that perception to change.
"I think it will definitely continue to catch on, given the amount of interest we see among employers and employees," Fan said. "The pandemic shifted the mindset of a whole generation in terms of the centrality of work in their lives, and I think this generation effect will become a major force for years and decades to come."
History of UAW membership: How union membership has changed since it peaked at 1.5 million workers in the late 70s
Have lawmakers pushed to make 4-day workweeks a law?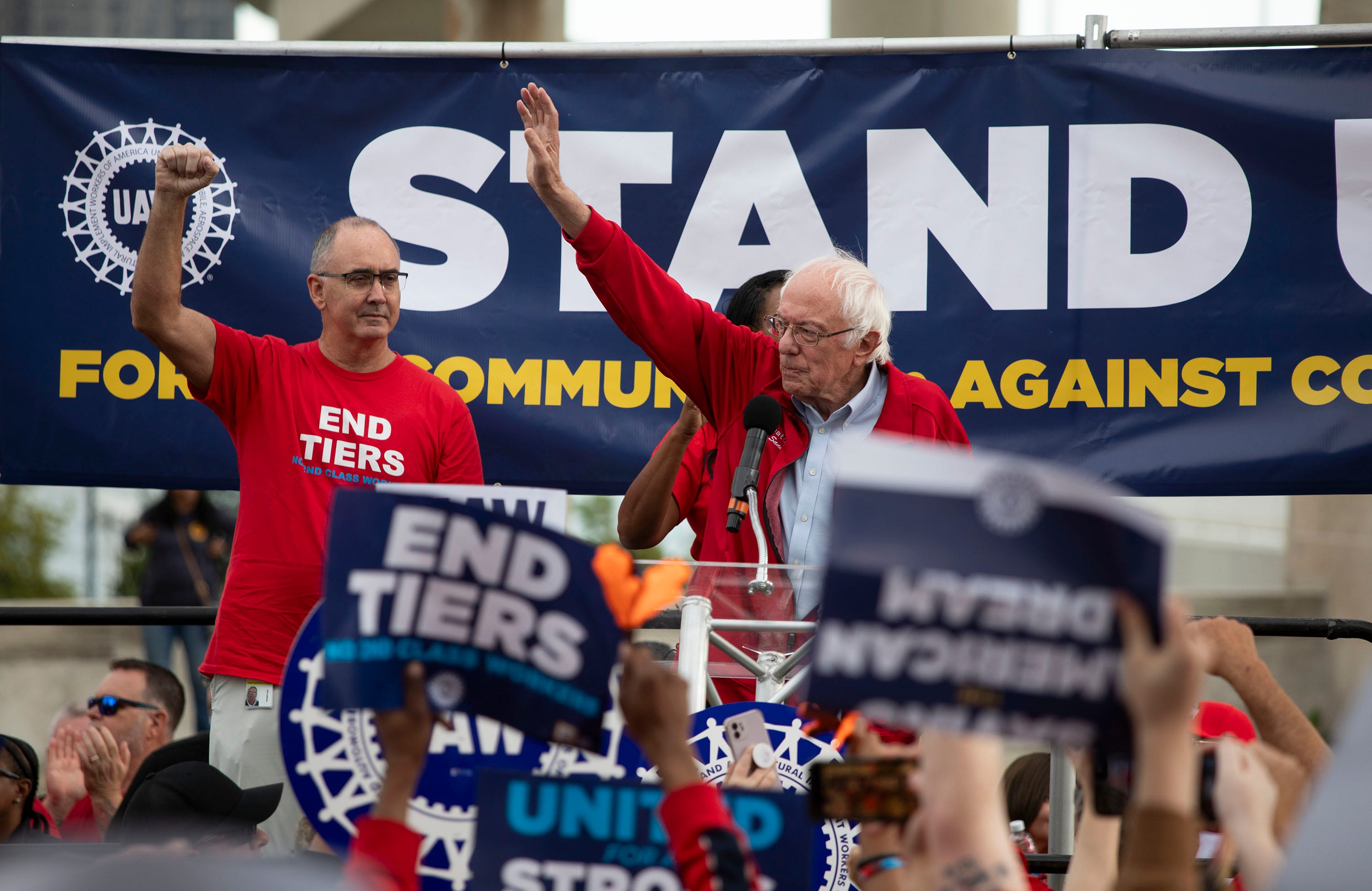 Sen Bernie Sanders, I-Vt., and UAW President Shawn Fain (L) speak at a rally in support of United Auto Workers members as they strike the Big Three auto makers on September 15, 2023 in Detroit, Michigan.
Progressive Democrats renewed a push earlier this year to make four-day workweeks federal law by reducing the standard workweek from 40 hours to 32.
Sponsored by Rep. Mark Takano of California, the so-called "Thirty-Two Hour Workweek Act" would amend the definition of the workweek in the federal Fair Labor Standards Act of 1938 by requiring overtime pay at a rate of time and half for any employee who works at least 32 hours a week.
However, the bill introduced in March has stalled as it remains unlikely that it would garner enough support to pass both chambers of Congress, with Republicans leading the House.
A similar bill at the state level was proposed last year in California. Though the bill has also failed to advance, it would make California the first state in the nation to codify a four-day workweek as law.
Contributing: Jamie L. LaReau, Detroit Free Press
Eric Lagatta covers breaking and trending news for USA TODAY. Reach him at [email protected].
This article originally appeared on USA TODAY: The 4-day workweek is among the UAW's strike demands: Why some say it's a good idea
News Related
OTHER NEWS