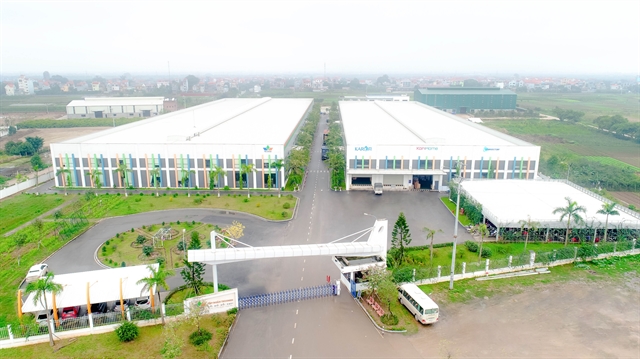 A production plant of Tecomen Joint Stock Company. — Photo courtesy of Standard Chartered
HÀ NỘI — Standard Chartered on Tuesday announced that Tecomen Joint Stock Company (Tecomen) has become the first company in Việt Nam to make a drawdown under the bank's US$1 billion COVID-19 financing commitment. This is also the first such drawdown in ASEAN that the bank has announced.
The bank extended Tecomen a credit limit of VNĐ40 billion ($1.8 million) as working capital for the production of medical masks to meet the global demand of medical supplies in the global fight against COVID-19.
Standard Chartered announced in March its commitment to provide not-for-profit financing to companies that provide goods and services to help combat the pandemic. Companies within the scope of this financing commitment include manufacturers and distributors in the pharmaceutical sector including ventilators, face masks, protective equipment, sanitisers, and other consumables.
Organisations from other sectors that are planning to add manufacturing capabilities for such products are also eligible to apply for the programme. Tecomen is Việt Nam's leading manufacturer of water filters, water dispensers, air purifiers, sea water purification equipment, industrial filtration systems, and household electrical appliances. Since early 2020, the company has added medical face mask production to its product lines as the pandemic threatened to pose increasing risks to global health.
Nirukt Sapru, CEO, Việt Nam and ASEAN & South Asia Cluster Markets, Standard Chartered Bank, said: "We are pleased to support Tecomen in its effort to combat COVID-19. At Standard Chartered, we are committed to be here for good for our clients and the community. By extending working capital to our clients in this global time of need, we are able to contribute to the international effort to enable greater access to medical supplies. We have been and will continue working with our clients and stakeholders to tackle the outbreak and help restore economic activity."
Nguyễn Thy Phương, Tecomen's CEO said: "The credit extension from Standard Chartered will enable us to ramp up the production of high-quality protective equipment to benefit more people who are affected by the pandemic." — VNS