NBC Universal, Inc.
Gusty winds, heavy rain and small hail are possible with a line of severe thunderstorms expected to arrive in Dallas-Fort Worth overnight into Friday morning.
The Storm Prediction Center has areas north and west of DFW included in a slight risk (level 2) for severe weather Friday morning.
On Thursday in DFW it'll be a warm and windy spring day with winds from the south up to 30 mph. Storms in West Texas are likely to be severe, but they will decrease in intensity as they move east toward the Interstate 35 corridor.
Stay informed during severe weather season with our news and weather apps for phones, tablets and TVs. On phones and tablets, choose the breaking and weather alerts you want to receive. More details and links to app stores are here.
NBC 5 Chief Meteorologist Rick Mitchell said Wednesday forecast models showed the greatest chance for storms arriving in North Texas before sunrise Friday, reaching western counties at about 3:30 a.m. and into Dallas-Fort Worth between 4:30 a.m. and 8 a.m.
"These storms will be capable of gusty winds and brief heavy rain. Some small hail can't be ruled out. These storms should move out of DFW by 9 a.m. Friday, followed by a quick return of sunshine for Friday afternoon," said NBC 5 Meteorologist Grant Johnston on Thursday morning.
Continue to stay up to date with the latest forecast through our suite of apps and make sure you are weather-aware from Thursday night into Friday.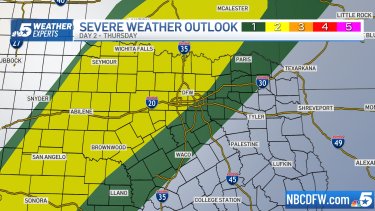 News Related
OTHER NEWS