It's been more than two decades since Brandy starred in "Rodgers & Hammerstein's Cinderella." Now, she's reprising her role for "Descendants: The Rise of Red"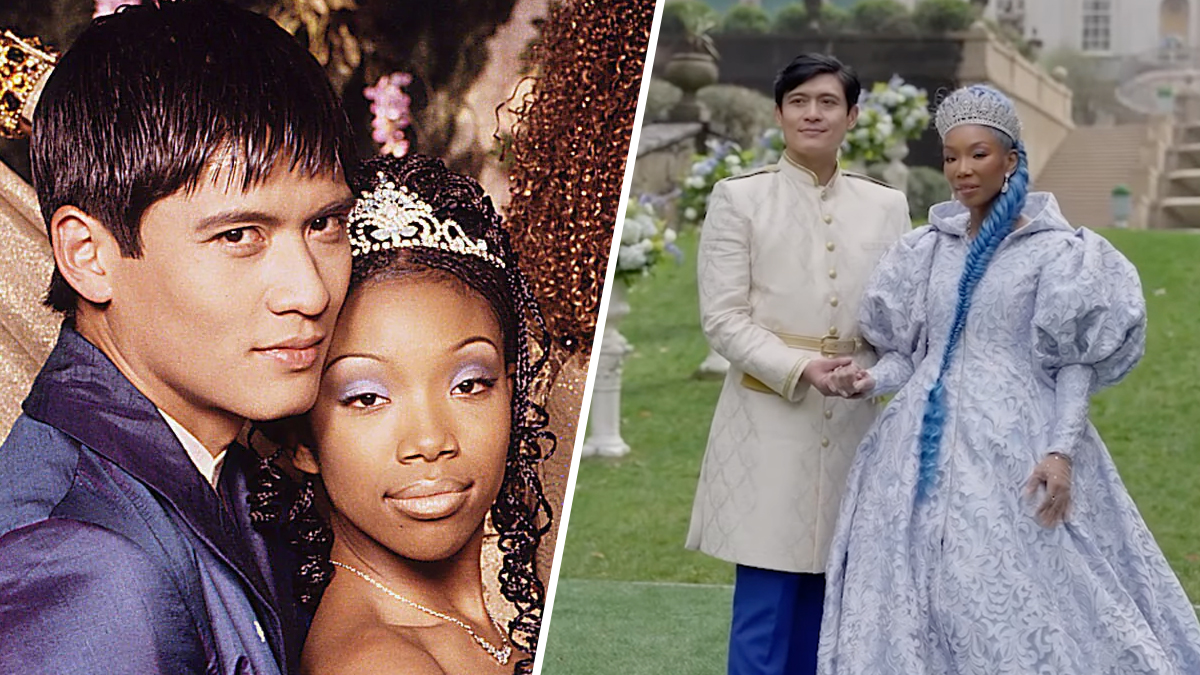 It's impossible to not be excited about this reunion.
Just a few months after it was revealed that Brandy is reprising her role of Cinderella for "Descendants: The Rise of Red," Disney+ announced that Paolo Montalban, who played her Prince Charming more than two decades ago, is joining the cast.
And now, fans are getting their first sneak peek of the co-stars on the set of the new film. A video shared to Disney+'s official Twitter account showed Brandy wearing a beautiful blue ballgown and sparkly crown while Montalban, now King Charming, donned his handsome royal attire complete with gold trim and buttons.
Brandy and Montalban were part of the star-studded cast of the 1997 movie "Rodgers & Hammerstein's Cinderella," which also featured Bernadette Peters as the stepmother, Victor Garber and Whoopi Goldberg as the king and queen, Jason Alexander as their royal herald and the late Whitney Houston as the fairy godmother.
Magical Facts About Your Favorite Disney Films
And if you're wondering how the fairytale couple is doing these days, Disney+'s press release says King Charming is "as much in love with Cinderella as he ever was" and that they're parents to their "perfectionist" daughter Chloe, played by Malia Baker.
A royal occasion. ✨ King Charming (@PaoloMontalban) and Cinderella (@4everBrandy) have joined the upcoming Original movie, #DisneyDescendants: Rise of Red! pic.twitter.com/EsBxOqyr7q

— Disney+ (@DisneyPlus) March 22, 2023
Disney+ has also shared that Rita Ora is playing the Queen of Hearts and that Kylie Cantrall is portraying her "rebellious" daughter Red in the new film.
The "Descendants" movies are set in the lands of Auradon and the Isle of the Lost. And according to Disney+'s release, fans will also be led down "the rabbit hole to the hostile unincorporated territory of Wonderland" from Alice in Wonderland.
"When the tyrannical Queen of Hearts incites a coup against Auradon," the release says, "polar opposites Red and Chloe must join forces and travel back in time to undo the traumatic event that set Red's mother down her villainous path."
Other cast members include China Anne McClain as Uma, Dara Reneé as Uliana, Ruby Rose Turner as the Young Queen of Hearts, Morgan Dudley as Young Cinderella, Joshua Colley as Hook, Melanie Paxson as the fairy godmother, Jeremy Swift as Principal Merlin and Leonardo Nam as Maddox Hatter.
While a release date for "Descendants: The Rise of Red" has yet to be revealed, Brandy has previously discussed what playing Cinderella in the 1997 film meant to her.
"It meant everything to me because first of all I got to work with my childhood idols Whitney Houston, Whoopi Goldberg, Bernadette Peters," she said on a 2021 episode of "The View." "But to be cast as the first Black princess in a multicultural cast and diverse artists telling this amazing, iconic story—at the time, I didn't really grasp it all because my dreams were coming true at the same time."
She added, "But the impact that it had on me and the lives of so many families and girls that look like me, it was just unbelievable."
News Related
OTHER NEWS