© Family Handyman
Working from home has given some people much more time to work on lawns and gardens. If you're a proud do-it-yourselfer and lawn enthusiast, it can be easy to ruminate about ways to make your turf look better, no matter what month it is. As you contemplate lawn care, consider a yard maintenance schedule to keep yourself on track.
Note: This schedule follows recommended lawn care practices for Northern lawns (north of Interstate 70) consisting of cool-season grasses like Kentucky bluegrass, fine fescue and perennial ryegrass. The actual timing of these tasks will vary by a few days or even weeks with an early or late arrival of spring weather.
Winter Lawn Care Maintenance Schedule
© Photos by R A Kearton/Getty Images
There's not much to do during the winter months. The ground is most likely frozen and your lawn "hibernating" under a heavy blanket of insulating snow. But you can get ready for that day when the last snow disappears and your lawn begins to green up.
Spring Lawn Care Maintenance Schedule
© Photos by R A Kearton/Getty Images
This is when the fun begins! There are a few things you can do in early spring, but be patient. Don't start too early, because you could do more harm than good.
Make sure the ground is no longer frozen, the surface is firm and, most importantly, the grass is actually green and beginning to grow. Any premature work to your lawn before it wakes up will be fruitless. Worse yet, it can be damaging.
Summer Lawn Care Maintenance Schedule
© Photos by R A Kearton/Getty Images
You don't want to overdo it during the hot, humid summer months. Keep your lawn work to a minimum by mowing and watering only as needed and applying fertilizer no more than once.
Fall Lawn Care Maintenance Schedule
© Photos by R A Kearton/Getty Images
Late summer and early fall are the best times to do almost any lawn care work.
Core aerate your lawn to reduce compaction, manage thatch production and provide a conduit for fertilizer, water and grass seed to penetrate the soil. That's where they need to be. You can also core aerate your lawn in spring or early summer, but avoid those hot, dry summer days. You can't aerate your lawn too much!
This is also the best time of year to reseed any thin areas or turf damage that occurred during the summer. Soil temperatures are still warm, which triggers immediate seed germination and rapid seedling establishment. These temperatures are more conducive for rapid, stress-free grass establishment. It's best to get your seeding work done before October 1. If sodding is your thing, you can lay it just about any time of the year, even into early November.
Early fall is also the best time to spread your last fertilizer application. This is an important feeding because it fills up the grass plant's gas tank just before it goes into winter dormancy. It helps your lawn approach the brutal winter months in a healthy state, poised to rebound in the spring for another year of backyard enjoyment.
Finally, just before the ground freezes, apply another round of gypsum in those areas where you anticipate salt and ice-melter damage during the winter. You'll get a head start on salt damage remediation before the snow melts next spring.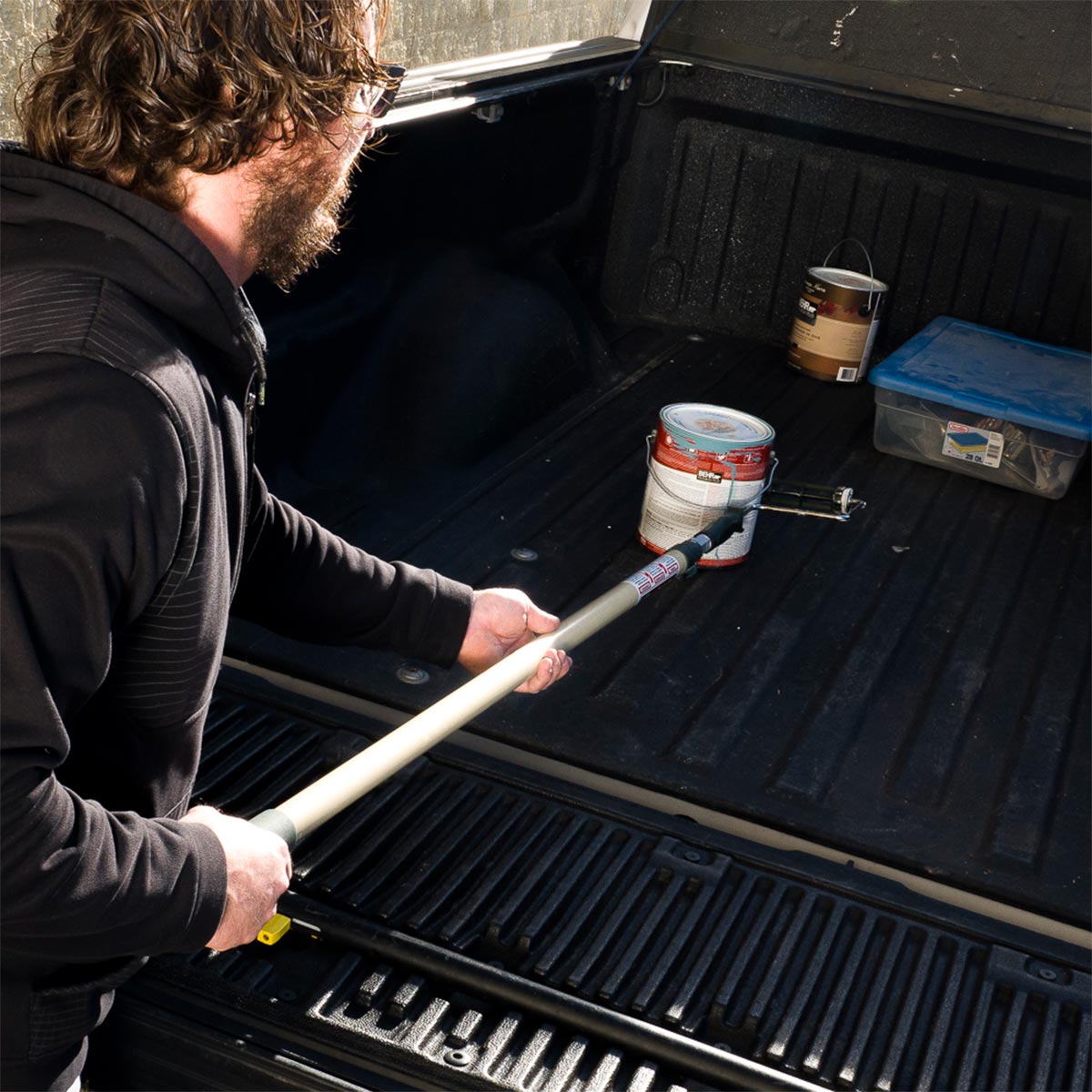 Truck Bed Drawers
If you want a sleek look to complement your desire for organization, make some drawer slides for the bed of your pickup truck. This DIY truck bed storage project makes two big drawers and then adds a number of compartments to keep things tidy within each. The drawers look great while hiding your precious cargo.
Photo: Courtesy of Pask Makes
Pickup Pool
Whether you just want to have some fun while on a road trip, or your kids are begging you to do it at home, why not create this pickup pool? You can purchase one from Pick-up Pools, which as the name claims, specializes in transforming a pickup truck bed into a chill zone, or you can DIY it. Just grab a couple tarps and a garden hose.
Buy this truck bed pool on Amazon.
Photo: Courtesy of Pick-up Pools
DIY Truck Bed Caddy
Pickup truck beds are ideal for bulky items, but what about the smaller things that roll all over the place? Here's an answer for the question of the things you do with things you don't want to move in a pickup truck bed: make a super simple caddy that you can fasten with deck screws.
Handy Cargo Hook
Another option for grabbing items from the pickup truck bed with ease is an old broom handle with a utility hook on the end. You can use the handle to push things in, and pull things out using the hook.
DIY Roll-On Bed Liner
If you like to keep your pickup truck bed super clean, or you're trying to avoid dents and scratches, you'll want to either invest in a bed liner or make a DIY roll-on option yourself.
Secure DIY Truck Bed Storage Solution
If you want easy access to the section of the pickup truck bed right behind the cab of your truck, consider creating a secure DIY truck bed storage unit that keeps things intact while remaining in reach. The resulting dividers can be easily pulled out and stored flat in the back of the bed.
DIY Pickup Truck Bed Camper Cabinet
When you're not hauling around groceries or carpentry items in the back of your truck, perhaps you're taking off on a camping trip. In that case, consider turning your pickup truck bed into a DIY truck bed camper cabinet to enjoy a mini-camper van experience.
Photo: Courtesy of Crafted Workshop
Truck Bed Reach Stick
Whether you're loading or unloading, you might find some items are difficult to reach. If you want to save time crawling around, bending and reaching, make a truck bed reach stick! You simply need an extension pole with a paint roller attachment.
Truck Bed Hammock
Long day on the road? No trees in sight? Use the bed of your truck to post up for a few hours without the need for posts or trees. You could even place some faux grass beneath the hammock.
Photo: Courtesy of Imgur
Slide-Out Truck Kitchen
Want full kitchen convenience anywhere you go? Be it camping or tailgating, this slide-out truck kitchen, made by California-based Scout Equipment Co., is a must. You can prep, cook, serve and wash up with ease, thanks to the various surfaces, compartments and appliances this incredible product comes with. Slide everything out from the bed of your truck when you need it, and then put it out of sight just as easily.
Photo: Courtesy of Scout Equipment Co.
Truck Bed Lights with LED Strips
This super cool truck bed hack makes tailgating at night a little more enjoyable with LED strip lights. It's also great for when you're unloading your camping gear in the dark! You should also consider LED Lights for your workshop.
Photo: Courtesy of way22good1
crabgrass preventer summer
watering lawn tips
lawn grub prevention
seasonal lawn furniture
best timed fertilizer
aerate your lawn
rush riding lawn mower
Internet Explorer Channel Network