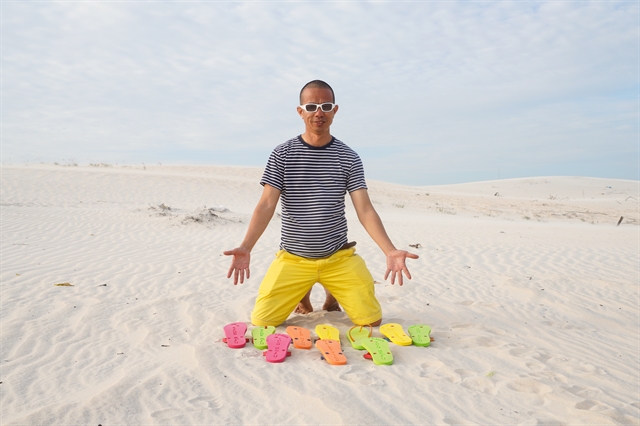 Artist Trần Nguyễn Ưu Đàm and his work ECO-ĐI will warm up the exhibition on April 8. Photos courtesy of the organisers
BÌNH ĐỊNH — The International Centre for Interdisciplinary Science and Education (ICISE) in the central province of Bình Định will this week open its first exhibition with visual artists across Việt Nam. The exhibition entitled 'ECO-SUS' is inspired by the architectural space and natural landscape of the ICISE, designed by renowned French architect Jean Francois Milou. The ECO-SUS project is a way of continuing dialogue with issues such as ecological nature and sustainable development raised by a group of artists.
Most of the participating artists worked on recent public art projects in Hà Nội.
ICISE has, for many years, been known to attract the world's most famous scientists and Nobel Laureates, who have come to exchange ideas and develop their projects.
"It has encouraged us to consider this one-of-a-kind place as an interesting inspiration and an artistic destination," said artist Nguyễn Trần Ưu Đàm.
"The exhibition will be a conceptual meeting of scientists and artists who may take very different approaches but who all want to explore and contemplate the world, its natural laws and the balance between the physical and spiritual worlds.
"Under the exhibition, we would like to have a meaningful dialogue on real sustainable development, its history and wonder would it be achievable in an intelligent way in this globalisation. Do science and art need each other?" said Đàm.
The exhibition will warm up with a viral and ambitious artwork entitled ECO-ĐI by Đàm on Quy Nhơn Beach to raise global awareness about pollution at 3pm today.
At the opening ceremony, exhibition goers will see a fashion show by designer Del Valle Cortizas Diego at 4.30pm.
An art talk and panel discussion will be held at 3pm tomorrow hosted by Đàm.
ICISE, a European-style building inspired by Bình Định's nature, situated in the heart of a 21ha valley surrounded by majestic mountains and a long yellow sand beach.
It is the only venue in Asia that has had the honour to welcome 15 Nobel Prize winners.
"Hopefully, over the next four months of the project's exhibition, this space will become an attractive destination for the local public and art-loving visitors who want to explore and engage with our spontaneous dialogue," said Đàm.
The exhibition will run until August 8 at 7 Science Avenue, Quy Nhơn City, the central province of Bình Định. — VNS