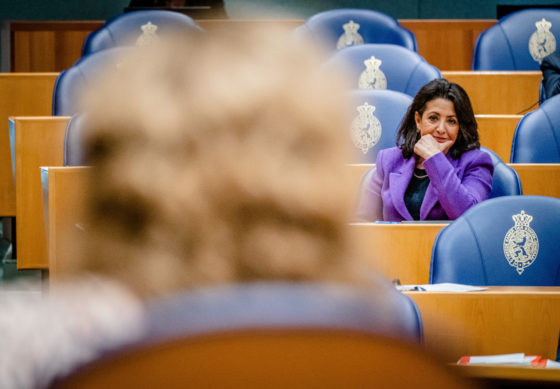 Parliamentary chair Vera Bergkamp will ask police to investigate how allegations of harassment against her predecessor, Khadija Arib, were leaked to the media.
The presidium, the executive committee that oversees parliamentary business, will file a criminal complaint about the leak on Monday, a spokesman for Bergkamp told NOS.
Arib resigned as an MP for the Labour party (PvdA) on Saturday, claiming she had been 'stabbed in the back' by Bergkamp. She learned of the inquiry into her behaviour when she was contacted by the NRC newspaper.
'I've seen many things, but the (anonymous) stabs in the back in recent days have led me to conclude that I no longer wish to be a member of parliament,' she said. 'I am prepared to put up with a lot, but everyone has their limits. This concerns an attack on my dignity.'
The presidium has still said nothing officially about the inquiry into Arib, who chaired parliamentary proceedings from 2016 to 2021, but NRC reported that it had received two anonymous letters complaining of a 'reign of terror' and 'abuses of power'. Bergkamp's spokesman said a statement would be made to parliament by Tuesday.
The government's legal advisers, Pels Rijcken, said after analysing the complaints that they were consistent with 'firm and clear indications that this could be described as (having been) a very unsafe working environment', according to NRC.
Pandemic inquiry
Civil servants are said to have spoken out about Arib's behaviour after she was appointed to lead the upcoming parliamentary inquiry into the government's handling of the coronavirus pandemic, where she would have worked closely with officials.
A total of 23 employees had spoken confidentially to doctors or liaison officials in parliament about 'unwanted behaviour' by Arib in the last three and a half years, Pels Rijcken said.
The PvdA said it had been unaware of Arib's intention to resign before her announcement at the weekend. 'This is very painful for me personally and for the PvdA party group as a whole,' said leader Attje Kuiken.
But Arib said the lack of support from her own party was one of the factors in her decision to go. In her resignation letter she thanked six members of the presidium who signed a letter demanding Bergkamp publish a statement on the inquiry by 1pm on Monday. Henk Nijboer, the only PvdA MP on the committee, was not among them.
News Related
OTHER NEWS