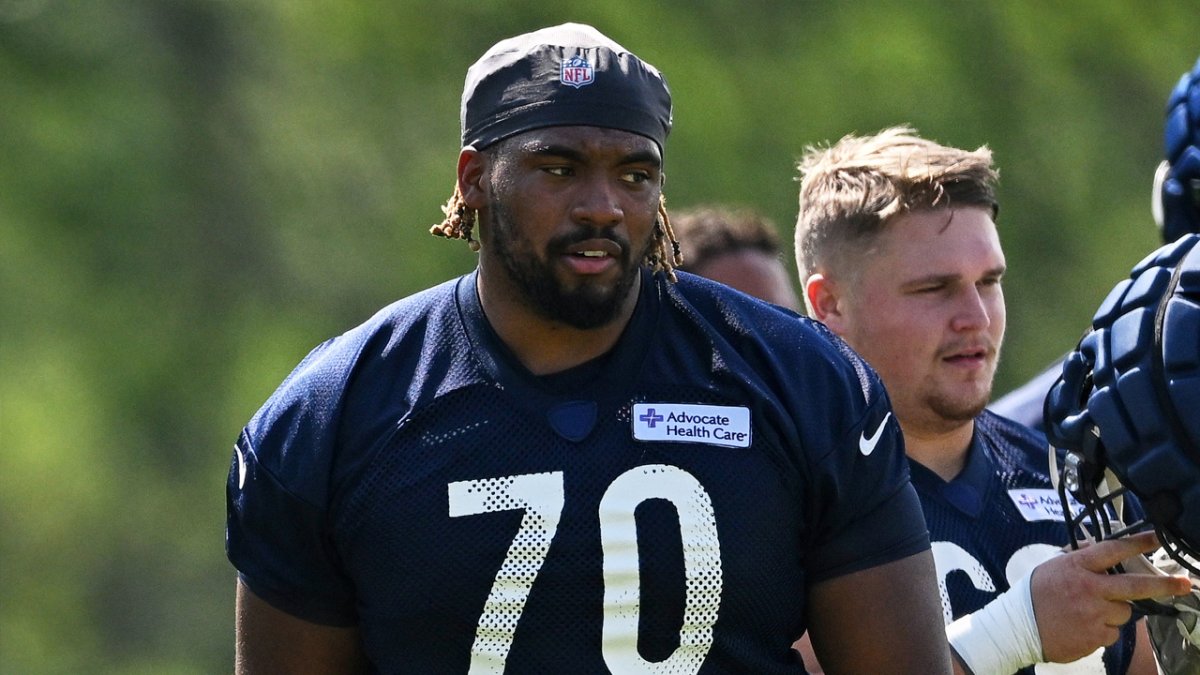 PFF ranks Braxton Jones 26th best OT in the NFL originally appeared on NBC Sports Chicago
Ahead of the start of offseason activities in the NFL, Pro Football Focus released their positional rankings as they stand for each team. Recently, they published their offensive tackle rankings.
They slotted Braxton Jones, the Bears starting left tackle, in as the 26th-best tackle in the league.
"A fifth-round draft pick out of Southern Utah in the 2022 NFL Draft, Jones came on strong in the second half of the season. He allowed 40 total pressures as a rookie but only 12 in the final eight games of the season," PFF wrote.
Jones notably was also the only Bears player to play all 17 games, too. He fared well, earning the spot over Teven Jenkins during training camp. It worked well for Jenkins, too, as he quickly became one of the league's best guards.
Placing Jones at 26th is a fair assessment for the young tackle. He was thrown into an unexpected situation in the early stages of a rebuild last season.  And despite the adversity, he thrived.
Still, there's reason to believe Ryan Poles and company will search for a bona fide, star-left tackle down the line. Jones, as the ranking indicates, isn't one of the league's best, and plays at the most important position on the offensive line.
If Darnell Wright — the Bears' No. 10 pick out of Tennessee — had the appropriate agility and lateral quickness, the Bears might have considered slotting him there, despite Wright having played right tackle his entire career.
Nevertheless, the offensive line is much improved compared to last season. The line allowed Fields to become the league's most sacked and pressured quarterback last season.
Poles, a former offensive lineman, saw this and amped up the weaponry and support around Fields. Along with Wright, the front office brought in Nate Davis to serve as the team's anticipated right guard. Cody Whitehair will likely take the reigns at the center spot.
It's a much improved offensive line, but likely a middle-of-the-pack unit. Jones' presence certainly bolsters its standing and he'll be an interesting storyline to observe as he navigates his sophomore season.
News Related
OTHER NEWS