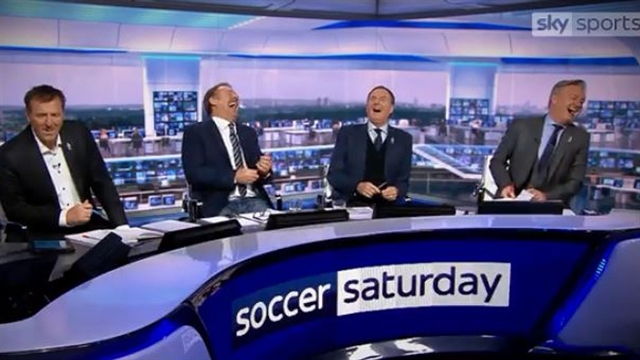 NO LAUGHING MATTER: Three of the four regulars on Soccer Saturday have now been given the boot. Photo Sky Sports.
Paul Kennedy
There's really very little I miss about living in England.
Family and friends aside, I never sit back and wonder what life would be like if I hadn't have left home shores when I did.
Most, if not all, of the creature comforts associated with the UK are readily available in Việt Nam if you know where to look and let's face facts here, right about now in the crazy world we live in, there's no place on the planet I'd rather be than right here in Hà Nội.
That said, there are one or two tiny niggles. Irritations if you like, akin to a tiny pebble stuck in your shoe that you can't ever shake free.
And for me, the biggest, and probably only, pain in the backside about living here and not there, is the time difference, and there's nothing at all I can do about it.
Football matches in the UK are played on Friday nights, Saturday mornings, Saturday afternoons, Sundays and Monday evenings. And that's just the Premier League.
Try and watch your team play Champions League football and you can kiss goodbye to a good night's sleep.
Matches are repeated early morning on the TV package I subscribe to, but I find watching a game and not knowing the score when the match has already been played very annoying.
Although ever since I've left the UK, one thing I've always managed to find a way to watch is Soccer Saturday on Sky Sports.
This for me is what Saturday afternoons, or evenings in my case, are all about. Every kick, every goal, every incident from every single football match played across every division in the UK is reported in an instant.
Whether you support Liverpool or Lincoln, Manchester United or Macclesfield Town, you can guarantee your team will be featured.
If you don't know the format, the show is presented by the brilliant Jeff Stelling and he is joined in studio with a handful of regular former players. Sky have reporters and former players at every match in the country and although TV restrictions prevent the viewer from actually watching the games themselves, this is the next best thing.
But what makes this show so successful is the onscreen chemistry between Stelling and the likes of Charlie Nicholas, Phil Thompson and Matt Le Tissier, three brilliant former players from days gone by.
However, in their great wisdom, those in the corridors of power at Sky Sports have decided it's time for a shake-up and it's out with the old and in with the new.
The three above mentioned players have been sacked and replaced with new pundits.
The problem is, the show itself wasn't broken, so it really didn't need to be fixed. What's broken is the world we live in.
The pundits in the past were all white and now some of the new ones are of mixed race. The old guard is also all men, now Sky has brought in Sue Smith, former England international footballer to the panel.
I never saw the first show, but I did read the reviews and they were not kind but then again it was their debut attempt.
There have been some rumblings that Sky are just pandering to the needs of the PC brigade and Thompson, Le Tissier and Nichols were unnecessarily given the boot.
I said earlier, the show wasn't broken so it didn't need to be fixed, but if this shake-up can help fix society, then it has to be a good thing.
It will take a while for the new line-up to create the chemistry their predecessors had, and no doubt they will be under the microscope in the early days of this season.
I'll watch it next week and see for myself, but the real reason I will be tuning in is for the football, and nothing else. — VNS