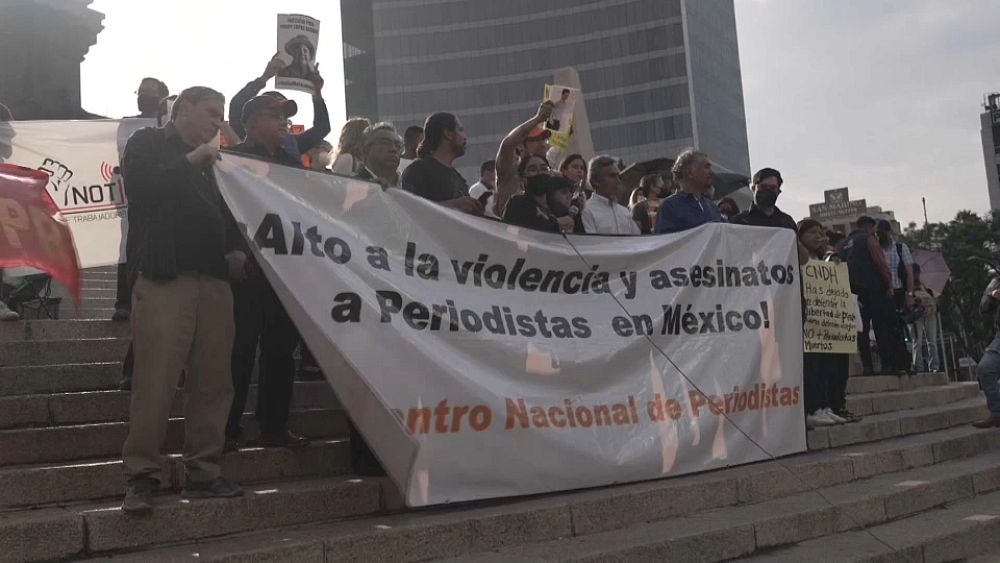 ---
---
Varias decenas de informadores se manifestaron este lunes en Ciudad de México ante la permanente violencia contra la prensa. Con los últimos ataques son ya once los periodistas muertos a tiros en lo que va de año en México.
the latest tech news, global tech news daily, tech news today, startups, usa tech, asia tech, china tech, eu tech, global tech, in-depth electronics reviews, 24h tech news, 24h tech news, top mobile apps, tech news daily, gaming hardware, big tech news, useful technology tips, expert interviews, reporting on the business of technology, venture capital funding, programing language
La periodista de la agencia estatal de noticias, Adriana Urrea denunció la falta el apoyo del gobierno mexicano: "Es lamentable que esto ocurra en una sociedad supuestamente democrática, cuando en realidad va en una dirección totalmente opuesta. Es lamentable que las autoridades no respondan a nuestras demandas, porque desde que mataron a los primeros periodistas, en enero, exigimos una respuesta de las autoridades, y mejores medidas de protección. Desde que mataron a nuestros primeros compañeros, y ya estamos en mayo, no hemos visto que esto se detenga".
La manifestación estaba convocada para protestar por el asesinato 5 de mayo de Luis Enrique Ramírez, en Culiacán.
Global Tech News Daily
Una vez en la Plaza del Angel de la Independencia les comunicaron que dos periodistas habían sido asesinadas poco antes, la directora del portal El Veraz, Yessenia Mollinedo y la reportera Sheila Johana García, en el municipio de Cosoleacaque en Veracruz.
Para Griselda Triana, viuda del periodista asesinado Javier Valdez, se trata de atentados permanentes: "Hay mucha rabia, indignación, impotencia al saber que venimos aquí a protestar por el asesinato de Luis Enrique Ramírez, ocurrido hace unos días en Culiacán, Sinaloa y nos llega la noticia del asesinato de dos mujeres periodistas en Veracruz. Esto es una vorágine. Los crímenes contra la libertad de expresión ocurren casi todos los días".
Global Tech News Daily
En lo que va de año ha sido asesinado una media de un periodista cada 15 días.
Los informadores concentrados señalaron que los ataques verbales casi diarios del presidente Andrés Manuel López Obrador generan aún mayor vulnerabilidad para la prensa. Los gobiernos estatal y federal de México han sido criticados por ni prevenir los asesinatos ni investigarlos.
Según la organización Artículo 19, desde que el presidente López Obrador llegó al poder, en diciembre de 2018, se han contabilizado 35 asesinatos de periodistas, once de ellos en lo que va de año.
News Related
OTHER NEWS