The Manhattan District Attorney's Office on Thursday slammed three House Republican chairmen and argued they overstepped in their request for DA Alvin Bragg's testimony related to the hush money probe involving former President Donald Trump.
In a letter, obtained by NBC News, Leslie Dubeck, general counsel for the Manhattan DA's office, called their request "an unprecedent inquiry into a pending local prosecution" which "only came after Donald Trump created a false expectation that he would be arrested the next day and his lawyers reportedly urged you to intervene."
"Neither fact is a legitimate basis for congressional inquiry," Dubeck wrote. She also noted that the district attorney in New York is a "constitutional officer charged with 'the responsibility to conduct all prosecutions for crimes and offenses cognizable by the court of the county in which he serves.'"
The letter was addressed to House Judiciary Committee Chairman Jim Jordan, House Oversight Committee Chairman James Comer and House Administration Committee Chairman Bryan Steil.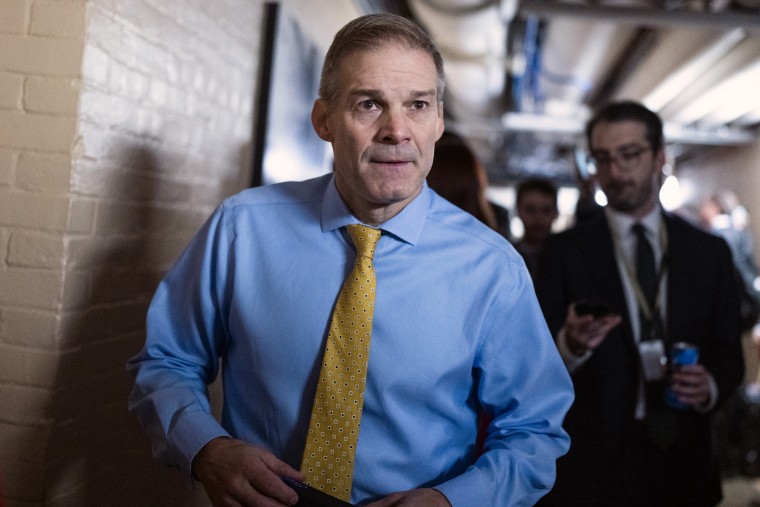 Jim Jordan during a meeting of the House Republican Conference in the U.S. Capitol, on Jan. 3, 2023. Tom Williams / CQ-Roll Call via Getty Images file
"These are quintessential police powers belonging to the State, and your letter treads into territory very clearly reserved to the states," Dubeck wrote. "It suggests that Congress's investigation is being 'conducted solely for the personal aggrandizement of the investigators or to 'punish' those investigated,' and is, therefore, 'indefensible.'"
Dubeck requested a meeting with the staff of the committees to "better understand" their requests for information.
The three Republican chairs had sent a letter earlier this week to Bragg requesting that he testify before Congress.
"You are reportedly about to engage in an unprecedented abuse of prosecutorial authority: the indictment of a former president of the United States and current declared candidate for that office," they wrote Monday.
Their letter came after Trump predicted Saturday in a post on his social media platform Truth Social that he would be arrested Tuesday. However, a decision is still pending in the Manhattan grand jury probe relating to a hush money payment to adult film star Stormy Daniels. Their letter marked the first investigatory action from the committees after House Speaker Kevin McCarthy, R-Calif., vowed to scrutinize the people who have been investigating Trump.
Meanwhile, House Judiciary Committee Chairman Jim Jordan, R-Ohio, on Wednesday requested testimony from two former prosecutors, expanding a wider GOP investigation into Bragg.
Jordan sent the letters to former prosecutors Mark Pomerantz and Carey Dunne, who were involved in a criminal investigation of Trump and his company, the Trump Organization. Pomerantz and Dunne abruptly resigned from the Manhattan district attorney's office last year.
In his letters, Jordan requested that the former prosecutors testify in a transcribed interview "as soon as possible," and turn over documents and information from Jan 2017 to the present.
"Last year, you resigned from the office over Bragg's initial reluctance to move forward with charges, shaming Bragg in your resignation letter — which was subsequently leaked — into bringing charges," Jordan wrote to Pomerantz. "Based on your unique role in this matter, and your subsequent public statements prejudicing the impartiality of any prosecution, we request your cooperation with our oversight of this politically motivated prosecutorial decision."
News Related
OTHER NEWS