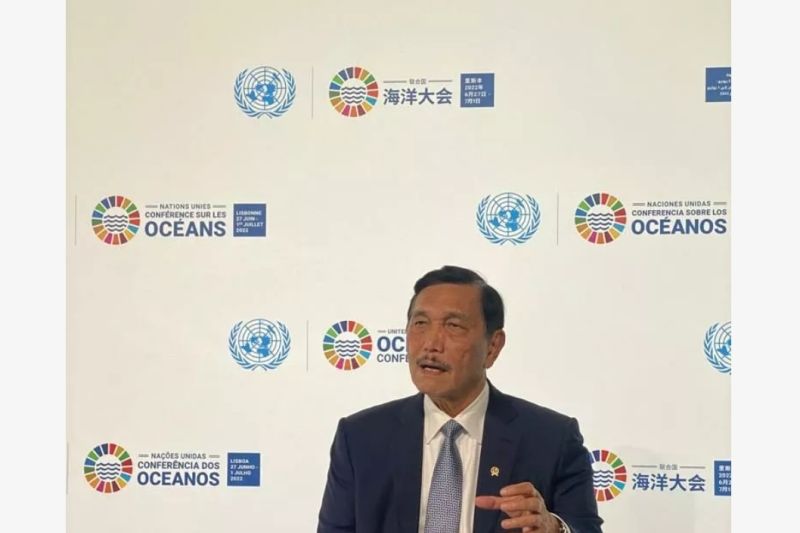 Menko Kemaritiman dan Investasi Luhut Binsar Pandjaitan dalam United Nation Ocean Conference 2022 yang diselenggarakan di Lisbon, Portugal, Senin (27/6/2022) lalu.  (ANTARA/HO Kemenko Kemaritiman dan Investasi)
Jakarta (ANTARA) – Menteri Koordinator Bidang Kemaritiman dan Investasi Luhut Binsar Pandjaitan menyampaikan komitmen Indonesia untuk menjaga kesehatan laut dalam United Nation Ocean Conference 2022 yang diselenggarakan di Lisbon, Portugal, Senin (27/6) lalu.
Dalam keterangan tertulis di Jakarta, Kamis, Luhut menyampaikan komitmen Indonesia dalam pemberantasan polusi plastik laut, dan meningkatkan pemahaman tentang laut dan iklim serta berjanji untuk mendorong kolaborasi dengan semua pemangku kepentingan.
Hal ini mengacu pada prinsip Indonesia sebagai negara maritim dengan perairan yang membentang sekitar 6,4 juta kilometer persegi dan telah menyediakan keanekaragaman hayati laut yang berada di antara 17.500 pulau dan sekitarnya.
"Dalam tiga tahun terakhir, Indonesia mampu mengurangi kebocoran sampah hingga 28,5 persen. Lautan memainkan peran penting dalam mempertahankan semua kehidupan di bumi dengan menyerap 30 persen dari emisi karbondioksida," ungkapnya.
Terkait penangkapan ikan secara ilegal yang sering terjadi di perairan Indonesia, Luhut menjelaskan bahwa pemerintah telah meluncurkan tiga inisiatif utama dalam bidang pencegahan praktik penangkapan ikan yang tidak berkelanjutan dan memerangi kejahatan di bidang perikanan.
Baca juga: Luhut: PeduliLindungi jadi alat pantau distribusi minyak goreng curah
Ketiga inisiatif itu antara lain, pertama, meningkatkan peraturan nasional tentang persyaratan dan mekanisme sertifikasi hak asasi manusia di bidang perikanan.
Kedua, memperkuat proses implementasi dan pemantauan perikanan tangkap berbasis kuota dengan meningkatkan kemampuan pengawasan berbasis satelit.
Dan, ketiga, memimpin proses pembuatan norma internasional dan regional untuk memperkenalkan kerja sama yang lebih baik dan penegakan hukum yang efektif.
"Fokus utama kami tidak hanya terletak pada perluasan area. Upaya kami juga diarahkan untuk meningkatkan efektivitas pengelolaan kelautan dan perikanan," lanjutnya.
Pada bidang pelestarian dan perlindungan laut, Indonesia telah memperluas kawasan lautnya menjadi 28,4 juta hektar, melebihi komitmennya sebesar 20 juta hektare.
"Indonesia menjaga komitmen untuk memperluas kawasan lindung laut menjadi 32,5 juta hektar pada tahun 2030. Hari ini kami telah mencapai 86,5 persen penyelesaian target 2030," katanya.
Kemenko Marves juga bekerja sama dengan mitra strategis untuk mengembangkan skema blue financing yang strategis. Hal itu bertujuan untuk memfasilitasi investasi penting dalam bantuan teknis, penciptaan area perlindungan laut berbasis masyarakat, dan peningkatan manajemen.
Baca juga: Luhut pastikan dengar masukan soal pembelian MGCR lewat PeduliLindungi
Sehubungan dengan komitmen pencegahan pencemaran plastik laut, Indonesia pun mengeluarkan Peraturan Presiden Nomor 83 Tahun 2018 tentang Penanganan Sampah Plastik, di mana pada awal tahun 2022, Indonesia, menginisiasi program "Bulan Cinta Laut" atau "Love the Ocean Month" untuk mendorong partisipasi nelayan dalam menangani sampah laut.
"Dalam sebulan, nelayan didorong mengumpulkan sampah laut dibandingkan menangkap ikan. Program ini telah dilakukan di seluruh wilayah Indonesia untuk mengurangi limbah laut sebesar 70 persen sebelum 2025," jelas Luhut.
Indonesia terus mengembangkan kebijakan dan mengalokasikan sumber daya untuk memahami laut dan iklim. Dalam upaya tersebut menciptakan platform nasional bernama Data Batimetri Nasional Indonesia.
Di samping itu, Indonesia menginisiasi The Archipelagic and Island States (AIS) Forum berkolaborasi dengan 31 negara, dengan melakukan lebih dari 200 diskusi bersama, pelatihan, bantuan teknisi, beasiswa, hibah penelitian, dan program inovatif.
"Melalui AIS Forum dan G20 kami akan mempromosikan pentingnya ekonomi biru, karbon biru, pengelolaan limbah laut, dan skema pendanaan campuran. Indonesia telah memenuhi komitmennya untuk memastikan ketahanan pesisir yang aman," kata Luhut.
Baca juga: Menko Luhut ajak Kadin wujudkan visi RI jadi negara maju pada 2045
Baca juga: Menko Luhut minta Pemda buat e-katalog lokal
Pewarta: Ade irma Junida
Editor: Satyagraha
COPYRIGHT © ANTARA 2022
News Related
OTHER NEWS