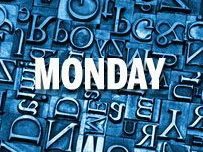 Monday letters
ALBERTA'S HOPE
The farmers are excited today — in little coffee shops in southern Ontario, it's fun watching them. They are actually happy again. Election news from Alberta holds hope for farmers and people in Canada on food prices in the future. Fertilizer has been targeted by the federal government for a carbon tax that will increase all food grown in Canada. Let alone the transportation costs to bring the food to market. Hopefully this trend will continue to the upcoming federal election where the NDP and the Liberals will both be without party status afterwards.  Alberta is leading Canada in sanity and the future, as electric tractors were giving some farmers in the back 40 nightmares.
Wayne Robertson                                                                                                                                  Chatham
(We certainly need some sanity back in terms of who is representing us federally)
STATUS QUO
Re "Canadians are buying less food and that trend won't end soon" (Sylvain Charlebois, May 25): No wonder so many Canadians are railing against the apparent corporate greed and seemingly superfluous profit at the expense of so many people's basic nutritional necessities. We see this appalling reality through the proliferating overreliance on food banks, as even the giant grocers become unaffordable to a growing populace. Unrelenting food price inflation, while corporate-executive salaries and bonuses correspondingly inflate. Yet it appears to never be enough. And perhaps now more than ever pejoratively labelling them as "socialists" won't silence them, especially as they have to choose between which necessity of life they can afford. Still, there must be an imminent point at which the status quo can/will end up hurting big business' own monetary interests. One can imagine that a healthy, strong and large consumer base — and not just very wealthy consumers — is needed, which means livable wages. Or could it be that the unlimited-profit objective/nature is somehow irresistible? It brings to mind the allegorical fox stung by the instinct-abiding scorpion while ferrying it across the river, leaving both to drown.
Frank Sterle Jr.                                                                                                                                     White Rock, B.C.
(These high interest rates, high inflation and high government spending is hurting everyone but particularly the low-income earners)
News Related
OTHER NEWS