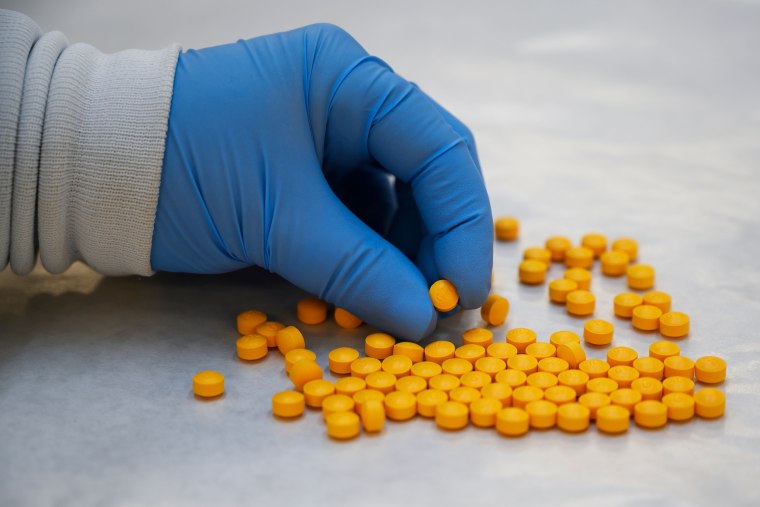 While the face of the opioid crisis has predominantly been considered white and rural, overdose deaths among Latinos have skyrocketed in recent years, with experts attributing the growing numbers to the rise of fentanyl, especially mixed with other drugs.
Overdose deaths among Latinos have nearly tripled since 2011, according to a report published this month in the American Journal of Epidemiology.
Fatalities from overdoses have risen dramatically when fentanyl is mixed with other drugs, like cocaine and methamphetamine, which are more prevalent among Latinos than are heroin or prescription painkillers, according to study co-author Magdalena Cerdá, professor and director at the Center for Opioid Epidemiology and Policy at NYU Langone.
Between 2007 and 2019, fatal overdoses among Latinos from opioids mixed with cocaine rose 729%, and when mixed with methamphetamines, they have risen 4,600%. "There is a lot of product in all drugs at the moment, except for cannabis, which is contaminated with fentanyl," Cerdá said.
It's not clear if this mix happens on purpose or by accident, but researchers believe both are happening, according to Cerdá. Fentanyl is highly addictive, so some dealers may be mixing it with other drugs to make their clients more dependent. On the other hand, there are those who do consume fentanyl intentionally because they have developed a tolerance to opioids and need increasingly higher doses.
Experts warn the opioid epidemic is entering a new phase: What started with prescription painkillers like OxyContin in the early 2000s is now almost entirely dominated by the illicit traffic of fentanyl, which is a far more deadly synthetic opioid, almost identical to heroin but 50 times more potent, according to the Centers for Disease Control and Prevention.
Though Latinos in general have had historically lower overdose rates compared to whites, "you see it's increasing, so it's really worrying," she said.
The opioid crisis had already taken an even deadlier turn in 2020 with the COVID-19 pandemic, when overdose deaths skyrocketed and Latinos found themselves hard hit. In Nevada, according to the CDC, while drug overdose deaths among people from all races and ethnicities increased by 54.5% from 2019 to 2020, it increased by 119.7% among Latinos.
Latinos represent only 8.6% of rural areas and 19.8% of urban areas, according to data from the Department of Agriculture, but they are the fastest-growing segment of the rural population.
Latinos are recently being impacted more from the fentanyl crisis because a larger proportion of them live in cities, like New York, Miami, San Diego and Los Angeles, where fentanyl has penetrated more, whether on its own or mixed with other drugs, according to Washington Post investigative reporter Scott Higham, author of "American Cartel: Inside the battle to bring down the opioid industry, who participated in January in a USC Annenberg online discussion on the issue.
But smaller towns with sizable Latino populations are experiencing an alarming rise in opioid deaths, as was the case in Carrollton, Texas, which saw a spate in overdose deaths among teens as young as 14 in a town that is over 30% Latino.
A need for more information — and better treatment alternatives
Following the teen overdose deaths in Carrollton, Dallas-based Latino community activist Carlos Quintanilla, from the nonprofit organization Acción America, told NBC News: "You got to go to the bazaars, you got to go into the businesses. You got to go into the soccer fields, you got to go out and create a comprehensive attack plan to deal with this life-threatening situation."
Latino researchers studying addiction also point out the need to study specific Latino subgroups.
For example, researchers Manuel Cano, from the University of Texas at San Antonio, and Camila Gelpí-Acosta, from the City University of New York (CUNY), found that Puerto Ricans had higher overdose death rates than any other Latino or non-Hispanic Black group between 2015 and 2019, and also surpassing whites from 2017 to 2019.
The researchers stressed the importance of studying Latinos not as one group but subgroups when it comes to opioid addiction and deaths, including factors such as whether they were born in the U.S. or abroad, if they lived in segregated communities, and educational attainment.
When it comes to treatment for opioid addiction, Cerdá said it's common in some Latino communities to find religious rehab centers that focus on "faith-based treatment" versus "evidence-based treatment."
These approaches emphasize prayer and willpower to combat addiction, rather than using drugs like naloxone, a much less potent and addictive opioid, which is shown by multiple studies to help those addicted to quit incrementally, more safely and with fewer relapses.
This lack of evidence-based rehab centers is one of the reasons why Puerto Ricans in particular struggle, especially those who live on the island.
For Latino immigrants, issues around legal status and language barriers make it more difficult to find help in rehabilitation centers that can offer Latinos support, and cultural and religious barriers complicate matters further.
Meanwhile, more Latino families are struggling to make sense of overdose deaths among people who did not have a history of addiction or didn't even know they were taking an opioid.
This is what happened to two Latino families in Commerce City, a Denver suburb, in March 2022. Six friends got together one night and consumed what they thought was cocaine: five of them died instantly from an overdose of what turned out to be fentanyl. One of them was Karina Rodríguez, mother of a 4-month-old baby girl whose father also overdosed and died that night.
"She didn't have a drug problem, but she decided to have a little fun one night. And she was poisoned," Mileiah, a sister of Karina, testified through tears at a legislative hearing on fentanyl at the Colorado Capitol. "Even if she did decide to use cocaine that night, she didn't deserve to die."
"She was not a person who struggled with addiction," added Feliz, her other sister. "She said in the weeks before her death that she was the happiest she had ever been."
News Related
OTHER NEWS