Kathleen Folbigg was convicted of the murder of daughters Sarah and Laura and son Patrick, and the manslaughter of another son, Caleb. Twenty years on, a professor has named the "rare" condition that her daughters had.
British scientists found an "incredibly rare" genetic mutation could have been responsible for the deaths of two children after their mother, who was originally jailed for killing them, has now been pardoned.
Kathleen Folbigg was convicted in Australia in 2003 of the murders of daughters Sarah and Laura and son Patrick, along with the manslaughter of another son, Caleb. The four died separately over the course of a decade, aged between 19 days and 19 months old.
After her conviction, she was jailed for 30 years. But Folbigg, now 55, maintained her innocence and insisted they had died of natural causes.
Evidence discovered in 2018 that both daughters carried a rare CALM2 genetic variant was one of the reasons that an inquiry was called a near later – but which found no grounds for reasonable doubt.
A second inquiry, launched in 2022, provided fresh evidence that suggested the girls' deaths were caused by a genetic condition.
The condition, now known to be called calmodulinopathy, has led to Folbigg being pardoned.
Professor Carola Vinuesa, from the Francis Crick Institute – an independent charity, established to be a UK flagship for discovery research in biomedicine – told Sky News how her team was able to uncover what could have been the real cause of the girls' deaths.
"We found a genetic mutation in a gene known as CALM2. This protein is critical to regulate the heartbeat. If it is not functioning properly the heart will stop," she said.
"It is incredibly rare, this particular variant has not been found before in the world, but it occurs in three genes that together cause a condition known as calmodulinopathy," she said.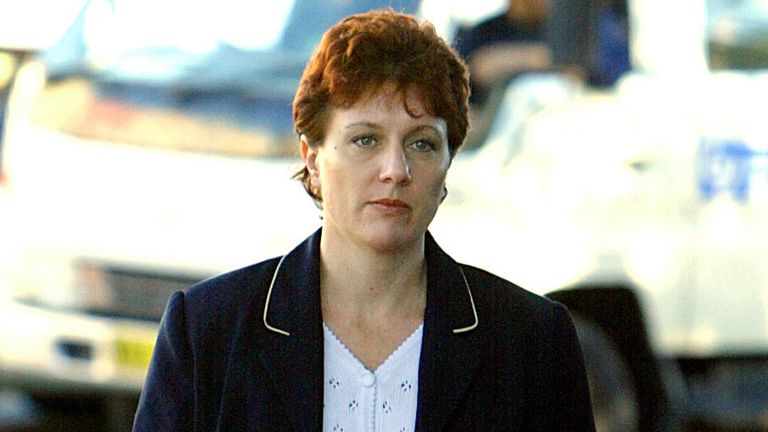 Image: Kathleen Folbigg walks into court in 2003
Read more:
Australian mother convicted of killing her four children petitions for a pardon
Scientists call for convicted child killer Kathleen Folbigg to be pardoned
"In the current registry there are only 134 cases of calmodulinopathy in the whole world. It is very rare and extremely unfortunate that this family had this particular mutation."
Professor Vinuesa explained that it wasn't until 2008 – five years after Folbigg was convicted, that the technology to test genomes for genetic mutations that cause death – next-generation sequencing – existed.
'Reasonable doubt' to Folbigg's guilt
New South Wales attorney general Michael Daley said the probe launched last year, had found reasonable doubt in each conviction, adding it is "impossible not to feel sympathy" for Folbigg.
She was released from a prison in Grafton, New South Wales, on Monday, a decade before her jail term was due to expire and five years before she would have become eligible for parole.
Her convictions still stand for now, though, with the Court of Appeals still waiting on a final report from the inquiry that could recommend they be quashed completely.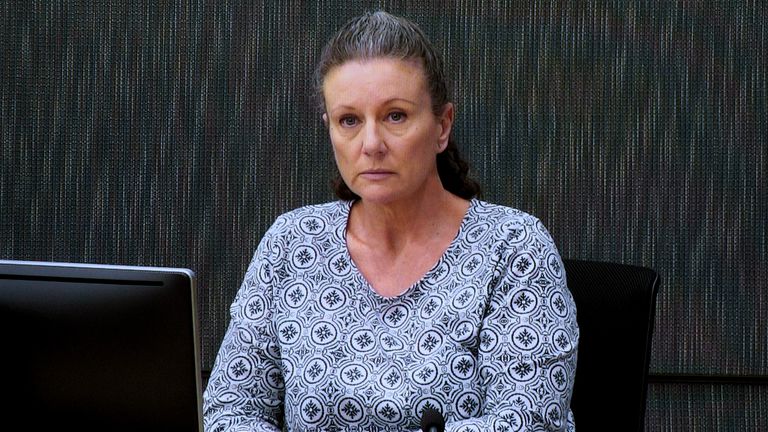 Image: Kathleen Folbigg in court in 2019. Pic: AP
The inquiry was launched following a petition that counted scientists and medics among its signatories, arguing "significant positive evidence" that the children had died of natural causes.
Caleb was born in 1989 and died 19 days later in what a jury determined as a case of manslaughter.
Her second child, Patrick, was eight months old when he died in 1991; Sarah died at 10 months in 1993; and Laura passed away at 19 months in 1999.
Prosecutors told the jury at her trial the similarities in the deaths made coincidence an unlikely explanation.
They also said Folbigg, who was the only person at home or awake when the children died, had used her diary to confess to the killings.
Be the first to get Breaking News
Install the Sky News app for free
But when it was discovered in 2018 that Sarah and Lara had carried the rare CALM2 genetic variant, the original inquiry into the convictions was launched.
They were upheld at the end of the first inquiry, with her ex-husband saying in submissions that her diary entries should continue to be treated as admissions of guilt.
Four children in one family dying of natural causes before the age of two was implausible, he argued.
Lawyer Sophie Callan said psychologists and psychiatrists gave evidence that it would be "unreliable to interpret the entries in this way".
Folbigg had been suffering a major depressive disorder and "maternal grief" when she made the entries, she added.
News Related
OTHER NEWS