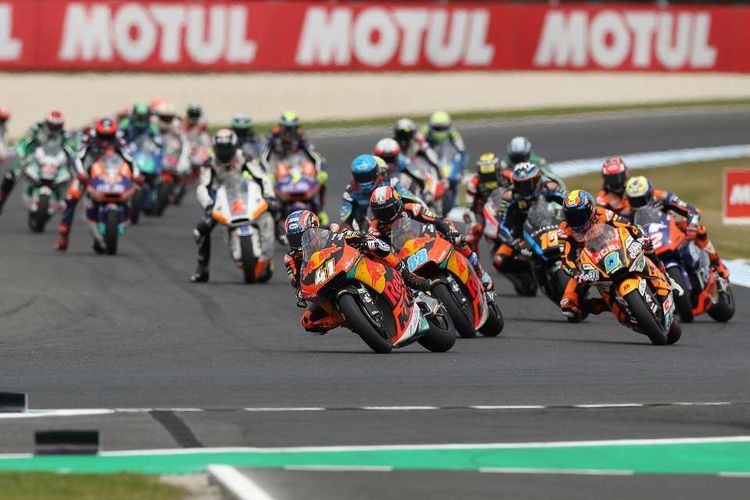 © Disediakan oleh Kompas.com
Ilustrasi MotoGP Australia
JAKARTA, KOMPAS.com – Perhelatan MotoGP 2022 akan kembali digelar pada pekan ini di Belanda, tepatnya di sirkuit Assen, Minggu (25/6/2022).
Sang juara bertahan Fabio Quartararo diperkirakan tetap jadi unggulan pada laga nanti. Mengingat, ia sedang berada dalam kepercayaan tinggi usai menang di Jerman pekan lalu.
Pasalnya, pebalap Monster Energy Yamaha itu telah mengumpulkan 50 poin dari dua balapan terakhir usai. Keberhasilan terkait menambah jumlah kemenangan Quartararo menjadi tiga di MotoGP musim ini.
© Disediakan oleh Kompas.com
Yamaha French rider Fabio Quartararo crosses the finish line in first place during the Moto Grand Prix de Catalunya at the Circuit de Catalunya on June 5, 2022 in Montmelo on the outskirts of Barcelona. (Photo by LLUIS GENE / AFP)
Sementara Marc Marquez yang mencetak kemenangan delapan edisi beruntun balapan di Sachsenring harus merelakan posisinya posisinya lantaran fokus pada pemulihan cedera lengan.
MotoGP Belanda sendiri, merupakan seri ke-11 pada Kejuaraan Dunia musim ini, yang menjadi penutup paruh pertama sebelum kompetisi rehat selama beberapa pekan.
Rangkaiannya dimulai pada Jumat (24/6/2022). Pada hari pertama, para rider akan mengikuti dua sesi latihan bebas (FP1 dan FP2). Kemudian di hari berikutnya akan dilaksanakan FP3 sampai kualifikasi
Lebih jauh, berikut jadwal pelaksanaan MotoGP Belanda 2022:
Jumat (24/6/2022)
14.55 WIB – 15.40 WIB: FP1
19.10 WIB – 19.55 WIB: FP2
Sabtu (25/6/2022)
14.55 WIB – 15.40 WIB: FP3
18.30 WIB- 19.00 WIB: FP4
19.10 WIB- 19.25 WIB: Q1
19.35 WIB- 19.50 WIB: Q2
Minggu (26/6/2022)
14.40 WIB- 15.00 WIB: Warm-up
19.00 WIB: Race/ Balapan
Sedangkan untuk link live streaming, klik tautan di bawah ini:
Link 1
Link 2
Link 3
News Related
OTHER NEWS