Iowa Gov. Kim Reynolds signed two bills into law Wednesday that affect transgender minors in the state.
One bill, Senate File 538, prevents doctors from administering gender-affirming care to those under 18. The other, Senate File 482, prevents trans students from entering school bathrooms or changing rooms that correspond with their gender identities.
The new laws are part of a broader effort among conservative lawmakers throughout the country to restrict the rights of LGBTQ Americans, especially transgender people. So far this year, more than 400 such proposals have been filed in state legislatures, according to the American Civil Liberties Union.
Supporters of the new Iowa laws say they are necessary to protect children's safety while using school restrooms and to prevent minors from making medical decisions they may later regret. Critics and LGBTQ advocates argue that the bills will have "devastating consequences" for trans youths and their families.
"This is not the first time that a government has abused its power at the expense of a small group of people," Mark Stringer, executive director of the ACLU of Iowa, said in a statement. "But in this case the target is children. That is shameful and cruel."
Reynolds, a Republican who notably gave this year's GOP response to President Joe Biden's State of the Union address, did not immediately respond to NBC News' request for comment. But speaking at a press conference Tuesday, she voiced her support for the bill limiting gender-affirming care, arguing that more long-term research on the treatments is needed.
"We need to just pause; we need to understand what these emerging therapies actually may potentially do to our kids," Reynolds said. "My heart goes out to them. I'm a parent, I'm a grandmother, I know how difficult this is. This is an extremely uncomfortable position for me to be in. I don't like it. But I have to do what I believe right now is in the best interest of the kids."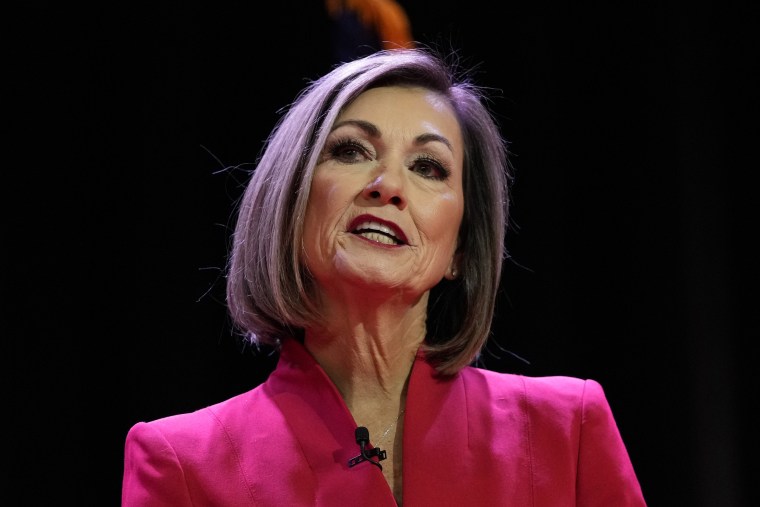 Iowa Gov. Kim Reynolds. Charlie Neibergall / AP file
Care that is prohibited for minors under the new Iowa law includes puberty blockers, hormone therapy and transition-related surgeries.
Most forms of gender-affirming care for minors are supported by the nation's top medical associations, including the American Medical Association, the American Academy of Pediatrics and the American Psychological Association. Surgeries, however, are not typically recommended for people under 18, according to guidance from the World Professional Association for Transgender Health.
Iowa's transition-related health care law took effect immediately following the governor's signature, making it the ninth state — joining Alabama, Arizona, Arkansas, South Dakota, Tennessee, Utah, Mississippi and Florida — to enact such restrictions.
Health care providers in the state who are already administering gender-affirming care to patients will have a 180-day grace period before they have to cease treatment.
The new law restricting transgender people's bathroom use, which also took effect immediately, applies to multiperson restrooms and locker rooms at public and private elementary and secondary schools. Trans students who want to use single-person restrooms must obtain written consent from their legal guardians before receiving permission to do so.
The restroom law comes nearly seven years after the national controversy surrounding a similar bill in North Carolina. The North Carolina law, House Bill 2, was repealed in 2017 after sparking a massive political and financial fallout and prompting an NCAA boycott of the state.
So-called bathroom bills have seen a resurgence in recent months, according to a group of researchers who are tracking the flow of legislation targeting LGBTQ people. The group found that at least 14 states, including Iowa, weighed the measures so far this year. On Tuesday, Arkansas Gov. Sarah Huckabee Sanders signed a similar bill into law.
Mike Beranek, president of the Iowa State Education Association, Iowa's largest union association, denounced the new restroom measure.
"The Iowa Legislature has repeatedly targeted the most vulnerable students with rhetoric and legislation designed to suppress, out, target, ban, and censor Iowa's LGBTQ+ student communities," Beranek said in a statement Monday. "Despite these shameful attacks, the ISEA continues to stand with and fight for all our students."
Iowa's Senate also passed a bill Wednesday that mirrors Florida's so-called Don't Say Gay law and was introduced by Reynolds earlier this year.
News Related
OTHER NEWS