Movies Animation
Sony Pictures/YouTube
Five years ago, "Spider-Man: Into the Spider-Verse" blew the minds of viewers everywhere with its boldly shocking plot twists and the cool new characters that it brought to the forefront of the web slinger's mythos. Not only did it craft a striking new art style that captured the look and feel of the many different comic book series that inspired it, but it also introduced many viewers to six new Spider-People.
"Spider-Man: Across the Spider-Verse" has one-upped that achievement considerably, however, by introducing hundreds of different iterations of the characters and tropes of Peter Parker, each with their own respective look and style. Still, easily one of the biggest triumphs of the sequel is its take on Hobie Brown, aka Spider-Punk (Daniel Kaluuya).
While Miles Morales (Shameik Moore) initially looks at Hobie as a romantic rival for his love interest, Gwen Stacy (Hailee Steinfeld), it turns out that the anarchist is one of the only people that Miles can really trust in "Spider-Man: Across the Spider-Verse." However, the film does take some liberties with the character, with the main one being that he's now an English punk rather than a New York City punk.
When the punk movement was coming up in the '70s, it was primarily split between two major subsections: New York City and the United Kingdom. Both scenes produced great bands and iconic music, but they also had different concerns and different targets for their rebellious disdain.
Spider-Punk is a pivotal part of what makes the sequel work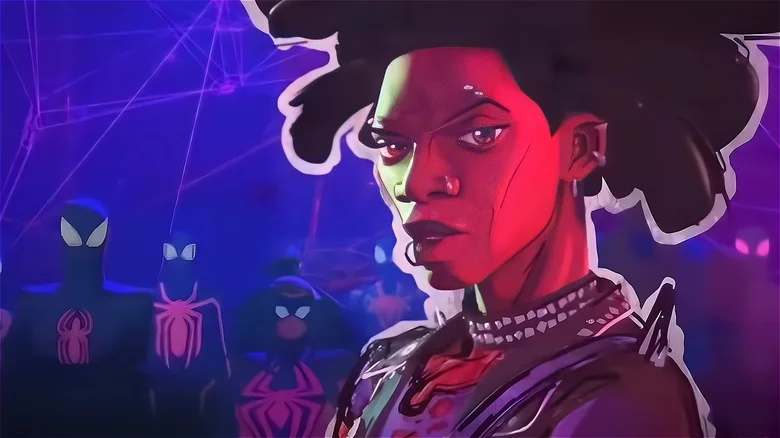 Sony Pictures/YouTube
Being that Spider-Man is generally from New York in nearly every iteration of the character, this naturally led to Spider-Punk being from New York as well. However, the design for the character is based on a version called Spider-Man UK. With that in mind, the decision for "Spider-Man: Across the Spider-Verse" to change the character to a U.K. punk ultimately makes sense. Furthermore, due to how iconic and influential the new version of the character is, this will likely become the main iteration of Spider-Punk for future comics to draw from.
This is because Hobie Brown is the only character in "Spider-Man: Across the Spider-Verse" who refuses to compromise his morals. He speaks up against what he doesn't like about the Spider-Society throughout, and when they go too far, he not only quits but helps Gwen to start a rival group of rebels from within the organization.
What makes this change even better is that it opens the door for a Spider-Punk reboot. This is actually great news, too, as Spider-Punk has already defeated his nemesis and completed his central arc. A reboot of the character in the U.K. could thus set him up for a whole host of new adventures, especially with the character at peak popularity due to the success of "Spider-Man: Across the Spider-Verse."
News Related
OTHER NEWS