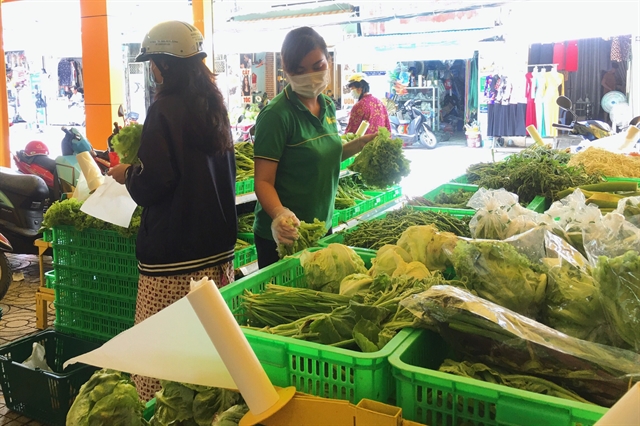 Customers buy vegetables at a supermarket in HCM City. The city will ensure a supply of 6,320 tonnes of vegetables in 2021-22 at fixed prices under its annual consumer prices stabilisation programme. — VNS Photo Diệp Phan
HCM CITY — HCM City has started its hugely successful annual consumer prices stabilisation programme for 2021. To run until March 31 next year, it has attracted the participation of 50 businesses, including some with popular brands, and six banks and credit institutions, who have earmarked VNĐ11.34 trillion (US$491 million) to lend to the participating firms. Their long-term interest rates will be 6.5-11.3 per cent and short-term interest rates will be 4.5 per cent.
Face masks and hand sanitisers were added to the list of essential goods last year, and the 10 earlier ones are rice, noodles and vermicelli; sugar; cooking oil; eggs; cattle meat; poultry meat; vegetables; processed foods; seafood; and seasoning. The programme also covers dairy products and items when schools function. The goods sold under the programme normally meet 25-30 per cent of market demand, but accounted for 35-50 per cent amid the pandemic last year. Firms in the programme need to stockpile 15-20 per cent more goods than normal to prepare for Covid emergency responses. As usual, they have to register their prices with the Department of Finance, with those of essential goods being 5-10 per cent lower than market prices and 10-15 per cent in case of school items.
Goods sold through the programme should be locally made with clear origins that meet hygiene and food safety standards and are of assured quality.
This year the city plans to help participating businesses expand their sales networks and encourage them to tie up with modern distribution channels like supermarkets and convenience stores, develop sales points at traditional markets, industrial parks, export processing zones, and outlying districts, and organise mobile sales trips to enable more consumers to buy their goods.
It also encourages firms to invest more in improving packaging and designs and diversifying their products. — VNS