Jamie Lee Curtis and masked villain Michael Myers share the big screen again in "Halloween Kills" (in theaters and streaming on Peacock Oct. 15), more than 40 years after Curtis made her film debut in the original horror classic.
Jamie Lee Curtis reprises her role as horror heroine Laurie Strode in the new "Halloween" sequel.
Masked maniac Michael Myers is back, too, having escaped a fiery ending from 2018's "Halloween."
Laurie has inspired younger generations of Strode women – including daughter Karen (Judy Greer, right) and granddaughter Allyson (Andi Matichak) – to fight evil.
Tommy Doyle (Anthony Michael Hall), who was protected as a boy by babysitter Laurie in 1978, rounds up a posse to go after Michael Myers 40 years later in the new film.
Jamie Lee Curtis gives director David Gordon Green a smooch on the set of "Halloween Kills."
"Halloween" was Jamie Lee Curtis' big-screen debut. We'd say she killed it. 
Laurie (Jamie Lee Curtis) tries to survive a horrifying night in John Carpenter's original 1978 "Halloween."
Laurie (Jamie Lee Curtis) returned in 1981's "Halloween II," though she couldn't find safety from Michael Myers, even at a hospital.
Laurie was face-to-face with Michael Myers again in 1998's "Halloween H20: 20 Years Later," two decades after the original film.
Laurie Strode (Jamie Lee Curtis) is menaced yet again by Michael Myers in 2002's "Halloween: Resurrection," though met an untimely ending.
In 2018, "Halloween" wiped the slate clean as a direct sequel to the 1978 film, catching up with Laurie (Jamie Lee Curtis) in fighting shape after spending 40 years readying for Michael's return.
But Michael Myers proved to be a fearsome foe again for Laurie (Jamie Lee Curtis) and the rest of Haddonfield.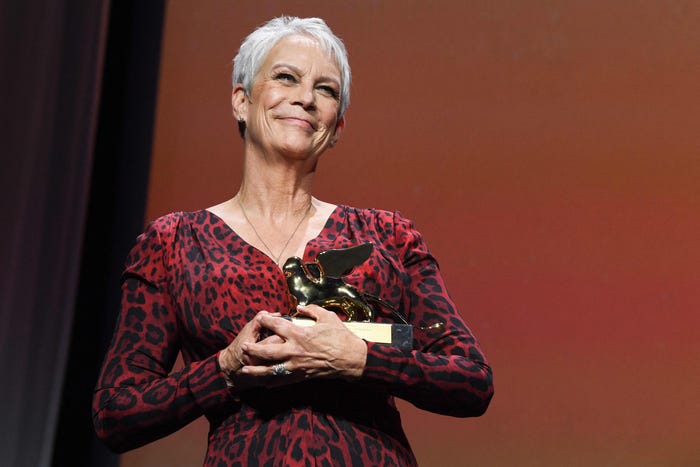 Jamie Lee Curtis, who received a Golden Lion for lifetime achievement at the 78th Venice Film Festival in September, will next film "Halloween Ends," expected to release in 2022.
Internet Explorer Channel Network