Haas driver Kevin Magnussen is annoyed with the FIA for being forced to pit for repairs during the Singapore Grand Prix after been shown the black-and-orange mechanical warning flag.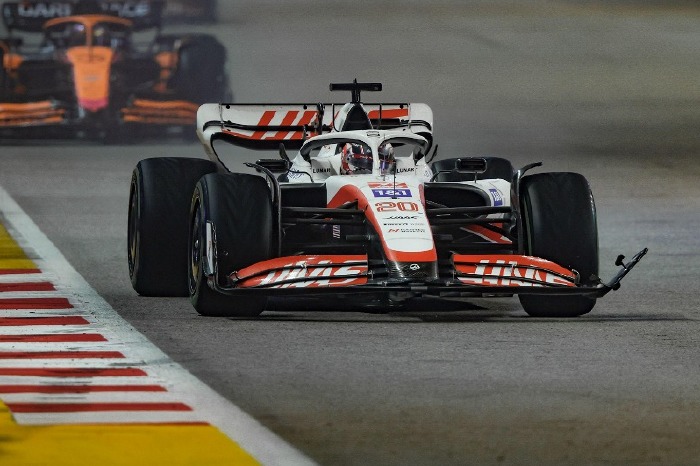 The FIA issued the flag after 'contact' with Red Bull's Max Verstappen, which resulted in minor damage to the front-wing in the opening stages of Sunday's race.
It also happens to be the third time this year that Magnussen has been shown the rarely-seen flag, the other times were in Hungary and Canada.
Haas boss Guenther Steiner had earlier in the week accused the FIA of "inventing" penalties against Magnussen.
In an interview when asked about the penalty issues, Magnussen said: "We were close, everyone was close for the whole lap so I didn't notice I had that contact and I couldn't feel anything in the car.
"The team told me the damage was minor and it was on that end-plate thing which we've explained to the FIA is tethered in. The FIA should know that. They make the regulations.
"That part doesn't come off so it isn't a safety concern and it wasn't even flapping.
"It's way over the top to give me the black-and-orange flag," Magnussen stressed.
The Haas driver was then asked what he thought could be done to convince the FIA there was virtually no risk driving with the slight damage, Magnussen conceded: "I don't know.
"Hopefully, we can talk to them again and, hopefully, they can realise what this is all about because you've got to be able to have a scratch on your car.
"A disappointing race as we could've scored points here realistically."#HaasF1 #SingaporeGP pic.twitter.com/DjoCYaf6PR

— Haas F1 Team (@HaasF1Team) October 2, 2022
"This is Formula 1. You've got to be able to fight," Magnussen said.
"Of course, I get that if the front wing is hanging off then you don't want it to go under the car or hit another car or driver, but this is a very small part at the end of the wing which is tethered in so it is not coming off."
News Related
OTHER NEWS