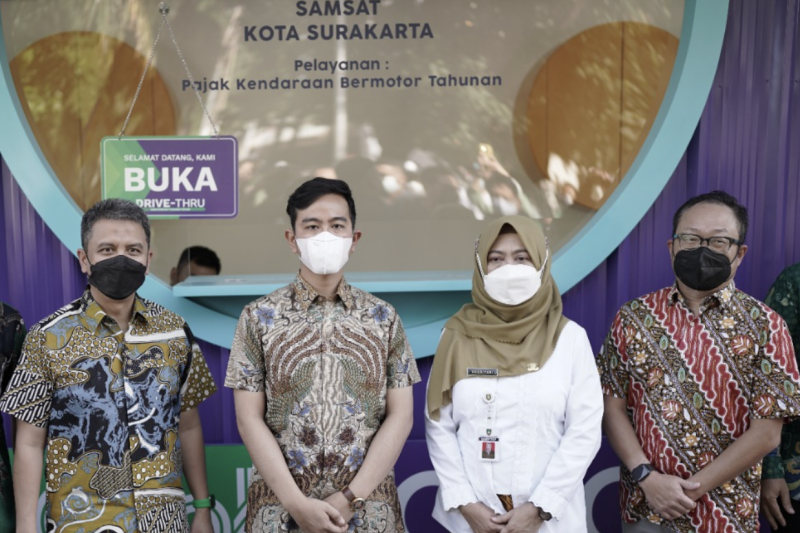 Grab dan OVO luncurkan layanan publik dan pajak "drive thru" pertama, (ANTARA/HO)
Jakarta (ANTARA) – Perusahaan teknologi Grab dan OVO menghadirkan pembayaran pajak "drive-thru" perdana di Surakarta dengan sistem Elektronifikasi Transaksi Pemda (ETP) yang memungkinkan masyarakat lebih mudah membayar pajak hanya dalam waktu singkat dan tak perlu parkir.
Layanan ini memungkinkan masyarakat untuk melakukan pembayaran pajak, baik Pajak Kendaraan Bermotor (PKB), Pajak Bumi dan Bangunan (PBB) dan Perumda Air Minum (PDAM) secara langsung dan mudah.
Cara ini dinilai President of Grab Indonesia Ridzki Kamadibrata sebagai upaya mendukung proses digitalisasi dan penyediaan infrastruktur penunjang ekonomi daerah demi mendorong percepatan pemulihan ekonomi daerah khususnya setelah banyak dampak yang ditimbulkan dari pandemi COVID-19.
"Grab dan OVO berkomitmen mendorong percepatan dan perluasan digitalisasi daerah melalui tiga elemen besar, yaitu digitalisasi pasar untuk memudahkan pedagang dalam menjalankan usaha, Elektronifikasi Transaksi Pemerintah Daerah (ETP) untuk meningkatkan pendapatan asli daerah (PAD)," kata President of Grab Indonesia Ridzki Kramadibrata dalam keterangan pers, Kamis.
Baca juga: Grab bersama OVO apresiasi puluhan ribu mitra setia
Ridzki juga mengatakan bahwa inovasi pembayaran pajak secara elektronik ini sejalan dengan rencana pemerintah kota yang ingin terus mendorong peningkatan penerimaan daerah dari sektor pajak, serta mewujudkan Surakarta sebagai kota cerdas.
Grab OVO Drive-Thru ETP ini juga diharapkan dapat memberikan kemudahan dan kecepatan dalam menyelesaikan pembayaran pajak PKB, PBB dan PDAM bagi seluruh warga Surakarta, salah satunya para atlet yang sedang sibuk berlatih untuk berlaga di ajang Asean Para Games 2022 di Solo.
"Masyarakat dapat membayar PBB, PKB, dan tagihan PDAM hanya dalam waktu 5 menit melalui layanan Drive-Thru ETP ini, tanpa antre dan tanpa parkir. Bukti transfer fisik juga bisa didapatkan termasuk mencetak STNK secara langsung pada saat itu juga," kata Presiden Direktur OVO Karaniya Dharmasaputra.
Grab OVO Drive-Thru Elektronifikasi Transaksi Pemda (ETP) di Solo sebagai kelanjutan dari Program Akselerasi Transaksi Online Pemerintah (PATRIOT) yang telah diluncurkan pada akhir tahun lalu.
Dukungan terhadap Tim Percepatan dan Perluasan Digitalisasi Daerah (TP2DD) yang dicanangkan Presiden Republik Indonesia dan akselerasi transaksi digital ekosistem terintegrasi.
Baca juga: Program Grab Ventures Velocity angkatan kelima dibuka mulai bulan ini
Baca juga: WonderBrew kini hadir di GrabKitchen dan YummyKitchen
Baca juga: Survei: Grab dan Gojek aplikasi layanan unggulan milenial dan gen z
Pewarta: Arnidhya Nur Zhafira & Livia Kristianti
Editor: Maria Rosari Dwi Putri
COPYRIGHT © ANTARA 2022
News Related
OTHER NEWS