eUKhost launched in 2001. They claim to have over 150,000 registered domains and over 35,000 customers, which include UK public sector organizations. Their website claims that they were "among the first companies in Europe to offer fully automated web hosting solutions." The company's office is in Leeds, while their data centers are in Wakefield, Maidenhead, and Nottingham.
Interestingly, the company's founder, Robert King, was only 15 years old when he launched eUKhost in 2001. He is still the company's managing director, as well as the managing director of both Web Hosting UK, another hosting provider, and the Hyperslice Group, to which both providers belong.
Want to try eUKhost? Check out the website here
eUKhost's service is generally reliable and relatively cheap, although lacking in terms of guides and blog posts that many others offer.
We've also highlighted the best website hosting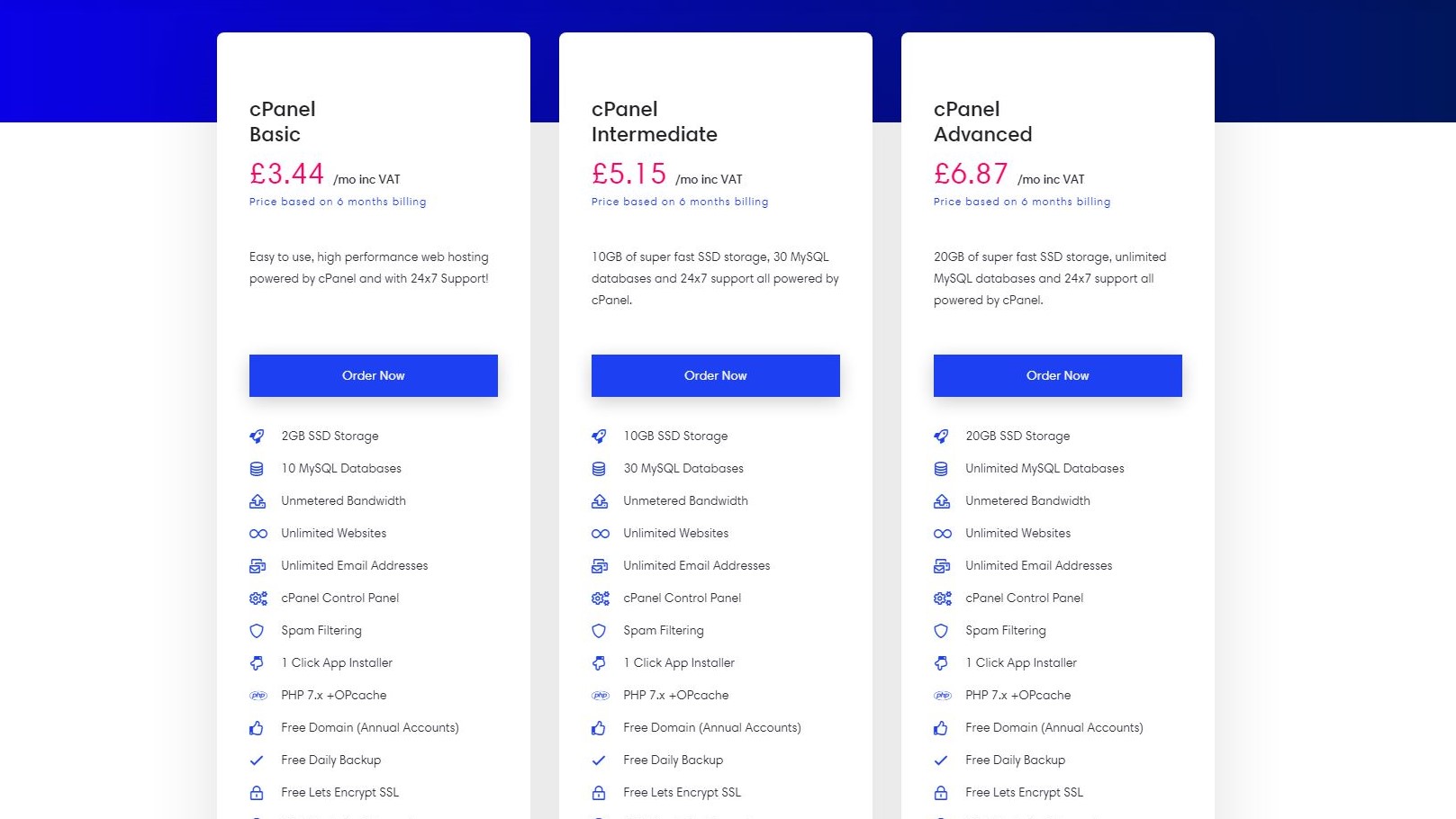 eUKhost has a variety of different plans and some even come include cPanel (Image credit: eUKhost)
Pricing
eUKhost's cheapest web hosting plan with cPanel will set you back £3.44 per month including VAT if you purchase the plan for at least six months. This gets you 2 GB SSD storage, 10 MySQL databases, a free domain for annual accounts, free daily backup, a free SSL certificate, unlimited websites and email addresses, and unmetered bandwidth.
The more expensive plans only increase your SSD storage and the number of MySQL databases.
eUKhost accepts credit/debit cards, PayPal, and bank transfer as payment options, and offers a 30-day money-back guarantee for most of their products.
Ease of use
eUKhost lets their customers pay monthly, quarterly, semi-annually, annually, and biennially, where the latter two include a free domain in the package. Choosing a longer period offers some discounts as well, and all prices are VAT inclusive. When creating an account, you'll need to give them your name, address, and phone number.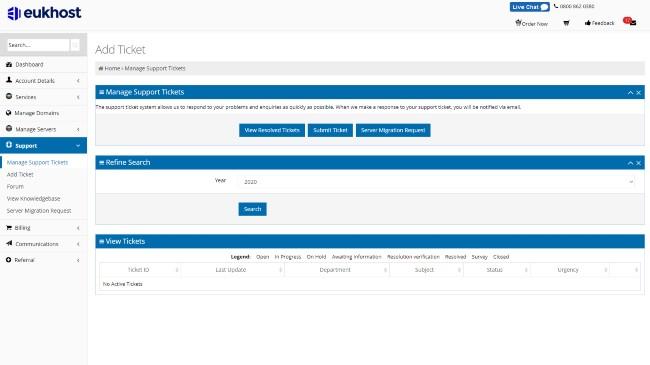 eUKhost's dashboard presented us with many older notifications when we logged in for the first time (Image credit: eUKhost)
Logging into our new Dashboard, we were greeted with 18 notifications. The first was a Thank You note for signing up, while the others ranged from 2013 to 2017, with news that they sent to each customer back then. The Dashboard itself is easy to navigate, although plain, and everything is only a few clicks away.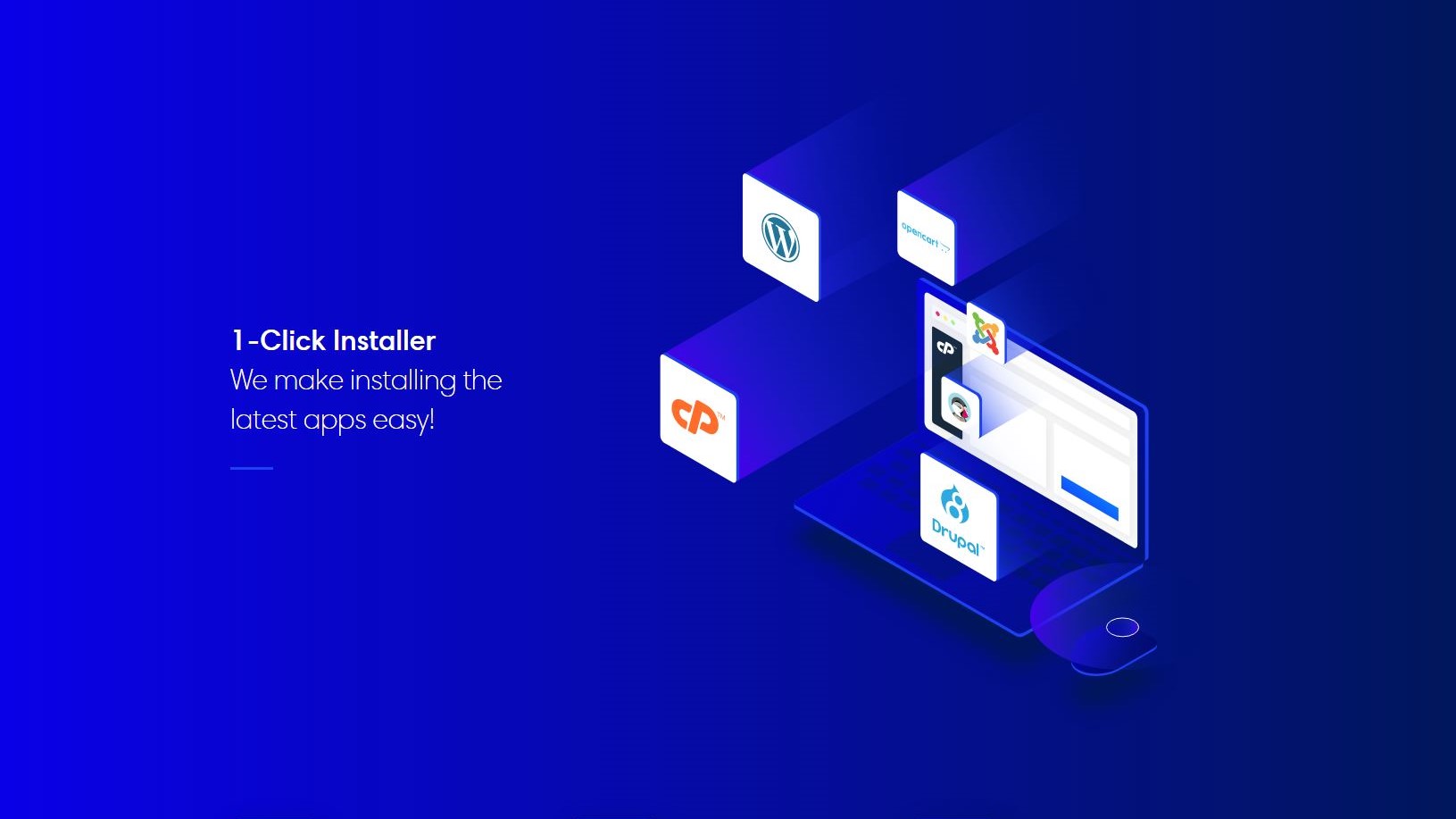 eUKhost includes a 1-click installer that will allow you to install WordPress, Joomla, WooCommerce and many other popular apps (Image credit: eUKhost)
Since the company's web hosting plans all include cPanel, navigating to that makes for an even simpler user experience. Through the cPanel, you can install WordPress, Joomla, Drupal, WooCommerce, and many more (with the website claiming over 200 available apps), meaning most users with previous experience will find their way easily from there. A simple File Manager lets you upload any website you might already have simply by dragging and dropping without the need for setting up an FTP. cPanel also lets you set up your email account and manage it in any way you see fit.
Specialized WordPress hosting is advertised separately from their cPanel web hosting plans and costs at least a little bit more (significantly more for a professional plan), but the company promises servers that are optimized for WordPress, and they offer a complete WordPress toolkit. However, there is no restriction for cPanel web hosting users to install and use WordPress – they just won't gain access to the aforementioned features that way.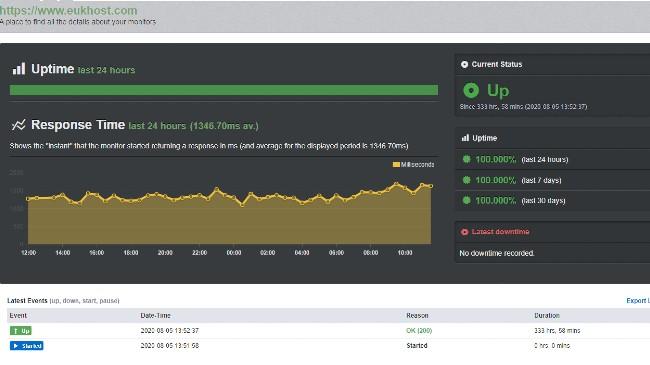 We used GTmetrix to determine the performance of our eUKhost site (Image credit: GTmetrix)
Speed and experience
When it comes to speed, eUKhost's main website could certainly do better. It takes a whopping 10.9 seconds to fully load, whereas the average on GTmetrix is 7.9 seconds – and at 1.65 MB, it's even almost half the size of the average website at 3.06 MB.
The company guarantees an uptime of 99.5%, which is remarkably low for the industry as a whole – for example, the lowest tier as recognized by the Uptime Institute, Tier 1, features at least a 99.671% uptime with 28.8 hours of downtime per year. In spite of their relatively low promise, during a two-week long test of their main website's uptime, we recorded no downtime at all and very few response time oscillations.
Support
eUKhost offers support through 24/7 live chat, a ticket system, and a toll-free UK phone number. Users can post their questions on a dedicated forum – but it doesn't seem very busy, as there are three-week old questions that hadn't been addressed when we checked (admittedly, the question was, "How big of a company is eUKhost?"). Some sections have seen no new posts since 2018. Checking the Latest Activity forum tab returns an error.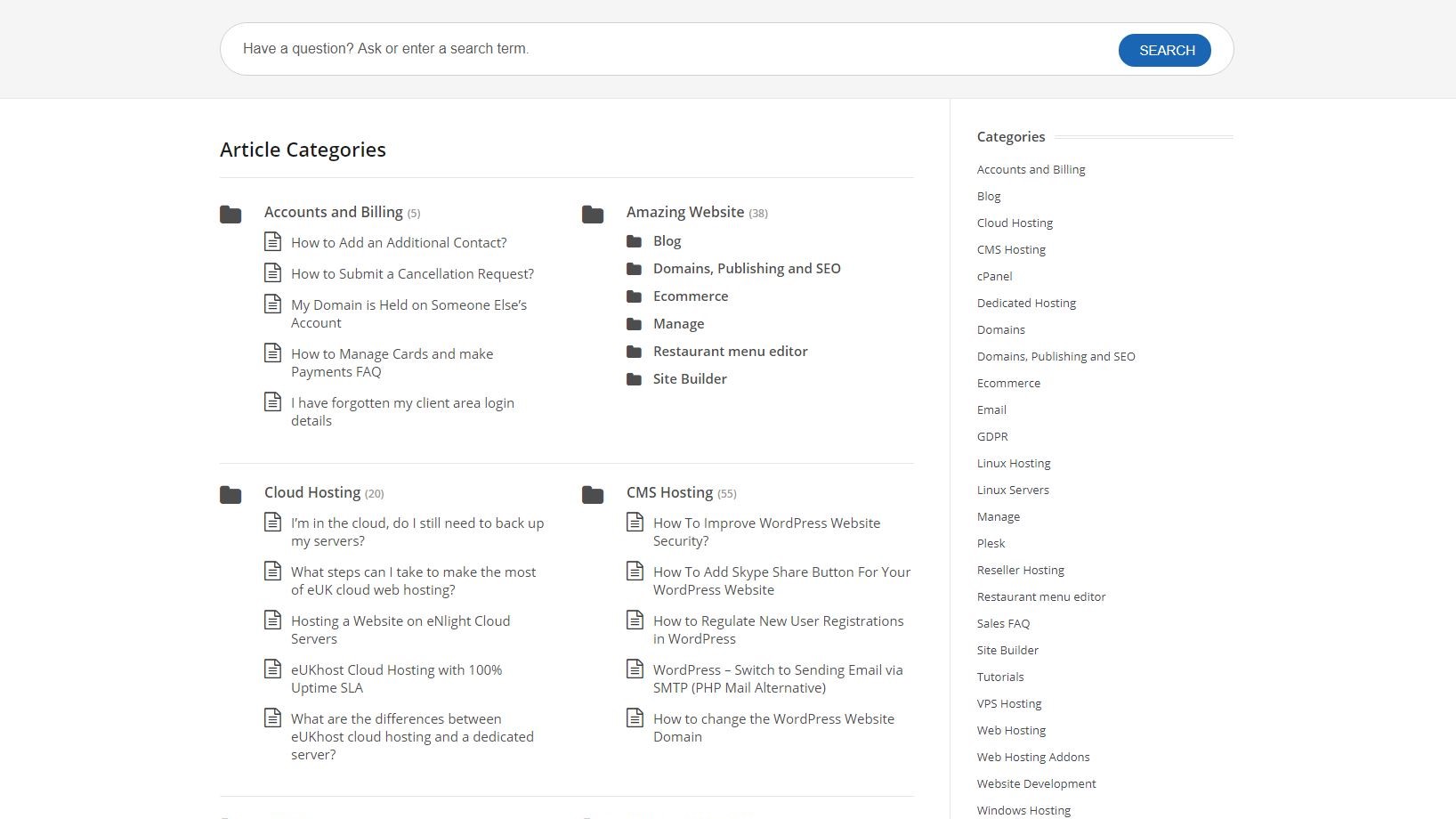 eUKhost's knowledgebase has a lot of useful articles but it can be difficult to navigate (Image credit: eUKhost)
The company's Knowledgebase also offers answers to some common questions, but it can be difficult to navigate – even when it comes to reaching it in the first place. While the link at the bottom of every page works perfectly, if you click on View Knowledgebase through your Dashboard, you get an error, which can be frustrating.
The competition
Catalyst2 has superb customer support, especially when it comes to their Knowledgebase, which is not a strength of eUKhost. The former is also significantly cheaper, but offers several limitations not found at eUKhost.
Hostgator's price is similar to that of eUKhost, but it is only valid for your first three years, while that doesn't happen at eUKhost. However, Hostgator also offers a range of guides and how-tos, both written and in video form, helping users find their way around.
Easyspace is significantly more beginner-friendly than eUKhost and the prices are very similar, but it notably doesn't include an SSL certificate, which eUKhost provides with every plan.
Similar to Hostgator, Bluehost also has a price hike after the first three years you spent using their service, and their offers are very similar to what eUKhost has. But with data centers in the US, as opposed to eUKhost's UK, may help users make a choice based on location preference.
Final verdict
eUKhost is not a bad web hosting solution for smaller businesses, but their offers include very little in comparison with other providers. The biggest advantages are the free domain (if you're paying annually or biennially) and free SSL certificates. But if you're looking for a better-rounded service, Hostgator and Bluehost might be better choices.
Best cheap webhosting
Best shared hosting
Best reseller hosting
Best VPs hosting
Best dedicated server hosting
Best colocation hosting
Best WordPress hosting
Best cloud hosting
Best Linux hosting
Best Windows hosting
Best ecommerce hosting
Best small business web hosting
Best managed web hosting
Best email hosting providers
News Related
OTHER NEWS