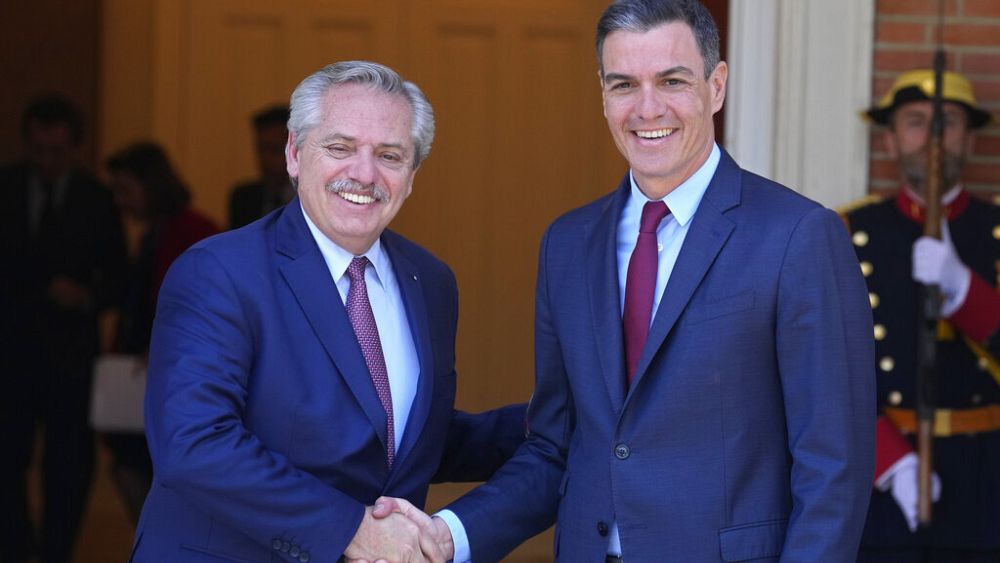 ---
---
El presidente de Argentina, Alberto Fernández, ha visitado al presidente del Gobierno de España, Pedro Sánchez en el marco de una gira europea para portenciar las inversiones y las exportaciones de Argentina. También se reunirá este martes con el rey Felipe VI y empresarios.
the latest tech news, global tech news daily, tech news today, startups, usa tech, asia tech, china tech, eu tech, global tech, in-depth electronics reviews, 24h tech news, 24h tech news, top mobile apps, tech news daily, gaming hardware, big tech news, useful technology tips, expert interviews, reporting on the business of technology, venture capital funding, programing language
Tras su visita a España el presidente Argentino se dirigirá a Alemania donde también se reunirá con el canciller Olaf Sholz y visitará algunas compañías.
Respecto a un posible encuentro con el jefe de Estado francés, Emmanuel Macron, quien resultó vencedor en la segunda vuelta de las elecciones presidenciales hace apenas dos semanas, fuentes del Gobierno argentino sostuvieron que "se sigue gestionando" y, en caso de concretarse, el encuentro se realizaría el jueves o el viernes.
Global Tech News Daily
El mandatario argentino ya había realizado una gira por cuatro países europeos en mayo de 2021, cuando visitó Portugal, España, Francia e Italia.
Según un informe de la Cámara Argentina de Comercio y Servicios (CAC), el comercio bilateral entre Argentina y España experimentó una "notoria recuperación" en 2021, puesto que volvió a crecer tras dos años consecutivos en caída.
Global Tech News Daily
La entidad empresarial informó que el intercambio comercial entre ambos países fue de 2.932 millones de dólares el año pasado, un avance del 62,2 % con respecto al 2020.
Por otra parte, Argentina registró en 2021 un déficit comercial de 1.719 millones de dólares con Alemania, uno de los principales países de origen de las importaciones argentinas.
Una gira en medio de tensiones en el seno del oficialismo
Esta gira de Alberto Fernández se produce en el punto más álgido de las tensiones el seno del oficialismo, dividido entre los partidarios del presidente y los afines a la vicepresidenta, Cristina Fernández de Kirchner, quien también ejerció la jefatura de Estado entre 2007 y 2015.
El pasado viernes, Fernández de Kirchner explicó que las disensiones con el actual presidente no son una "pelea" ni una "disputa de poder", sino un "debate político" sobre el rumbo del país y los condicionamientos impuestos por el Fondo Monetario Internacional (FMI).
En ese sentido, la exmandataria cuestionó las políticas del ministro de Economía, Martín Guzmán, con "una inflación que no se detiene", superior al 55 % interanual, e indicó que "algo o algunos están fallando" si se ha elegido un modelo de producción y exportaciones y bajos salarios y además faltan dólares.
La tensión oficialista es tal que el propio presidente, media hora antes de la ponencia de la vicepresidenta, pidió en un discurso en la provincia austral de Tierra del Fuego: "Por favor, miremos el futuro, que nadie nos desuna, trabajemos juntos. Eso es lo que nos hace falta", exclamó Alberto Fernández.
News Related
OTHER NEWS