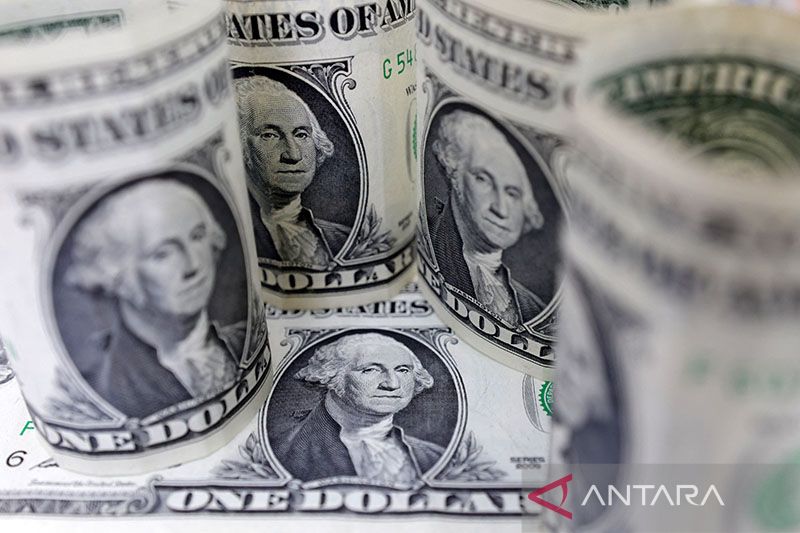 Ilustrasi – Uang kertas Dolar AS terlihat dalam ilustrasi ini yang diambil pada 17 Juli 2022. ANTARA/REUTERS/Dado Ruvic/pri.
Orang-orang yang mengatakan mari kita lakukan lebih lambat sedang disingkirkan di sini dengan laporan iniNew York (ANTARA) – Dolar menguat pada akhir perdagangan Jumat (Sabtu pagi WIB), membukukan persentase kenaikan harian terbesar sejak pertengahan Juni terhadap yen, setelah laporan penggajian AS, yang lebih kuat dari perkiraan menyiratkan Federal Reserve mungkin perlu terus meningkatkan suku bunga secara agresif.
Indeks dolar AS, yang mengukur greenback terhadap sekeranjang mata uang utama lainnya, memperpanjang kenaikan tajam menyusul laporan, yang menunjukkan data penggajian non-pertanian (NFP) meningkat 528.000 pekerjaan bulan lalu, kenaikan terbesar sejak Februari. Itu jauh di atas ekspektasi ekonom.
Indeks dolar, yang tetap di bawah tertinggi pertengahan Juli, terakhir naik 0,8 persen pada 106,57. Indeks dolar naik sekitar 0,2 persen tepat sebelum rilis laporan ketenagakerjaan Departemen Tenaga Kerja AS. Indeks naik sekitar 0,6 persen untuk minggu ini.
"Ini adalah laporan yang jauh lebih kuat dari yang diharapkan. … Artinya adalah The Fed tidak dapat berputar pada titik ini. Federal Reserve harus terus menaikkan suku bunga. Orang-orang yang mengatakan mari kita lakukan lebih lambat sedang disingkirkan di sini dengan laporan ini," kata Axel Merk, presiden dan kepala investasi di Merk Investment di Palo Alto, California, dikutip dari Reuters.
"Dolar lebih kuat terhadap hampir semua mata uang. AS sedang berkinerja baik ketika suasana umum adalah bahwa dunia sedang melambat."
Terhadap yen, dolar terakhir naik 1,5 persen pada 134,99 yen. Untuk minggu ini, dolar naik 1,3 persen terhadap yen.
The Fed pekan lalu menaikkan suku bunga kebijakannya sebesar tiga perempat poin persentase. Bank sentral AS telah menaikkan suku bunga itu sebesar 225 basis poin sejak Maret, tetapi investor baru-baru ini menilai apakah Fed mungkin kurang agresif dalam menaikkan suku bunga di masa depan. Indeks dolar naik lebih dari 11 persen sejauh tahun ini di tengah prospek suku bunga yang lebih tinggi.
Sterling turun 0,8 persen terhadap dolar pada 1,2066 dolar, sehari setelah bank sentral Inggris (BoE) menaikkan suku bunga terbesar dalam 27 tahun guna melawan lonjakan inflasi dan memperingatkan bahwa resesi panjang akan dimulai pada kuartal keempat tahun ini.
Euro turun 0,7 persen terhadap greenback di 1,0178 dolar.
Di pasar uang kripto, bitcoin terakhir naik 1,2 persen pada 22.886,45 dolar AS.
Baca juga: Emas jatuh 15,70 dolar, tertekan data pekerjaan AS yang positif
Baca juga: Yuan menguat hingga 231 basis poin, menjadi 6,7405 terhadap dolar AS
Baca juga: Dolar melemah di Asia, pasar menanti rilis data pekerjaan di AS
Penerjemah: Apep Suhendar
Editor: Kelik Dewanto
COPYRIGHT © ANTARA 2022
News Related
OTHER NEWS