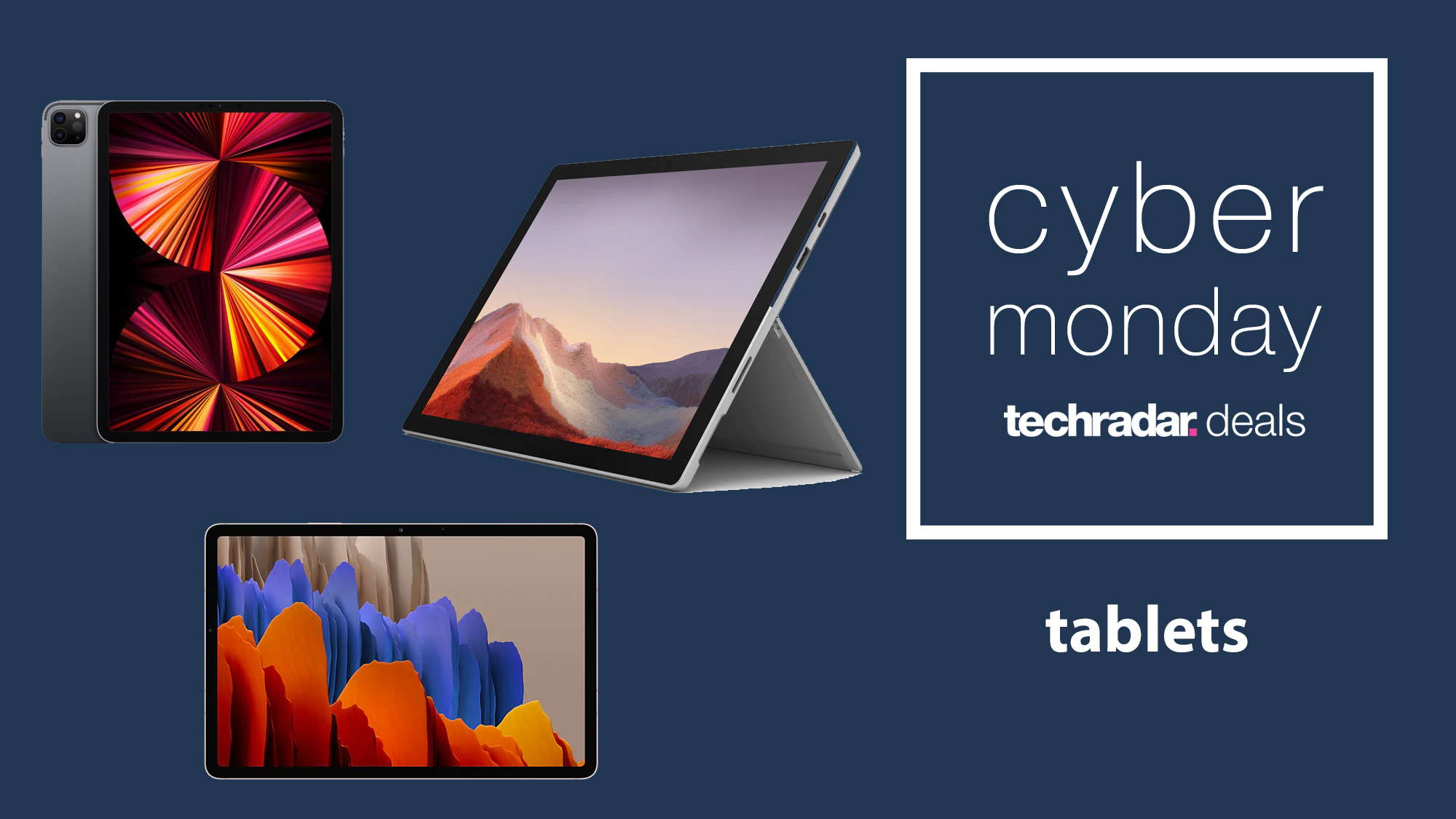 The Cyber Monday tablet deals are here, although we're still chronologically closer to Black Friday than its tech-discount-themed counterpart.
We could see better tablet deals on Cyber Monday itself, but until the day comes about, we've no idea what to expect – discounts could be better, or might not show up at all.
So what are we seeing right now? We've found a few early price drops for Apple's newest iPads, as well as markdowns on Android tablets from Samsung and Amazon. You can check out those offers and more below.
As we inch closer to Black Friday and Cyber Monday, we're banking on deeper discounts making an appearance. Suffice to say, they likely won't be for the latest iPads (though we'd love to be wrong!). But if it's an Amazon Fire HD or a Microsoft Surface Pro you're seeking, for instance, you're bound to be in luck.
Keep reading as we answer your most pressing questions regarding what you can expect from this year's Cyber Monday tablet deals. And if all you care about is finding a discounted iPad, head over to our Cyber Monday iPad deals hub.
Cyber Monday tablet quick links
Quick links for the US
Amazon: big savings on Fire Tabs, and rare iPad deals
Best Buy: discounts on tablets of all shapes and sizes
Target: all the biggest slates are in stock
Walmart: discounts on tablets not sold elsewhere
Quick links for the UK
Amazon: lots of deals have started
Argos: special offers on already-cheap tablets
John Lewis: trade-in deals, extra gifts and some reductions
Currys: money off a big range of tablets
Cyber Monday tablet deals in the US
Cyber Monday tablet deals: iPad
$1,199
$1,099 at Amazon
512GB:
$1,399
$1,249 at Amazon
1TB:
$1,799
$1,599 at Amazon

2TB:
$2,199
$2,049 at Amazon
" data-widget-type="deal">
iPad Pro 12.9-inch 2021 (128GB, Wi-Fi): $1,099
iPad Pro 12.9-inch 2021 (128GB, Wi-Fi): $1,099 $999 at Amazon
Save $100 – Amazon has the all-new 12.9-inch iPad Pro on sale for $999. That's a $100 discount and the lowest price we've seen for the 2021 tablet. The Apple iPad Pro delivers laptop-like power and speed thanks to Apple's M1 chip. This Black Friday deal has been flashing in and out of stock so we'd snag today's discount before it's too late.
256GB: $1,199 $1,099 at Amazon
512GB: $1,399 $1,249 at Amazon
1TB: $1,799 $1,599 at Amazon
2TB: $2,199 $2,049 at Amazon
$1,399
$1,299 at Amazon
512GB:
$1,599
$1,549.99 at Amazon
" data-widget-type="deal">
iPad Pro 12.9-inch 2021 (128GB, Wi-Fi + cellular): $1,299
iPad Pro 12.9-inch 2021 (128GB, Wi-Fi + cellular): $1,299 $1,199 at Amazon
Save $100 – Want cellular storage on your iPad Pro 12.9-inch? With 128GB of storage this comes with a discount of $100, but we've spotted even bigger discounts on the larger storage variants. These are much more expensive than the models above, but if you're after a top-end model this could be perfect for you.
256GB: $1,399 $1,299 at Amazon
512GB: $1,599 $1,549.99 at Amazon
$1,099.99
$979 at Walmart
1TB:
$1,499
$1,399.99 at Amazon
" data-widget-type="deal">
Apple iPad Pro 11 2021 (128GB, Wi-Fi): $799
Apple iPad Pro 11 2021 (128GB, Wi-Fi): $799 $749.99 at Amazon
Save $50 – It's not a huge price cut, but this discount from Amazon is the cheapest price around for the iPad Pro 11. Technically it's sold out, but Amazon claims more stock will be available soon, so we'd definitely pick this one up sooner rather than later if you're interested. If you're looking for a powerful tablet for design work you won't beat this model – although some would say it's overkill for the majority of casual applications. 
512GB: $1,099.99 $979 at Walmart
1TB: $1,499 $1,399.99 at Amazon
B&H Video has a deal for this tablet at $579
" data-widget-type="deal">
iPad Air 2020 (64GB, Wi-Fi): $599
iPad Air 2020 (64GB, Wi-Fi): $599 $539 at Walmart
Save $60 – There aren't huge savings on the iPad Air 2020, but if you're after this product this is the best price we've found so far in the US over the Black Friday period. We've seen in drop lower in the past, so you may want to wait and see if any retailers will drop it lower over the coming days.
Not in stock at Walmart? B&H Video has a deal for this tablet at $579
Cyber Monday tablet deals: Samsung Tab
$769.98
$561.99 at Amazon (save $207.99)
Tablet (256GB) and book cover:
$799.98
$592.98 at Amazon (save $207)

Tablet (128GB) and keyboard:
$899.98
$617 at Amazon (save $282.98)

Tablet (256GB) and keyboard:
$929.98
$647.99 at Amazon (save $281.99)
" data-widget-type="deal">
Samsung Galaxy Tab S7 128GB: $699.99
Samsung Galaxy Tab S7 128GB: $699.99 $499 at Amazon (save $200.99)
There's $200 off Samsung's latest tablet, whether you want the 128GB version or the 256GB version, though that costs $30 more. There's also money off the book cover and keyboard bundles:
Tablet (128GB) and book cover: $769.98 $561.99 at Amazon (save $207.99)
Tablet (256GB) and book cover: $799.98 $592.98 at Amazon (save $207)
Tablet (128GB) and keyboard: $899.98 $617 at Amazon (save $282.98)
Tablet (256GB) and keyboard: $929.98 $647.99 at Amazon (save $281.99)
$650
$500 (save $150) at Amazon
256GB:
$730 $530 (save $200) at Amazon
" data-widget-type="deal">
Samsung Galaxy Tab S7 | Wi-Fi | 512GB: $830
Samsung Galaxy Tab S7 | Wi-Fi | 512GB: $830 $599 (save $230) at Amazon
This is the lowest price we've seen on the Samsung's most recent super-power table, though it's been at this price before. Its alternative-storage-size versions are reduced too.
128GB: $650 $500 (save $150) at Amazon
256GB: $730 $530 (save $200) at Amazon
$930
$729 (save $201) at Amazon
" data-widget-type="deal">
Samsung Galaxy Tab S7 Plus | Wi-Fi | 128GB: $850
Samsung Galaxy Tab S7 Plus | Wi-Fi | 128GB: $850 $699 (save $150.99) at Amazon
This is Samsung's highest-end tablet yet, with the same specs as the non-Plus version but a bigger and better display, and meatier battery. It's a perfect work and play tool, but it costs a lot.
256GB: $930 $729 (save $201) at Amazon

£1,099
£1,049 at Amazon
512GB:
£1,299
£1,149 at Amazon

2TB:
£1,999
£1,914.82 at Amazon
" data-widget-type="deal">
iPad Pro 12.9-inch 2021 (128GB, Wi-Fi): £999
iPad Pro 12.9-inch 2021 (128GB, Wi-Fi): £999 £929 at Amazon
Save £70 – Here's a great Black Friday iPad deal on the latest 2021 iPad Pro 12.9, all things considered. It might not seem like a wild discount, but it's actually the cheapest price yet and really quite good considering this device is only a few months old as of writing. With a fantastic display and the incredible level of power the latest M1 chip affords, this one's an easy recommendation if you're looking for something truly premium.
256GB: £1,099 £1,049 at Amazon
512GB: £1,299 £1,149 at Amazon
2TB: £1,999 £1,914.82 at Amazon
£1,449
£1,387.98 at Amazon
2TB:
£2,149
£2,058.51 at Amazon
" data-widget-type="deal">
iPad Pro 12.9-inch 2021 (256GB, Wi-Fi + cellular): £1,249
iPad Pro 12.9-inch 2021 (256GB, Wi-Fi + cellular): £1,249 £1,196.41 at Amazon
Save £52 – Want cellular storage on your iPad Pro 12.9-inch? This variant comes with more storage than the one you've read about above (the 128GB is currently fully price everywhere we've seen) so it's a small saving but it's worth it if you're looking for an absolute top-end model with the ability to go online anywhere.
512GB: £1,449 £1,387.98 at Amazon
2TB: £2,149 £2,058.51 at Amazon
£849
£799 at Currys
512GB:
£1,049
£999 at Currys

1TB:
£1,399
£1,340.10 at Amazon
2TB:
£1,749
£1,689.97 at Amazon
" data-widget-type="deal">
Apple iPad Pro 11 2021 (128GB, Wi-Fi): £749
Apple iPad Pro 11 2021 (128GB, Wi-Fi): £749 £699 at Currys
Save £50 – It's not a huge price cut, but this discount from Currys is the cheapest price around for the iPad Pro 11 with 128GB of storage. This tablet should offer you around a 10 hour battery life, and we particularly liked the amount of power the M1 chipset.
256GB: £849 £799 at Currys
512GB: £1,049 £999 at Currys
1TB: £1,399 £1,340.10 at Amazon
2TB: £1,749 £1,689.97 at Amazon
£619
£599 at Amazon
" data-widget-type="deal">
iPad mini 2021 (64GB, Wi-Fi): £479
iPad mini 2021 (64GB, Wi-Fi): £479 £459 at Amazon
Save £20 – This is the best deal for the iPad mini right now. In fact, it's the lowest price we've ever seen for the slate, so unsurprisingly it's popular – Amazon lists it as out of stock but still lets you place an order for when more come in.
256GB: £619 £599 at Amazon
Samsung Tab
£869
£749 (save £120) at Currys
" data-widget-type="deal">
Samsung Galaxy Tab S7 Plus | Wi-Fi | 128GB: £799
Samsung Galaxy Tab S7 Plus | Wi-Fi | 128GB: £799 £679 (save £120) at Currys
This is Samsung's highest-end tablet yet, with the same specs as the non-Plus version but a bigger and better display, and meatier battery. It's a perfect work and play tool, but it costs a lot.
256GB: £869 £749 (save £120) at Currys
News Related
OTHER NEWS