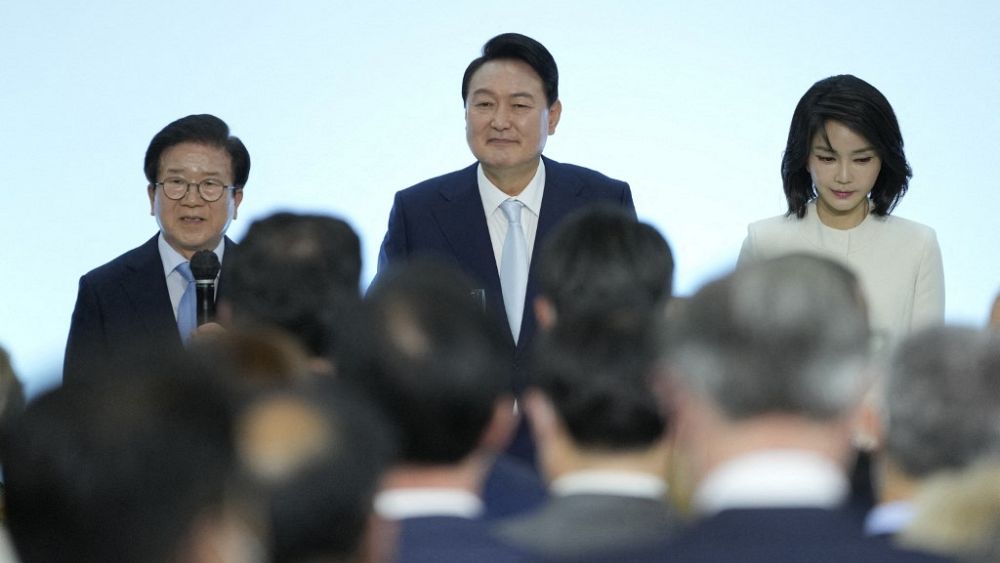 ---
---
Como manda la tradición, y antes de la ceremonia de investidura, el ya presidente de Corea del Sur, Yoon Suk-yeol, visitaba este martes el cementerio Nacional de Seúl. Acompañado de su esposa y Primera Dama Kim Kun Hee, Yoon rendía homenaje a los patriotas fallecidos del país asiático.
the latest tech news, global tech news daily, tech news today, startups, usa tech, asia tech, china tech, eu tech, global tech, in-depth electronics reviews, 24h tech news, 24h tech news, top mobile apps, tech news daily, gaming hardware, big tech news, useful technology tips, expert interviews, reporting on the business of technology, venture capital funding, programing language
La ceremonia de investidura del nuevo presidente de Corea del Sur, del conservador Partido del Poder Popular, tiene lugar en plena tensión con su vecina del norte. En su discurso, Yoon Suk-yeol insistió en la posibilidad de dialogar con Corea del Norte en un momento marcado por las repetidas pruebas de armas del régimen, así como en la necesidad de impulsar el crecimiento nacional para cerrar la brecha social.
Y no solo eso. Se prevé que con el nuevo presidente las relaciones también mejoren con Japón, histórico enemigo diplomático por razones territoriales en el mar del Este.
Global Tech News Daily
En ese contexto llega al poder Yoon, quien hereda un país dividido, ya que cabe recordar que su victoria electoral frente al liberal Lee Jae-myung fue por apenas el 0,07 % de los votos.
Entre los dignatarios extranjeros invitados a la ceremonia, escuchaba atentamente las palabras de Yoon el vicepresidente chino, Wang Qishan, considerado uno de los hombres de confianza del presidente Xi Jinping. En el discurso hubo también hueco para mencionar la fractura social en la que está sumida la cuarta economía de Asia y la necesidad de mejorar la "movilidad social" mediante "un crecimiento rápido y sostenible".
El que será presidente de Corea del Sur hasta 2027 aseguró en todo caso que el crecimiento que tanto necesita su país "solo será posible a través de la ciencia, la tecnología y la innovación".
News Related
OTHER NEWS