The Minister of Commerce for Saudi Arabia, Dr Majid Al Kassabi, told a London conference on Wednesday that "today, Saudi Arabia is a different Saudi Arabia".
Referring to the progress being made towards Vision 2030, the kingdom's development and transformation agenda, Dr Al Kassabi told the UK Saudi Business, Trade and Partnership Forum that the process was accelerating.
Announced by Crown Prince Mohammed bin Salman in 2016, Vision 2030 is now around halfway through its allotted time to reduce the kingdom's dependence on oil, diversify the economy and develop public sectors from health to tourism and from infrastructure to education.
Opening up the Saudi economy to foreign companies and investing overseas, particularly in green and clean tech projects, are key platforms of the Vision 2030 strategy.
At the forefront of the Vision's success is the kingdom's leadership, Dr Al Kassabi said.
"Change does not come from bottom, change has to come from top.
"Anybody can steer a ship but it takes a captain to navigate a course."
Crown Prince Mohammad bin Salman is overseeing the kingdom's Vision 2030 economic reform agenda. Reuters
Opportunities for UK companies
Several hundred business people mingled with diplomats and government ministers at the forum, which was held at Mansion House in the heart of the City of London.
Dominic Johnson, the UK Minister for Investment, said Saudi Arabia's progress towards Vision 2030 was on course and the opportunities for British companies in the Kingdom were increasing.
"This is a direction of travel and it aligns with making sure that you have open access to all markets, you have a strong commercial legal system, you have signposting from the government that businesses are welcome and that they're trying to make the taxation system attractive for foreign companies investing and establishing themselves there," he told The National.
"And they're going about it in a smart way."
'Rocket to the Moon'
The Saudi ambassador to the UK, Prince Khalid bin Bandar was among several speakers that urged those British business people who had not yet visited Riyadh to do so.
"Certainly not in my lifetime have I seen anything like what's happening in Saudi today," he said.
"We are no longer telling the story of what we're going to do, where we're going to do it and how we're going to do it.
"We're telling the story of what we've achieved and how we've achieved it.
"What we have managed to achieve in Saudi Arabia over the last seven years is revolutionary.
"You must get there. There are flights every day. Get on one and come and see for yourself.
"It is magnificent what's happening. It is remarkable. It's exciting. The energy in the country could power a rocket to the Moon," he added.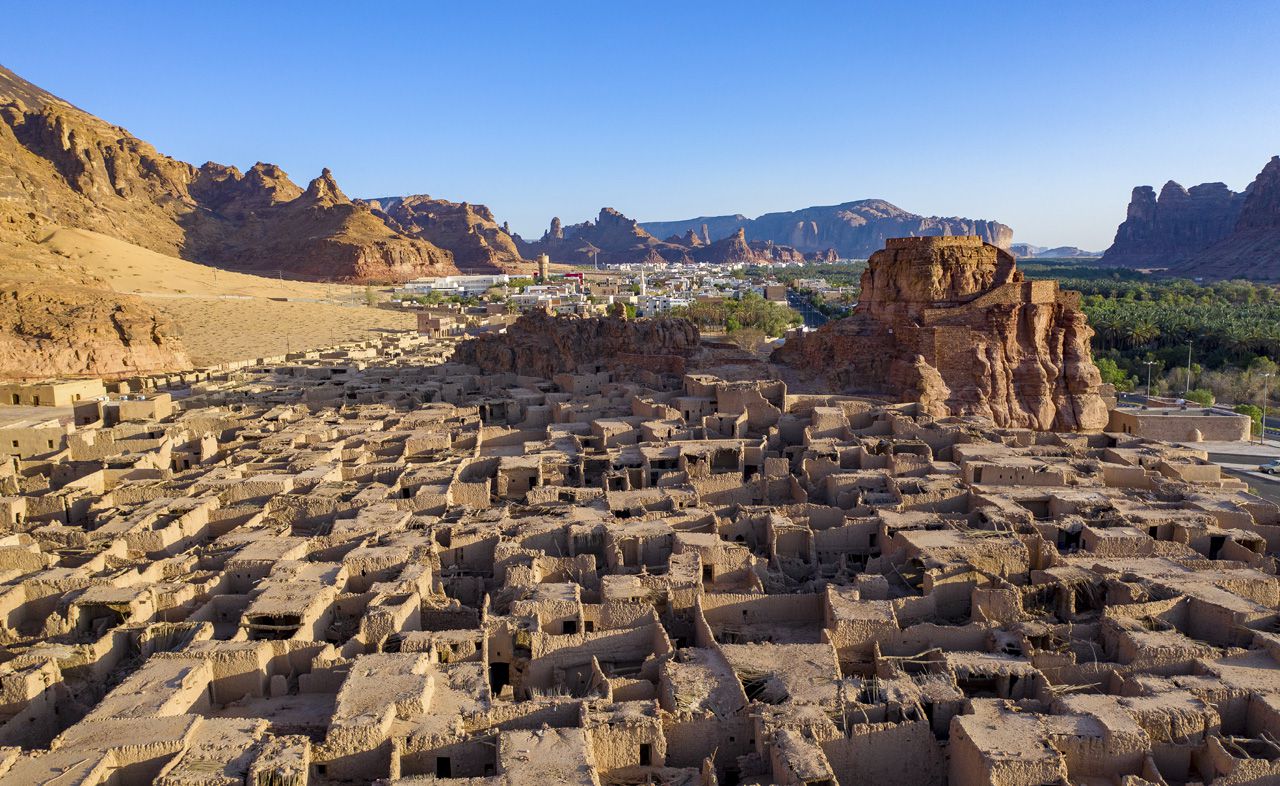 AlUla in Saudi Arabia. Expanding tourism is an objective of Vision 2030. Photo: AlUla
Louis Portal is a manager with Isgam, an asset management company based in Zurich. While the firm hasn't had team members visit Saudi Arabia yet and it doesn't have any clients based in the kingdom, he was curious to find out more.
"We do have clients spread around the Gulf, in the UAE and Oman," he told The National.
"Especially during our last trips visiting clients there, they spoke a lot about how Saudi Arabia is opening up and how it would be a good place to visit."
When business people luch as Mr Portal visit Saudi Arabia, they'll find a very big consumer base in the largest economy in the region with the fastest growth in the G20, deputy governor of the Saudi Central Bank, Ziad Al Yousef, told The National.
"There are still a lot of opportunities to come. Multiple, very big FinTechs are in the process of being licensed in the kingdom.
"The time to market is being improved and the ease of doing business has improved dramatically."
Recent research by Control Risks found that foreign investment and companies would be "key to successfully delivering the plan and boosting the non-oil economy, as there simply isn't enough domestic capacity in Saudi Arabia to meet the economic targets".
For Jon Roe, senior managing director at the consultants Ankura, that spells relationship-building and opportunities for UK businesses.
"Several people today have said 'you have to go there' and it's true, you do," he told The National.
"That's when you really appreciate the scale of what's happening in the kingdom and the scale of the opportunity."
King Abdullah Financial District, north of Riyadh. British diplomats are urging businesses to take advantage of opportunities in the kingdom. Reuters
'You ain't seen nothing yet'
Sir William Russell, former lord mayor of the City of London, told the forum he'd been "blown away by the scale of ambition and the pace of change in such a short time".
But for foreign businesses already operating in Saudi Arabia, Vision 2030 is merely the beginning.
"2030 is the start of take-off," Akin Adamson, general manager and director for the Middle East with the environmental and engineering consultancy, Ricardo, told The National.
"Many of these initiatives will continue for many decades beyond 2030.
"In terms of the velocity of change, I think that will pick up incrementally.
"When we speak of the last few years, it's all been about planning. Now, it's about implementation.
"If you think a lot of work has gone in [to Vision 2030[ until this point, you ain't seen nothing yet."
Such was the interest in the forum that organisers had to turn away about 200 people. But for Chris Innes-Hopkins, UK executive director of the Saudi British Joint Business Council, that illustrates the level of interest among British companies keen to do business in Saudi Arabia.
"We had to close the books in the middle of last week.
"Every day, we've been besieged by people.
"But we won't forget those people – they'll be on our list next time round and there'll be other opportunities," he told The National.
News Related
OTHER NEWS