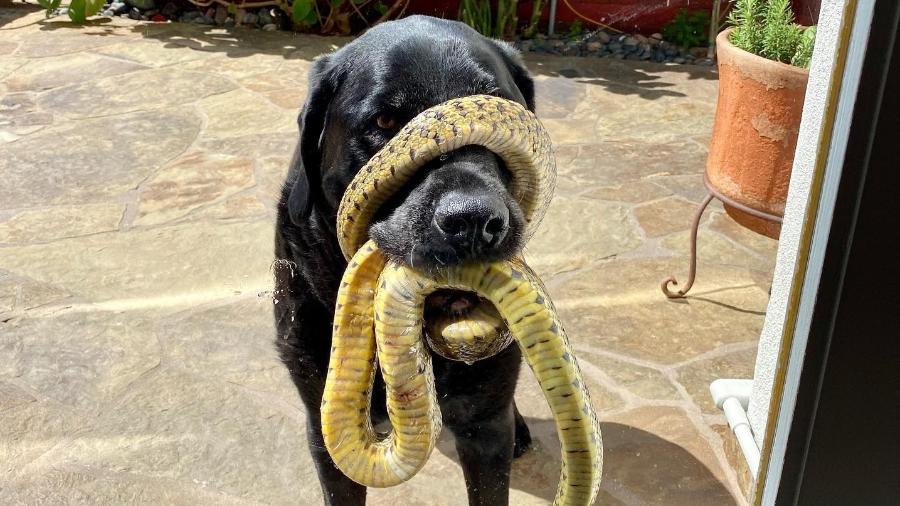 Cão fica com cobra enrolada no focinho nos EUA Imagem: Reprodução/Instagram
Um vídeo surpreendente mostra o encontro de um cachorro com uma cobra no quintal de casa. Quem conseguiu salvá-lo foi Bruce Ireland, um caçador de cobras — e celebridade onde mora, na região de San Diego, nos Estados Unidos.
Bruce postou o vídeo em seu TikTok mostrando a brincadeira inusitada entre o cão e uma cobra, identificada como uma gopher, uma espécie não peçonhenta. A tutora do animal chamou o caçador para que nenhum dos bichos saísse ferido, e tudo acabou bem.
Ireland disse ao portal Newsweek que chegou no local quando a cobra estava com a boca presa na boca do cão, enquanto o resto do corpo dela estava enrolado em volta do rosto do cachorro.
O conteúdo foi publicado em 2 de agosto tem, até agora, mais de 3,3 milhões de visualizações e cerca de 268 mil curtidas no TikTok, no entanto, o caso ocorreu em abril.
Na legenda, o norte-americano descreveu: "Sempre que me chamam é para algo interessante e esse foi um clássico. O cão e a cobra estão bem, já que muitas pessoas ficaram surpresas com a situação do filhote".
@sdsnakeadventures2 My calls are always interesting and this one was a classic. Dog and snake were both fine. #dog #pet #snake #snakes #service #funny #puppy #tiktok #tiktokusa #california #sandiego #fyp #fyp? #fear #2022 #viral #watch ? original sound – RBI Snake Wrangler
Quem assistiu ao vídeo ficou surpreso. Há muitos comentários brincando com a situação: "Se não é uma corda, então por que em forma de corda?", disse um internauta, referindo-se ao pensamento hipotético do cão. Já outro comentou: "A cobra devia estar pensando: 'Estou… estou morta?'".
O ocorrido foi uma mistura de sorte e experiência, já que, em seu site, Bruce afirma que seu serviço com cobras é profissional, mesmo sendo gratuito. Atualmente, o grupo de caçadores está disponível em todas as áreas costeiras do norte de San Diego para a realocação desses animais indesejados.
O caçador de cobras trabalha em um pequeno grupo de voluntários que assumiram a missão de realocar esse tipo de animal. A ideia é colocá-las em locais remotos onde poderão viver sãs e salvas.
Ele explicou o que pode ter dado errado no encontro do cão e a cobra: "Um cachorro quando está investigando usa o nariz. Isso é o que ele faz: ele coloca o nariz em algo que cheira estranho, parece estranho, soa estranho. Enquanto, gatos, não. A primeira coisa que felinos fazem é te dar uma patada e pular para trás."
News Related
OTHER NEWS