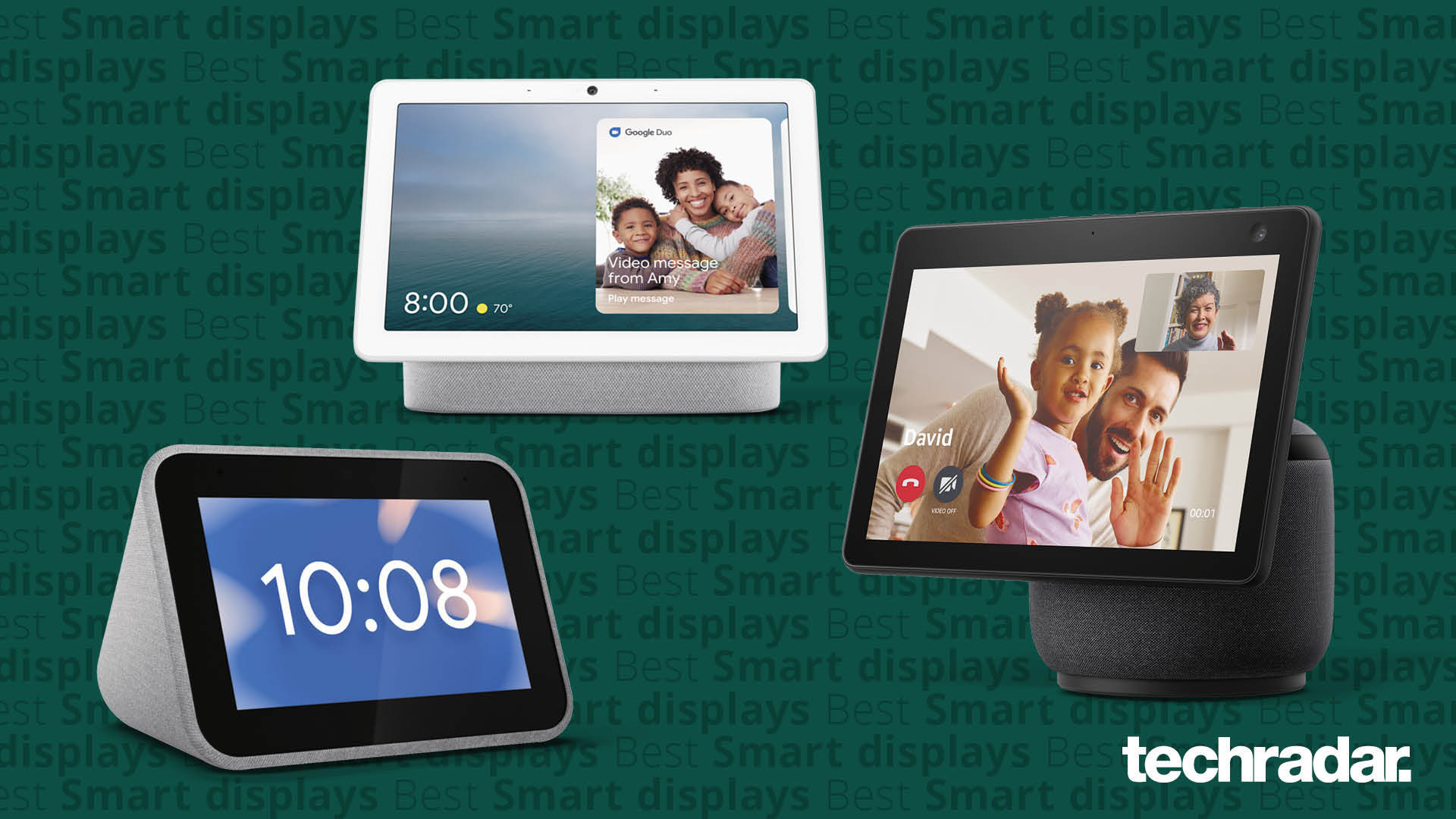 The best smart display lets you see as well as hear the information Alexa or Google Assistant is serving up after you've asked the voice assistant a question. So, if you ask for the weather report or the latest sports scores, as well as being given an audible description of the current climate, you'll also get a more in-depth answer thanks to the built-in screen.
There's more to the best smart displays than just a visual interpretation of your voice assistant's responses. Thanks to the screen, you can use a smart display to watch your favorite movie or TV streaming service, display recipes so you can follow along while cooking, listen to music, and even sing along thanks to the on-screen lyrics.
Smart displays also make it easy to stay in touch, as they can be used for voice calls, just like the best smart speakers. However, many smart displays also feature a camera so you can make video calls too.
They can also be used to get smart home devices to work together, for example, if you have smart plugs or smart lights that are compatible with your voice assistant, you'll be able to control them from a smart display even if they're made by different manufacturers.
As you'd expect Google and Amazon offer an array of smart displays, but you can also pick up models from Lenovo, while Facebook offers its Portal range of devices. However, with a wide range to choose from, you may be left confused as to which is best for you.
We've put some of the most popular designs to the test to help you choose the best smart display for you.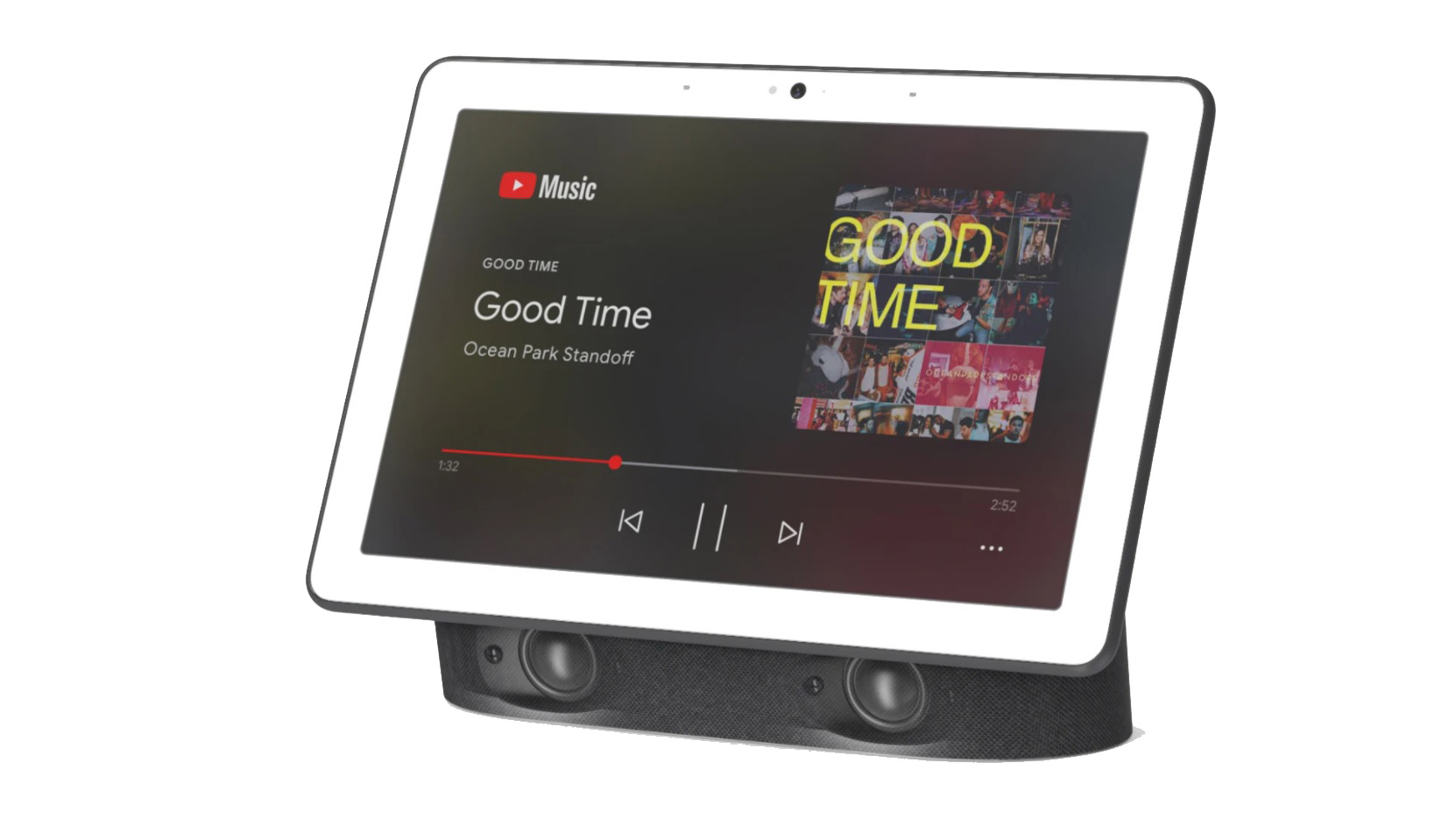 (Image credit: Google)
1. Google Nest Hub Max
The best smart display
Specifications
Speakers:
2 x 0.7-inch tweeters, 1 x 3-inch woofer
Voice Assistant:
Google Assistant
Reasons to buy
+

Clear, sharp screen
+

Sleek design
+

Doubles as a home security camera
Reasons to avoid
–

Requires Nest aware for security camera function
–

Smart home routines are limited
The Google Nest Hub Max is the best smart display you can buy right now. The 10-inch screen is clear and sharp, and offers a notable upgrade to the Google Home Hub's 7-inch display.
The 1280 x 800 resolution may not sound like much, in a world of 4K TVs and 1920 x 1080 PCs, but it's plenty of pixels for the relative size of the Nest Hub Max's screen. The audio is much better than you'd get with the average tablet or iPad, too
There's a 6.5MP front-facing camera primarily for video calling, but it also doubles as a makeshift security camera, allowing it to record clips of movement in the room around it – although you will need a Nest Aware subscription for this.
The Nest Hub Max isn't perfect – we found we were limited of the smart home routines we could set up from the display, but the design and audio capability of the Nest Hub Max make it the deserving recipient of the number one slot on this list.
Read our full review: Google Nest Hub Max review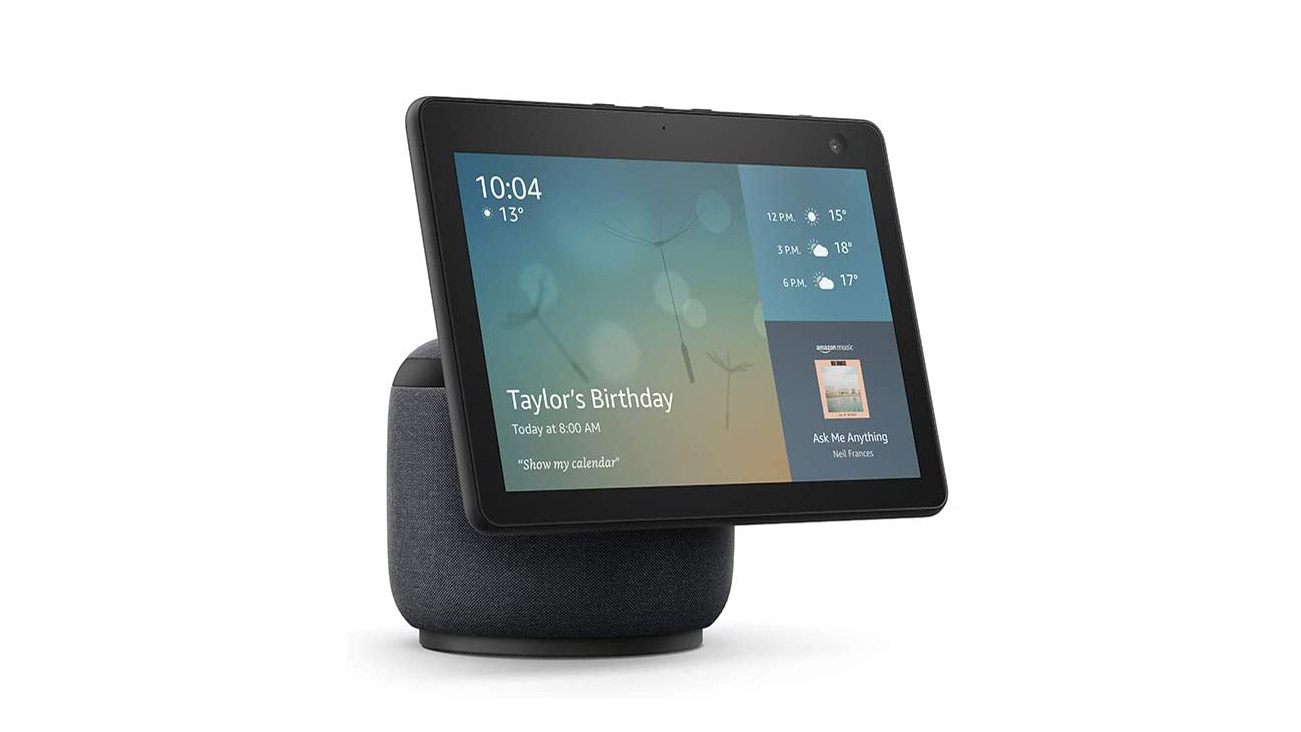 (Image credit: Amazon)
2. Amazon Echo Show 10
The best smart display for video calls
Specifications
Speakers:
2 x 1-inch tweeters, 1 x 3-inch woofer
Reasons to buy
+

Rotating display follows you around the room
+

High-quality camera is great for detailed video calls
+

Excellent voice recognition
Reasons to avoid
–

Speaker is too bassy
–

Expensive compared to the rest of the market
The highlight of the latest Echo Show 10 is its rotating screen that can follow you around the room so it's always within your gaze, whether you're following a recipe, making a video call, or watching Prime Video.
There's a 13MP camera too, which has since also been added to the Echo Show 8 (2nd generation), that uses the rotating screen to pan and zoom during video calls, so you're always in the center of the frame.
Alexa was responsive when it came to recognizing voices thanks to the array of built-in microphones and was quick to respond even when we were on the other side of the room.
The support for third-party streaming apps is still limited, even though you can now watch Netflix on the smart display, and we found the speaker was too bassy. It's also the most expensive smart display on the market, but if you're keen on watching cooking tutorials or making video calls to other Amazon smart displays, it deserves a spot in your home.
Read our full review: Amazon Echo Show 10 review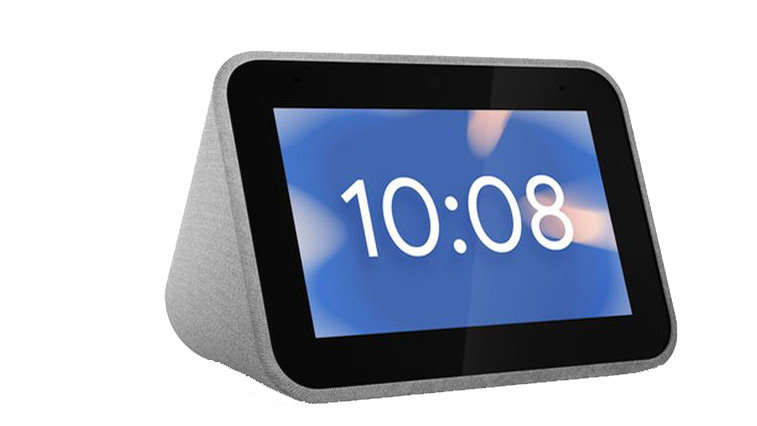 (Image credit: Lenovo smart clock)
3. Lenovo Smart Clock
The best bedside smart display
Specifications
Speakers:
1 x1.5-inch Speaker
Voice Assistant:
Google Assistant
Reasons to buy
+

Compact design
+

USB-port for charging your phone
+

Simple to use
Reasons to avoid
–

Lack of camera may disappoint
–

No support for movie streaming services
The Lenovo Smart Clock is a great addition to the bedroom, as a bedside smart display that aims for small and effective functionality over the larger screens of the Echo Show 10 or Google Nest Hub Max.
It has a compact four-inch screen, with various clock face designs to choose from, and a sufficient 480 x 480 resolution – as well as a USB port for easily charging your phone at night. Your own phone charger is probably a bit faster, but it's an appreciated addition nonetheless.
Like Google's smart displays, Lenovo makes use of the Google Assistant here, meaning you can issue voice commands and ask the voice assistant for the news, traffic and weather information, certain apps and services, as well as whatever trivia you wish to know. We found it simple to use, and were impressed shouting 'stop' would end the alarm in the morning, preventing any fumbling with the touchscreen before your eyes are open.
Unlike the Nest Hub Max, there's no built-in camera, which may be an issue for some, and there's no ability to watch movie streaming services on the device, which other Google smart displays offer.
Read our full review: Lenovo Smart Clock review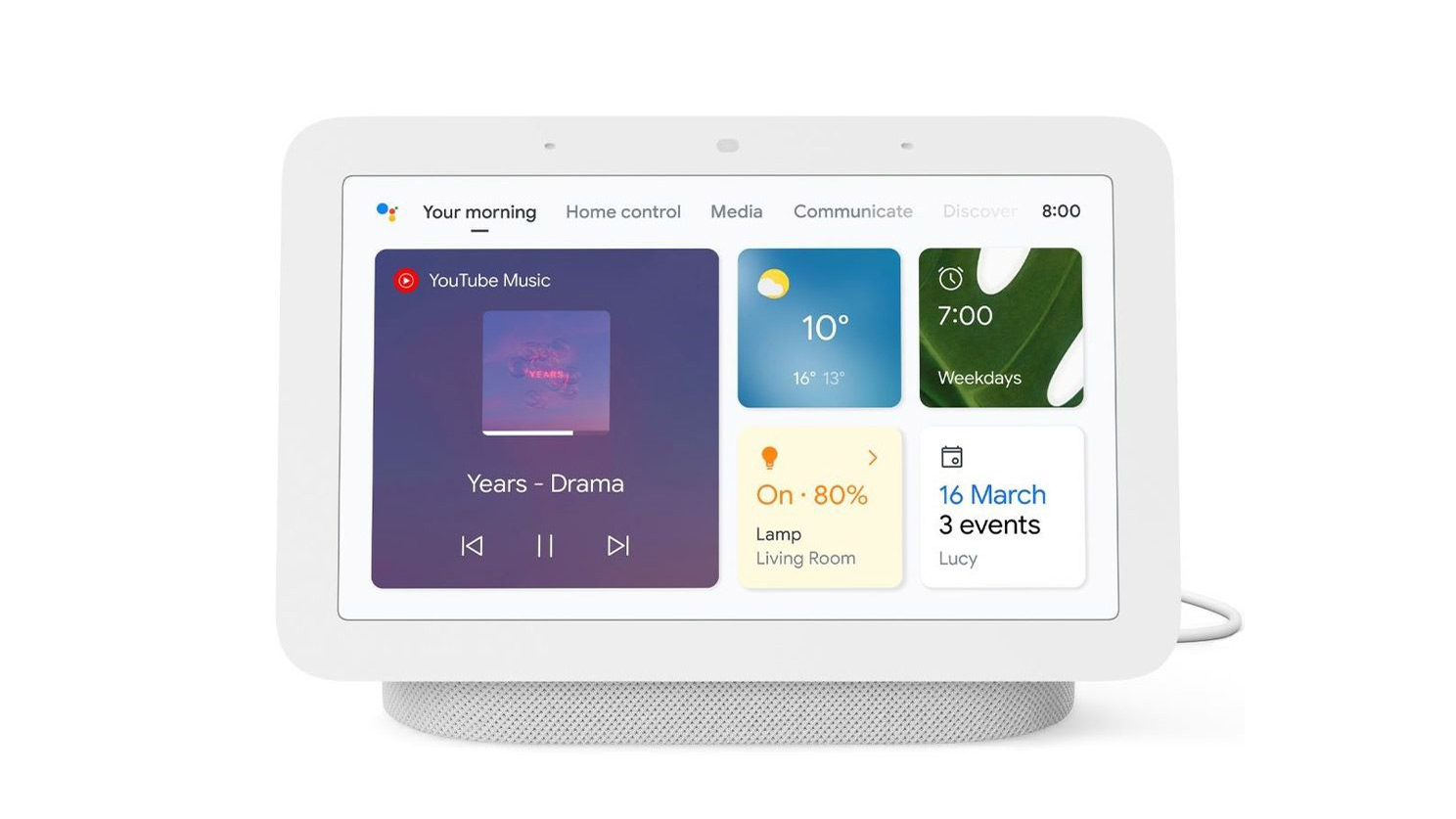 (Image credit: Google)
4. Google Nest Hub (2nd generation)
The best smart display for sleep tracking
Specifications
Speaker:
1 x 1.7-inch speaker
Voice Assistant:
Google Assistant
Reasons to buy
+

Compact design
+

Smart display can track your sleep
+

Can help you wind down and wake up gently
Reasons to avoid
–

Lack of camera may disappoint
–

Audio doesn't have powerful bass
In a first for a smart display, the Google Nest Hub (2nd generation) can actually track your sleep using built-in Soli radar technology to monitor the smallest of movements, such as the rise and fall of your chest as you breathe when getting some shut-eye.
There are plenty of handy features to help you wind down at night, and wake up the next morning, meaning the Google Nest Hub (2nd generation) will most likely be at home in your bedroom. Although, we found the sleep tracking isn't as accurate as a wearable.
Aside from the sleep tracking, the Google Nest Hub (2nd generation) is similar to its predecessor, the Google Home Hub. It's compact and has a 7-inch 'floating display', as well as Google Assistant built-in, and a distinct lack of camera – so it's not suitable for video calls. The audio is also underwhelming topo, but as long as you don't plan to use it as your main speaker, you'll find it a great addition to your bedroom.
Read our full review: Google Nest Hub (2nd generation)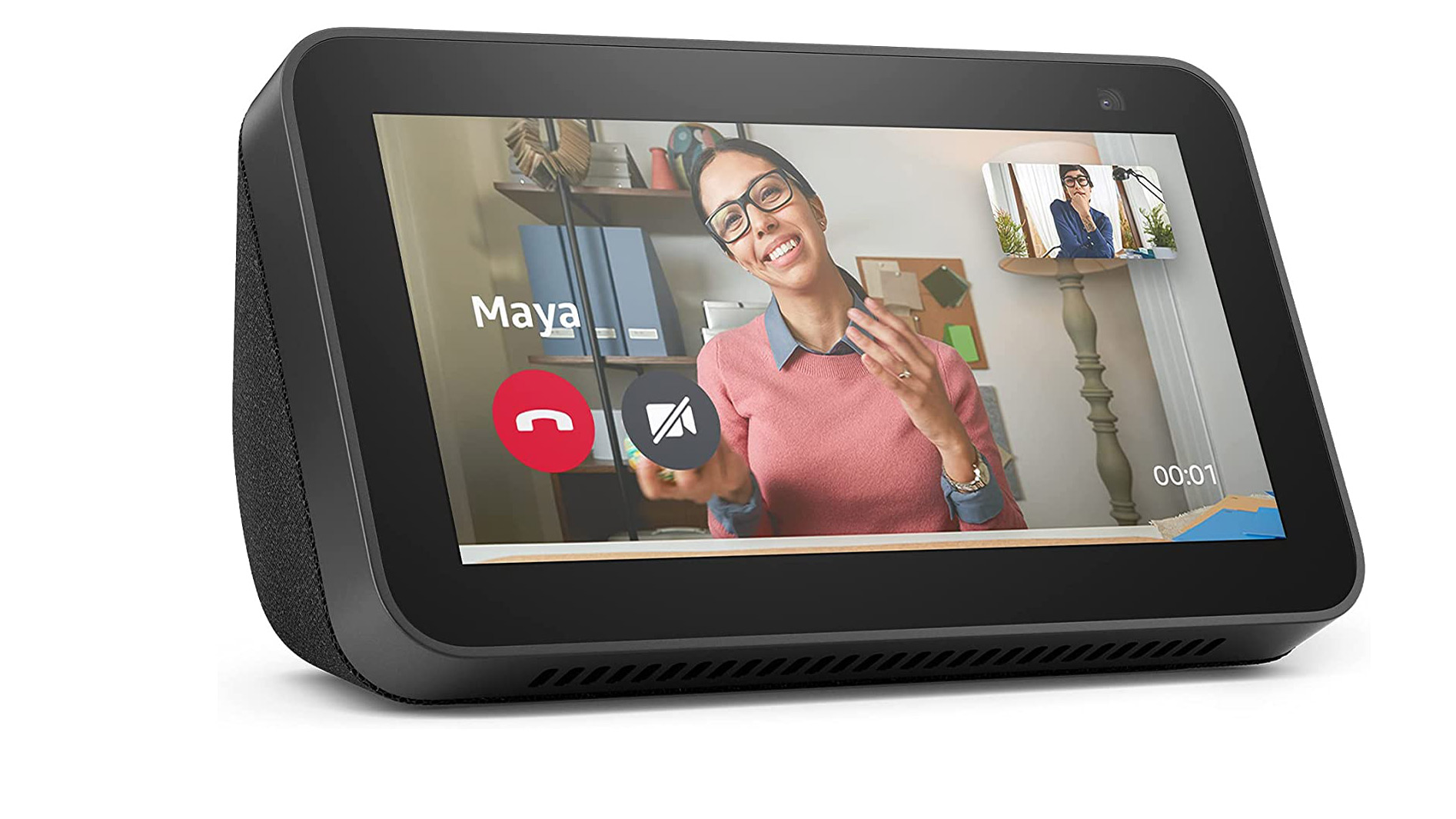 (Image credit: Amazon)
5. Amazon Echo Show 5 (2nd generation)
The best compact smart display
Specifications
Speaker:
1 x 1.6-inch speaker
Reasons to buy
+

Most affordable smart display with camera on the market
+

Physical camera shutter
+

Doubles as a home security camera
Reasons to avoid
–

No YouTube app
–

Low-resolution video and weak audio
The Amazon Echo Show 5 (2nd generation) isn't the best smart display out there – with low resolution and lack of YouTube support, but it is the most affordable you can buy that has a camera built-in.
Boasting a camera that's twice the resolution of the Amazon Echo Show 5 (2019), like its predecessor, it has a physical camera shutter so you can be sure once and for all that you aren't be recorded or watched by accident – something that's increasingly on consumers' minds as various data and privacy scandals rock the tech industry, from social media to hardware gadgets for the home.
Like other Amazon smart displays, the camera can double as a security camera too. However, with such an affordable price tag, there are some compromises to be made. There's no YouTube support, the screen is distinctly low resolution and the audio is weak. However considering the price, and the fact it's unlikely to be your main screen, we think these are acceptable.
Read our full review: Amazon Echo Show 5 (2nd generation)
How we test smart displays
To evaluate the best smart displays we assess the picture quality of the screen when watching streaming services, viewing recipes and even getting the weather and news reports. We also assess the sound quality of the speaker and how effective the smart displays are when making video calls, including the camera's ability to keep you in the center of the shot if you move.
We also evaluate each model on its ability to pick up your voice when issuing commands to the voice assistant, privacy features that help ensure the smart display is constantly watching and listening, as well as how compact and durable the design is.
What to consider when buying a smart display
There's a number of considerations to make when it comes to choosing the right smart display for you.
Start by working out which voice assistant you want baked into your smart display. If you've already got Amazon Echo or Google Nest speakers in your home, then it makes sense to opt for a smart display that features the same voice assistant built-in. However, if you've yet to settle on the voice assistant for you, Alexa vs Google Assistant can help you decide.
Where you plan to use the smart display is also important, as screen sizes, and subsequently overall footprint, vary wildly between models. Those with small screens and smaller dimensions are best suited to bedrooms, while larger screens with higher resolutions will come in handy in rooms such as the kitchen so you can glean information from recipes for example with a quick glance from the other side of the room.
If you intend to use the smart display as a way to listen to music, then consider the number of speakers, and the sound output and quality they offer. Those with smaller speakers are best suited to background music, while larger smart displays will offering a louder, more room-filling sound.
Some smart displays also feature a built-in camera for video calls, although if you're using it in a bedroom, you may feel more comfortable with a smart display that doesn't include a camera.
Which is better Alexa or Google Assistant?
If you're new to the world of smart displays and smart speakers, deciding which voice assistant you should plump for may leave you feeling perplexed. Both Alexa and Google Assistant are simple to use and effective at answering your burning questions, providing useful information such as weather reports and sports scores, and even controlling your smart home devices. But is Alexa or Google Assistant better?
Alexa can control a wider array of smart home devices and offers a wide range of communication options for staying in touch with friends and family. However Google Assistant is better if you want responses in different languages or help translating phrases.
It's also worth considering the devices you already own and the music and video services you subscribe to, as Google Assistant may be a better fit – especially if you're regularly using an Android smartphone. Read our article Alexa vs Google Assistant: which voice assistant is best for you, for an in-depth look at the subject.
Smart displays vs speakers
Finding it hard to choose a smart device for your home? There's now a huge number of gadgets making use of smart and voice functionality, and it can hard figuring out what you actually need or will be useful to you.
Smart speakers hit the market first, with the Amazon Echo rolling out to invited Amazon Prime members in 2014, and slowly building up momentum. By the time the Google Home launched in 2017, there was plenty of appetite for the devices.
If you're largely going to be using a device for music and audio functionality – including chatting to / ordering around a voice assistant – you'll likely be fine with a smart speaker. It's only if the screen functionality is going to be useful that you need to bother with the smart display option.
The display is useful in a number of ways: for cooking tutorials and how-to videos, accessing security camera feeds, watching video lyrics onscreen (as with the Echo Show and Amazon Music) or for easily spotting the time on a clock face. Controlling and connecting to other smart home devices through a centralized portal is also far easier with a screen, and you get far more connectivity features in these kinds of devices.
But if you think you don't want the screen attached, you can check out out best smart speakers guide instead.
Check out these great Amazon Echo deals
Internet Explorer Channel Network