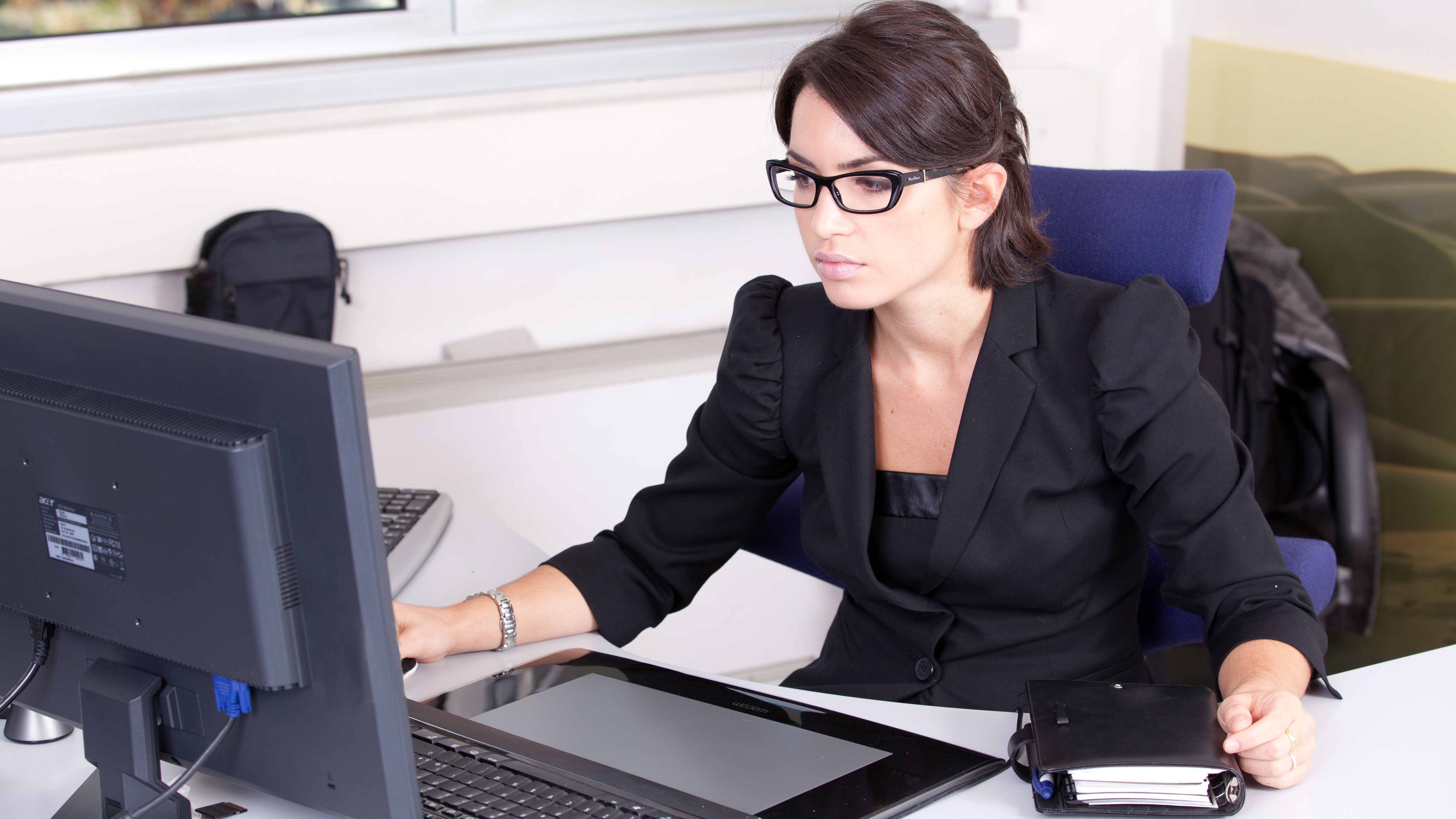 The best HR software makes it simple and easy to manage your employees, from hiring to firing, and from taxes and benefits. That could be a massive boon to your business, especially if you struggle to find the time to tackle HR tasks yourself or if you don't have an in-house department.
The best HR software can tackle all aspects of human resources management. Some apps help companies track job applicants and manage the hiring process, while others organize and schedule training courses. You'll be able to buy software that can tackle your payroll, tax and benefits needs, while others check and analyze employee performance.
The best HR software
Click the links below to go to the provider's website:
1. Gusto
2. BambooHR
3. Bullhorn
4. Workable
5. People
6. BerniePortal
7. Zenefits
8. Lanteria
HR software can be complicated, though, so it's worth taking a closer look to make sure you've got the best software for the job – and at a sensible price.
Alternatively, you could use HR outsourcing services or even a full Professional Employee Organization (PEO) service, where all HR tasks are taken over by a third-party. If that's something that you'd be interested in, we've selected our favorite HR outsourcing services. And, if you need a new job, head straight to our round-up of the best US job sites.
Ultimately, the HR software you choose will depend upon your business needs, and you'll have to figure out exactly which HR tasks you need to be automated or streamlined. We've picked out the best HR software currently available for a wide range of tricky tasks.
We've also featured the best transcription services
---
Find HR Management software designed for busy professionals
1. Simply tell us your needs
2. Receive free quotes
3. Compare prices and save money
---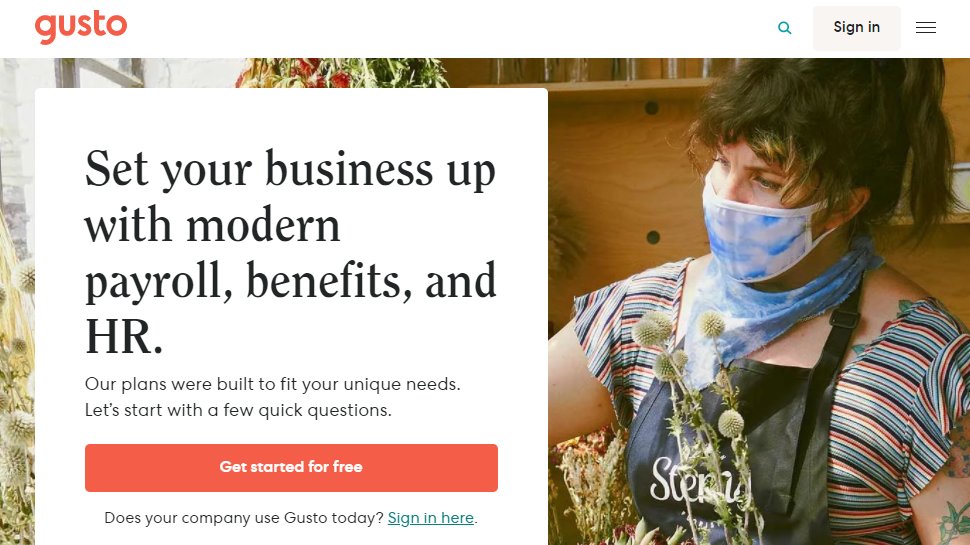 (Image credit: Gusto)
1. Gusto
A cloud-based, all-in-one service with plenty of flexibility
Reasons to buy
+

Covers all HR scenarios
+

Clear pricing
+

Benefits for small businesses
Gusto is one of the best options on the market if you need HR software to handle several of the significant human resources tasks in your business.
This tool offers a full-service payroll solution alongside time tracking, tools to handle health insurance and employee's financial benefits, and modules that can help companies keep up to date with compliance and legal requirements. Gusto can streamline the hiring and onboarding of staff, and Gusto also has a team of HR experts to provide guidance in unexpected situations.
Gusto provides medical, dental, and vision benefits and can manage HSAs, FSAs, 401Ks, and college savings, and it can also supply life and disability coverage. In this way, it functions similarly to an HR outsourcing company and can provide small businesses with the kind of benefits that they wouldn't usually be able to access.
More than 200,000 businesses currently use Gusto, and it's a superb choice if you want a full-service system to handle your firm's biggest HR headaches.
Read the full review: Gusto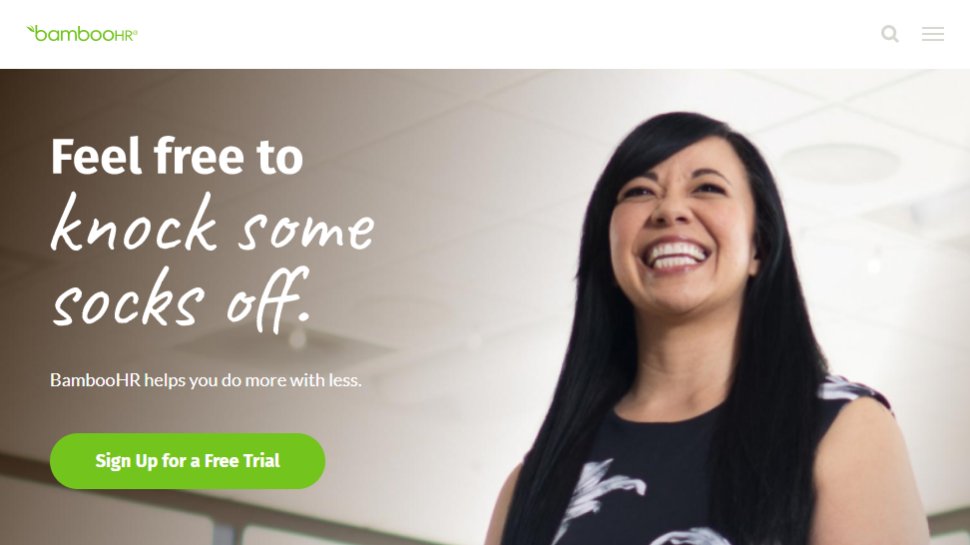 (Image credit: BambooHR)
2. BambooHR
An all-in-one option with a web-based system
Reasons to buy
+

Good mobile support
+

Covers most situations
+

Processes automated requests
BamboHR aims to bring the human touch to human resources, and it does this by collecting information about your employees and delivering personalized insights and functionality.
BambooHR collects all employee information in a single database and provides businesses with an all-in-one software portal that can view and manage employee records, track job applications, view and analyze your staff performance and automate tedious administrative tasks. There's a mobile app, too, so you can keep on top of HR while you're on the move. It handles payroll and vacation requests, too.
BambooHR's software is available in two packages – Essentials and Advantage. The former only includes entry-level HR management and self-serve employee options, while the latter adds hiring and onboarding abilities, advanced workflows, customization and branding options, and better support. You'll also have to pay extra for payroll, time tracking, and performance management options.
Read the full review: BambooHR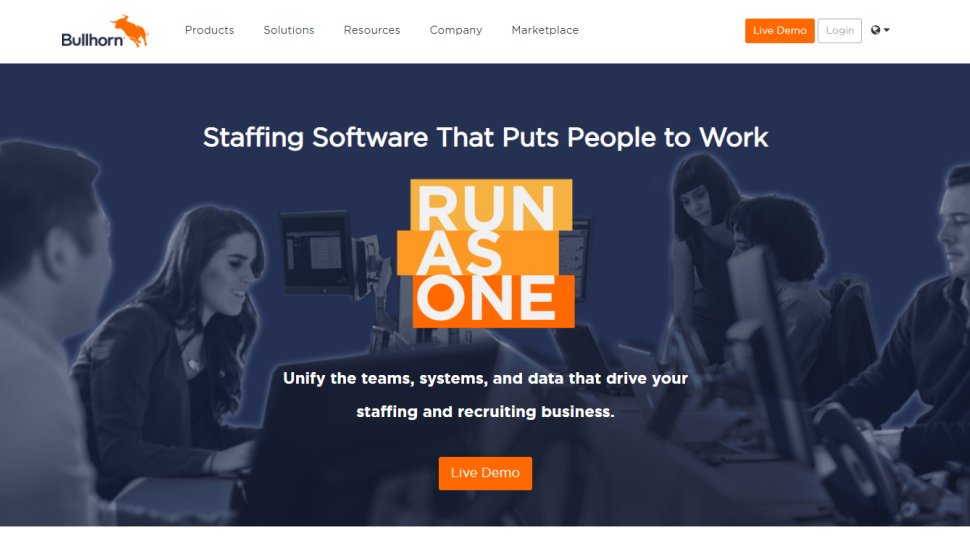 (Image credit: Bullhorn)
3. Bullhorn
Software designed to hire the best applications for every job
Reasons to buy
+

Search engine for candidate selection
+

Generates data-filled reports
+

Integrates with other platforms
Many HR software tries to tackle every aspect of human resources, but Bullhorn concentrates on the hiring process – an essential part of every growing company's journey.
Bullhorn provides a modern, fully-featured applicant tracking system that can help you keep on top of the applications you've received for positions at your company, and you can see all of the relevant data in a single location. You can publish job adverts, see lists of potential candidates, and mail multiple candidates at once.
This tool integrates with platforms like LinkedIn, Outlook, and Gmail, so it can easily fit into your business, and it can gather information on candidates and parse resume documents for key data. You can also use a smart search feature to sift through candidates to find relevant information and potentially great additions to your workforce.
There are four levels of plan available with Bullhorn. The entry-level Team plan has a broad range of abilities. Still, the Corporate, Enterprise, and Enterprise Plus tiers add added features, including API access, custom fields, advanced reporting, and sales quotas. If your company wants to streamline its hiring process, Bullhorn is an excellent choice.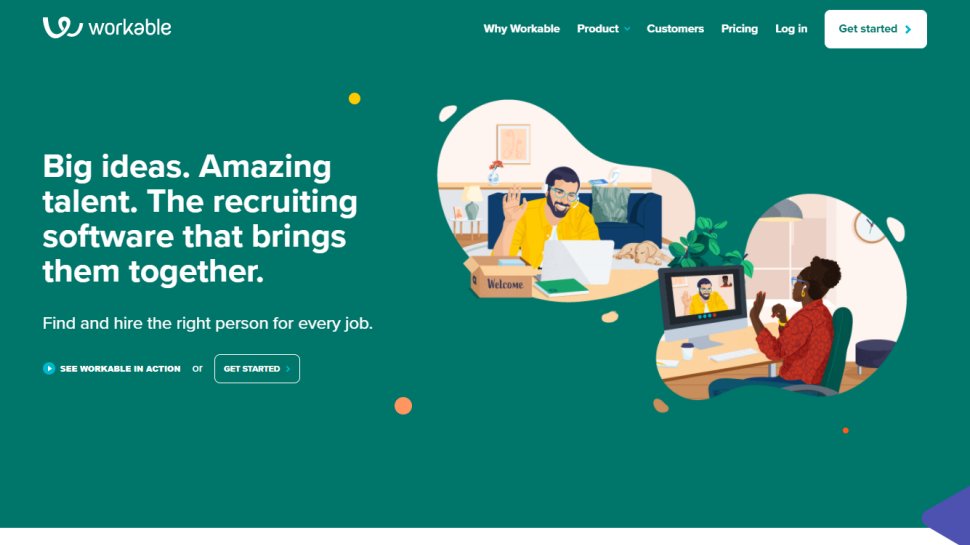 (Image credit: Workable)
4. Workable
A simple and straightforward way to hire employees
Reasons to buy
+

Easy to use
+

A more affordable option
+

Pay as you go choices
Workable is another HR software product that simplifies and improves the recruitment process. When a business is only as good as its staff, it makes loads of sense to make your hiring as effective as possible.
Workable can post your job adverts to more than 200 job boards simultaneously, so you'll attract applications quickly, and it has more than 700 phrases that can build adverts and job descriptions. You can use this tool to anonymously screen job applicants and view essential data about candidates. You can use Workable's data to make better decisions about which candidates are right for the job.
This tool can automate many of the tedious actions associated with the hiring process, and you can plan, track, and manage your hiring workflow. Workable offers offer letter templates, and it has communication features that mean everyone can be kept up to date with recruitment.
If you want a specialist tool to help you find, interview, and hire the best candidates for vacant positions, there aren't many better than Workable. As with many HR software products, though, you'll have to pay for a higher tier of access if you want more features, and pricing is only available on request.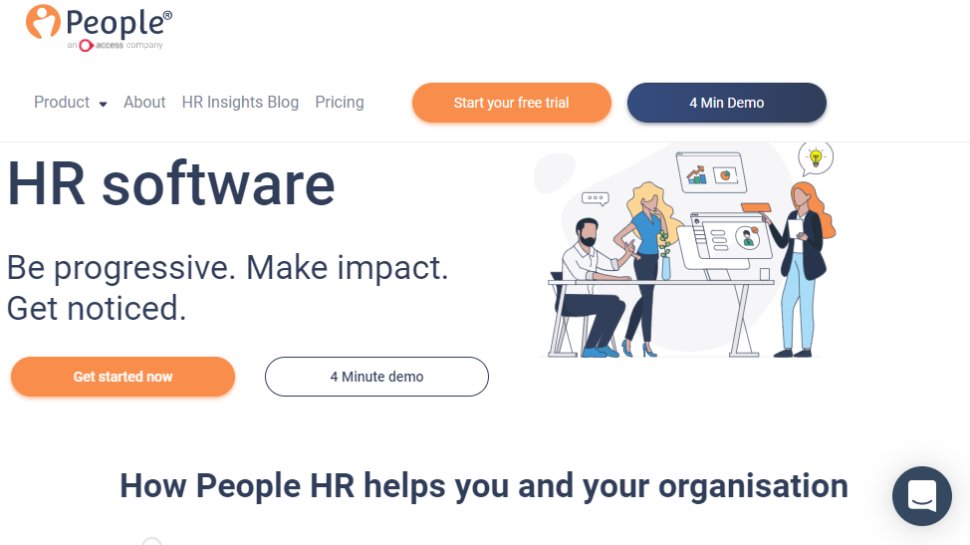 (Image credit: People HR)
5. People
Great mobile options for flexible companies
Reasons to buy
+

Supports Google Drive and Dropbox
+

Mobile-ready design
+

Supports custom workflows
People offers a web-based interface that aims to streamline every key HR process and offer transparent pricing at the same time.
The app's intuitive dashboard can automate dozens of tasks, from employee turnover reports and sickness tracking to approving holiday requests, and it can also track new job applicants and list job vacancies on top recruitment websites.
People supplies loads of data that can show exactly how much time you've saved by switching to this system, and it recommends the best way forward for your decisions by showing you how other companies have acted in similar situations. There's a slick performance management system that can manage employee reviews and 360-degree feedback, and this software works on PCs, laptops, tablets, and smartphones so that you can work flexibly.
People has a team of experts to guide you through the software, and it's easy to learn. Combine this with its clear pricing – you must pay either $7, $9, or $11 per employee per month to get different features – and this is a top choice for anyone who is not familiar with HR software.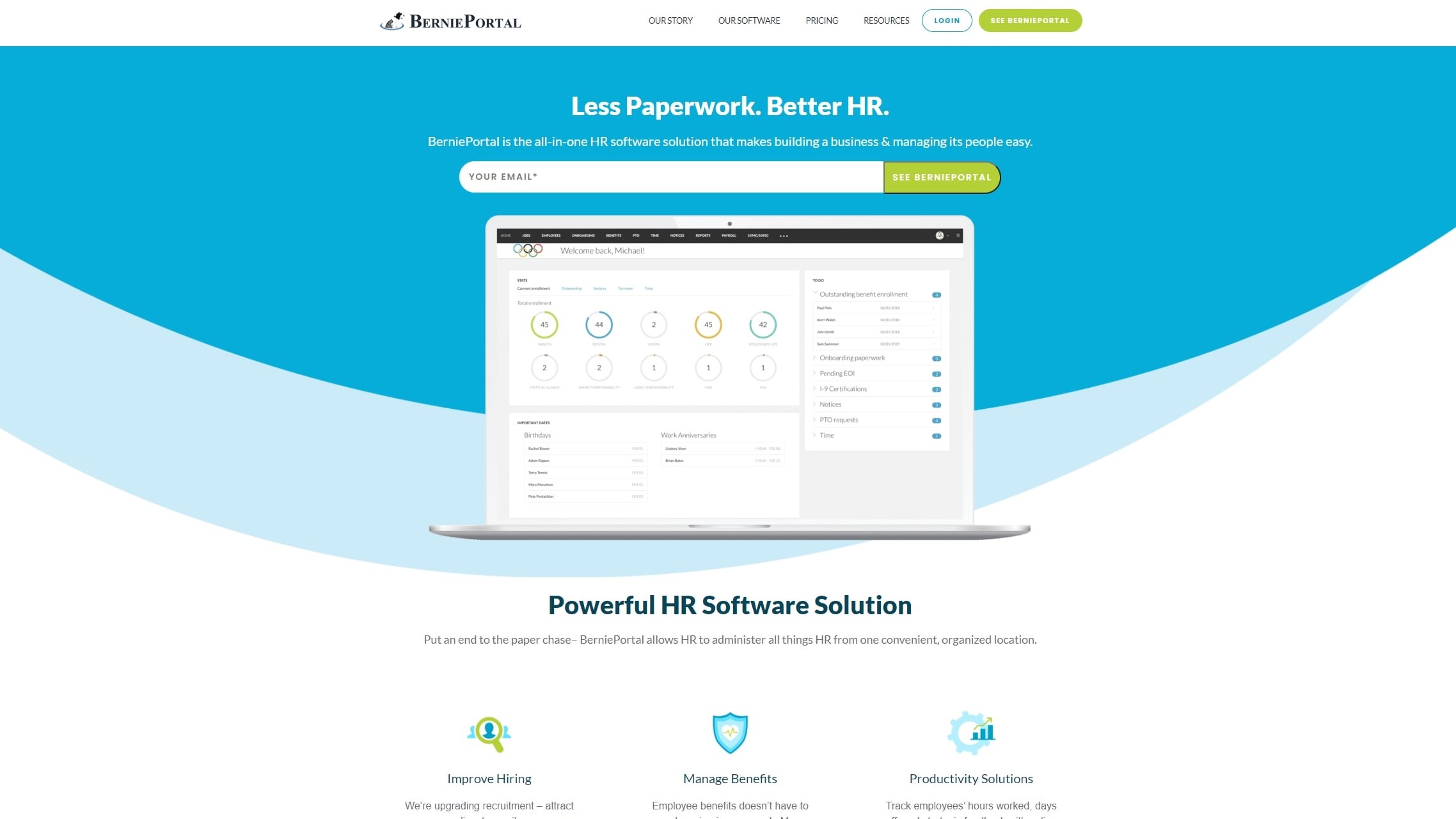 (Image credit: BerniePortal)
6. BerniePortal
A mature and fully-featured HR option for businesses of all sizes
Reasons to buy
+

Broad range of options
+

Fully IRS compliant
+

Single-click operations
BerniePortal is a full HR service that takes the hassle out of managing your entire employee life cycle.
This tool features plenty of options that allow you to screen and assess candidates and then communicate with them during the hiring process, and you can integrate them into the business with minimal time and fuss.
You can deliver an excellent benefits package with extra employee engagement and less paperwork alongside full IRS compliance. BerniePortal allows administrators to approve holiday requests and tackle other everyday tasks with one-click operations.
BerniePortal keeps track of attendance and delivers detailed reports, and staff can access, view, and sign important documents from within the app, which includes support for electronic signatures. BerniePortal handles your payroll and IRS filing with increased speed and accuracy.
It's not the best-looking HR suite, and it's not the cheapest either – its most affordable paid package costs $11 per employee per month. But it's got a broad range of features and clear design, so it's still an excellent choice.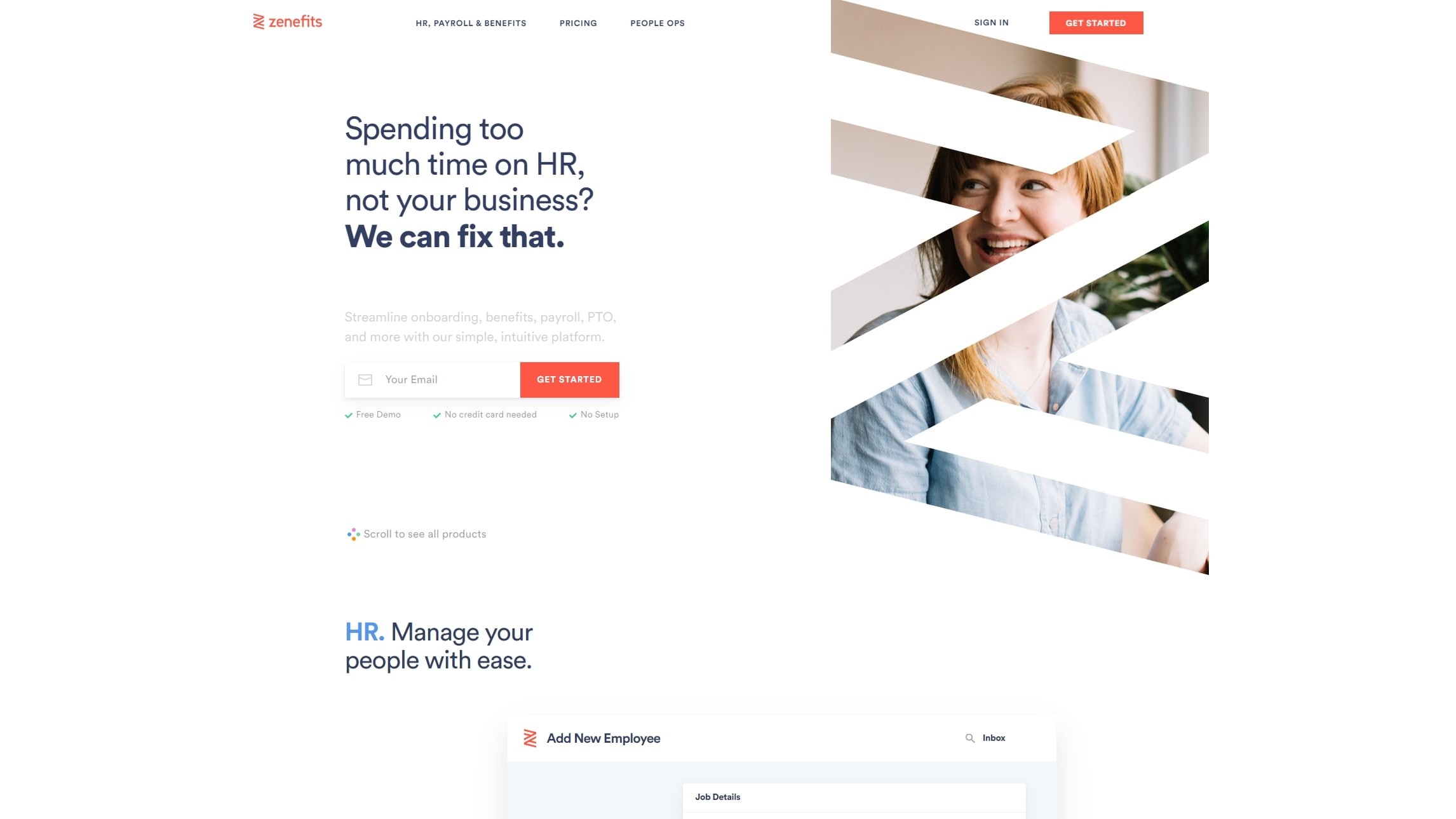 (Image credit: Zenefits)
7. Zenefits
A simple and complete HR solution that's very easy to use
Reasons to buy
+

Loads of features
+

Clear, effective design
+

Employee log-on options
Zenefits is one of the clearest options around when it comes to offering a complete HR solution for any size of business. It makes complex situations simpler, and it starts with one of the best dashboard designs in the business.
The sleek system can manage your company's payroll, attendance tracking, performance management and job applications. It can also tackle federal, state, and local taxes and the administration of your staff's various benefit and insurance packages. You can use Zenefits to get quotes from different benefits providers, and employees can use their own interface to update personal information and access resources.
It's an impressive full-service HR solution that will be especially useful if you want a clear system that's easy to use, although you'll only get all the features if you pay for the Growth or Zen plans – and Zenefits is also a little pricier than some of the other HR options on the market.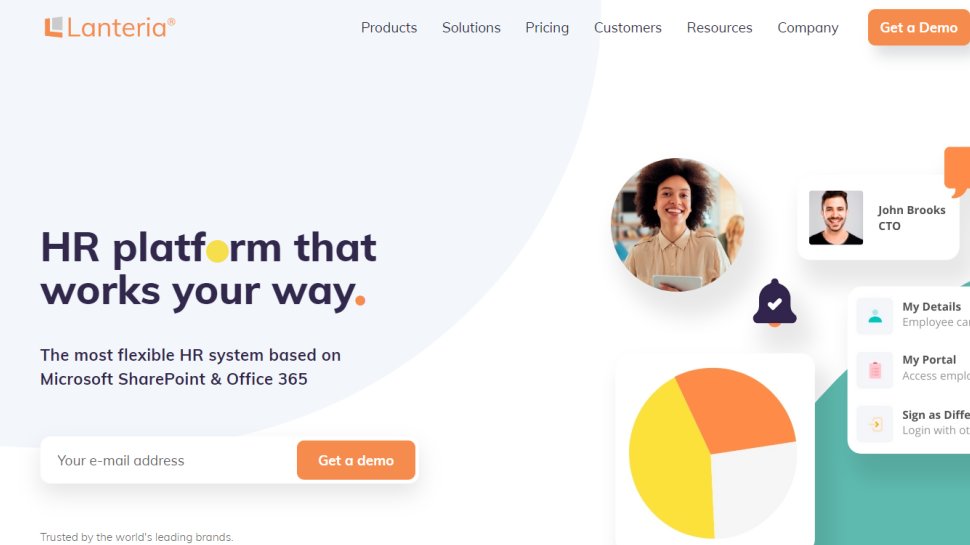 (Image credit: Lanteria)
8. Lanteria
The top choice for large enterprises
Reasons to buy
+

Supports Office 365
+

Training capabilities
+

Clear and versatile modules and dashboards
Lanteria offers a broad platform of HR solutions for medium and large enterprises. Companies like Warner Bros and Lufthansa use it, and it's based on Microsoft SharePoint and Office 365, so it's easy to integrate with many of the packages that are popular in loads of big companies.
The central dashboard has modules that tackle a variety of common HR tasks. You can manage and monitor employee attendance, payroll, recruitment, performance, and training from different areas of the straightforward software, and the dashboard's home screen provides clear statistics on your business, from absences and helpdesk tickets to goals and documents that need your attention.
Lanteria's software is cloud-based, so it works from any internet-connected device, and it can also automate tasks and workflows, handle custom signatures, and manage employee reviews.
There aren't many HR products that offer as many features as Lanteria, but it will be overkill for many businesses. That said, if you need a comprehensive HR product for a larger company, this is a top-notch choice.

Also consider these HR solutions
There are a wide range of HR software solutions available for all sorts of situations – some of them supply the full range of HR options while others focus on single tasks.
Namely is a full-service HR software platform that deals with issues from onboarding to training, to payments and benefits. You can monitor and review employee training, cover time and attendance, and allow employees to manage their own progress and development using a self-service portal.
Paycor covers all major HR areas, from recruiting and onboarding to payroll, training, attendance and time management. It delivers comprehensive reports to get critical business insights, and prides itself on the level of expert support it provides its customers.
JobDiva focuses on the applicant recruitment and training process. It primarily features candidate searching and matching modules alongside career development tools, and it integrates with popular Vendor Management System tools like Workday, Beeline, Vizient and Medica.
Ciphr provides an easy-to-use platform to manage most aspects of HR. Key features include onboarding, timekeeping, payroll, compliance, and self-service options for employees. Configurable dashboards provide analytics and data to help you set up automated, intelligent workflows, so you can use Ciphr to make your entire business more efficient.
We've also featured the best employee experience tools
Internet Explorer Channel Network