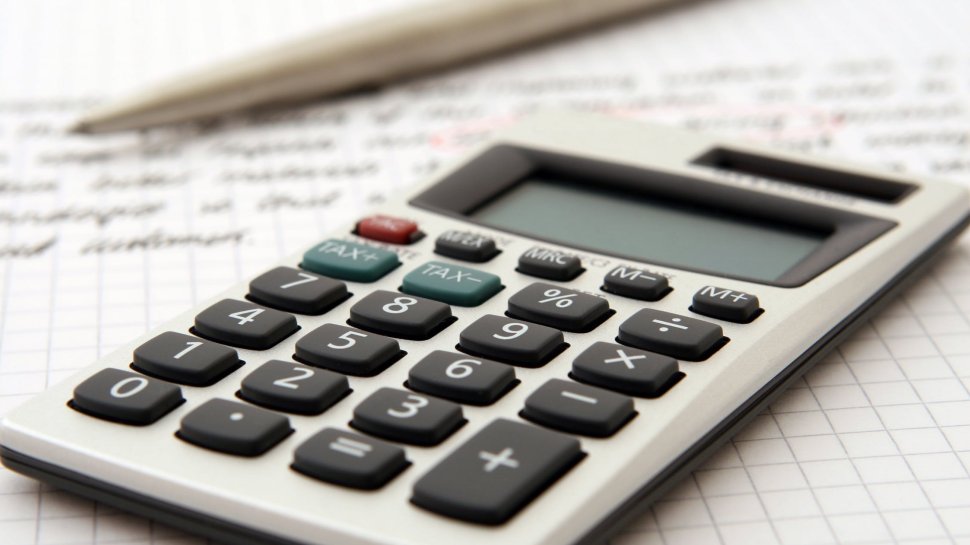 The best budgeting software can help you keep a record of your spending and saving, to better manage your finances.
The best budgeting software
Click the links below to go to the provider's website:
1. CountAbout
2. Mint
3. YNAB
4. Quicken
5. Moneydance
6. Pocketguard
The advantage of budgeting is that it look at your daily spend, so you can really see where your costs and your savings can be made. This is important for both reducing debt as well as for improving wealth.
This is especially as it is the small but regular miscellaneous costs that can really undermine your finances, and can be missed by general finance software, which can be targeted more at general costs and managing those.
For example, when buying items with cash what do you do with your change after? This is something that budgeting software can account for that other financial software might miss.
Budgeting software also aims to get you into good habits, such as reducing debt and freeing up savings for investments purposes.
However, this also shows the limitations of budgeting software, which doesn't quite do the job of the best tax software nor the best accounting software for small business.
Even still, as every business owner soon learns, small costs and spends can really add up, and budgeting software is ideally placed to help you identify these so that you can took better control of your money and overall finances.
Here therefore are the best budgeting software platforms.
Check out the best free accounting software for small business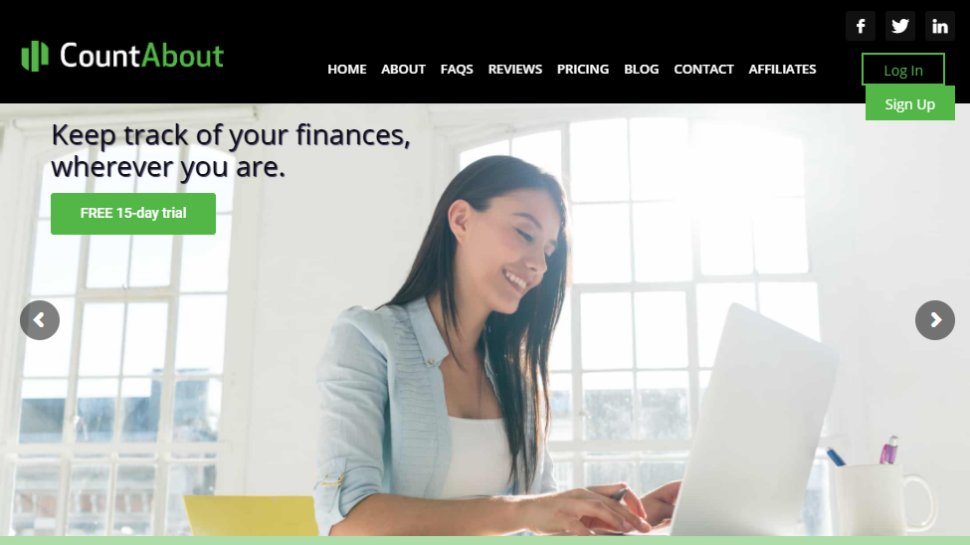 (Image credit: CountAbout)
Best mobile focused and Internet connected budget solution
Reasons to buy
+

Supports multi-factor authentication
+

Can import data from Quicken and Mint
Reasons to avoid
–

Premium subscription for automating data imports
CountAbout is a personal financial and budgeting software solution. It is notable as it can import data from Quicken, or Mint, and is one of the few solutions that can do this. When you sign up you're encouraged to do that early on, and there are some decent instructions that walk you through the steps.
It also connects to your other financial assets, including banking, credit card and retirement accounts, which includes thousands of financial institutions. Additional features include multi-factor login protection, categories can be customized, running register balances, and support for recurring and split transactions. It also facilitates advanced budgeting, via activities such as account reconciliation, and tracking register balances.
CountAbout is available for the iOS and Android platforms, and can also be used on a full PC via the web-based interface. It is available via a subscription interface, starting with a Basic account, but requires transactions be entered manually, or a more usable Premium account can automatically download transactions from your financial institution.
You also get an easy access Account Maintenance option, which during setup means you can choose to have transactions automatically downloaded from the financial institutions you deal with. Once you're into the main working area you'll find that the interface is clean, fuss-free and easy to navigate.
The interface is additionally impressive in that it can be customized to suit your individual needs. For example, any kind of additional category can be added into the left-screen menus, while others that you don't need can be removed. The ability to add in and manage invoices is another boon, especially if you're a small business owner.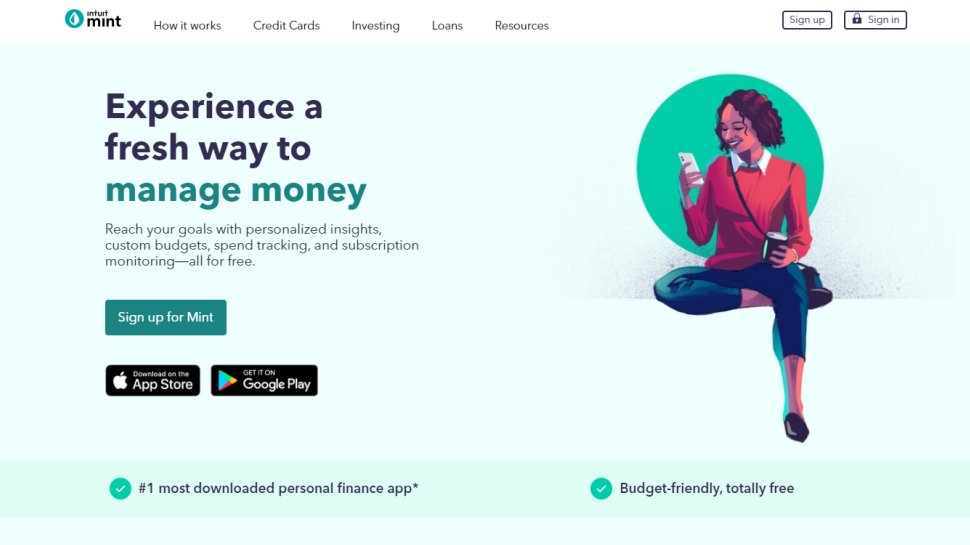 (Image credit: Mint)
Best mobile based budgeting and planning solution
Reasons to buy
+

Free cost
+

Highlights savings offers
+

Features multiple security features
Mint is another mobile based solution from the folks that brought us TurboTax and Quickbooks. It makes it easy to track expenses and balances. By creating an account, and connecting all your financial accounts, Mint can then provide analysis, to help find savings by providing potentially money saving offers for credit cards, retirement rollovers, and savings account deals.
Mint provides security via multi-factor authentication, security scanning with VeriSign and the ability to remotely delete your financial data in case your mobile device is lost.
Mint also conveniently provides a convenient way to know, and track your credit score. The cost is free, and the company makes money through affiliate offers.
It's certainly not complicated to master, but the options it provides you with are actually many and varied. The action centres on a few main features, with Mint offering the ability to connect to your bank, or banks, and other financial interests along with keeping an eye on your credit score.
The good thing is that you can also 'unplug' these as and when you need to, or if you want to block out specific areas of your finances. Doing all this is really easy and involves nothing more than adding in accounts with the odd screen tap or two. As you'd expect, Mint keeps a firm grip on security and uses 256-bit data encryption, plus VeriSign security scanning.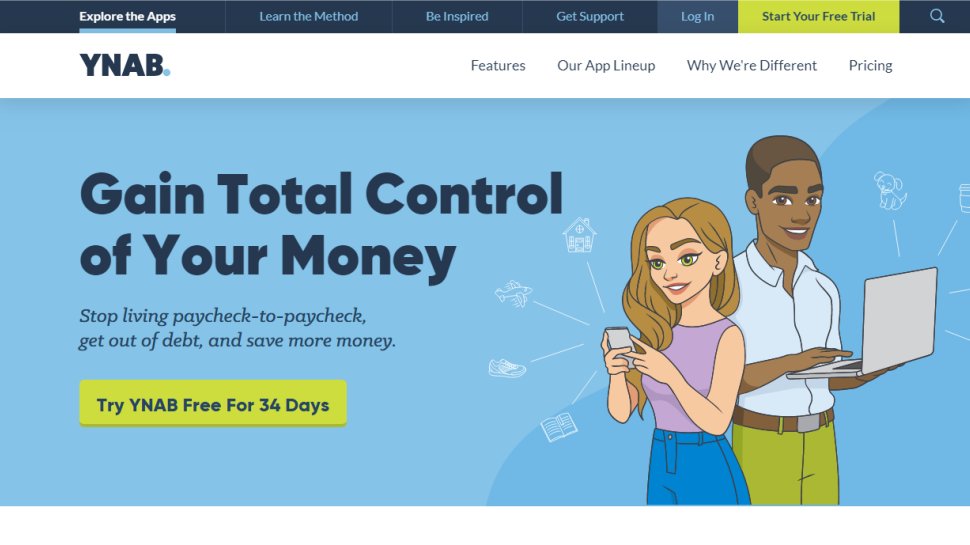 (Image credit: YNAB)
3. You Need a Budget (YNAB)
Best for beginner budgeting
Reasons to buy
+

Slick interface
+

Encourages savings
Reasons to avoid
–

Higher priced than other options
YNAB (You Need A Budget) is a modern approach to applying a budgeting solution to personal finances. Its chic interface is sure to particularly appeal to the millennial generation.
YNAB makes it simple by connecting accounts to come up with an amount to be budgeted, and then assigning where the money goes by the category including immediate obligations such as the rent and the electric bill, true expenses including medical and auto maintenance, and debt payments; the goal is to give every dollar a job.
Via the interface, the right panel clearly displays overall budget information such as the amount spent last month, the budget from last month, and any underfunded categories. Better budgeting habits are taught and encouraged via a weekly video, a podcast series, and a newsletter. It also encourages goal oriented savings, for holiday presents, and even retirement.
You Need a Budget has a deceptively potent interface that can be tailored to suit an individuals needs based on their financial picture. You can add a bank account and import transactions directly from there. Naturally, the way the overall financial picture alters as your new financial data gets entered into the various categories.
You Need a Budget has also been spruced up and the latest version carries new features such as Age of Money (which in a way highlights how prudent you are) and also has the ability to import those direct transactions as noted above. It's a feature that works for your credit cards too.
There is a free trial period for the curious duration of 34 days, and after that there are options for a monthly or yearly subscription.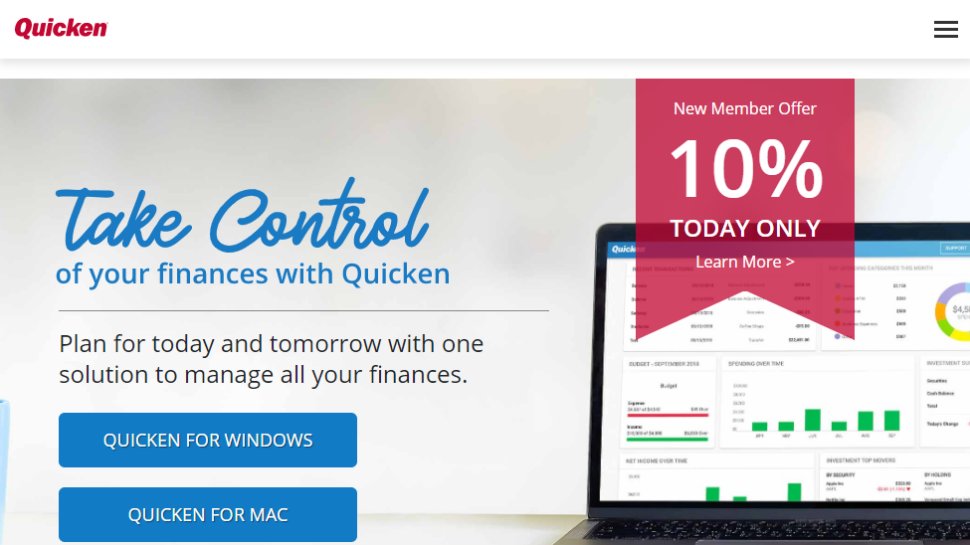 (Image credit: Quicken)
Best old school budgeting solution
Reasons to buy
+

Exports to Excel
+

Cloud based backups
Unlike some of the more mobile focused solutions, Quicken is downloadable software for a PC, and is in the minority for supporting both Windows and Macintosh platforms. It is a venerable budgeting and financial program that has been around since the days of DOS and Apple II systems.
Quicken works by downloading all your transactions to make it simple, and obviate the need for tedious manual entries. It offers advanced features including the ability to export data to Excel, integrated Quicken Bill Pay, the ability to generate custom invoices with your own logo, and secure online backup of Quicken files to Dropbox cloud storage.
There are differently priced tiers according to the type and number of features you require, such as customized budgets, priority customer support and free online bill payment, as well as one that can separately categorize both home and business expenses and can email custom invoices.
The most recent update of Quicken resulted in a few handy new features being added, with some real benefits coming along in the Mac version. You'll begin your financial journey on the Home tab, which delivers a comprehensive snapshot of where you are with your finances. For newbies there is also a neat Wizard-style system.
There are core areas that help build up a picture of your money situation, with a Spending tab, Bills and Income section and so on, all of which are pretty easy to get the hang of. Customization of these areas is also key by allowing you to make Quicken completely personal to your needs.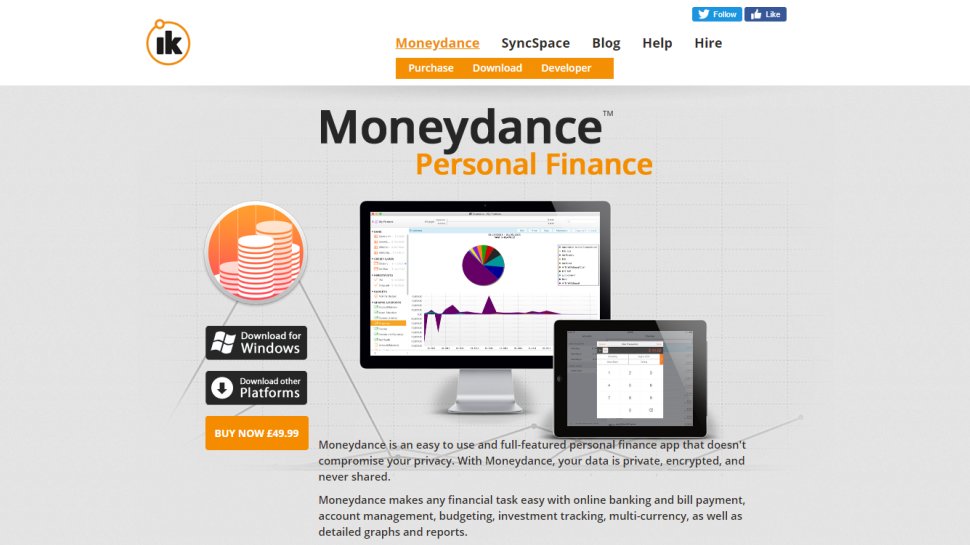 (Image credit: Moneydance)
Best easy to use financial management software
Reasons to buy
+

Quick and easy
+

Reassuringly secure
Moneydance has been a popular desktop money management solution for a good while now and has lots of Mac users as fans. Whilst it's certainly a treat to use on the Apple OS platform, this software is also available for Window and Linux.
Whichever flavor you're keen on the software is undeniably quick and easy to use. And, if you're in the US then it has been continually improved to work with all of your bank accounts, which makes it hugely appealing, as well as credit cards and investments.
Moneydance comes with the same price tag for each version, so from the Mac OSX edition through to the Windows and Linux versions the cost is the same. There are also editions available for those who prefer a mobile solution, with versions on iOS and Android.
However, the good news is that when you download the software you do actually get a demo edition, which allows you to discover the features and functionality of Moneydance before committing fully.
That said, you'll subsequently need to pay a fee for the software in order to lift the limitations that prevent the demo option being a full bells and whistles experience.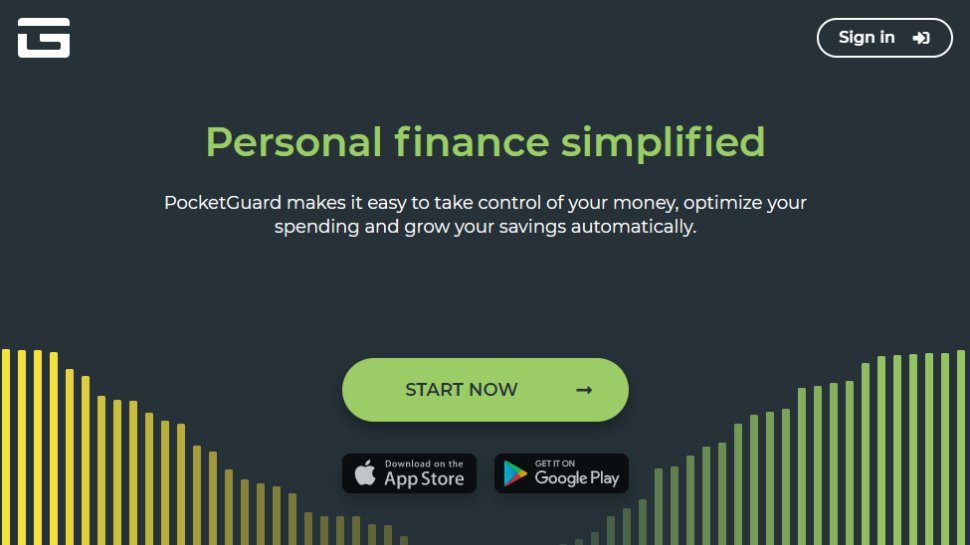 (Image credit: Pocketguard)
Best if you're nervous about your spending habits
Reasons to buy
+

A doddle to master
+

Great Mac and Android apps
Reasons to avoid
–

Only for more basic money matters
Pocketguard is perfect you're often in the position where you're feeling a little bit nervous about just how much you're spending. This is a financial management app, for both Mac OS and Android, plus there's a desktop edition too.
However, if you're looking for a handy quick reference guide to your finances at any time of the day, or night, then the mobile edition of this package is certainly one to try.
It's available for both the US and Canadian markets and allows you to get all of your incoming and outgoings into one convenient place and subsequently get budgeting much more efficiently thanks to its central In My Pocket star feature.
Pocketguard comes in a basic edition, which is still pretty well stacked, that comes with no cost attached. If you're suitably smitten with what it does then you may want to boost the usability by plumping for the Pocketguard Plus model, which has a monthly or yearly subscription.
Highlights include the capacity for tracking your incoming and expenses, seeing just how much you've got spare. Meanwhile, Pocketguard also lets you build up a bigger picture of your money matters over time. Other key features are the options for creating spending limits so you can cap outgoings where needed, as well as the capacity for setting savings goals.
Add it all together and the picture of your finances becomes very clear indeed. Once you've got all your data into the software you'll have an In My Pocket zone, which is the true strength of the app as it gives an instant overview of your money.
We've also featured the best mobile payment apps and money transfer apps.
Internet Explorer Channel Network