During their news coverage, the BBC show discussed the ongoing smell which is bothering some Weymouth residents due to the build-up of seaweed.
The seaweed along the seafront has been washed up by winds on the southern section of Weymouth Beach in Dorset.
Beachgoers and residents who live near the beach have been complaining about having to wade through a carpet of smelly kelp to get to the water.
Weymouth Town Council said while it "might be unsightly", leaving it avoids "any potential harm that may arise from interfering with its natural course".
Naga Munchetty and Charlie Stayt were eager to find out what had caused the smell and what some of the residents felt about their beach.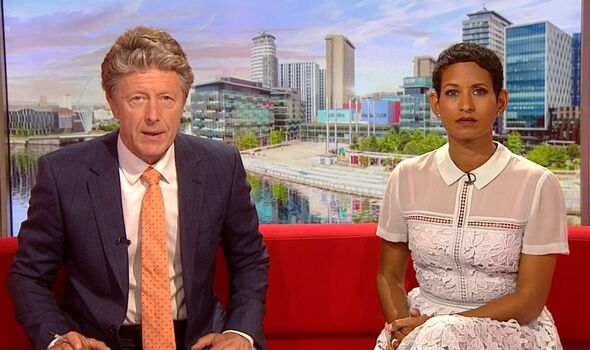 BBC Breakfast backlash as viewers slam 'desperate' Weymouth Beach coverage
BBC Breakfast backlash as viewers slam 'desperate' Weymouth Beach coverage
However, viewers of BBC Breakfast were left disappointed with the news coverage and took to Twitter to express their annoyance.
@RosemaryKirk exclaimed: "Really can't believe BBC news reporting on the smell of seaweed on Weymouth beach, so what!"
@JackiHicks commented: "Surely seaweed is part and parcel on most beaches, especially with certain tide/weather patterns.
"If #Weymouth can manage to rake their beach then why not employ a tractor to scoop up the seaweed and remove it #jobdone."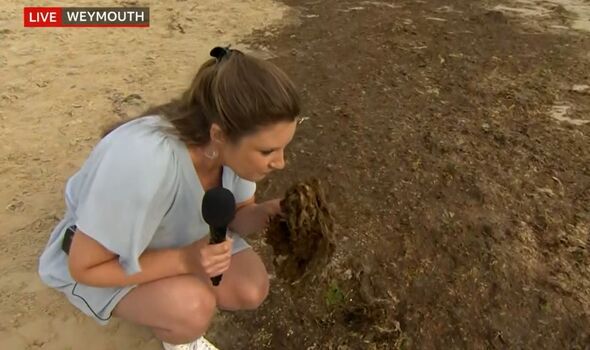 BBC Breakfast backlash as viewers slam 'desperate' Weymouth Beach coverage
Alan Wright added: "With all the carnage that is going on in the world, natural disasters, military aggression, we can take 5 minutes of the National and International News to interview a number of people Live on Weymouth Beach, to discuss the smelly seaweed." (sic)
@GeoffWSlone penned: "A BBC News item. There is seaweed on Weymouth Beach. What a surprise!"
@Smanski1 noted: "Shock horror! Seaweed in the sea at Weymouth? Whatever next. Desperate for a diversion from news of Boris' departure."
John Caithness said: "How is seaweed on the beach at Weymouth newsworthy?" (sic)
Correspondent Linzi Kinghorn was broadcasting from Weymouth and explained: "It comes as somewhat of a shock as a few weeks ago people started smelling quite a strong smell.
"And as you can see behind me this quite long stretch of brown seaweed. If I hold it up and give it a good sniff it smells like the sea.
"But as it is rotting it can give off a smell of an eggy sort of smell and that is what people are reporting here."
BBC Breakfast airs everyday from 6am on BBC One.
News Related
OTHER NEWS