A tree falls down on a mini truck in Huế City when Storm Noul hit central provinces on Friday morning. VNA/VNS Photo Mai Trang
HÀ NỘI — At least one person was killed, 29 were injured and more than 1,700 houses' roofs were blown away after Storm Noul made landfall on Quảng Bình and Thừa Thiên-Huế provinces at around 10am on Friday morning.
The storm has since turned into a tropical low-pressure system. At 10am on Friday, the centre of the tropical low pressure was on the land of Quảng Trị and Thừa Thiên-Huế provinces with speeds of 40-60 km per hour and is moving westward and looks set to weaken into a low-pressure system when it reaches Laos on Friday night.
During the storm, strong winds with speeds of 60-90 km per hour, sometimes up to 100-110 km per hour, were seen in Quảng Trị and Thừa Thiên Huế. North-central provinces were blanketed with heavy rainfall of 100-300mm.
Trees fall down because of strong winds during Storm Noul in Huế City. VNA/VNS Photo Đỗ Trưởng
In Thừa Thiên-Huế province, a falling tree killed a resident in Phong Thu Commune, Phong Điền District and 23 people were injured in separate incidents across the province, mostly due to falling trees.
More than 1,660 houses across the province had their roofs blown off, while trees fell down and electrical poles and electrical wires were damaged.
From 8.30am, people in Huế City could see and feel the strong winds of the storm, the fifth storm to enter the East Sea this year but the first that made landfall. Drivers on streets struggled to move in the strong winds that swept the city for about half an hour.
Due to prior warnings, many local people stayed sheltered, while many stores and restaurants were closed on Friday morning.
According to the province's Natural Disasters Prevention and Control Committee, by 10pm on Thursday evening, all vessels in the province had reached safe haven. About 28,100 households of 106,600 people were evacuated from areas vulnerable to the storm.
In Quảng Bình province, six people were reportedly injured when reinforcing their houses or due to falling down while chopping trees.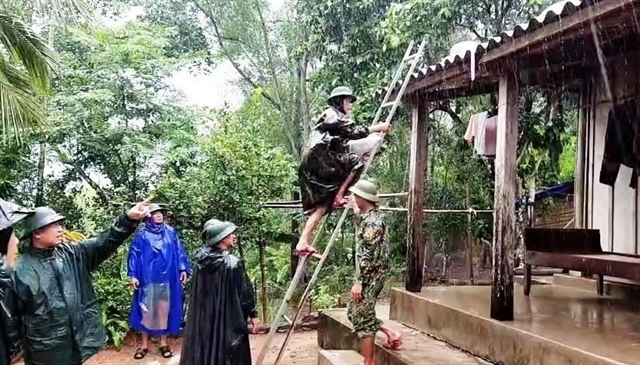 Border guards in Quảng Bình Province help people repair houses. VNA/VNS Photo Võ Dũng
A house in Cương Gián Commune, Hà Tĩnh Province was damaged due to Storm Noul on Friday morning. VNA/VNS Photo
In Hà Tĩnh Province, winds blew off the roofs of 75 houses in Cương Gián Commune, Nghi Xuân District.
In Đà Nẵng City, it rained heavily from early morning but by 8am, it stopped raining.
Torrential rain from Thursday evening to Friday morning caused floods in many residential areas.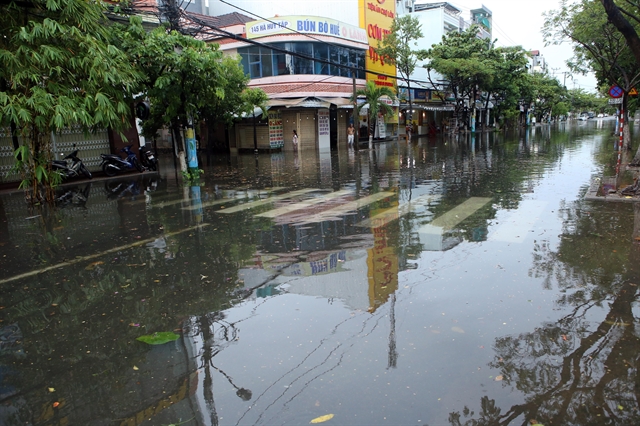 Hà Huy Tập Street in Đà Nẵng City is flooded because of heavy rain since Thursday night. VNA/VNS Photo Trần Lê Lâm
Many streets in Hội An City of Quảng Nam Province were also flooded. In addition, high tides surged on Thursday night, causing landslides along Cửa Đại Beach and damaging hotels and restaurants along the coast.
According to the National Centre for Hydrometeorological Forecasting, heavy rain with rainfall of 100-200mm and in some places up to 250mm is expected in provinces from Hà Tĩnh to Quảng Ngãi on Friday.
This posed a high risk of floods and landslides in the provinces. South-central provinces and northern Central Highlands provinces will also have medium or heavy rain.
From Friday to Sunday, northern provinces and Thanh Hoá, a north-central province, will also experience rain.VNS